A group of students from Lahore, Pakistan decided to make access to public transportation more simple and developed an an called Travely, which allows people to find the closest bus station to their location, input where they want to go, and get suggested routes. The app also shows bus schedules and calculates the expected cost of their trip.
Travely comes from 404 Solutions, which was part of Pakistan's Plan 9 incubator. The app was launched in May and has now grown to cover over 1,000 bus stops on 18 routes across Lahore. The team says that 82% of users are returning to Travely, showing that people find it useful. This may be helped by the simple and intuitive interface, shown below.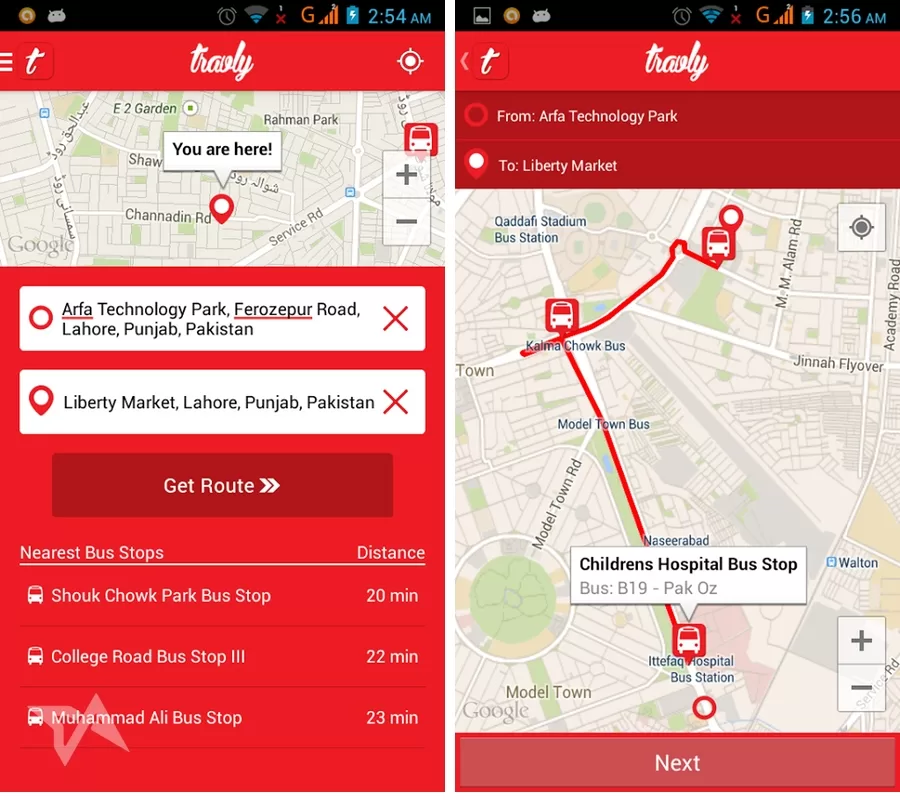 After graduating from Plan9, Travely is now part of PlanX, an accelerator program sponsored by the provincial government of Punjab. Shahmir Khan, one of the startup's two co-founders, says that it was at Plan9 that the team morphed the app from something simple that they wanted to use in daily life into an app ready to have a business model. Khan explains:
"Back in 2013 we came to Plan9 with just an idea: a simple app named 302 Bus Tracking. All it did was that it showed arrival times and route information of buses at our university, Beaconhouse National University. After getting incubated and going through the mentorship of various Plan9 mentors such as Dr. Umar Saif (founder of Plan9 and chairman of PITB), Fadi Bishara (founder of Blackbox VC), Hussein Kanji (co-founder of Hoxton Ventures), Sajjad Kirmani (CEO at Infogistic), to name a few, we started to reshape Travly into a practical business. We had various training sessions on product development, business development, financial planning, marketing and PR, etc. But Plan9 incubation is only half the story"
Then came PlanX. He continues:
"Once our product was launched and we got into PlanX, the road changed from one of engineering and code to that of dollar signs and MOUs. We were approached by a lead from Lahore Transport Company and that is how Travly signed it's first MoU. Where Plan9 was a good and easy learning experience, PlanX is all about showing your performance. Now we are actually learning how to run our business efficiently and effectively. How to take care of our company and as well as of our stakeholders."
Khan describes the two programs as having benefits that are very different, but complementary at the same time. "Plan9 incubation was all about rolling up your sleeves and wiring things together; PlanX acceleration is about donning a suit and making the right handshakes. Think of it as an MBA follow-up to an engineering degree – but with more than just grades at stake," he explained.
Travely's team recently signed a memorandum with the Lahore Transport Company to access their bus-related data. "There is no such thing available in any other city of Pakistan, which is one of the reasons Travly is only in Lahore at the moment," says Talal Burny, the co-founder of 404 Solutions.
Plans for the future include a web app and a text service. both which will help people who do not have a smart phone. Travly's SMS service will work through unique codes assigned to every bus stop. These codes will be available on the Travly website so that people can use their feature phones to send and receive bus information by text message.
The crew plans to make money from location-based ads once the app has a strong base of users. The SMS service will have a monthly subscription fee.
"Local transport is diminishing in Pakistan – and rightly so because it has become quite hectic. We want to change that. We want to make it easy and fun again. And let's face it, people do want to use public transport because it's cheap,"
-TechInAsia