As a natural continuation of our previous article, ASEAN's Ecommerce Challenges, InvestAsian is proud to feature ASEAN's e-commerce opportunities as well. ASEAN is looking at a prosperous future as an e-commerce retail giant with phenomenal growth rates surpassing those of the US and EU.
Just the sheer size of ASEAN makes it a viable market for e-commerce businesses. Not only does ASEAN consist of more than 600 million people, but the region has just initiated a landmark integration project called the ASEAN Economic Community. The community aims to transform the 10 member nations into a single market, greatly reducing tariffs and encouraging free trade.
This environment represents a significant opportunity for both multinational e-commerce companies and smaller businesses of any size to develop business models to reach out to all of ASEAN.
There is huge growth potential in the e-commerce market of ASEAN, but this does not mean the current market is not significant now. The e-commerce retail market in just the 6 countries of Malaysia, Indonesia, Philippines, Singapore, Thailand, and Vietnam is estimated to be worth around US$7 billion.
It's important to note that the market value of US$7 billion is with only 29% of ASEAN's huge population having access to the internet. The e-commerce industry is set to grow naturally as internet penetration increases.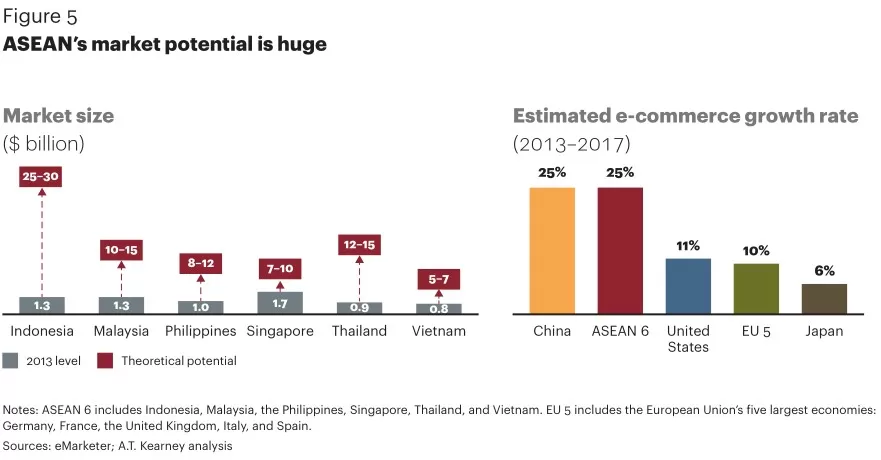 With that said there are two key drivers that are opening up opportunities for the development of e-commerce in ASEAN.
1. Increase in Purchasing Power
In many ASEAN countries, the middle and affluent class population is expected to at least double in a few years' time. With GDP per capita expected to grow in the range of about 7% per year, economic growth will be one of the main drivers of e-commerce growth.
2. Growth in Internet Penetration
With increased internet access, more people will be exposed to e-commerce. Market research reveals that the lack of internet access is one of the key barriers keeping many ASEAN countries from fully engaging in e-commerce. Banks and telecom companies are taking initiative to bring greater internet penetration, and most people will be able to make online transactions in the next decade.
How Will E-Commerce Benefit ASEAN?
The four key benefits of establishing e-commerce in ASEAN are as follows.
1. Regional Interconnectivity
Many of the brick and mortar businesses can take advantage of the opportunity presented by e-commerce market to set up internet penetration and capture market share throughout the region.
2. Higher Productivity
There is also the benefit of higher productivity. This is because many companies can achieve economies of scale through the lower cost of outsourcing business processes to firms specializing in these services.
3. Increased Talent Pool
The emergence of an ASEAN e-commerce market would mean high demand for skilled professionals who are able to build online infrastructure and make businesses competitive on the web. In turn, this would lead to an increase in talented people in the job market.
4. More Equitable Societal Opportunities
The benefits of the e-commerce do not end at the customers and retailers. They extend to the whole of Southeast Asia's society. With more of ASEAN's population gaining access to the internet, society will benefit as well with more people able to access equal education, employment, entrepreneurship, and an understanding of foreign cultures.