Update for August, 2018: InvestAsian keeps older articles to show our prediction record. This post was written in 2014 and emerging market stocks outperformed since then. You might be interested in a more recent post about the best ways to invest in emerging markets.
Emerging market stocks throughout the world, from Turkey to Thailand, have all plummeted since 2013 with several different indexes down over 30%.
Many currencies such as the Indian Rupee and Russian Ruble also fell sharply against the U.S. Dollar.
Because of this, some are expecting a financial meltdown in developing countries that could  affect the rest of the world. However, there are several reasons to not expect a repeat of the 1997-1998 Asian Financial Crisis.
Crises in the developing world have historically been caused by issues such as bank failures, lack of foreign currency reserves, large public debt, and tepid growth.
But these are all problems which are not present in today's economic climate – at least not in emerging Asia.
Firstly, as shown by the map below, emerging markets now enjoy far less debt as a percent of GDP when compared to their developed counterparts.
Banks in Asia and Latin America have some of the highest liquidity in the world too. According to the World Bank, those in places such Indonesia, The Philippines, and Brazil boast way higher liquidity than any banks in Europe or the United States.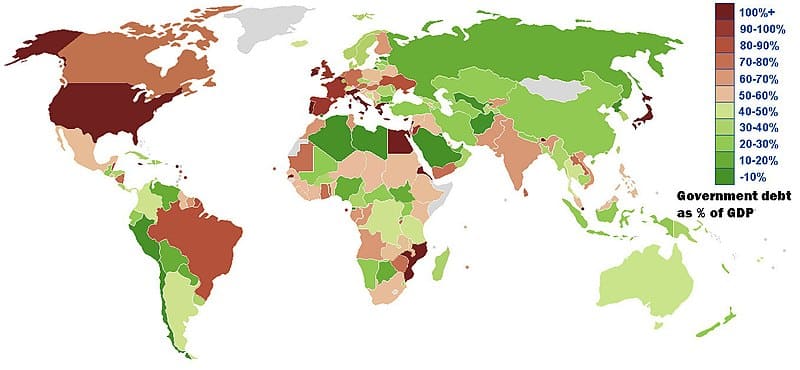 A world map of debt to GDP ratio. Asia, South America, and Africa dominate the list of healthiest countries in this regard.
Low Debt, High Liquidity in Emerging Market Economies
Second, most developing nations' foreign currency debt as a percentage of GDP is well below a worrying level.
For example, Thailand's trade surplus fell from 51% in 1996 to 17% today. Brazil's fell from 26% to 17% and Russia's from 19% to 13% during the same period.
Lastly, the stock indexes of most emerging markets are arguably forming support levels. Stock markets in countries such as China, Malaysia, and India have stayed near their lows and could potentially rebound later in the year.
Bloomberg recently reported that the MSCI Emerging Markets Index is currently trading at 11 times reported earnings. That's a 40% discount from the MSCI World Index and the widest gap in over five years.
In conclusion: although money recently flooded out of emerging market stocks, they still have very solid fundamentals and attractive valuations from a macroeconomic standpoint. At least more so than fully developed economies.
Skip the Next Western Recession
Learn the best places to invest – and where to avoid – by downloading our free Investment Cheat Sheet.