Last updated March 16th, 2019.
The Hong Kong Stock Exchange is only Asia's third largest. Yet it's also the most internationally-focused and diverse exchange in the region.
Foreign firms list themselves in Hong Kong more than anywhere else in Asia. Microsoft, Prada, Prudential, and countless other multinationals can be traded in Hong Kong in addition to their home country's stock exchange.
How do you trade stocks in Hong Kong as a foreigner? Lots of people choose doing it through a brokerage account based in their home country. But brokers usually charge substantial fees for international trades.
For example, top US brokerage Fidelity Investments charges HK$250 (US$32) per trade on the Hong Kong Stock Exchange. A brokerage based in Hong Kong will charge you as little as HK$8 (US$1) as a comparison.
We suggest setting up a local account because of that. You may not care about a US$64 round trip transaction cost if you're making large trades. Most investors would probably wince at this number at least a bit though.
Plus, there are many other reasons you should open a Hong Kong brokerage account… and it's fairly easy to do so.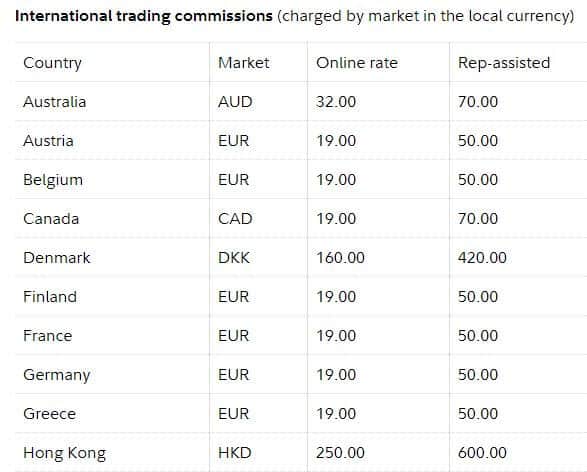 Why Trade Stocks in Hong Kong?
Hong Kong is Asia's de-facto financial center. Because of its status, foreign traders enjoy ample opportunities to profit from the whole region's growth by owning stocks in Hong Kong.
Public companies based in Hong Kong are obviously listed on the city's stock exchange. Yet you aren't just limited to stocks either.
You can trade dozens of equities from Malaysia, Japan, the United Kingdom, and other nations too. These are often dual/multi listed stocks of large multinational firms.
For example, Starbucks and Intel are both listed in the US. But they're also listed in Hong Kong. Having a listing on the Hong Kong Stock Exchange lets these businesses easily raise funds from investors who are based in Asia.
In addition, opening a Hong Kong brokerage account is one of very few ways you can purchase stocks in mainland China.
Foreign investors couldn't buy stocks in China up until a few years ago. However, the Shanghai-Hong Kong Stock Connect launched back in 2014. It allows anyone with a brokerage account in Hong Kong to trade stocks that are listed in Shanghai.
The Shenzhen Stock Exchange was also added to the link back in 2016, further expanding the initiative.
Opening a Hong Kong Brokerage Account
There are limited ways to open a Hong Kong brokerage account unless you make a trip to the city (which I highly recommend doing at some point in your life).
You still have options though.
Boom Securities is a brokerage in Hong Kong which lets foreigners, including US citizens, open an account with relative ease. The process can started online, and afterwards, you will have to mail them some documents.
Everything can be done from home and finished in around a week or two.
You can also trade stocks in Thailand, South Korea, Indonesia and other markets with a Boom account. This makes a Hong Kong brokerage account a great way to start investing in Asia.
Trade commissions are much higher than if you were to open a local account in each of these countries individually. Nonetheless, it's convenient having all your Asia stocks in one place.
I should note that InvestAsian isn't related to Boom Securities in any way. Although I have an account with them and am a satisfied client.
Saxo Bank is a Danish brokerage which has offices in Hong Kong. They offer services similar to Boom's, although I have not used them myself and can't make a personal recommendation.
Aside from Hong Kong stocks, owning property is another way to invest in the city. You might be interested in our ultimate guide to buying real estate in Hong Kong.
But in summary: opening a Hong Kong brokerage account isn't just a superb way to invest in greater China. It serves as a stock trading hub, helping you invest throughout the entire Asia-Pacific region as well.
Skip the Next Western Recession
Learn the best places to invest – and where to avoid – by downloading our free Investment Cheat Sheet.