Last updated March 12th. 2023.
Thailand is one of Asia's most popular foreign condo ownership destinations. A major reason is because tourists visit and decide to buy real estate in the country.
Looking across Thailand, there are multiple cities where you can buy condos. One of these is Pattaya, located about an hour and a half from Bangkok, situated along the Gulf of Thailand's eastern seaboard.
Pattaya and its real estate market are mostly dependent on foreign tourism. Yet besides tourism, Pattaya does have manufacturing factories located on the stretch of highway between Pattaya and Bangkok, near the port of Laem Chabang.
It's noteworthy that Pattaya is located in Thailand's Eastern Economic Corridor (EEC) economic zone.
This greatly enhances the city's long term prospects, since a high speed rail network is now under construction across the EEC. It will connect Pattaya, Bangkok, and several manufacturing hubs in Eastern Thailand.
Buying a condo in Pattaya, while an investment linked to the city's rather volatile tourism sector, also enjoys solid long-term prospects regarding its location.
Right now, Pattaya has little to offer economically except restaurants, bars, and hotels. Pattaya could potentially become a strategic location and gain status as a "stopover point" between Bangkok and the rest of the Eastern Economic Corridor though.
Foreign Property Ownership in Pattaya
Many Asian countries, including Thailand, aren't as open to foreigners buying property as some other parts of the world.
In Pattaya, and across Thailand as a whole, there are restrictions on what kind of property foreigners can own on a freehold basis.
Foreigners are not allowed to own land or houses in Thailand. However, they can hold title to 49% of above-ground condos in any single given building.
You must also follow a few rules during the process of buying real estate in Thailand. For example, the money brought into Thailand to purchase real estate must be foreign currency – not Thai baht.
So if you're making an international wire transfer, you must transfer a currency a that isn't Thai baht, thus allowing the currency conversion to happen at a Thai bank.
But once your money transfer is taken care of, the rest of the process is fairly easy. Thailand's land registration is straightforward and digitized, while a minimal amount of property tax due each year is easily payable through a banking app or at a 7-Eleven branch.
How Much Does a Pattaya Condo Cost?
Pattaya is one of Thailand's main tourism areas. With that said, buying a condo in Pattaya is cheaper than a similar property in Bangkok or Phuket.
The selling price for a condo unit in Pattaya averages between US$1,500 to US$3,000 per square meter. Real estate generally become more expensive the closer you're buying to the beach, with sea view-premiums worth about 30%.
Properties in Phuket, by comparison, start at a low end of US$3,000 per square meter and can cost up to US$6,000 per square meter.
If you're looking for a lower cost, yet convenient beachside destination in Thailand, Pattaya may be the city worth owning a condo in.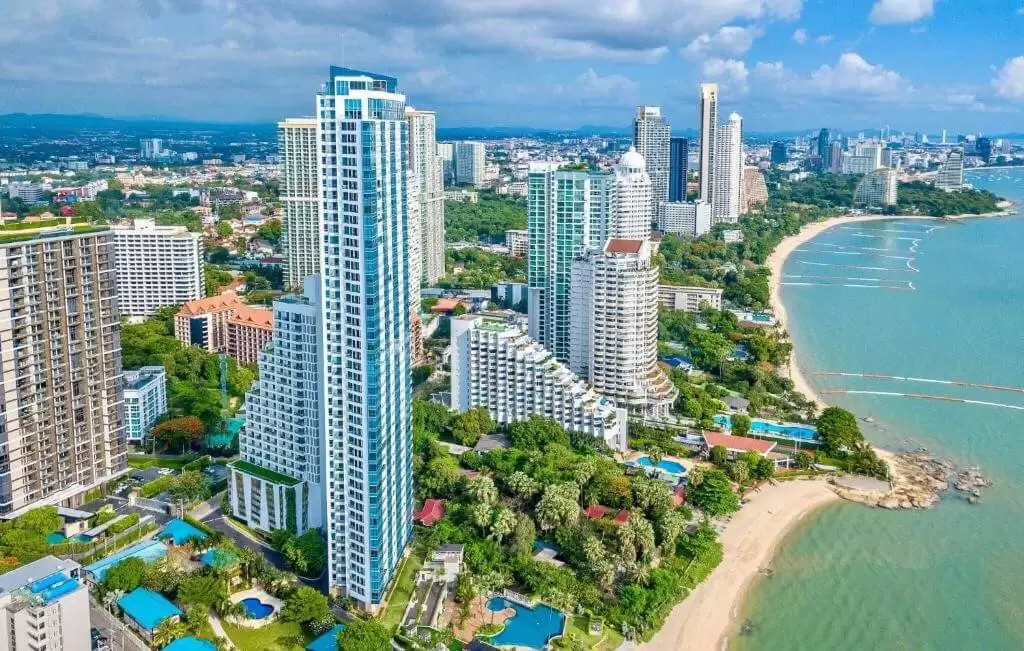 Due to its semi-private beaches and close proximity to the city center, condos in Wongamat are generally the most expensive in Pattaya.
Where Should You Buy Property in Pattaya?
There are multiple locations within Pattaya that you should consider when looking to invest in property here.
Other than the city of Pattaya itself, there are also superb locations toward the south like Jomtien Beach and even further out into Rayong.
Pattaya City
Pattaya City itself has lots of options for investing in property. Several of the main roads in the central part of Pattaya run parallel to the beach.
Condo buildings in Pattaya tend to become cheaper as you go further east, away from the beach and major arterial roads.
Beach Road in Pattaya City is, as its name suggests, the closest to the beach and hosts lots of malls, including Central Festival and international hotels, like the Hilton.
The properties directly on Beach Road with a seaview are some of the most expensive in central Pattaya.
Wongamat Beach
Wongamat Beach is near the city center on Pattaya's farthest north beach and is arguably the city's most luxurious area.
Ranked among Pattaya's most expensive neighborhoods, a Wongamat beach condo unit costs about $5,000 per square meter on average.
Condos in Wongamat are located on mostly private or semi-private beaches. While many other beachfront locations in Thailand are going to be shared with tourists, this is one beach you can call your own.
If you're looking for a property to be your personal home in Pattaya, and want a central location combined with a high amount of privacy, then Wongamat Beach is a location you should absolutely consider buying in.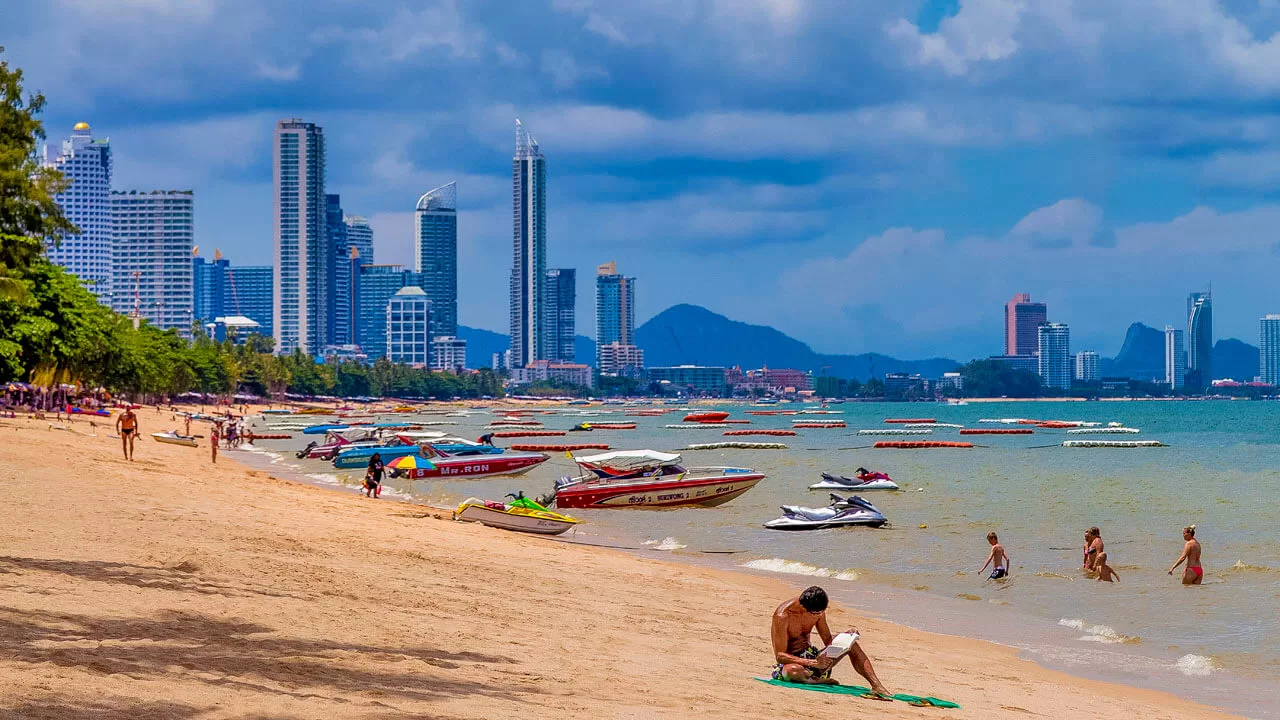 Jomtien Beach, located about 5km south of Pattaya, enjoys beaches you can actually swim in without worrying about your health. This is a feature Pattaya City's beaches don't generally have.
Jomtien Beach
Jomtien Beach is located only a 15-minute drive south of Pattaya City on the opposite side of a large hill. Jomtien has become more developed through urban sprawl as Pattaya has grown.
Condos around Jomtien Beach tend to be cheaper than properties within Pattaya City, which combined with the neighborhood's relative seclusion and superior waters, are the main benefits of owning property here.
The Jomtien Beach area is less polluted than the city center, yet it also has a lower degree of infrastructure and fewer dining options.
Living in Jomtien is nonetheless a solid choice if you'd like a break from busier city life, but still want proximity to Pattaya.
Fees and Property Taxes in Pattaya
Condos in Thailand didn't have annual property taxes until recently. But in 2020, a new property tax regime was implemented.
The good news? Property tax rates on a condo in Thailand are extremely low. Less than 0.01% of appraised value each year, in fact!
Maintenance fees generally cost far more than Thai property taxes though. These payments include costs for building upkeep, facility upkeep, staff, repairs, and cleaning. 
Condominium management fees are cheaper in Pattaya than in most other major cities across the world. However, depending on the building's quality (luxury, economy, etc.), you should expect to pay management fees every year between 1,000 baht, and 3,000 baht per sqm.
A 50sqm condo on the lowest end of that scale will thus cost about 50,000 baht per year in maintenance fees.
There's a 2% fee based on the property's government-appraised value that needs to be paid when transferring a condo in Pattaya or elsewhere in Thailand. Often, the buyer and the seller will each pay half of the fee.
Furthermore, the seller must pay a 0.5% stamp duty tax when any real estate in Thailand is transferred.
Is Buying a Condo in Pattaya a Good Investment?
Due to its economic connections, tourist appeal, and affordable prices compared to elsewhere in Thailand, Pattaya might be a decent city to invest in a condo… if you purchase in the right location.
Rental yields in Pattaya aren't bad at between 3% and 5%. One-bedroom condos are closer to the 5% range, although they're harder to rent out and keep occupied due to an oversupply of smaller units.
Regardless, if you're planning to invest in any Asian real estate market, you'll find better opportunities outside of Pattaya or Thailand as a whole.
Thai real estate investments aren't the bargain they were ten or twenty years ago. Meanwhile, capital appreciation potential in Pattaya is minimal.
Pattaya is almost entirely dependent on the tourism sector. Even during normal economic times, it also faces stiff competition from Hua Hin, Pattaya, Bali, Penang, and other beach destinations in the region.
If you want to retire, own a second home, or otherwise enjoy spending time in Pattaya, then by all means purchase a condo here. Thai property It isn't an optimal investment if making money is your primary motivation though.
Regardless, Pattaya can still be a great place to buy a condo if you spend time living in Thailand and would like a place to call your own.
Skip the Next Western Recession
Learn the best places to invest - and where to avoid - by downloading our free Investment Cheat Sheet.