Last updated December 10th, 2018.
One of the more overlooked industries in South Korea is its pharmaceutical sector. But the Korean drug industry's size and future prospects mean this probably shouldn't be the case.
The South Korean pharma market is one of Asia's largest and fastest growing. It should exceed US$24 billion in total value by 2020.
Global economic uncertainty hasn't affected this sector much either because of a rapidly aging population. Reality as it is, the world will always need healthcare.
South Korea, now a developed nation, will have an increasingly higher population density and greater need for long-term care. As a result, the government has stepped in to ensure healthy growth of its pharma industry.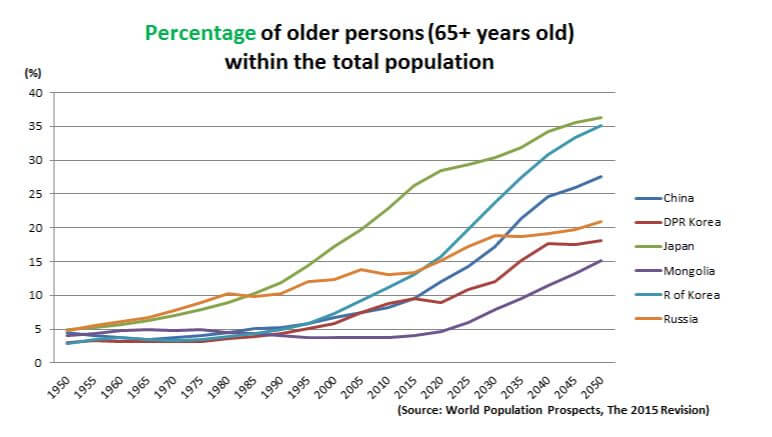 South Korea, and East Asia as a whole, will see their population age during the 21st century. That obviously equals greater healthcare demand in the future.
Authorities are working on creating a transparent and efficient system to quickly approve drugs. This would clearly help boost South Korea's pharma sector in general.
With all that said, InvestAsian is proud to present Samjin Pharmaceutical (KRX:005500). The business is at the forefront of the Korean pharmaceutical sector.
Samjin: One of Korea's Oldest Drug Companies
Established in the early 1970's, Samjin stock has been through many hard times. But they've only made the company stronger.
Samjin provides all they can to help extend the healthy life of its population. The company aims to "strive for a better future on the basis of human dignity."
A great deal of their research and development is aimed at making advances in the field of medical equipment. The firm is involved in the research, development, manufacturing, and selling of drugs and medical devices to hospitals and stores.
Samjin does business both overseas and domestically with countless patented drugs from oral medication for treating dry eyes to antiviral drugs for AIDS patients.
Strong Fundamentals, Impressive Track Record
A company would not be able to survive through thick and thin without having very strong fundamentals.
Samjin will have no problems paying back debt with a current ratio above 3. The firm's sales, EPS, and dividend payout have all risen steadily since the company was originally listed back in 2010.
They're also one of few businesses in the market expecting a rise in both their net profit and net profit margins. Samjin stock has a fair P/E ratio of 14.98 along with a moderate dividend yield of 2.17%.
Selling at a steep discount to last year, we rate Samjin stock a recommended buy for most investors seeking exposure to developed Asian markets.
Want to invest in Korea? You might be interested in our analysis of Leeno Industrial, one of South Korea's most overlooked manufacturing firms.
Skip the Next Western Recession
Learn the best places to invest – and where to avoid – by downloading our free Investment Cheat Sheet.