Asia's property markets vary widely in terms of their opportunities, costs, and barriers to entry. We'll cover the essential aspects of buying real estate in Asia.
Asia isn't the easiest continent to own property if you're a foreign investor. It's arguably the world's most profitable though.
The region's biggest economies get a lot of attention. But when we suggest buying real estate in Asia, we aren't merely talking about places like Japan, where a stagnant economy is amplified by population decline. Or Mainland China which is closed to foreign freehold property ownership.
Asia is a massive continent with dozens of investment options. It's home to a majority of the world's population (with 4.5 billion inhabitants and rising), and spans 9,000km from Istanbul to Tokyo.
In particular, when we recommend real estate markets with superior growth prospects, we're talking about Asia's frontier and emerging markets.
Countries like the Philippines, Cambodia, Malaysia, and similar places with natural economic drivers should be your main focus if you're interested in high rental yields and strong appreciation potential.
Why is frontier market property worth investing in? A major reason is because of its lack of correlation with the global economy.
In countries like Vietnam, with its population of 103 million and rising, long-term real estate demand will inevitably rise simply due to the nation's demographic reality.
Each year, several million Vietnamese people move from rural areas into rapidly growing megacities such as Hanoi and Ho Chi Minh City. A greater number of inhabitants in a city equals increased demand for property.
That's especially true when a country's middle class is simultaneously rising in prominence, as a newly-prominent consumer class gains the ability to afford a home.
In our "Vietnam example", the nation's consumer class is helped by its average age of 25, high education standards, continued relocation of international companies away from China, and multiple other factors working together in tandem.
And this trend isn't just playing out Vietnam either – it's happening all across emerging Asia. Indonesia, Cambodia, the Philippines, and dozens of other nations all have similar factors driving their real estate markets.
Predicting if any country's property values will appreciate is difficult. With that said, we take positive demographic trends very seriously since they naturally drive demand and rarely change once set in motion.
WHERE CAN FOREIGNERS OWN PROPERTY IN ASIA?
Not all real estate markets in Asia are on equal terms when it comes to foreign ownership rights. Nor are they fully open to foreign ownership. If you chose any two places on the continent at random, there will almost certainly be vast differences between each of their property laws. While lots of opportunity exists across Asia's real estate markets, foreign investors face varying degrees of limitations.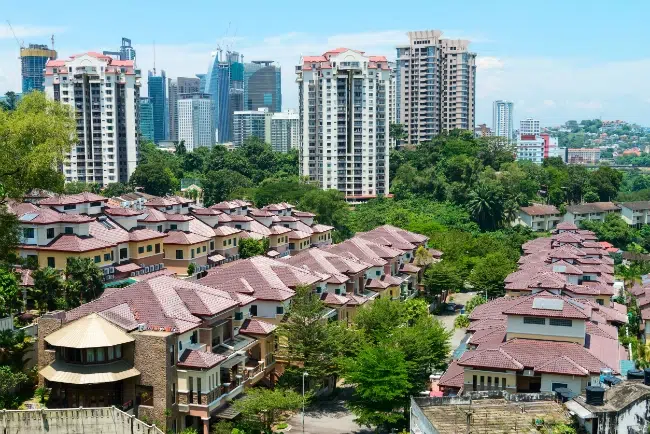 Malaysia is one of few countries in Asia where foreigners can own landed houses on a freehold basis. You can also get a long-term visa through their MM2H program. Remember: in many countries, owning property doesn't automatically give you the right to stay there permanently.
A few countries don't have any restrictions on foreign property buyers whatsoever. Such places include South Korea, Japan, and Malaysia. Here, you can own the freehold, landed properties outright.
Even luxury homes and commercial real estate aren't off-limits to foreign nationals in these most open of countries.
In other real estate markets, you aren't allowed to own land or houses as a foreign investor… yet can still buy condominium units on a freehold basis. Nations that restrict foreign purchases, although not completely, include Thailand, the Philippines, and Singapore.
FREEHOLD VS. LEASEHOLD REAL ESTATE OWNERSHIP
Other countries won't let foreigners – or sometimes even citizens – own freehold property at all. This is usually because of one of two different reasons.
First, it might only be possible for locals to own freehold property. Countries like these include India, Brunei, Myanmar, and Indonesia. They'll let citizens buy land and condos outright, but you're out of luck as a foreigner… unless you simply wish to rent.
Secondly, land is only owned by the state in several markets. For instance, China, Vietnam, and Laos won't allow anyone (even local citizens, let alone foreign investors) to own freehold property. Every plot of land is instead leased from the state, typically for a period between 50 and 99 years.
In either of those two cases, your sole option as a foreign investor in such countries is to rent or lease property on a long-term basis.
We don't think leaseholds are a good idea and strongly advise against them. The main reason is because they're a depreciating asset. A leasehold is always on a clock, ticking closer to zero.
Imagine trying to resell a 99-year leasehold with only 10 years left on the term! Asia is home to plenty of nations that allow freehold real estate, and there's no reason to invest in a country which limits you to leaseholds when it's not necessary.
WHAT IS THE BEST PLACE TO BUY REAL ESTATE IN ASIA?
Rarely does a "one-size-fits-all solution" exist, and international real estate certainly isn't an exception. The specific details of your ideal property will depend on your own unique circumstances.
If you're a retiree or someone looking to own a second home, then you're the only person qualified to make that choice. A lifestyle purchase should be about where you enjoy spending time.
As investors though, we're primarily concerned with profit and overall returns. Not whether we would personally enjoy living in the property.
It's worth noting that a clear majority of long-term investors prefer buying in capital cities or financial hubs, instead of resort towns or rural areas.
This strong preference for urban areas is caused by multiple factors.
First off, urban areas are where most of any nation's economic activity, corporate headquarters, highly paid jobs, transport hubs, educational opportunities, and lifestyle options are all focused. Cities simply have greater demand.
Secondly, large cities are the main beneficiaries of Asia's positive demographic trends. Property markets in developing Asia will especially see their urbanization rates climb, almost inevitably driving up demand for condos and houses in central locations.
What is urbanization rate, and why does it matter? Basically, it's the percent of any country's population that currently lives in urban areas. Urbanization rate typically peaks in developed nations, and is low (yet rising) in emerging and frontier market economies.
In Japan and South Korea, for example, their urbanization rates are 91.7% and 81.5% respectively. That's indicative of a country filled with office workers who have money to spend.
Emerging markets such as Thailand (50.7%) and the Philippines (47.45%) are about halfway along the economic development scale, and are rising.
Meanwhile, in Vietnam the urbanization rate is 37.1%. In Cambodia its even lower at 24.2%.
Places like these are often have the best real estate markets – all indicators show that their real estate markets will benefit from greater demand as their growing population moves from rural areas into the cities.
A final point: recent events since 2020 have proven that certain areas, in particular tourist towns and beach resorts, aren't anywhere near as resilient as major cities during times of crisis.
In conclusion, the best places to buy property in Asia are in high-growth urban areas which are currently going through a population boom. Think about cities such as Manila, Phnom Penh, Jakarta, and even Singapore or Seoul on the more expensive end.
INVESTMENT STRATEGY #1: PROPERTY FUNDS
If you're a hands-off-investor (a majority of UHNWIs especially are), then managed property funds and REITs are one of your best options. Such actively managed, diversified portfolios can provide the highest overall returns.
While real estate investment funds do take a management fee, they can also potentially make higher returns. Their ability to operate on scale adds value, often making it worth the cost of a few percentage points.
A real estate fund can buy larger commercial properties and office buildings – types of properties that usually generate higher rental yields than residential units.
REITs also take care of the management, rental, and maintenance of the portfolio. Bulk purchases lead to further cost savings on furniture, appliances, and construction projects. These relationship-based discounts are passed down to shareholders.
Similarly, local connections can lead towards an easier time renting properties. Real estate agents do have a choice of which properties to show, after all.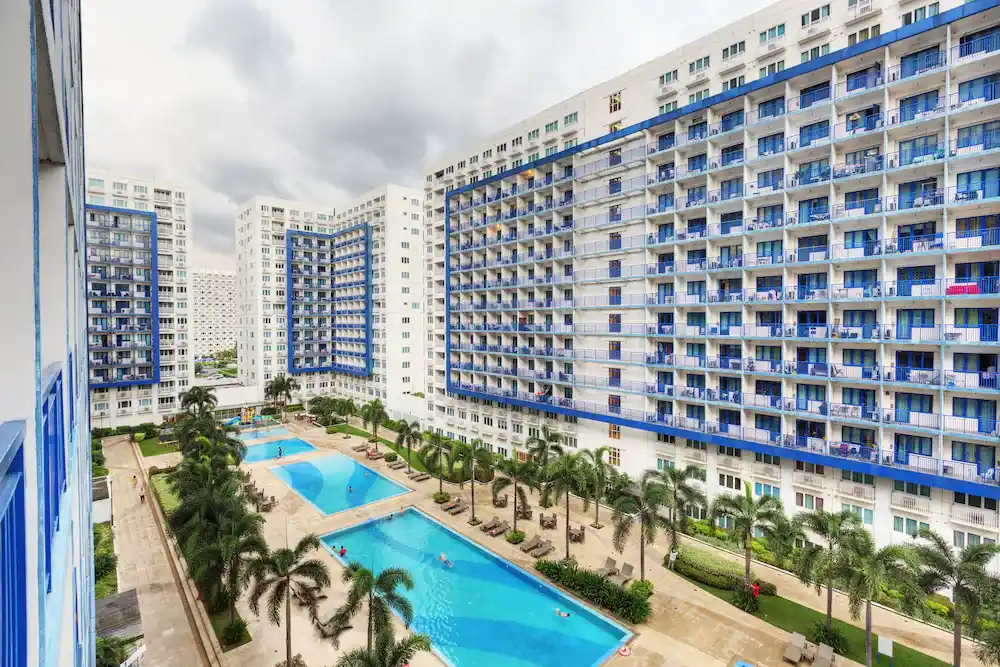 Condotels and other hotel investment projects are almost never a good idea. Here's how they work: buyers pay the developer a large premium above construction costs. Then, a small part of this developer profit goes toward financing any "guaranteed" returns for a few years.
INVESTMENT STRATEGY #2: BUY, RENT, AND MANAGE
The choice many smaller property investors will make, in particular those who are already living in Asia, is buying a property and managing it themselves.
If you prefer buying property yourself, then your first stop will probably be a real estate agent. This is especially true if you're purchasing in a developed market like Singapore or Japan.
Meanwhile, if you're buying a newly-built home or condo, your first stop will be the property developer itself. They'll walk you through the transfer process
You may also want to hire a lawyer depending on the developer's reputation, your familiarity with the market, and the specific place you're buying real estate in. Dealing with a developer directly is suitable in an environment with established, reputable developers like Thailand or Malaysia.
We don't suggest "going at it alone" in a country like the Philippines or Vietnam though. If you're doing business in frontier markets, and haven't already done so before, then you'll probably want advice.
Great deals can be found by word-of-mouth as well, and in some countries, most listings are private. They aren't announced and made public through realtors or online listings. However, you may not have access to the local connections required to find these deals as a foreigner.
Keep in mind that, as an individual foreign investor, you also might not have the ability to own all types of property.
Thailand, for instance, only allows local citizens to own landed properties. Nonetheless, you can still buy shares in a REIT or property fund in Thailand. Oftentimes, these are focused on higher-yield commercial real estate or hotels.
Meanwhile, in both India and Indonesia, only locals can buy real estate at all. As a foreigner, your only way to own the right to freehold property in either of these countries is through a REIT or fund.
The Ascendas India Trust, domiciled in Singapore, is one specific REIT that invests in India's commercial property market.
If you aren't actually living in the country where you own property, then you'll need to hire a real estate management company.
Dealing with maintenance, managing repairs, and finding tenants is incredibly difficult if you're based on the other side of the world. And failing to accomplish any of those three things will result in unhappy tenants… or none at all.
Management companies can help with the logistics of leasing your property. As a standard rule, such businesses usually charge about 20% of rental income – a similar amount to a property investment fund or REIT.
INVESTMENT STRATEGY #3: VACATION HOME COMBINATION
We mentioned above that some readers are probably seeking a lifestyle asset more than an investment. From our experience consulting with clients, we find that people often want to do both things at the same time.
The idea of "buying a summer home that can also be rented out" or something similar will pop up occasionally. But it's very difficult to accomplish both goals at once. We don't suggest mixing your investments with a lifestyle purchase or a second home.
Why should you separate your investments from your homes? Because the factors that make a good investment probably aren't the same ones that make an ideal personal living situation for you.
For example, in Thailand, two-bedroom condos between the size of 80sqm and 120sqm yield the highest and are currently easiest to rent out. What if you only require one bedroom though? Or have a large family which needs three or four?
Items which you might personally enjoy, such as decorations, kitchen upgrades, hot tubs, and built-in stereo systems, typically won't add any ROI. Worse yet, a tenant might break your expensive upgrades and cause damage to fixtures.
Landlords know this isn't fun to deal with at all. Especially if we're talking about a condo or house that you plan on staying in part of the year.
Plus, the optimal place to invest in real estate probably isn't where you happen to enjoy spending your personal time. If you're a beach person, and cities are the optimal investment (which they usually are), then you must make two different purchases to achieve both goals.
The main takeaway here is: it's best to spend time in places where you enjoy living, and invest in markets where you'll make a profit.
Skip the Next Western Recession
Learn the best places to invest – and where to avoid – by downloading our free Investment Cheat Sheet.