Last updated May 20th, 2019.
Investors usually buy property for two reasons: rental yields and capital appreciation.
Rental income and appreciation are both equally important. After all, cash flow does not help much if you have a depreciating asset. Likewise, real estate is illiquid and you should have the means to profit from it without selling it.
In practice, capital appreciation prospects are hard to predict before buying property though. Market analysis and otherwise doing your research can help take some of the guesswork out of things. But nobody is a psychic or knows exactly where real estate prices will head.
On the other hand, estimating yields is much easier. You just need to look at similar properties in the same neighborhood, see what they're rented for, and make a comparison.
Here are the top four cities in Asia with the highest rental yields. Keep in mind that we are only looking at capital cities. I don't want to fill up the list with cities like Battambang, Cambodia and Taunggyi, Myanmar.
4. Bangkok
Thailand's capital of Bangkok has Asia's fourth highest rental yields. You can expect moderate returns of around 5% in most parts of the city like Sukhumvit, Silom, and Ratchathewi.
Like all other places on this list, smaller one-bedroom apartments have better yields compared to larger units in Bangkok. However, the city faces an oversupply of one-bedroom condos right now – especially in the suburbs.
You might find it more practical to buy two or three-bedroom condos in Bangkok despite their slightly lower yields. Renting these units out is much easier.
Thailand is also one of the weakest economies in Southeast Asia. Its GDP growth rate of about 3.5% outperforms most western nations. Yet it remains very unimpressive by emerging market standards.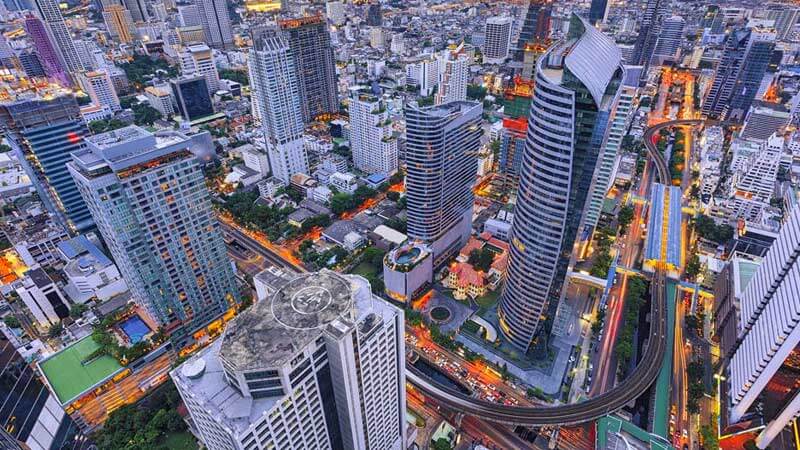 Rental yields aren't everything. Large, expensive condos in some parts of Bangkok's city center have tripled over the past decade. Meanwhile, the price of smaller, high-yield units in the suburbs have generally stayed stagnant.
3. Manila
The Philippines' capital of Manila ranks third on our list. Yields hover around the 6%-7% range in some parts of the metro area.
Not only that, but the Philippines is among Southeast Asia's fastest growing economy too. GDP increased by 6.2% last year which outpaced practically all of its neighbors.
Furthermore, the Philippines boasts the strongest population growth in the region as well. Its current population of 103 million will rise to over 140 million over just the next 30 years.
Population growth in the Philippines should drive future demand for real estate in prime areas and in turn, lead toward healthy appreciation over the long-term.
The bad news? Much of the Philippines' future potential is already priced into the market. For example, buying a condo in Manila costs about as much as buying in Kuala Lumpur, Malaysia. This is despite the fact that Malaysia is far more developed than the Philippines.
2. Phnom Penh
Phnom Penh, Cambodia has the second highest rental yields in Asia. It's common for them to exceed 8% annually.
You might have visions of Pol Pot and genocide when "Cambodia" is mentioned. But over two decades later, the country is now one of the most pro-business and forward-thinking places in the region.
Cambodia's economic growth is equally impressive as their rental yields. Like many other Asian frontier markets, Cambodia enjoys a rather strong record of avoiding recessions. They haven't suffered an economic downturn in over two decades, in fact.
Predicting capital appreciation is hard. But we think Phnom Penh's property market has better odds than just about anywhere else in the whole Asia-Pacific region.
Why? It's because Cambodia's largest city is one of very few in the world (and certainly the only Southeast Asian capital) where you can purchase prime, central real estate for below US$1,000 per square meter. Prices in Phnom Penh have few places left to go except upwards.
1. Jakarta
Rental property in Jakarta, Indonesia often returns close to 9% per year. As such, Jakarta tops our list and has the highest yields in Asia.
There's one big problem though. Taking advantage of Indonesia's great potential remains hard since foreigners cannot own property in their own name. As a non-local, the best you can get is a 70-year leasehold title.
70 years is a long time. Yet the question still stands: do you really want to "invest" money in a depreciating asset that you don't even truly own?
With that said, Indonesia is gradually becoming more open to foreign investors. Rules will likely change at some point in the not-so-distant future. And the government is already taking steps in the right direction.
That concludes our list of cities with Asia's highest rental yields. Think about investing in these four high-growth rental markets if you seek steady income and allocation to international real estate.
Skip the Next Western Recession
Learn the best places to invest – and where to avoid – by downloading our free Investment Cheat Sheet.