Last updated December 22nd, 2018.
Beijing is gathering regional support for China's New Silk Road. They've set aside over US$40 billion to build massive infrastructure projects that will connect Asia to Europe.
Also referred to as the "Belt and Road Initiative" this milestone project is based on the original Silk Road which stretched over 6,000 kilometers from China to Europe. It lasted for more than a millennium.
Chinese Premier Xi Jinping is looking to grow China's presence on the world stage. As a result, an increasing amount of capital will be aimed toward strengthening ties between Europe and the Asia Pacific region.
In addition to the New Silk Road, China is raising capital for the Asian Development Bank which is comprised of 21 countries in Asia. Chinese funding also started the New Development Bank, a monetary fund made up of the five BRICS members.
The idea of the Silk Road Economic Belt came to Xi Jinping while he was visiting four nations in Central Asia: Kazakhstan, Kyrgyzstan, Turkmenistan, and Uzbekistan. Central Asia is planned to serve as the main hub in a broader Silk Road economic belt stretching across Eurasia.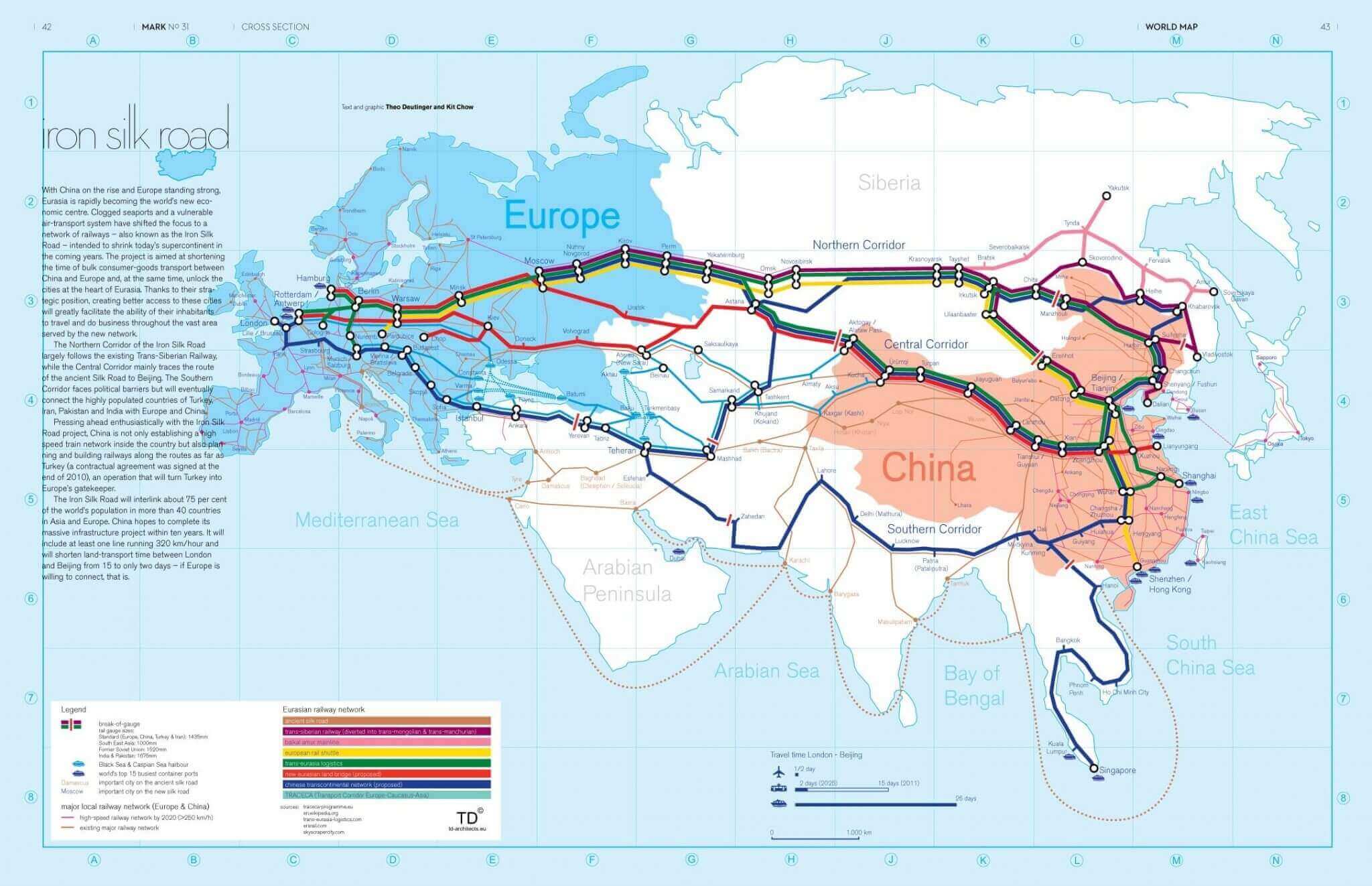 A map of the two main trade routes: the Silk Road Land Route and the Silk Road Maritime Route. Central Europe is the nexus.
Who Will Gain Most From the New Silk Road?
Eighteen countries are listed as major parts of the Silk Road routes. But analysts say that more than 60 countries will benefit because of transportation links through them.
Central Asia is the major focus for anyone wanting to invest in frontier markets. The region is the historical center of the Silk Road.
Kyrgyzstan, Kazakhstan, Tajikistan, and Uzbekistan are all particularly worth looking at because of their importance to the land route.
None of them are exactly easy for investors right now. Of course, first movers often gain most at the expense of putting up with some extra bureaucracy.
Kazakhstan
Kazakhstan is the most developed of these four countries, and is also home to the Kazakhstan Stock Exchange (KASE). The KASE Index rose by over 10% in 2014 and has a market cap of just a bit less than US$25 billion.
The law on Investments in Kazakhstan provides for "national treatment and non-discrimination for foreign investors". However, there are still restrictions on foreign majority owners in a few industries. Reports of unfair judicial rulings aren't uncommon either.
The main KASE Index consists of 8 different companies: 3 banks, 2 telecom companies, 2 oil & gas companies, and 1 mining company. Over 100 businesses are listed on the KASE exchange in total.
Kyrgyzstan
Kyrgyzstan is far less transparent and more corrupt in comparison to neighboring Kazakhstan.
The Kyrgyz Stock Exchange (KSE) currently has a market cap of just under US$160 million. The market is highly illiquid because of this. With that said, the main index boasts immense gains in certain years – sometimes nearly doubling in a bull market.
Recently, foreign direct investment in Kyrgyzstan has increased noticeably. Yet major concerns about investing in the country still remain. 
You can find a full list of investments listed on the KSE here.
Tajikistan
Tajikistan is the poorest of the four countries on this list, as well as the poorest in all of Central Europe.
While Tajikistan's Investment Law "guarantees the equality of foreign and local investors", laws guarding investors aren't always enforced and corruption is rampant in practice.
The nation's stock exchange launched in July 2013, but not many details are clear yet. Trading on the exchange isn't possible currently. As a result, opportunities for investment in Tajikistan, especially by foreigners, are few.
Uzbekistan
Uzbekistan is the most populous country in Central Asia with over 30 million inhabitants.
Nonetheless, extreme amounts of corruption and bureaucracy make this country the unsafest for foreign investors on this list. Steadily falling FDI numbers are worrisome for Uzbekistan too.
The Tashkent Stock Exchange (UZSE) has operated for over two decades though. You can find 135 companies listed on Uzbekistan's stock index.
What About Investing in China Itself?
For those not wanting to invest in frontier markets and achieve maximum returns, China will undoubtedly benefit from its Belt and Road Initiative as well.
China will raise the rest of the world along with it as the country reaps benefits from its many infrastructure projects.
Efforts toward strengthening global relations should also equal greater Chinese influence in the Asia Pacific region – for better or worse.
Opening a brokerage account in Hong Kong is the best solution for those wanting to invest in China. The Shanghai-Hong Hong Stock Connect allows investors to buy mainland China stocks through Hong Kong.
Skip the Next Western Recession
Learn the best places to invest - and where to avoid - by downloading our free Investment Cheat Sheet.