Last updated March 2nd, 2020.
Companies in Thailand are starting to invest in Myanmar once again as political fears subside. Thailand's total outward FDI into Myanmar's emerging economy amounted to over US$15 billion last year.
This amount is the second largest of any country besides China, which invested over US$30 billion in the country.
Myanmar's capital of Yangon is filled with billboards advertising some of Thailand's largest companies. CP Group, Bangchak Petroleum, Bangkok Dusit Medical, PTT, and several other firms already have begun operations.
Thailand's new entries into Myanmar are included among countless other multinationals from across the globe such as Coca-Cola, Telenor, and Samsung.
Probably because of increased awareness of "frontier Asia's" future investment prospects, Thai ambassador to Myanmar Pisanu Suvanajata says that his country won't stay Myanmar's second largest investor for very long.
The Myanmar Investment Commission (MIC) recently approved massive projects by investors from Singapore, Japan, and South Korea.
"Myanmar is not our choice. Indeed, they're choosing who should be allowed to invest here," said the ambassador.
Several factors can explain the large Thai business presence in Myanmar. These include rising wages in Thailand and many of its other neighbors, along with economic reform in Myanmar reducing barriers of entry into the country.
A long, shared border between the two Southeast Asian countries combined with Thailand's several-million strong Burmese community helps as well.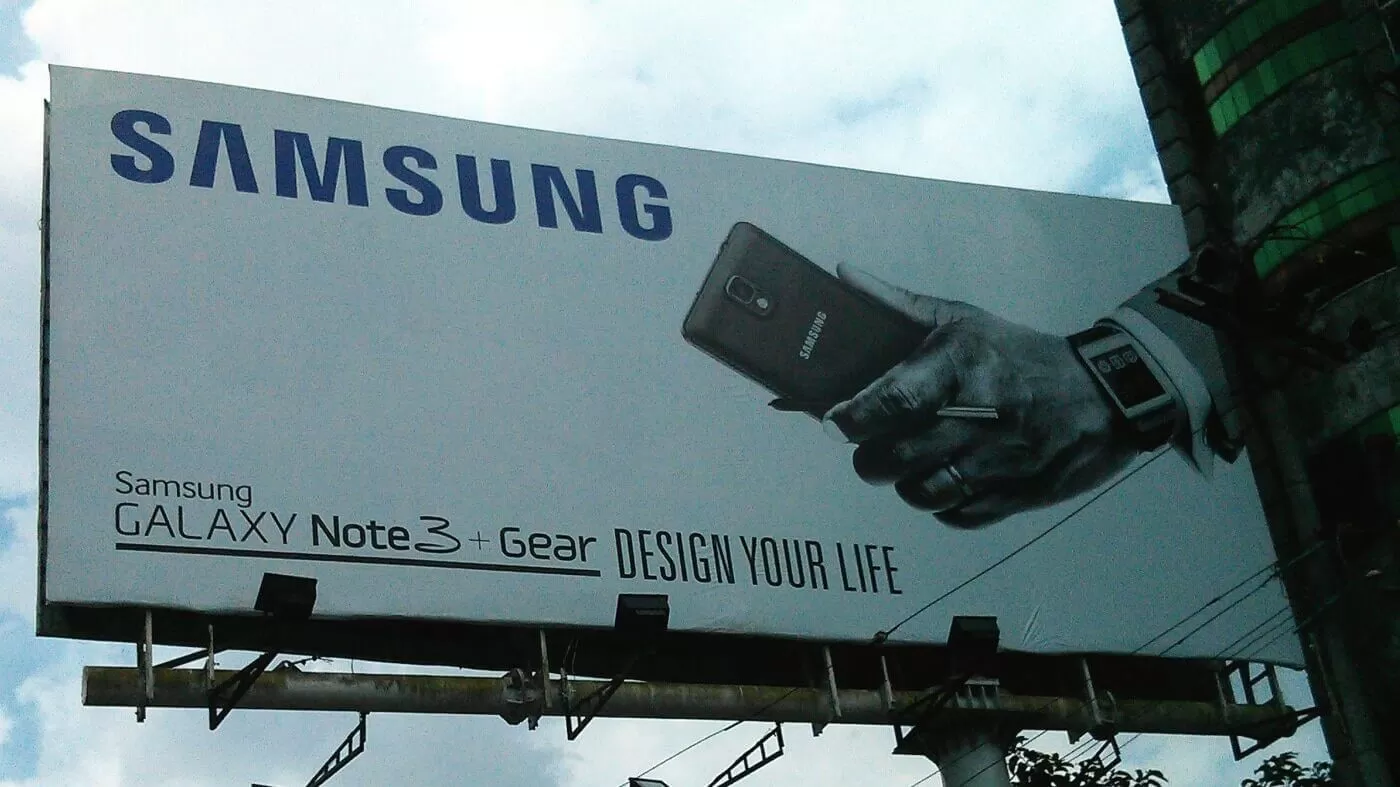 Here's a typical sight in downtown Yangon. Samsung, Nike, Coke, along with dozens other huge multinational firms are investing in Myanmar's rising consumer class.
Investing in Myanmar: Asia's Last Frontier Market?
Most analysts are optimistic about the Burmese economy's prospects during the 2020s while inward foreign direct investment from across Asia is now booming.
Total FDI rose from US$901 million in 2010 to US$6.2 billion in 2013 – a factor of nearly three times – during Myanmar's "peak years" earlier last decade. This naturally led to stellar GDP growth, which was 8.25% back in 2013.
And things are looking upward, despite a generally weak global economy. Bangkok Bank's executive vice president told those attending a seminar in Yangon that he expects growth in excess of 10% over the next decade.
"The IMF expects FDI to Myanmar to grow by $5 billion annually over the next 5 years. Personally, I expect it to be $8 billion per year, judging from conversation with potential investors who have shown their interest in the country," he said.
Yet Myanmar's government doesn't even approve large investments very often. Plenty of reputable global businesses had their projects rejected.
These "lost projects" could have otherwise made the performance of the Burmese economy even more impressive than it already is.
It's debatable whether this is due to the commission wanting to take a gradual approach to inward investment, or because of other reasons.
Myanmar Isn't Asia's Best Frontier Market Though
Either way, the country's economic development is progressing well. But there are still risks for companies wanting to invest in Myanmar.
Poor infrastructure, low supply of quality office buildings, lack of trained employees, and government bureaucracy lead to big challenges that foreign businesses in Myanmar must overcome.
Buying property in Myanmar as a foreigner remains immensely difficult, meanwhile. That's despite a change in the legal code several years back which finally allowed non-locals to own condominium units.
Myanmar doesn't really have much of a stock exchange either. The Yangon Stock Exchange launched back in 2015 to full fanfare, but today only hosts six listed companies.
We suggest investing in other Southeast Asian frontier markets instead of Myanmar, for these reasons and more. Myanmar could be the top place to invest ten years from now. But for the time being, consider looking toward Cambodia or the Philippines instead.
Right now, nearby frontier markets in Asia enjoy the bulk of Myanmar's upside potential and less risk.
Skip the Next Western Recession
Learn the best places to invest - and where to avoid - by downloading our free Investment Cheat Sheet.