For those who travel between Asia for work, long immigration lines and confusing visa requirements may seem like an unavoidable part of a business trip.
Yet some travelers have discovered the secret to bypassing these tedious experiences.
If you're a frequent business traveler within the Asia-Pacific region, the APEC Business Travel Card (ABTC) might just be the key to unlocking a more convenient, efficient, and rewarding travel experience.
The ABTC offers a range of benefits and streamlined processes, and is designed to make life easier for eligible business professionals who constant travel in Asia and elsewhere.
In this article, we'll look at what the APEC Business Travel Card can offer, along with its eligibility requirements and how to apply.
What is APEC?
APEC, or the Asia-Pacific Economic Cooperation, is a regional economic forum established in 1989 to promote economic growth, cooperation, trade, and investment in the Asia-Pacific region.
The organization consists of 21 member economies, including China, Japan, South Korea, Australia, and the US.
The APEC region accounts for approximately 60% of global GDP. If you're a frequent reader here at InvestAsian, you're probably already strategizing about how to get your slice of that pie. Keep reading, as the APEC Business Travel Card can get you there faster.
What is the APEC Business Travel Card (ABTC)?
The ABTC is a unique travel document designed specifically for business people who frequently travel within the APEC region. Its primary purpose is to make business travel more efficient and hassle-free for cardholders.
The APEC Business Travel Card program was launched in 1997. Currently, over 200,000 business travelers use the APEC Business Travel Card and are reaping its benefits to make their travels simpler and more streamlined.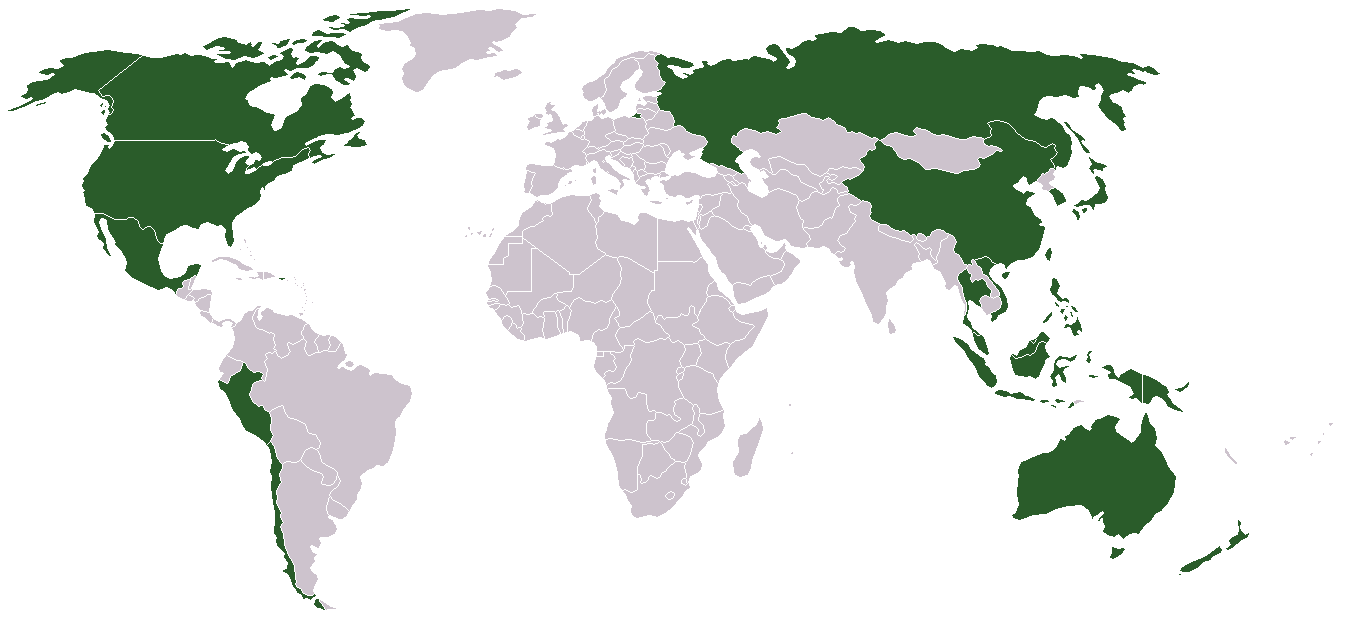 A map showing all full members of APEC, including transitional members Canada and the United States.
Key Benefits of the APEC Business Travel Card
There are several advantages to obtaining an APEC Business Travel Card:
Expedited Immigration Clearance
Cardholders can use special fast-track lanes at major airports in participating APEC economies, saving time and avoiding long queues at immigration.
In countries like Thailand and Japan, which often have long immigration lines, the ability to use dedicated APEC lanes can easily save you an hour if you arrive at a busy time.
Multiple Entry Visa
The ABTC functions as a multiple-entry visa for all participating economies, removing the need to apply for separate visas or entry permits for each visit.
ABTC cardholders are issued a visa on arrival for up to 60 or 90 days, depending on the country. This often grants you a visa on arrival in countries that would be difficult to enter without a prior visa.
Long Validity Period
The card is valid for up to five years, making it a convenient option for frequent travelers.
It's important to note that the US and Canada are considered 'transitional members' of the APEC.
Cardholders from the United States and Canada therefore aren't granted pre-clearance to the 19 'fully participating member' economies (a visa is still required), but they do get access to fast-track lanes at airports.
If you're one of the fortunate travelers who has multiple passports, this is one of those instances when applying with a non-American or non-Canadian passport will serve you better.
Eligibility and Application Process
To be eligible for the APEC Business Travel Card, applicants must meet the following criteria:
be a citizen of a participating APEC economy
be engaged in business within the region (this includes activities such as attending business meetings, conducting market research, and negotiating contracts)
have no criminal convictions
The application process for an APEC Business Travel Card typically involves filling out an application form and providing supporting documents, such as a passport, a business card, and proof of business activities.
ABTC application fees vary by the country you're applying in, and can range from free to several hundred dollars. The processing time also varies, but it can take weeks-to-months before receiving the card.
For Americans, applications for an ABTC are submitted online. Once getting conditionally approved, you'll schedule an in-person interview at a CBP office where they will take your fingerprints and ask questions about your need for the card.
A vast majority of these centers are based in the US, but there are usually a few located overseas at any given time, with one currently in Qatar.
Considerations Before Applying
While the ABTC offers numerous advantages, it's essential to evaluate its relevance to your specific travel needs.
The card is designed for business professionals who frequently travel within the APEC region, so if your business trips are mainly outside this area, the ABTC may not be the best option.
Furthermore, the application process can be time-consuming and bureaucratic.  You'll need to demonstrate your need for frequent travel or provide evidence of business activity in the APEC region (such as business contracts, letters of invitation, or travel itineraries).

Many global citizens are focused on residencies and second passports. For anyone who lives in the APEC region though, merely getting a business travel card is an easier path to special visas and VIP treatment at airports.
Are There Any Drawbacks to the APEC Business Travel Card?
While the APEC Business Travel Card (ABTC) offers numerous benefits for frequent travelers within the Asia-Pacific region, you'll want to consider some potential downsides before deciding if it's the right choice for you.
Rigorous Application Process
The ABTC is only available to citizens of participating APEC economies, and the application process can be quite lengthy. Applicants must first obtain a valid passport and be a member of a Trusted Traveler Program in their home country.
Additionally, the application process can take up to three months for approval, which may not be ideal for those who need to travel urgently.
Card Validity and Renewal
Although the ABTC is valid for up to five years, note that its validity is tied to the passport's expiration date. If your passport expires before the five-year mark, you'll need to reapply for the ABTC once you have a new passport.
Limited Access to Certain Countries
The ABTC covers 21 APEC economies, but it doesn't guarantee visa-free entry to all countries within the region. Some countries may still require a visa depending on your nationality and the nature of your travel, so it's crucial to research and prepare for any additional visa requirements well in advance of your trip.
Only for Business
If your travel is for personal reasons, your ABTC won't be enough to get you in. You'll need to complete the standard visa and travel requirements.
Is the APEC Business Travel Card Right for You?
The APEC Business Travel Card can be a game-changer for business professionals who frequently travel within the APEC region. Its benefits, such as expedited immigration clearance and visa-free access, can save you time and hassle.
Whether you're a seasoned business traveler or just starting to expand your ventures within the Asia-Pacific region, the APEC Business Travel Card has the potential to make your journeys more efficient and hassle-free.
Frequent travelers especially benefit from the card. If you're constantly moving around the Asia-Pacific region, getting the ABTC is worth exploring further.