Malaysia has long been a popular destination for expats, with many attracted to the country's high standard of living, low cost of living, and friendly people.
Located between the Malay Peninsula and the island of Borneo, Malaysia ranks as the second-wealthiest country in Southeast Asia after Singapore. Yet despite this, property values in KL are roughly the same as Manila or Jakarta.
For many expats, choosing to live in Malaysia is the obvious choice. As of 2023, there are around 250,000 expats living in Malaysia – nearly a full percentage point of the country's total population.
The country is also known for its excellent healthcare system and high-quality education, making it an attractive option for families and retirees. It certainly helps that Malaysia is one of few countries in Southeast Asia where foreigners can own land – not just a condo unit.
In this article, we'll cover the main topics you need to know about if you're moving to, or even visiting Malaysia. We'll dive into what it's like to live in Malaysia as an expat, how to adapt to the lifestyle, and what cultural differences to expect.
We'll also take a tour through the most popular cities in Malaysia for expats and review the various avenues you have to obtain a visa that will allow you to live here long-term.
What is Expat Life in Malaysia Like?
Living in Malaysia as an expat can be an exciting and rewarding experience, with a unique blend of cultures, delicious food, and a comfortable standard of living:
Malaysia is generally considered to be an affordable country to live in, especially compared to other expat destinations in Asia.
The cost of living in Malaysia varies depending on the city and lifestyle, but in general, it is possible to enjoy a comfortable lifestyle on a modest budget.
Groceries, transportation, and dining out are relatively inexpensive, although imported goods and high-end dining can be expensive.
Accommodation and Housing in Malaysia
Finding accommodation in Malaysia can be relatively easy, with a range of options available, from high-end apartments to more modest accommodations. Kuala Lumpur, Penang, and Johor Bahru are popular expat destinations, and there are plenty of rental options in these cities.
It's advisable to use a real estate agent to find suitable accommodation that fits your budget and preferences. For this, websites like PropertyGuru and iProperty are good places to see what's available on the market and get in touch with a realtor.
As of 2023, property values in central neighborhoods of Kuala Lumpur, like Mont Kiara and KLCC, are about US$4,000 per sqm if you'd like to buy. Second-tier cities like Penang and Johor Bahru are closer to US$2,000 per sqm.
Transportation in Malaysia
Public transportation in Malaysia is generally efficient and affordable, with trains, buses, and taxis readily available in major cities.
The RapidKL and MyRapid systems in Kuala Lumpur and the KTM Komuter train system are popular transportation options for locals and expats alike. Ride-hailing apps like Grab are also widely used and can be a convenient way to get around.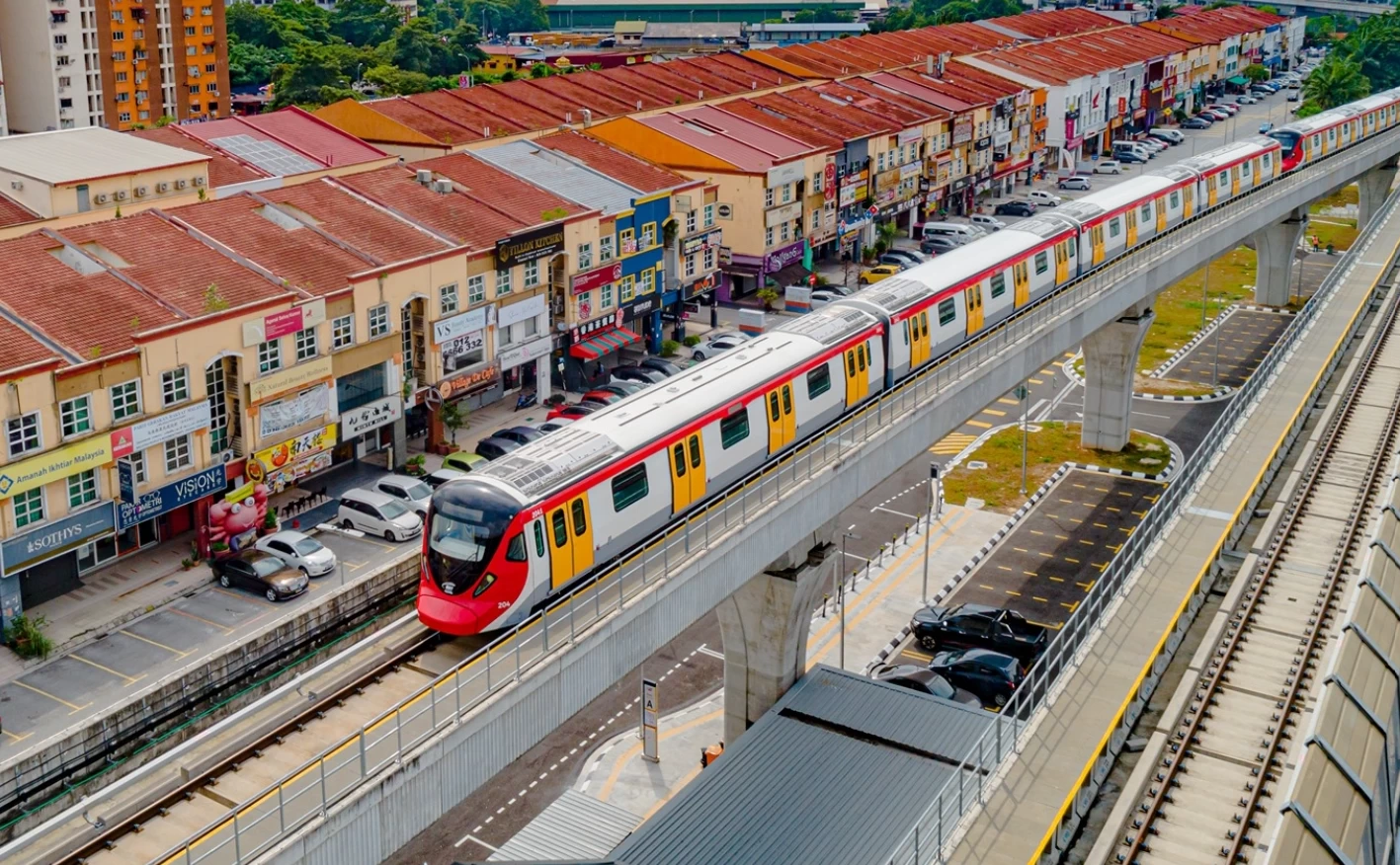 Kuala Lumpur's rail system continues expanding across the Klang Valley, with similar systems planned in Penang and Johor.
Safety and Security in Malaysia
Malaysia is generally a safe country, and violent crime is rare. You'll find Kuala Lumpur safer than most large cities in the US or Europe.
Nonetheless, expats should take basic precautions such as avoiding certain areas at night and not flashing valuables in public.
Violent crime in Malaysia is rare, while petty crime is far more common. Pickpocketing and bag-snatching can occur, especially in crowded areas and tourist hotspots.
Expat Healthcare in Malaysia
Malaysia is widely regarded as one of the top medical tourism destinations in the world, offering world-class healthcare facilities, highly trained medical professionals, and affordable treatment options.
The country's healthcare system is a mix of public and private sectors, with public healthcare facilities providing subsidized healthcare services to citizens and permanent residents, while private healthcare facilities cater to both local and international patients.
Malaysia has more than 200 private hospitals and clinics, many of which are internationally accredited by organizations such as Joint Commission International (JCI) and the Malaysian Society for Quality in Health (MSQH).
Together, these facilities offer a range of medical services, including complex surgeries, organ transplants, cancer treatments, and cosmetic procedures.
One of the biggest advantages of Malaysia's healthcare system is its affordability. Medical treatments in Malaysia are significantly cheaper compared to many Western countries, with the same quality of care.
In addition to the affordability of healthcare, Malaysia's medical professionals are highly trained and skilled. Many doctors and specialists in Malaysia have trained abroad and are fluent in English, making it easier for international patients to communicate and receive treatment.
Overall, Malaysia's healthcare system offers a high level of quality and affordability, making it an attractive destination for medical tourism and a reliable option for expats living in the country.
Schooling and Education
There are many international schools in Malaysia, which offer a range of curricula, including American, British, and Australian. Tuition fees can be high, but the quality of education is generally good, and schools offer a wide range of extracurricular activities and facilities.
Universiti Malaya (UM) is widely considered the top university in Malaysia, apart from those in Singapore, is the best in Southeast Asia. Ranking systems like QS consistently rank Universiti Malaya within the world's top 100 universities.
Opening a Bank Account in Malaysia
Opening a bank account in Malaysia is a straightforward process, and most major banks offer accounts to foreigners.
It generally isn't possible to open a bank account as a tourist in Malaysia though. You'll need to provide proof of identification and residency, such as a passport and visa, as well as proof of income.
Getting a Driver's License in Malaysia
Expats can drive in Malaysia using their home country's driver's license for up to 90 days, after which they must obtain a Malaysian driver's license.
The process of obtaining a Malaysian driver's license involves passing a written test and a practical driving test.
Phone and Internet
Malaysia has a well-developed telecommunications infrastructure, and both mobile phone and internet services are widely available.
The country's major telecom providers are Maxis, Celcom, and Digi, and prepaid SIM cards are readily available. High-speed internet is widely available throughout the country, with providers including TM, Maxis, and TIME.
Adapting to the Malay Way of Life
Preparing for the cultural differences you will encounter in any country is an important part of being an expat. Doing so helps decrease cultural shock and increase your ability to connect with and respect the locals and their culture.
So, what do you need to understand about Malay culture and customs before you go? Here are a few things to keep in mind:
Customs and Culture in Malaysia
Malaysia is a multicultural country, with a mix of Malay, Chinese, Indian, and indigenous cultures.

Respect for elders and authority figures is highly valued in Malaysian culture.

Islam is the predominant religion in Malaysia, and Muslims are expected to follow Islamic customs and practices.

Malaysians place a high value on hospitality and often offer guests food and drinks as a sign of welcome and respect.

Gift-giving is a common practice in Malaysian culture, and gifts are often exchanged during festivals and special occasions.

Dress modestly, especially when visiting religious sites or attending formal events.

Avoid using your left hand when eating or offering items, as it is considered impolite.

It is customary to remove your shoes before entering someone's home or a religious site.

Public displays of affection are generally not accepted in Malaysian culture, especially between unmarried couples.

Tipping is not customary in Malaysia, but rounding up the bill or leaving small change is appreciated in certain situations.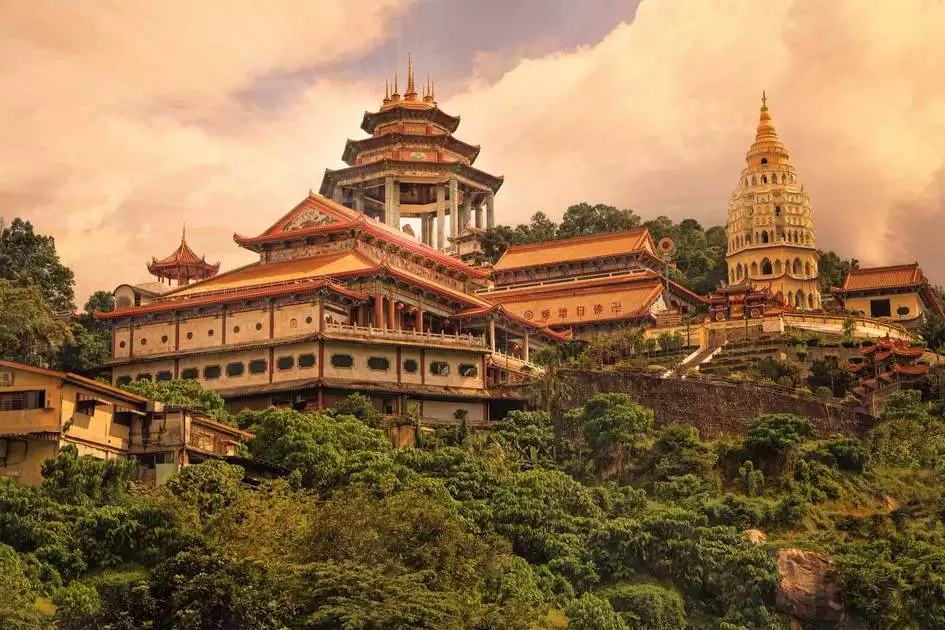 A majority of Malaysian are Muslim. That said, freedom of religion is very much allowed. You'll find Buddhist temples, synagogues, and churches across the country.
Learning the Language
The official language of Malaysia is Malay, although English is widely spoken, especially in business and education. Other languages spoken in the country include Chinese and Tamil.
While many Malaysians speak English, learning the local language (Malay) can be very helpful in adapting to the culture and making connections with locals.
Because it uses Latin script, Malay is a relatively easy language to learn – at least compared to others in Southeast Asia. You'll find many resources available for language learning.
Daily expat Life in Malaysia
Daily life in Malaysia may be different from what you are used to. It is important to be open to new experiences and to approach daily life with a sense of curiosity and adaptability.
For example, the weather in Malaysia can be very hot and humid, so it may be necessary to adjust your daily routine accordingly. You might not be used to hearing a call to prayer at 5AM either.
Malaysians are generally very friendly and welcoming to expats. However, it can take some time to make meaningful connections and form close friendships.
Joining clubs or organizations related to your interests can be a good way to meet new people and build connections.
Working Culture in Malaysia
It is important to be punctual and respectful of hierarchy and seniority in the Malaysian workplace. Face-saving is also an important cultural concept, so it is important to avoid confrontational or aggressive behavior in the workplace.
Overall, adapting to the Malay way of life requires an open-minded and respectful approach to cultural differences.
By taking the time to understand the local culture, learning the language, and being adaptable, expats can fully embrace all that Malaysia has to offer.
The Best Cities in Malaysia for Expats
I've frequently visited many parts of Malaysia for more than a decade and have close friends who have chosen to call it home. It's one of the best countries for foreigners looking to buy real estate in Asia because you can actually own freehold property here.
If you're serious about investing in Malaysia, our guide on how to invest in Malaysian property includes full details about the cities listed below. For expats, here are the highlights about each city if you are considering visiting or even moving to the country.
Kuala Lumpur
The capital city of Malaysia, Kuala Lumpur is a popular destination for expats due to its vibrant culture and thriving business scene.
Kuala Lumpur offers a range of housing options, from high-rise apartments to spacious homes, and has excellent transportation options, including a modern light rail system.
Generally, the cost of living in Kuala Lumpur is lower than in many other major cities in Asia. It's possible to enjoy a high quality of life as an expat without breaking the bank.
Johor Bahru
Johor Bahru is a major city in southern Malaysia, located just across the border from Singapore. The city is known for its affordable housing options, with many expats choosing to live in gated communities or condominiums.
Johor Bahru has a bustling center with a variety of shopping, dining, and entertainment options, as well as several large malls.
The city is also home to several international schools and has a large expat community.
Penang
Penang is an island off the northwest coast of Malaysia and is a popular destination for expats looking for a more laid-back lifestyle. The island has a rich cultural heritage, and many of its historic buildings and neighborhoods have been preserved.
Generally speaking, the cost of living in Penang is lower compared to Kuala Lumpur, and expats can enjoy a high quality of life at an affordable price.
The island is known for its excellent food, with many expats and locals alike enjoying the street food and local cuisine. The island is also home to several international schools and has a large expat community.
Langkawi
Well-known for its beautiful beaches and natural scenery, Langkawi is an island located off the northwest coast of Malaysia and is a popular tourist destination.
Langkawi offers a relaxed lifestyle with a low cost of living and warm climate year-round. With that said, real estate options are difficult to come by. You won't find too many living choices here.
While Langkawi does have international schools, expat families with school-aged children may find it more challenging to find suitable education options.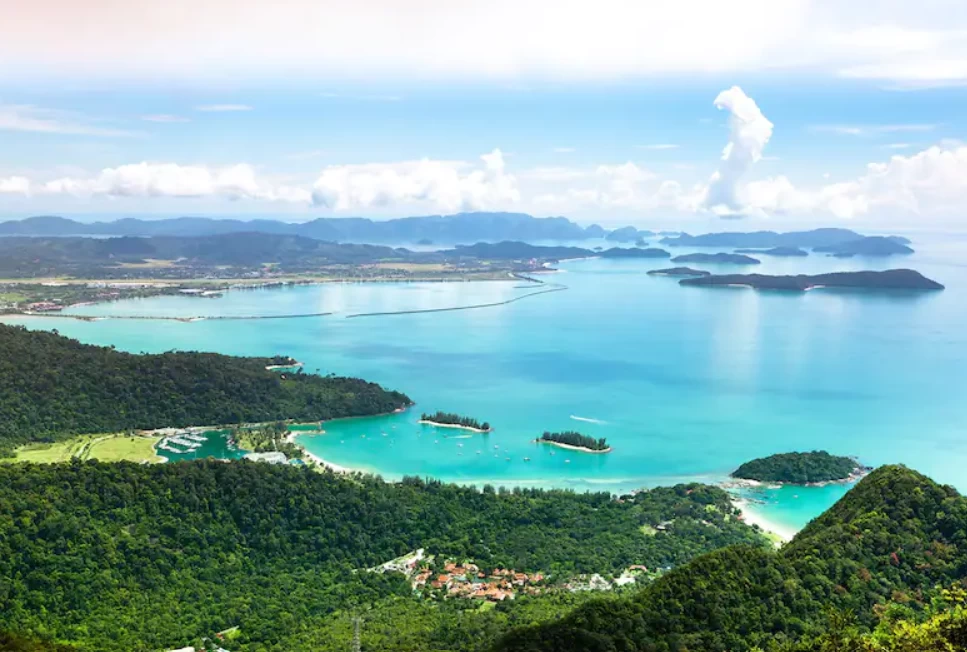 Langkawi would be a great place to work as a digital nomad or retire. The problem is, not much housing is available here – especially if you're looking to buy as a foreigner.
Malacca
Malacca is a historic city located on the west coast of Malaysia and is a UNESCO World Heritage Site. The city has a rich cultural heritage, with a blend of Chinese, Malay, and European influences.
Cost of living in Malacca is generally lower than in many other major cities in Malaysia, and the city offers a range of housing options, from apartments to historic homes.
The city is known for its cultural attractions, including museums, temples, and churches, and has a relaxed pace of life. However, expats looking for a more vibrant nightlife or business scene may find the city to be too quiet.
Kota Kinabalu
Kota Kinabalu, commonly referred to as "KK" is the capital city of Sabah, located on the island of Borneo. The city has a low cost of living and offers a relaxed lifestyle with plenty of outdoor activities, such as hiking and island hopping.
The city has a range of housing options, from apartments to villas, and is known for its excellent seafood and local cuisine. Kota Kinabalu is also home to several international schools and has a small but growing expat community.
Kuching
Kuching is a laid-back city that is popular with expats due to its low cost of living, friendly locals, and good food.
The city is surrounded by rainforest and offers easy access to outdoor activities such as hiking and wildlife watching. Kuching's expat community is small but tight-knit, with many opportunities to socialize through events and clubs.
Ipoh
Ipoh is a smaller city that is known for its food and colonial architecture. It has a slower pace of life than some of Malaysia's larger cities, which can be appealing to expats looking for a quieter lifestyle.
The cost of living in Ipoh is relatively low, and the city is well-connected to other parts of Malaysia by road and rail.
Cameron Highlands
The Cameron Highlands is a popular destination for expats looking to escape the heat and humidity of Malaysia's cities.
Known for its tea plantations and hiking trails, you'll find many outdoor activities in the Cameron Highlands such as cycling and golf.
Living costs are higher in the Cameron Highlands compared to elsewhere in Malaysia – and space is limited. Yet the cooler climate and beautiful scenery make it a popular choice for expats.
Perhentian Islands
The Perhentian Islands are a pair of small islands also located off the east coast of Malaysia that are popular with expats looking for a quiet, laid-back lifestyle.
As with the other islands on this list, the Perhentian islands are home to beautiful beaches and coral reefs, and there are many opportunities for diving, snorkeling, and other water sports.
But again, keep in mind that the cost of living on islands is higher than on the mainland.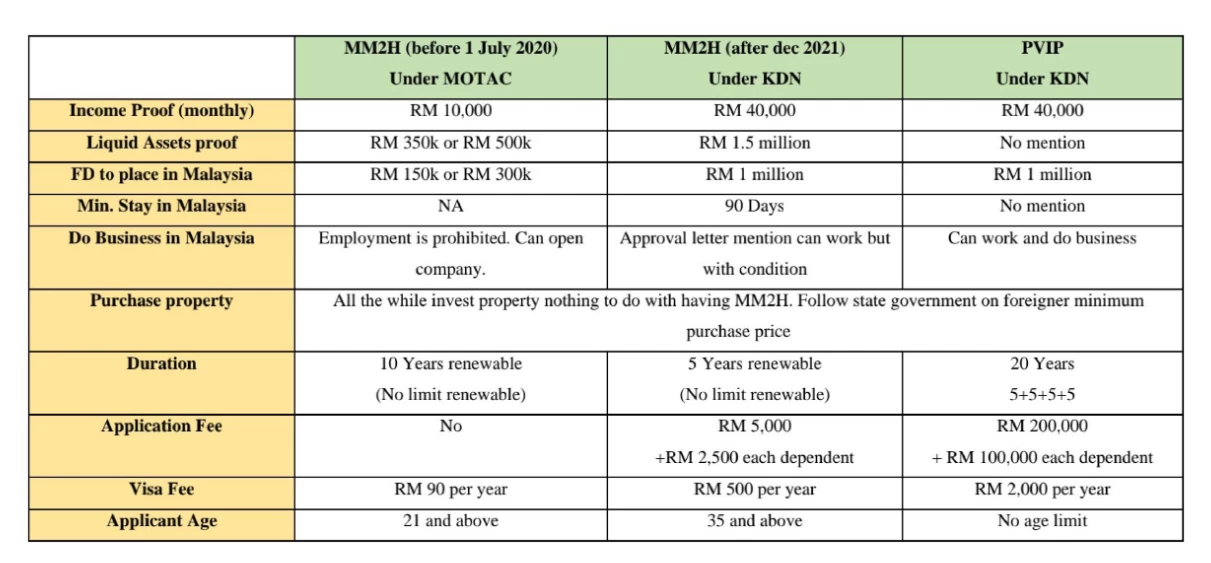 A side-by-side comparison of the PVIP program requirements, MM2H, along with the old MM2H requirements prior to the change.
Getting Long Term Visas in Malaysia
Compared to elsewhere in Asia, Malaysia is noticeably more open to foreign residents. You'll have an easier time getting a visa here than just about anywhere else in the region – except maybe Cambodia or Thailand.
The Malaysia My Second Home (MM2H program) was the first investment visa scheme of its type in Southeast Asia and has continuously operated since the early-1990s.
Up until recently, it was the only way you could live in Malaysia on a permanent basis. Nowadays, you also have the Premium Visa (PVIP) program which is arguably an even better option if you're a wealthy investor.
Below you'll find a quick overview of Malaysia's two investment residency options.
The Malaysia My Second Home (MM2H) Program
The Malaysia My Second Home program is a popular residency program for foreigners who wish to live in Malaysia.
The program provides a 5-year renewable visa to successful applicants, allowing them to stay and live in Malaysia without the need for a work permit.
The program requires a minimum fixed deposit of RM1,000,000 ($250,000) to be made in a Malaysian bank account, which cannot be withdrawn until the end of the program. Additionally, applicants must meet a minimum monthly income requirement of RM40,000 ($10,000) to prove they can support themselves while living in Malaysia.
It's worth noting that the MM2H program was changed significantly in 2022. The fixed deposit investment amount was doubled from RM500,000 to RM1,000,000, and the income requirement was quadrupled from RM10,000 to RM40,000.
Another notable change to MM2H is the new residency requirement, stipulating that applicants must spend at least 90 days in Malaysia each year to maintain their visa.
Despite the changes, the MM2H program remains an attractive option for many expats, as it provides a relatively easy way to obtain long-term residency in Malaysia, a country known for its low cost of living and welcoming people.
However, the increased financial requirements and residency obligations absolutely make the program less accessible than it was previously.
The Premium Visa Program (PVIP)
The Premium Visa Program (PVIP) was introduced in 2022 as a new option for foreigners who wish to live in Malaysia. Like the MM2H program, the PVIP provides a long-term visa for eligible applicants.
The base requirements for the PVIP program are similar to the MM2H program in terms of the minimum fixed deposit investment amount (RM1 million) and the monthly income requirement (RM40,000).
However, there's an additional government fee of RM200,000 for the main applicant and RM100,000 for each dependent, which makes the PVIP program more expensive than MM2H.
One significant advantage of the PVIP program is that there is no residency requirement needed to maintain the visa. This means that applicants do not need to spend a minimum amount of time in Malaysia each year to keep their visa valid.
That's in contrast to the MM2H program, which now requires a minimum physical presence of 90 days per year in Malaysia.
Another difference between the PVIP and MM2H programs is the minimum age requirement. While the MM2H program requires applicants to be at least 35 years old, there is no minimum age requirement for the PVIP program.
Overall, the PVIP program offers an attractive option for foreigners who want to live in Malaysia without the residency obligations of the MM2H program. However, the additional processing fees make it a more expensive option, which may be a barrier for some.
Conclusion: Is Moving to Malaysia a Good Idea?
In conclusion, Malaysia offers a unique blend of culture, beauty, and affordability that makes it an attractive destination for expats from all over the world. The country boasts a rich history, diverse landscape, and delicious food, as well as modern amenities and infrastructure.
The cities of Kuala Lumpur, Penang, Johor Bahru, and Malacca are popular among expats for their vibrant culture, excellent healthcare, and affordable cost of living.
Meanwhile, the smaller towns of Kuching, Ipoh, Cameron Highlands, Genting Highlands, Tioman Island, Redang Island, and Perhentian Islands offer a more relaxed and laid-back lifestyle.
Malaysia also offers two long-term visa programs, the MM2H and PVIP, which provide a pathway for expats to live in the country.
While the recent changes to the MM2H program make it less attractive than before, the PVIP program offers a more flexible option for those who can afford the additional processing fees.
Overall, Malaysia is a wonderful place to live for expats who are looking for an affordable and high-quality lifestyle in a unique cultural setting.
Malaysia offers something for everyone, from bustling cities to serene islands. It's no surprise that it continues to be a popular destination for expats.