Last updated September 13th, 2018.
The Philippine economy will grow by a huge amount before 2030 and become one of Southeast Asia's largest. Meanwhile, a burgeoning middle class and strong industry are supporting optimism among both individual and corporate investors.
Sure, the Philippines hasn't received global coverage for positive reasons lately. Geopolitical disputes with China and drug crackdowns are what makes headlines on BBC or Fox News.
But the Philippine economy is a completely different story. It's averaged GDP growth well above 6% per year over the past decade. That pace is set to continue. Better yet, they haven't had a single year of recession since 1998.
A conservative estimate says GDP will grow by 6% between 2018 and 2020. Per capita GDP could double to US$6,000 a year by 2023 if this rate is sustained. That's very possible even in case of yet another global recession.
By 2029, the size of the Philippine economy would more than triple from US$310 billion in 2015 to over US$1 trillion.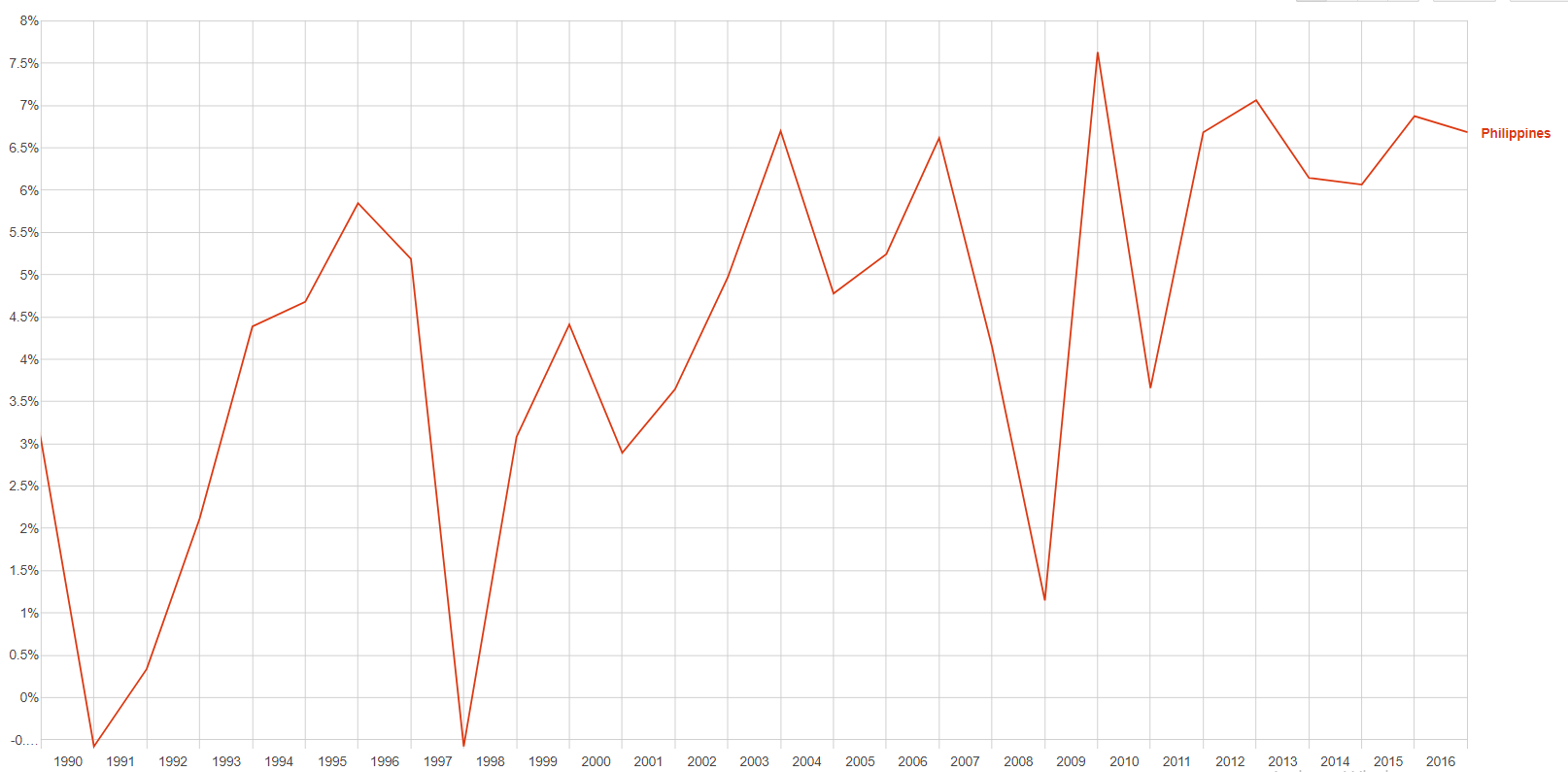 The Philippine economy has a strong record of growth lasting several decades.
One reason for the Philippine economic boom is that policy makers are actually learning from their neighbors – both in terms of what works and doesn't.
The government is a capable of successfully implementing projects and laws. Not exactly a common thing in emerging markets.
For example, Philippines foreign property ownership laws are based off Thailand's. Using an existing framework means investors are more confident in its practice.
Master-planned areas like Bonofacio Global City are reminiscent of Singapore or Dubai. It's a painfully slow process at times. But very surely, old rules and institutions are being replaced with better ones.
The Future: Philippine Economy in 2030
Today, important drivers of growth for the Philippine economy are the outsourcing sector. A strong flow of remittances from workers living abroad also contributes billions of dollars every year.
Both activities are helped by a large pool of university-educated workers. Workers boast superb English-language skills compared to the rest of Asia too.
There's only two places in the world where you can find an abundance of capable English speakers at such a competitive price: India and the Philippines.
Revenue from business process outsourcing (BPO) more than doubled between 2008 and 2014. Fast-paced growth of this sector aids development in metro areas with Manila and Cebu now among the world's top BPO hubs.
Furthermore, offshore remittances from Filipino workers abroad grew to a record high of US$26.9 billion in 2017. This money directly supports consumer spending and residential property construction back home.
Looking toward the long term, the Philippine economy's development will depend on its industrial competitiveness. The nation's ability to maintain high efficiency and attract foreign investment matters immensely.
There's a lot of work left. The Philippines ranks low globally on the World Bank's ease of doing business rankings and many other key metrics.
Major issues like unemployment, bad infrastructure, and corruption all still remain. The Philippine economy is headed in the right direction though.
Skip the Next Western Recession
Learn the best places to invest - and where to avoid - by downloading our free Investment Cheat Sheet.