The history of Dubai is a tale of transformation. Once a sleepy fishing village, it's now one of the fastest-growing cities in the world.
Discovery of oil in the 60s fueled its rapid development, but the city has since diversified into tourism, real estate, and finance. All of this has made it a regional, if not global, hub.
Nestled on the southeastern coast of the Persian Gulf, Dubai is a futuristic city dotted with skyscrapers, swanky roof-top terraces, heli-pads… the list goes on. Whatever the rich and the famous want, they can get it in Dubai.
The population of Dubai is a touch over 3 million, and the city is an absolute melting pot of cultures with expats making up over 80% of its population. Why have they been flocking to Dubai for decades?
Well, the tax-free income helps, as does the lavish lifestyle, safety, and the plethora of opportunities in many industries and sectors of the economy.
Plus, a strategic location just on the edge of Asia and with many connections to Europe has made Dubai an integral part of the global trade mechanism.
Let's take a closer look at some of the main aspects of living in Dubai as a foreign expat.
By the end of this article, we aim to help you figure out if Dubai fits your work and lifestyle goals.
The Cost of Living in Dubai
Dubai is often placed alongside cities like London and New York when it comes to the cost of living. In other words, it's one of the most expensive places in the world, especially for accommodation, dining out, and groceries.
However, the absence of income tax and the relatively high salaries in the city often offset these higher expenses.
Overall, it's a city where luxury is within reach, but budgeting and financial planning are still essential when living in Dubai.
For example, an inexpensive meal at a mid-range restaurant will set a couple back $70, not including drinks. A pint of beer will cost you $15, and a cappuccino $5. A monthly pass for public transport is about $85.
Housing in Dubai
Dubai's real estate market offers a plethora of options, from the opulent to the budget-friendly.
However, what Dubai is really known for is luxury. Lavish penthouses in the Burj Khalifa and beachside villas in Palm Jumeirah are but a few options. Renting a luxury flat in a central area can easily cost you $5,000 or more, depending on the amenities.
Of course, there are also more affordable options available, but you're almost always looking at thousands of dollars on rent, as opposed to hundreds.
Emerging neighborhoods on the periphery of the city are where you can find more budget friendly options, providing quality living without the hefty price tag of downtown Dubai.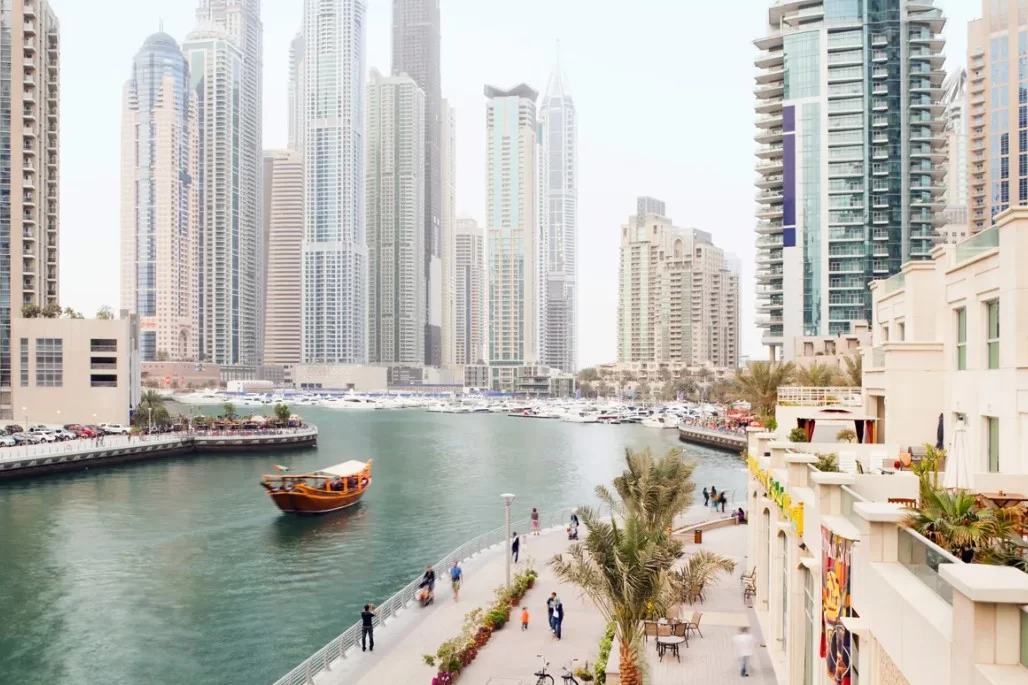 Dubai Marina is an increasingly popular neighborhood to live in. Set aside from the downtown core, the waterfront area is highly-walkable and filled with restaurants. 
Most expats will rent in Dubai, but you might consider buying if you'd like to treat the property as a long-term investment.
Real estate in Dubai has investment potential and could provide you with the flexibility you need to have a homebase and travel. Understanding market trends and the legal requirements before you buy is critical, however.
Best Neighborhoods in Dubai
The city offers a wide range of areas that cater to different budgets and lifestyles. Here are the top 5 neighborhoods of Dubai where you'll find the most expats.
Dubai Downtown

. If you can afford to live in Dubai's downtown core, you'll be within arm's reach of all the iconic landmarks, including the Burj Khalifa. Luxury apartments and world-class shopping and dining experiences are right on your doorstep in downtown, but it does come at a price.

Jumeirah Beach Residence (JBR)

. Beachfront living that could work for singles, couples, or families, JBR gives you access to many leisure activities. It's almost like you're living at a resort – every day.

Arabian Ranches Dubai

. A little further away from it all are these spacious villas. Sure, they're family oriented, but the lush green landscapes are suitable for singles and couples (with pets) too. If you prefer a suburban lifestyle or love to surround yourself with nature, this could be a perfect area in Dubai.

Mirdif

. A family-friendly community awaits. There is easy access to schools, community parks, shopping malls, all wrapped in a multicultural environment. This area is most suitable to mid-to-high income families, pet owners, or simply those who want to get more value out of their money.

Business Bay & Marina

. Mostly suitable for young professionals and couples, this area of Dubai will appeal to those who love an urban environment alongside a vibrant waterfront. You could be right around the corner from your office, too.
Transportation in Dubai
Dubai's transportation system is modern and well-connected. A large part of this is thanks to the fact that even the city itself is relatively new.
Dubai's metro system, buses and taxis all offer convenient and relatively cheap ways to get around for those who don't have a private vehicle or don't want to be stuck in traffic for hours.
That said, private vehicle ownership is very common. Dubai's extensive road network and subsidized fuel prices make driving an attractive option. The comfort of an air-conditioned car is a huge plus.
But, traffic can be a real downer during peak hours, and parking in Dubai poses its own challenges as well.
Walking and cycling can be good alternatives, but only when the weather is milder in the winter months, and when there are no sandstorms. Overall, it's not a really walkable place.
Safety and Security in Dubai
Dubai is renowned for its low crime rates. Even petty crimes such as pickpocketing, so common in other world-class destinations, are rare.
Low crime rates in Dubai are a testament to its effective law enforcement and a rather strict legal system. In other words, you have absolutely nothing to worry about in terms of safety and security when moving to Dubai.
However, expats and tourists alike must be aware of local laws and customs because some actions that are considered completely normal in the West are criminalized in Dubai.
Get familiar with the local regulations and cultural norms to avoid being fined or held legally responsible. For example, do not swear publicly, don't indulge in public displays of affection, and don't use your left hand to greet anyone.
Furthermore, during Ramadan, don't eat in public.
We have more where that came from, so do your legal research before you board that flight to Dubai.
Healthcare in Dubai
Since the city is predominantly populated by expats who are generally considered upper-middle class or even high class, medical services are excellent.
Between world-renowned hospitals and wide availability of medical professionals, expats living in Dubai have access to quality healthcare. 
Just make sure to have adequate health insurance coverage. In fact, health insurance is mandatory for all residents of Dubai. Various insurance providers offer tailored plans to suit individual needs and, luckily, budgets.
Understanding what's covered under each plan and then choosing the right one for you will be time well-spent to then have a hassle-free healthcare experience. Generally speaking, health insurance will cost you approximately $75-100 per month.
Finally, unlike in some destinations in the world (we're looking at you, South America), the emergency services are well-equipped, centralized, and respond right away.
You can always count on someone arriving quickly if you or a family member of yours has a medical emergency.
Schooling and Education in Dubai
Excellence seems to be the common thread when talking about Dubai, and education is no different. Dubai offers world-class educational facilities for the offspring of its affluent international residents
The city has invested heavily in American, British, French and other schools over the past decade, upholding extremely high educational standards. This makes it an attractive destination for families with kids young and old.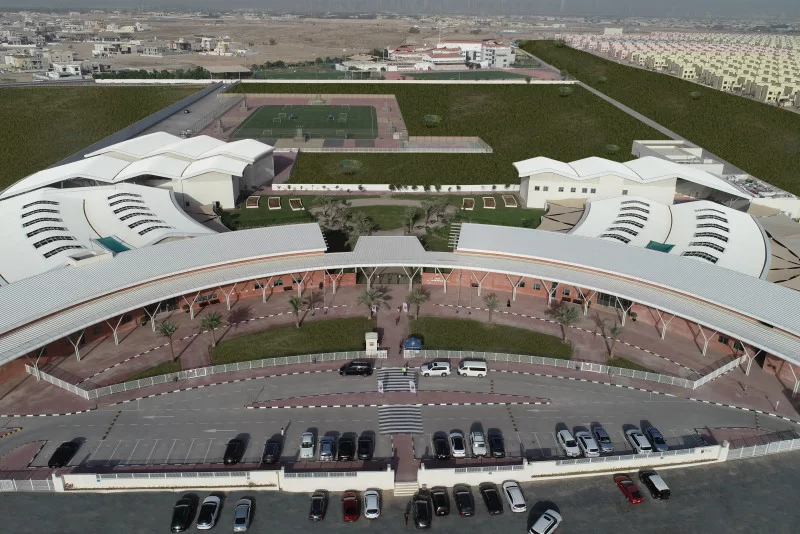 Private K-12 school fees in Dubai start from about 25,000 diram (~$7,000) per year, rising as high as 90,000 diram (~$25,000) for top institutions.
There are also the local schools which follow the United Arab Emirates' (UAE) national curriculum, but the language of instruction is Arabic.
It's doubtful that these would appeal to expat families, but these schools do provide an unmatched opportunity for cultural immersion and have much lower fees compared to international schools.
And if it's higher education that's of interest to you, whether you have adult kids or want to continue with your own education, Dubai is home to some great international universities. You could get your MBA studying part-time, for example.
Opening a Bank Account in Dubai
One of the first orders of business for any expat in Dubai is to open a bank account.
Luckily, banking in Dubai is relatively straightforward for expats. Various international and local banks offer services tailored to expatriate needs, and the banking sector in general is robust.
Both international and local banks offer services such as fast international transfers and currency exchange, bank accounts, credit cards, and mortgages.
Digital banking is also prevalent in Dubai. Both online and mobile banking is offered by every bank in Dubai, which is convenient and flexible. You can easily manage your finances on the go.
Some of the best banks for expats in Dubai are:
Abu Dhabi Commercial Bank (ADCB)

. This is one of the most popular banks for expats in Dubai and the third largest in the UAE. The key words are speed and simplicity. ADCB also has the strongest physical presence in Dubai.

Mashreq Bank

. Although the bank doesn't have as many physical branches as others, it's a reputable institution and popular with expats. It's been providing services to the residents of Dubai for over 50 years.

Liv Bank

. This is an online bank with no physical branches available that offers a no-nonsense way of banking via your phone. It offers all of the services expats could need, from savings accounts to credit cards.
You'll need your passport and the documentation of your visa to open a bank account at a branch (or online). Before you sign a contract, take a look at all of the fees that the bank will be charging you so nothing comes as a surprise.
Getting a Driver's License in Dubai
You cannot move to Dubai and simply use your driver's license from home. Driving in the UAE requires a local license that you can only obtain there.
For some, that process involves a driving test and fully grasping the local driving regulations. You may feel as if you're a teenager again going through driver training!
But don't fret: most expats can simply exchange their license for a local one in a matter of a few days. You'll need an eye test and a few more requirements, but the process should be smooth sailing.
When it comes to the actual driving in Dubai, the traffic can be challenging, but the city's road infrastructure is well-maintained and shouldn't pose any problems.
Note that adherence to traffic rules is strictly enforced, including the speed limits, local driving etiquette, and road signs.
Phone and Internet in Dubai
Dubai has the fastest internet connection in the Gulf, but it's also one of the most expensive places for broadband. Various providers offer phone and internet services, and staying connected is generally hassle-free wherever you go (barring the desert).
While there are a handful of providers, most of them offer very similar services at very similar price-points. Your best bet will be to simply continue with the internet provider that your rental previously had or extend an existing contract.
Meanwhile, several telecom operators provide mobile services in Dubai, from prepaid to postpaid. Options are also available to suit different data usage patterns and budgets – just like everywhere in the world.
For the frequent travelers, international roaming and calling plans are also offered.
However, there is one major difference between the communication services in Dubai and most of the Western world: censorship.
Some websites and messaging apps may be restricted in Dubai, such as WhatsApp and Facebook Messenger.
That said, expats in Dubai have found a plethora of ways to avoid these restrictions or have found legal alternatives to ensure they stay connected to their friends and family abroad.
Adapting to the Dubai Way of Life
If you're someone from the West moving to Dubai, there will surely be aspects of life that'll be highly unusual or unexpected.
Adapting to life in Dubai means embracing this blend of traditional Arab culture norms and modern ones. From understanding the local customs to learning conversational Arabic, it'll all be part of your expat journey.
Here are the main points to consider:
Religion. Dubai is a Muslim city, so recognizing and respecting the local traditions will be paramount. From dress codes to behavior during Ramadan (e.g. no eating in public), cultural sensitivity is key to thriving in Dubai as an expat.
Language. Learning the language will help you have a more authentic experience, although it's by no means mandatory in such a cosmopolitan city.
We're not saying you should become fluent in Arabic, but even the most basic phrases could help. You can enroll in the many Arabic language courses or exchanges that are available in Dubai to enhance your integration into the local culture.
Climate. Dubai is a desert. That means hot or extremely hot temperatures most of the year – around 48C or 118F. You'll need to adapt to the desert climate and find some workarounds to stay comfortable and safe in the heat.
For example, your home must have air-conditioning, you should exercise outside only in the early mornings and late evenings.
And if you know for sure that you can't handle the heat, maybe reconsider living in Dubai because there is no escaping it here.
Social life. The expat community in Dubai is vast, vibrant, and welcoming. Join sports or hobby clubs, engage in social events, and make friends to build a new social network and avoid loneliness. When it comes to the locals, social etiquette dictates that you show utmost hospitality and respect for elders and guests.
For families with children, Dubai offers many activities and family-friendly spaces such as parks, play areas, and workshops.
Leisure and dining. The options are plentiful. From desert safaris to indoor skiing, Dubai offers many unique experiences. And when it comes to dining, it's a true gastronomic adventure. From local Emirati dishes to international gourmet experiences, the city restaurants cater to all tastes.
You should explore the local markets, too, to give a distinct flavor to your expat life in Dubai.
Working and business. Dubai's booming economy offers diverse employment opportunities. However, the job market can be competitive, and companies expect a lot from their employees, including overtime.
Overall, Dubai's working culture values professionalism, punctuality, and respect. Think business attire, formal greetings, and strict adherence to organizational structure.
Dubai Visa Options
The number of expats that Dubai has is testament to the ease of obtaining a visa. There are many kinds, too, including work, residency, and perhaps most notable, the "Golden Visa" option.
Understanding the requirements of each, as well as the application process and its validity, is a must if you want your stay in Dubai to be legal. The visa requirements will be based on the purpose of your stay and your nationality.
As we mentioned before, UAE takes their laws seriously, and you could face a fine or even jail time for committing crimes in Dubai.
That said, the visa process is efficient, with clear guidelines and online application systems available to all. No excuses!
It takes approximately 2 weeks for you to get a resident visa.
You can either hire an authorized agency to have a hassle-free visa experience, trust your new employer to help you out, or even do it yourself. It will all depend on why you're moving to Dubai and your personal circumstances.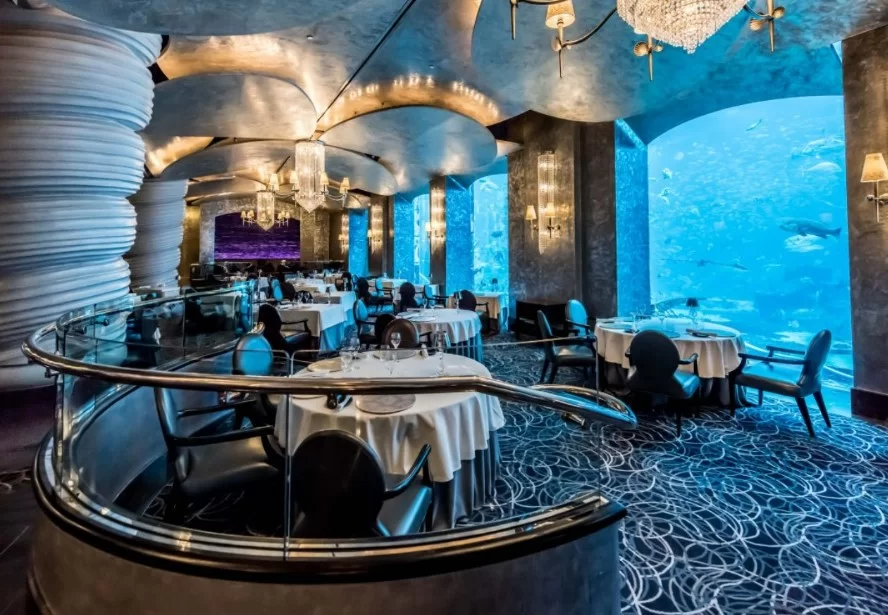 Recently added to the Michelin guide, Dubai is now home to 14 starred restaurants. The city is increasingly becoming a top dining destination.
What's the Final Word on Living in Dubai as an Expat?
Living in Dubai as an expat is an exciting and rewarding experience. Everyone's mind immediately goes to the fact that Dubai has no income tax and that, indeed, is one of its main advantages.
But there's much more to the city than meets the eye. Standing shoulder-to-shoulder with some of the other world cities, such as London and New York, Dubai has plenty of professional and entrepreneurial opportunities.
Expat life here is comfortable with excellent healthcare, education, and entertainment. Doing banking, setting up phone contracts, and other similar 'bits' of life happen with ease and simplicity in Dubai.
And that's not to mention the city's strategic location and luxurious touch.
With proper planning, awareness, and an open mind, Dubai can be the place where expat dreams come true – tax-free!