Last updated July 31st, 2023.
Geography plays an important role in any country's success. From natural disaster risk to trade accessibility, location often defines a nation's growth potential.
For example, landlocked nations are severely limited by their lack of access to the ocean. They rely on a neighboring port to access global shipping lanes. As such, industrialization proves very difficult for them.
Likewise, Indonesia and the Philippines are located entirely in high earthquake risk zones. Countries prone to flooding, hurricanes, and other disasters are generally less developed because of these occasional setbacks.
Yet some places are way more fortunate than others. Being located near profitable borders, important trade routes, or simply areas less prone to crises means greater opportunities along with less risk.
We cannot change a nation's spot on the map – but you can absolutely choose where to invest your own capital. Here's our list of Asia's top five most strategically located countries.
Thailand
Located in the heart of Indochina, Thailand shares border with four other high-growth frontier markets – namely Laos, Myanmar, Malaysia, and Cambodia.
Three out of those four countries are growing at a rapid pace of around 7% yearly. Because of this, Thailand can easily benefit from the rise of its neighboring frontier markets.
Store shelves in Cambodia, Laos, and Myanmar alike are packed with imported Thai products. Meanwhile, companies such as Bangkok Bank and Siam Cement Group have already expanded into every single one of their faster-growing neighbors.
Thailand doesn't merely depend on the strategically located countries which border it though. A vast coastline along the Andaman Sea means the "Land of Smiles" lures tourists in droves. Over 40 million people visit Thailand each year.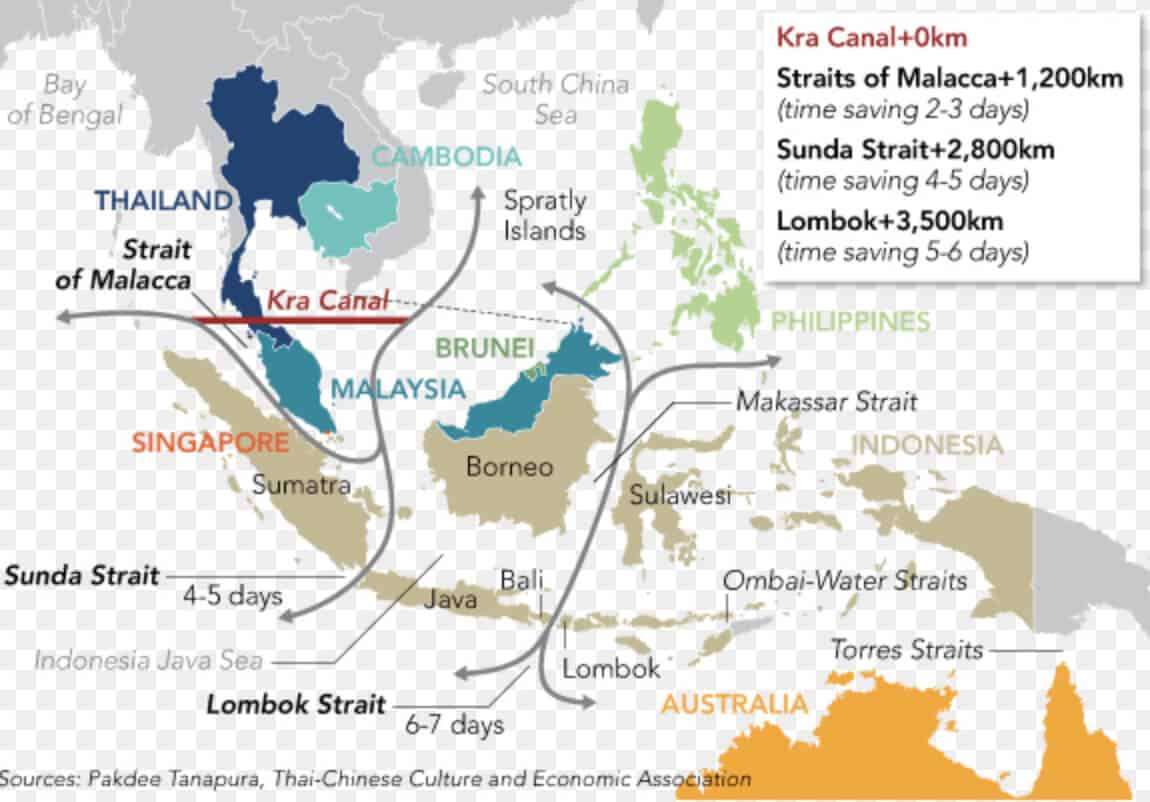 weThailand has longstanding plans to build a canal between its gulf and the Andaman Sea. Such a huge infrastructure project would be immensely profitable while cutting days off shipping time on trade routes from China and elsewhere in the world.
Perhaps more importantly, Thailand's geographic position gives it solid potential to become a transportation base for the entirety of Southeast Asia.
Thailand's strategic location directly in the region's center, close proximity to both China and India, along with its four land borders and easy access to two different seas could help make that dream become a reality soon.
Singapore
Despite ranking among Asia's smallest nations, Singapore is positioned at the crossroads of some of the world's most crucial shipping lanes.
The "Lion City" is ideally located at the Malay Peninsula's southernmost tip. That makes Singapore one of the most strategically located countries in not only Asia but the entire world as well.
Vast amounts of oil, electronics and countless other goods (often shipped to and from China) transit through the Strait of Malacca which begins right off Singapore's shore. Thus, the Strait of Malacca is by far the fastest route between Asia and the Middle East/Europe.
Singapore naturally became home to Southeast Asia's largest port. More than 600,000 kilotons worth of cargo pass through the island every year, making it the third biggest seaport in on the planet.
These factors all helped Singapore transform from an underdeveloped fishing village into one of Asia's richest cities in just barely over a generation. Ten percent of all households on the island are millionaires.
You might say that, apart from good governance and hard work, Singapore has its location to thank for its current status as Asia's top international finance center.
Malaysia
Straddling the Strait of Malacca, Malaysia is well-located for lots of the same reasons Singapore is.
Peninsular Malaysia easily uses global trade routes to its advantage by placing ports along the entire length of its western coast. In turn, they provide convenient bases for hundreds of ships passing through each day to restock and refuel.
Malaysia's natural disaster risk also remains rather low because of its position outside the ring of fire. Furthermore, they boast a plentiful supply of resources like rubber, petroleum, tin, and palm oil.
Such exports form a perfect supplement to Malaysia's ideally positioned seaports, and make it one of the world's most strategically located countries.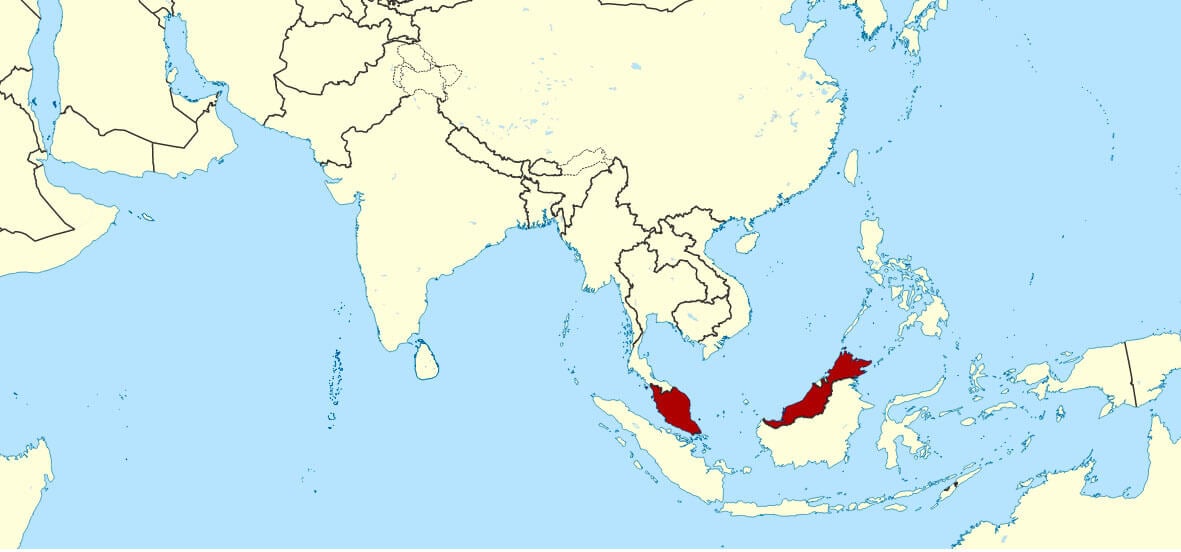 Malaysia consists of two different parts. The peninsula connects to mainland Asia, with its western side bordering the entire Strait of Malacca. Eastern Malaysia shares the island of Borneo with Indonesia and Brunei.
Not only that, but oil-rich Eastern Malaysia enjoys easy access to Indonesia which is the fourth biggest consumer market in the world.
Ships traveling through the Strait of Malacca are bound to every single corner of the globe. Yet Malaysia only must look nearby to find willing buyers for its export products.
Myanmar
Myanmar, formerly known as Burma, is placed directly between India and China – the world's two most populous nations.
Combined together, more than 2.5 billion people are practically on Myanmar's doorstep. That equals immense perks with regards to connectivity, trade, tourism, and investment. It's certainly one of Asia's most strategically located countries.
The past 50 years haven't been kind to Myanmar though. While ranking among Asia's wealthiest economies back in the early 20th century, a military dictatorship took over in 1962. Burmese society quickly turned to ruin throughout the following years.
Myanmar only started opening its economy up to foreign investors recently. As a a result from extensive reforms that began back in 2010, they now have a stock market and laws permitting foreign property ownership.
Well actually, it's more complicated than that. The Myanmar stock exchange has only five listed companies while no buildings have been constructed under the condominium act yet.
Time will tell whether Myanmar can get its act together or not. But if they're able to pull things off, its ideal geography will aid any resulting economic boom in Myanmar.
Laos
You may be surprised to see Laos on our list considering it's landlocked. They can't easily grow their economy by manufacturing and exporting products.
However, Laos also shares borders with more nations than anywhere else in Southeast Asia – five to be precise. And China is one of those places too.
As such, Laos boasts unique prospects despite its full reliance on Thailand, Vietnam and other nearby foreign ports for shipping. It's a great example of how a single negative factor doesn't necessarily ruin everything.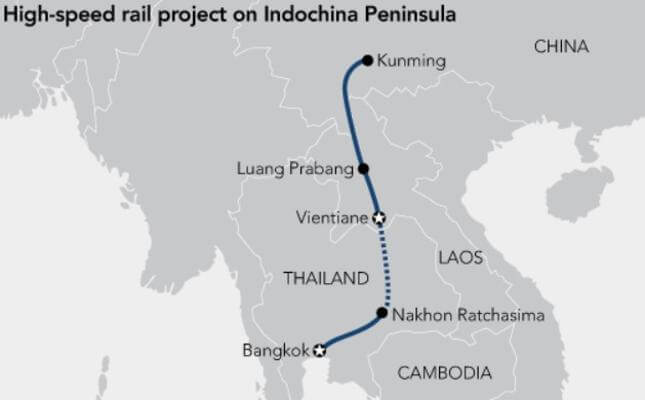 Because it's a such strategically located country, Laos could become a Southeast Asian railway hub – a potentially huge source of income for this tiny economy of 7 million people.
Laos will benefit from its multiple borders in several ways. First off, they're fast becoming part of a well-traveled tourism trail in Asia.
Close proximity to popular destinations like south China, Thailand, and Cambodia means Laos is naturally being discovered as an alternative investment hub.
Second, China is currently building a high-speed rail system across the country. The section between Kunming and Vientiane, Laos' capital city, is 100% finished as of this article's previous update.
Laos is quickly turning into a transport hub and should eventually connect to the rest of Southeast Asia, including Malaysia and Singapore, via Thailand.
Predicting the whims of global financial markets is difficult. Geography and demographic trends provide natural (and often irreversible) advantages though. They can help offer a glimpse into any nation's future prospects.
Skip the Next Western Recession
Learn the best places to invest - and where to avoid - by downloading our free Investment Cheat Sheet.