Last updated September 10th, 2023.
Comparing Kuala Lumpur's condo market with its southern neighbor in 2023, it's clear that prices in Singapore have already skyrocketed. Certainly moreso than real estate values in KL.
For that reason (among several others), Kuala Lumpur has become a top alternative among foreign investors looking to own international properties.
KL's status as a regional transit hub, its modern infrastructure, along with numerous business opportunities have thus attracted condo buyers from across the globe.
But with so many new condo developments cropping up around the city, buying a condo can seem like a daunting task. Between selecting where to live and choosing a developer, you will have quite a few decisions to make when buying a condo in Kuala Lumpur.
Plus, as with any foreign country, you must be aware of local laws and regulations when you make your condo purchase.
This ultimate guide will therefore help you through the condo-buying process in KL by showing you:
Foreign property ownership laws in Malaysia and Kuala Lumpur;
How much a condo in Kuala Lumpur costs;
The best neighborhoods in Kuala Lumpur;
Property taxes and fees in Kuala Lumpur; and
The top property developers and agents in Kuala Lumpur.
In this guide, we focus on purchasing a condo in Kuala Lumpur instead of houses or commercial real estate. If that's what you're looking for, some of the information on this guide does still apply.
You'll want to seek out specific guidance on buying such types of landed properties and homes in KL though.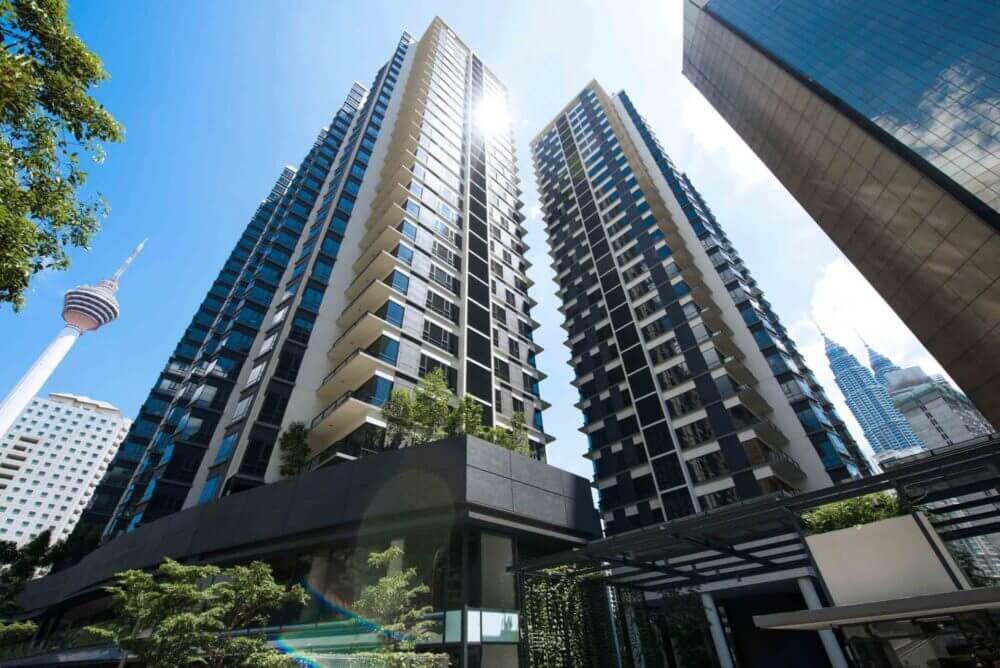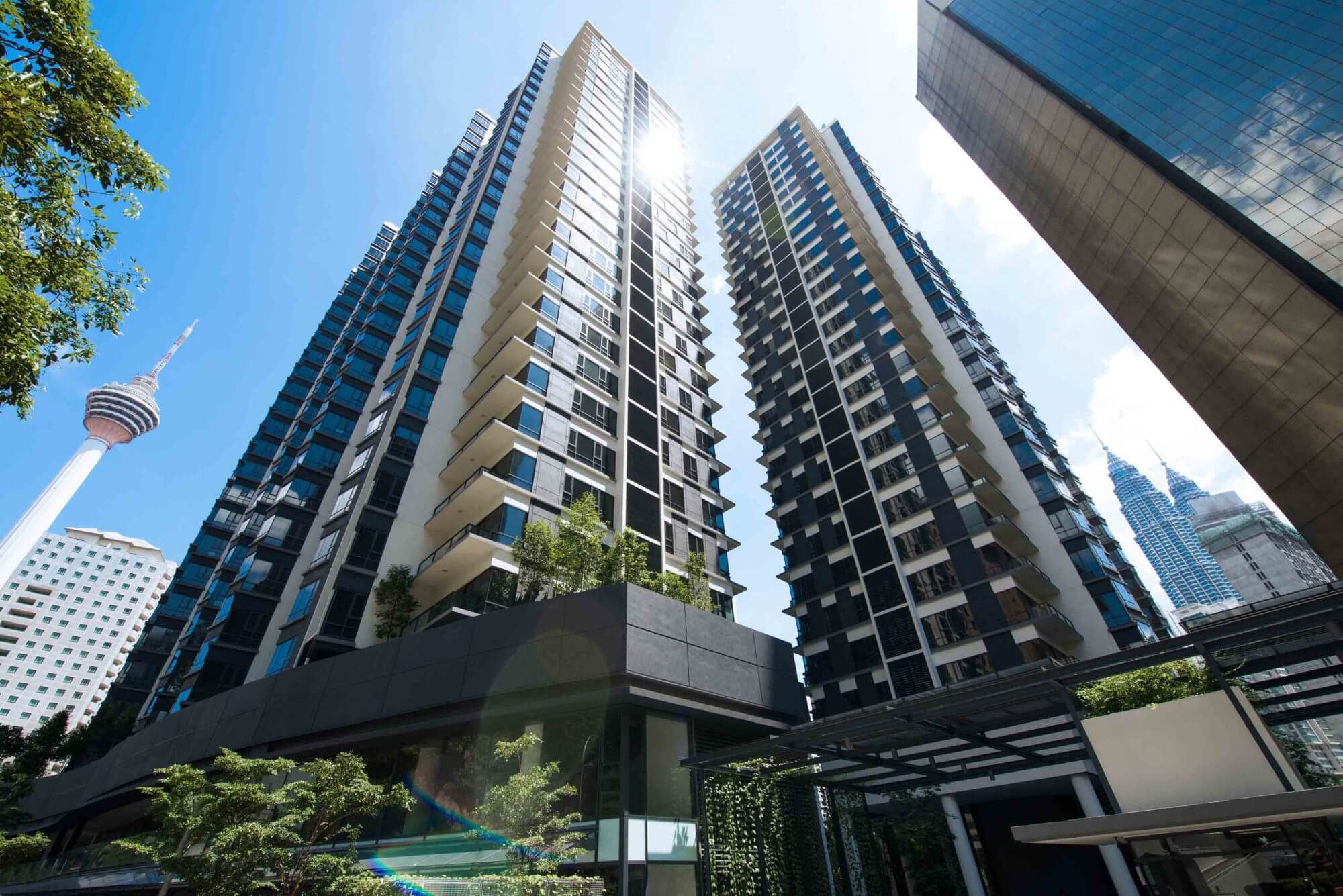 Malaysia is among Southeast Asia's most developed nations. Nonetheless, real estate in its capital of Kuala Lumpur is among the region's cheapest.
Foreign Property Ownership in Kuala Lumpur
If you're familiar with buying property in Southeast Asia, then you likely know just how difficult navigating local laws and regulations can be as a foreigner.
Yet unlike some of its neighbors (i.e., Thailand, Indonesia, and Singapore) Malaysia is far more open to foreign property investors.
In fact, it's the only Southeast Asian country that allows foreigners to own freehold land. With that being said, you'll still need to jump through a few hoops in order to buy a condo in Kuala Lumpur.
For starters, you must meet a minimum purchase requirement. This primarily exists to prevent foreigners from pricing out average Malaysians in their own markets.
However, aside from this minimum alongside some paperwork, foreigners are relatively free to buy condos in Kuala Lumpur.
Most Malaysia real estate laws and regulations apply to purchasing a house, villa, or other types of landed properties rather than a condo unit.
How Much Does a KL Condo Cost?
Unlike similar cities such as Bangkok, condos in Kuala Lumpur are surprisingly cheap. In fact, you can find luxury condos in the city centre for less than US$4,000 per square meter thanks to recent dips in the Malaysian real estate market.
In general, you're able to find plenty of excellent condos that meet the bare minimum investment requirement of RM 1 million. In fact, that amount is well above the average price in Kuala Lumpur.
While condos here are cheap compared to the world average, that also means rental yields are low at about 3%. Luckily, Malaysia's economy is rapidly growing, and Kuala Lumpur's property market is slowly turning around.
That means that you should be able to get a solid return on investment as property values increase and Malaysia's urbanization rate stays impressive.
Naturally, the price of your ideal condo will depend on size, location, and amenities. Properties close to the city's center are naturally the most expensive. Certainly if they come with a view of the famous Petronas Towers.
Likewise, lots of high-end condos and accommodations are known for their luxurious infinity pools and private gardens. Upscale amenities such as those will factor into the price you'll end up paying for prime real estate in KL.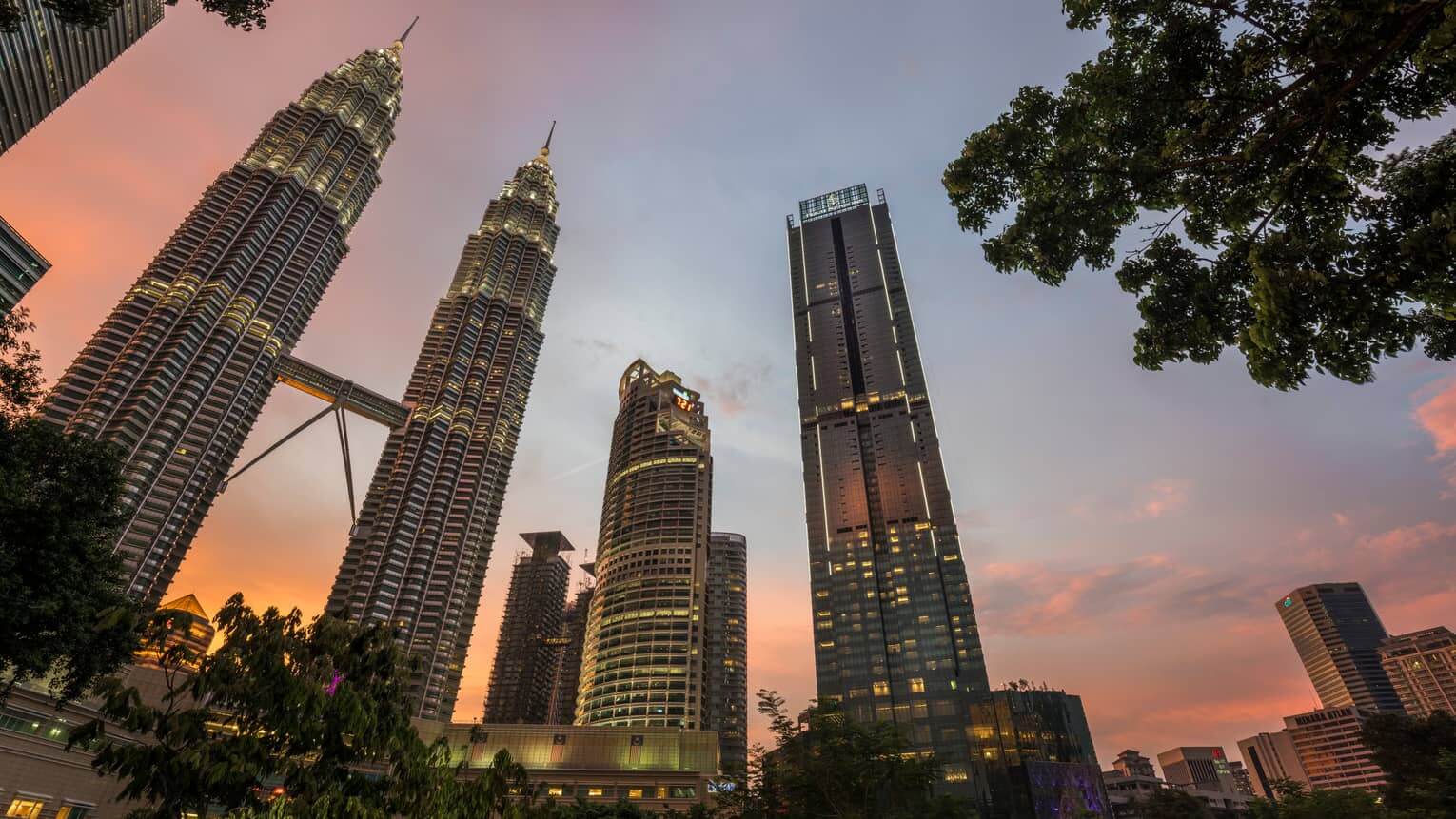 Malaysia is arguably home to Southeast Asia's biggest collection of branded condo residences. Globally-famous hotel names from Four Seasons (pictured above), to Banyan Tree, to Harrods have their own branded condos in Kuala Lumpur.
Best Neighborhoods in Kuala Lumpur
As a fairly safe and developed city, Kuala Lumpur has plenty of desirable areas where you can live. Your options aren't as extensive as somewhere like Bangkok. Yet it can still be difficult to make a choice among a good number of attractive real estate options.
That being said, each of these neighborhoods have their own benefits and drawbacks. If you enjoy living in the heart of a major city, then you'll likely enjoy living in KL City Center (KLCC).
Meanwhile, if you prefer quiet suburban life, then you might consider living in Petaling Jaya or Damansara.
This section will therefore tell you about some of the best neighborhoods to purchase a condo in Kuala Lumpur.
KL City Center (KLCC)
Kuala Lumpur's City Center is one of the most sought-after residential neighborhoods in Kuala Lumpur – and for good reason.
Home to the Petronas Towers, a number of high-end hotels, three of the nation's largest malls along with countless shopping and dining options, KLCC is naturally a top destination to buy a condo in Kuala Lumpur.
Because of its high level of development and desirable address, KLCC is also home to some of the most expensive property prices in Kuala Lumpur.
Additionally, since this part of town tends to attract wealthy Malaysians and expats alike, properties here tend to be fairly luxurious.
You can, however, find properties that are slightly less expensive if you're a bit further away from tourist centers like the Petronas Towers and Bukit Bintang. If you're looking for something closer to entry-level, Bukit Ceylon – a subdistrict of KLCC – can be a good option.
Pros:
Centrality: as its name suggests, KLCC is at the heart of Kuala Lumpur. You'll find plenty to do around here between high-end shopping centers like Suria and fun bar streets like Changkat.
Expat community: home to a high number of international companies, KLCC lures plenty of expats from around the world. You'll have no trouble connecting with your peers in this part of Kuala Lumpur.
Growth potential: as Kuala Lumpur grows, property prices will rise – especially in locations like KLCC. This means that buying a condo in KLCC could be an excellent investment for the future.
Cons:
Price: KLCC is the most expensive district on this list. If you're willing to move a bit further from the city centre, you can find condos that have much more to offer for a lower price.
Congestion: sadly, KLCC is the most congested part of Kuala Lumpur. Although public transit is high-quality, it hasn't yet found its way to all corners of the city. Traffic can get ugly at peak times.
Noise: KLCC is an active district, which means that you should be mindful of noise in the area in which you buy your condo. Between bar streets, tourists, and construction, KLCC can be a noisy place to live at times.
KL Sentral
KL Sentral takes its name from the central train and metro station that it surrounds. This master-planned business community sits just south of KLCC and at the heart of the city's public transit network.
This obviously makes KL Sentral a solid alternative to KLCC's high prices and nearly constant 24-hour activity.
If you think that you'll be commuting in and out of Kuala Lumpur frequently, then I highly suggest living in KL Sentral. At its namesake train station, you'll find express trains to Kuala Lumpur's two international airports as well as plenty of local and domestic trains.
Therefore, KL Sentral provides lower values than KLCC. If you want to get into the heart of the city or to one of Kuala Lumpur's two airports, it's just a quick train ride away though.
Pros:
Public transit: the most obvious benefit of living in KL Sentral is its proximity to public transit. As the home of Kuala Lumpur's train and metro hub, there's hardly a location in the city that's out of reach here.
Price: KL Sentral is just a quick metro ride away from KLCC, but prices here are much lower in comparison. You'll be able to find a luxury apartment here for a fraction of the cost of one that's neighboring Pavilion Mall or the Towers.
Expat community: as a business and transit hub, KL Sentral attracts plenty of expats too. This allows you to more easily connect with fellow expatriates.
Cons:
Entertainment and nightlife: KL Sentral isn't as active when compared to its more central counterparts. So you won't find as much to do at night here. However, you can still get to KLCC and its nightlife offerings rather easily.
Noise: KL Sentral is located in a relatively active part of the city, and public transit naturally makes quite a bit of noise. Additionally, as a developing district, there's tons of construction around as well.
Tourism: like KLCC, KL Sentral attracts tourists due to its central location and close proximity to the airport rail link. That's on top of attractions such as the Botanical Gardens and several major museums.
Damansara / Bangsar / Mont Kiara
Damansara, Bangsar, and Mont Kiara are all western suburbs of Kuala Lumpur. Yet they're all three distinct areas, they share certain characteristics which is why they're grouped together in this section.
The affluence and amenities of these suburbs just west of the city centre have made them popular among expat families. Prices are also substantially lower than in KLCC, particularly as you go further away from the city itself. Some areas are even cheaper than KL Sentral.
Pros:
Family-friendly: these suburbs' abundance of good quality international schools and relative quietness make them an excellent location for expats with families.
Peace and quiet: if you want to get away from the hustle and bustle of the city center, then these suburbs are your best bet. They're relatively safe and quiet. But you can still access the city in under a half hour.
Price: although you'll find a plethora of luxury condos here, you'll also find plenty of budget options as well. Plus, since prices are lower than in KLCC, your dollar will go further in the suburbs.
Cons:
Public transit: although two major lines of transit run through these suburbs, they mostly run along major streets and to KL Sentral. To get around locally, you'll need to walk or drive.
Nightlife and entertainment: these quiet suburbs are best for families, so there isn't always too much to do here at night. If you want a night out on the town then you'll probably need to head into the city.
Expat community (singles): where there's a sizable number of expats here, the vast majority of expats here are families with children. If you prefer a younger expat crowd or are looking to date, then you may want to head closer to the city center.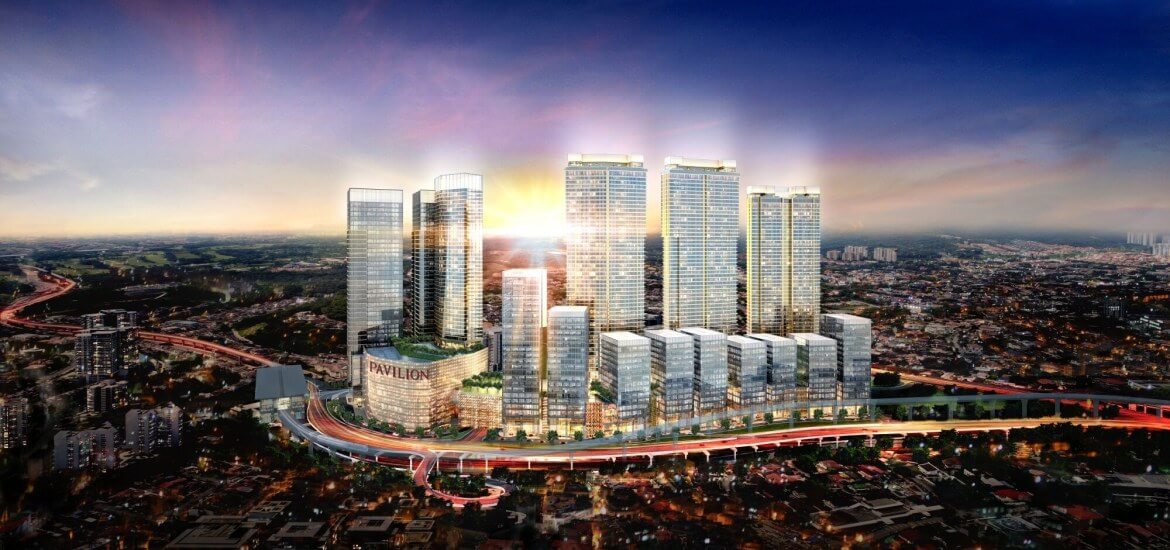 Damansara Heights, long-favored by rich locals, is now undergoing a construction boom. The new MRT SBK Line runs through the neighborhood while Pavilion Group is building a mall here.
Petaling Jaya
Last but not least, Petaling Jaya offers another excellent option for condo buyers looking to escape the hustle and bustle of the city without sacrificing comfort or amenities.
Although this suburb is a bit far away from the city center, there's still plenty to do in Petaling Jaya. You'll find some of the city's top malls, restaurants, and bars here. There are also tons of global companies that are headquartered here too.
In Petaling Jaya, however, you'll need to be choosy about where you buy. Some areas and safe and lively with a growing expat community. Others are a bit less expat-friendly, and at worst dangerous. Be sure to do your research and scout the area before buying a condo here.
Pros:
Price: the largest benefit to buying a condo in Petaling Jaya is cost. Since it's far away from the city center, prices are lower. Your dollar will go much further than in KLCC or even KL Sentral.
Work proximity: thanks to its lower property prices and greater land availability, a large number of international companies have opted to move to Petaling Jaya. If you're currently employed in KL, then buying a condo in Petaling Jaya may put you closer to work.
Peace and quiet: Petaling Jaya is far away from KLCC. You won't be dealing with the hustle and bustle of the city late at night.
Cons:
Convenience: Petaling Jaya isn't close to the city center. So you'll need to make a trek every time you need to head to KLCC or its surrounding areas. Public transit here is also sparse and you will probably need a car to get around.
Safety: while Petaling Jaya generally isn't dangerous, certain areas can be dodgy at night and there have been concerns about home break-ins in the area. Unlike other neighborhoods, you might want to be more mindful of your immediate surroundings here.
Expat community: Petaling Jaya is more local and it can be difficult to find and connect with other expats here. This area's popularity among expats is steadily growing along with a rising number of multinational firms though.
Condo Fees and Property Taxes in Malaysia
In addition to being quite modern and open to foreigners, Malaysia also has incredibly low property taxes. You can generally expect to pay around one or two sen – which amounts to roughly $.002-$.004 – per square foot every year.
Just putting that in perspective: it would take around 250 square feet of space to even amount to paying $1 in Malaysian real estate taxes.
You might also be liable to pay an additional "quit rent" tax, but that tax is only around RM100, or $25.
Property taxes in Malaysia are low. However, rental income taxes are incredibly high. If you're a non-resident of Malaysia, expect to pay around 25% of your rental income to the Malaysian government. That number reduces to 20% if you're a Malaysian resident.
Malaysia also has a Real Property Gains Tax in place to prevent people from quickly purchasing and flipping properties. This tax will depend on when you sell your real estate relative to when you bought it.
While standard for most sellers, paying Real Property Gains Taxes is incredibly costly if you've owned the property for less than a decade.
You also must pay certain maintenance and other community fees in addition to these taxes if your condo is a part of a larger development project.
Naturally, that fee will depend on the kinds of services that your specific condo building provides and the types of amenities they must maintain.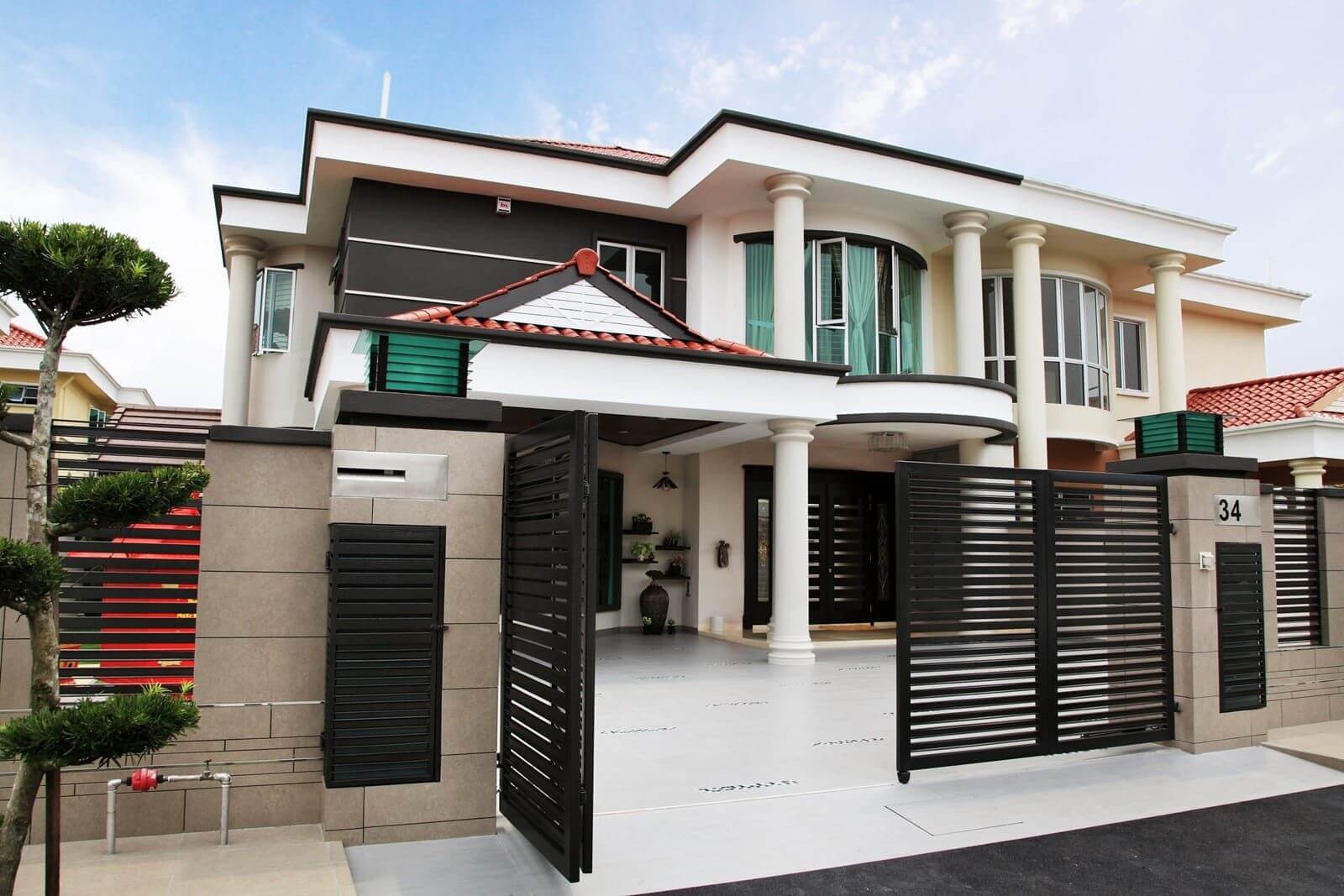 Malaysia is one of the easiest countries to buy properties as a foreigner in Asia. Taxes are minimal while foreign land ownership is allowed in most cases.
Top Kuala Lumpur Real Estate Agents
When buying a condo in Kuala Lumpur, the hardest decision you'll probably make is choosing a real estate agent and a developer.
The good news is that there are a surplus of high-quality property agencies and developers in Kuala Lumpur. Yet that can sometimes be a bad thing when you need to make an important decision like buying a condo.
We can provide a few reliable suggestions here. Before you go with a specific real estate agent in KL, we recommend doing your own research to see if their services and offerings match your needs though.
Finding a good property agent is rather easy, and you can approach the process of finding one much like you would at home. Most real estate agents in Malaysia are familiar working with foreign clients. And nearly all of them speak English fluently.
Some of the best real estate agents in Malaysia include RE/MAX Malaysia, IQI Reality, Knight Frank Malaysia, and Henry Butcher.
Additionally, just as there are plenty of excellent real estate agents in Kuala Lumpur, there are also a number of high-quality developers. However, to find them, you'll need to root through a number of lesser ones.
Condos built by companies like Eastern & Oriental, SP Setia, Sime Darby, and IOI Properties tend to last decades. On the contrary, condos made by poor developers might start falling apart after just five years.
The developer that you choose may dictate your need for a real estate agent in Malaysia. Depending on the developer, a direct purchase can be either simple or incredibly difficult; hiring a real estate agent might be necessary in certain cases.
As always, you want to hire an independent inspector before finalizing any condo sale. Independent inspectors can find problems that you may not be able to discern. Uncovering these issues can affect the sale price or your willingness to own a property.
Therefore, and as a final note for this guide, it's important to have an independent inspection done performed before you buy a condo or any other type of real estate in Kuala Lumpur.
It won't cost very much and will go a long way toward making your property purchase in Malaysia a safe one.
Skip the Next Western Recession
Learn the best places to invest - and where to avoid - by downloading our free Investment Cheat Sheet.