Last updated November 11th, 2023.
As a rapidly developing city with a rising real estate market, Bangkok is becoming a popular place to invest in foreign real estate.
Buying a condo in Bangkok, however, isn't always easy. Bangkok is a huge city with numerous areas to live in. Choosing realtors and developers can thus be difficult with so many options.
You'll also need to be aware of certain legal and regulatory obligations to avoid hassle from the authorities.
Overall, buying a condo in Bangkok exemplifies how too much choice can be a double-edged sword. In this city, you won't ever be short on condo options, but you might feel overwhelmed at times with the number of options on the table.
That's why we created a full guide to buying a condo in Bangkok. In this guide, we'll address:
Why buying a condo in Bangkok has become so popular;
Foreign property ownership laws in Bangkok;
The cost of a condo in Bangkok;
Neighborhoods in Bangkok;
Bangkok property taxes and fees; and
The best property developers and agents in Bangkok.
For the purposes of this guide, we're going to focus primarily on buying condos – not landed houses or commercial real estate. That's because foreigners are only allowed to buy condos in Thailand.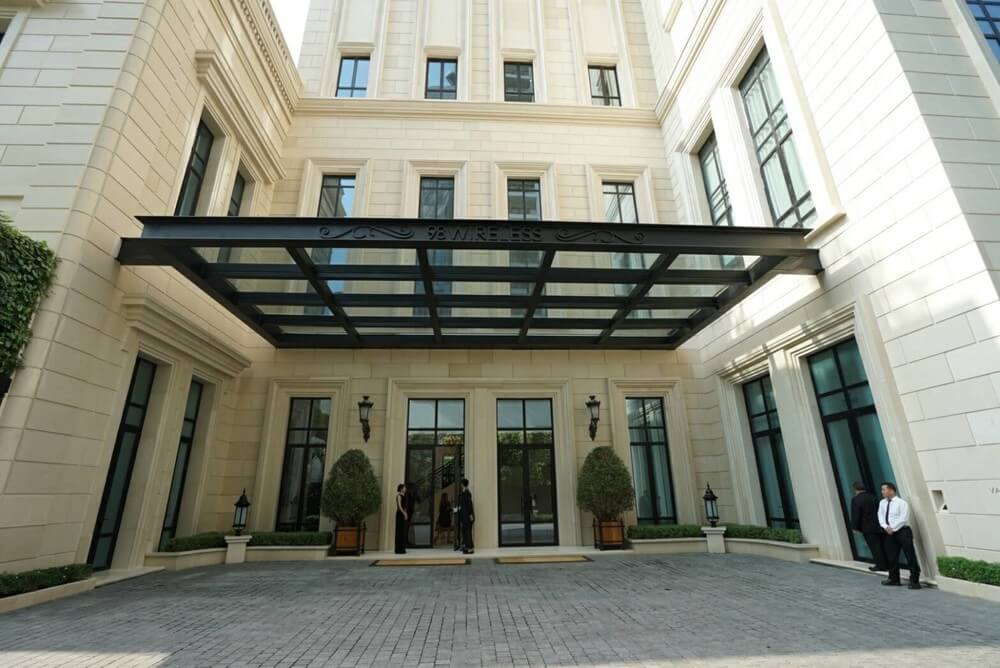 98 Wireless is Bangkok's most expensive condominium. Purchasing a unit here costs above 600,000 baht (~US$19,000) per square meter.
Why Buy a Condo in Bangkok?
Thanks to the country's role as a trade, business, and transit hub in Southeast Asia for many centuries, Thailand's property market has grown steadily for the past few decades – especially in its capital, Bangkok.
Buying real estate in Bangkok is becoming increasingly popular for several reasons. First off, Thailand's fairly strong economy and growing middle class makes it an excellent place to do business.
It's just an hour flight away from rapidly growing Asian frontier markets such as Cambodia and Vietnam too. That makes Thailand a great hub to invest in high-growth Asian economies.
Bangkok in itself is also a vibrant, diverse, and exciting city of 18 million people. Throughout the Thai capital, you'll find bustling traditional markets, awe-inspiring traditional architecture, glamorous supermalls, and plenty of nightlife.
You'll hardly find a dull moment in Bangkok – an alluring trait to potential expats and retirees alike.
Lastly, Bangkok's real estate market is steadily growing. If you plan on leasing your condo, then you can earn rental yields exceeding 5% in the right areas. That's on top of capital appreciation potential, of course.
Foreign Property Ownership in Bangkok
Unlike some of its neighbors, Thailand isn't particularly open to foreign investors. For instance, if you aren't either a US or Thai citizen, you can just own up to 49% of a company as a foreigner in Thailand.
Likewise, foreign property ownership in Thailand is subject to similar ownership regulations and restrictions. In most areas, foreigners may only own above-ground condos in buildings with no more than 49% foreign ownership.
You also must deal with paperwork and bureaucracy when buying a condo in Thailand. Luckily, you'll probably deal with government officials who are used to working with foreigners when you buy real estate in Bangkok.
A notable rule is that you must send the money for your condo to Thailand in terms of foreign currency in order for the condo to be in your name. In other words, the foreign currency must be sent to a Thai bank and they must do the currency conversion into Thai baht.
Foreigners must show a foreign exchange transaction (FET) form to the district land office during the time of transfer. You'll only be able to obtain this form if foreign currency (i.e., anything other than Baht) was sent into a Thai bank and converted there.
Once you've gotten through the initial bureaucracy, you'll be in fairly good shape though. Property ownership laws in Thailand are strong and the government uses a computerized record system to track titles and other important documents.
Things are generally kept track of to the extent that, if you somehow lose a title deed or tax paper, the land office will have a copy and be able to issue a replacement. 
How Much Does a Bangkok Condo Cost?
With so many condo options in Bangkok, you'll find that prices can range tremendously. They vary based on the size, location, and amenities of the condo that you're interested in buying.
An average one-bedroom condo with few amenities in Bangkok's suburbs will generally cost about 1 million baht, or roughly $36,000, to 2.5 million baht, or roughly $90,000.
Those numbers differ widely depending on how close the condo is to the city center and public transit. Newly built average condos generally cost around 90,000 baht per square meter while super luxury condos can cost more than 250,000 baht per square meter.
Naturally, condos in high-demand prime areas like Lumpini or Silom are going to cost far more than suburban districts. Amenities like pools or cleaning services will also cost extra.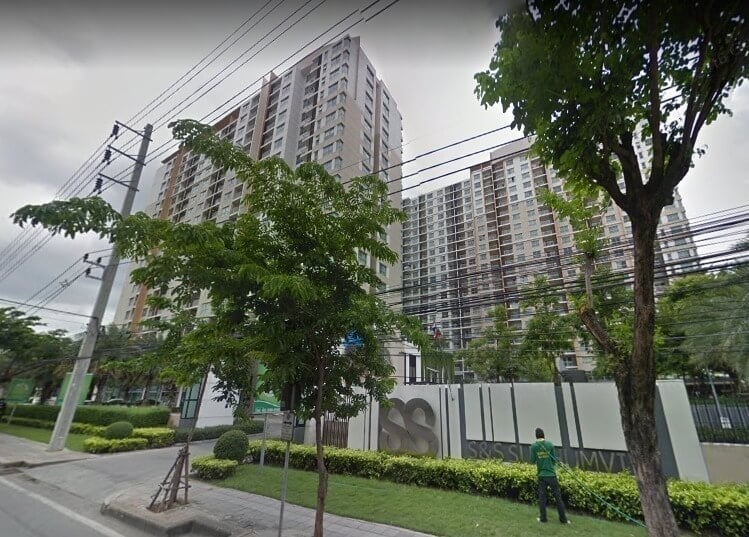 Not everywhere in Bangkok is absurdly expensive. You can buy a condo at S&S Sukhumvit, in a suburban yet fast-growing and convenient area, for just 70,000 baht (~US$2,500) per square meter.
Neighborhoods in Bangkok
Perhaps the most daunting question when buying a condo in Bangkok is, "where should I buy it?"
Bangkok is a massive city with plenty of neighborhoods. And each neighborhood has its own charms, benefits, and downsides. Where you decide to buy a condo in Bangkok will ultimately depend on your needs, price range, and personal preferences.
The following section will therefore tell you about some of the best neighborhoods in Bangkok as well as some of the pros and cons of living in each one.
Sukhumvit
Sukhumvit is a large, vibrant district just southeast of Bangkok's city center that surrounds its namesake, Sukhumvit Road. Since this district is so diverse, property prices can range widely depending on where and what you buy.
A high-end, new development close to the city center might set you back substantially whereas an older development in a more local area could be surprisingly affordable.
Pros:
Public Transportation: Bangkok's BTS Monorail Green Line primarily runs along Sukhumvit Road. This makes public transit much more accessible here than in other parts of the city.
Expat Community: If you buy a condo closer to the city center in the west, you'll find that Sukhumvit is popular with expats from all around the world. The district is more local in the east. But you'll still find expats who move there searching for cheaper real estate and easier access to the city center.
Entertainment and Nightlife: Sukhumvit is at the heart of Bangkok's bustling entertainment and nightlife scenes. Whether you head to Soi Cowboy or swanky rooftop bars, you'll surely find plenty to do in Sukhumvit.
Cons:
Noise: Sukhumvit is busy and bustling, which also means that you'll likely fall asleep to the soothing sounds of the city each night. Unless your new condo has serious soundproofing, you may want to look elsewhere if you're a light sleeper.
Traffic: Although you have easy access to the BTS here, there are only so many places that you can go on the monorail. If you can't use public transit to get there, then you may need to contend with the constant traffic jams on Sukhumvit Road.
Budget: Living in Sukhumvit can get expensive – even if you don't factor in the price of real estate. Unlike other areas of the city, you won't find as many street stalls and markets to get cheap goods. So you might end up paying more to live here than in other parts of the city.
Silom/Sathorn
Bangkok's financial district is home to plenty of sparkling skyscrapers filled with big-name offices and luxury condos.
This rather small district is located at the very heart of Bangkok's city center just southwest of Sukhumvit along Silom Road. As a major hub for business, Silom/Sathorn is home to plenty of wealthy Thais, expats, and visitors.
Pros:
Public Transit: Like Sukhumvit, Silom is well-connected to Bangkok's public transit system. The Silom BTS Line will take you to the main Green Line, and the MRT metro system also runs through Silom.
Entertainment: With plenty of shopping, dining, and nightlife, you'll never find a shortage of things to do in Silom. Head to the Bang Rak market for stunning flower arrangements and fascinating antiques. Or explore the district's various luxury spas and rooftop bars.
Cons:
Budget: As a district geared toward wealthy businesspersons, Silom isn't always easy on the budget. Property values can be expensive in this district, particularly in desirable areas, and you won't find very many entry-level options here.
Culture: Aside from the historic Bang Rak trade center, you won't find very many historical or cultural sites around Silom, which is primarily comprised of high-rise buildings. Check out the Riverside district if you're more interested in a cultural atmosphere.
Community: Silom has a solid expat community, but you're far more likely to find business travelers or workers on temporary assignments here. You could have a better chance of connecting with fellow long-term expats in other districts.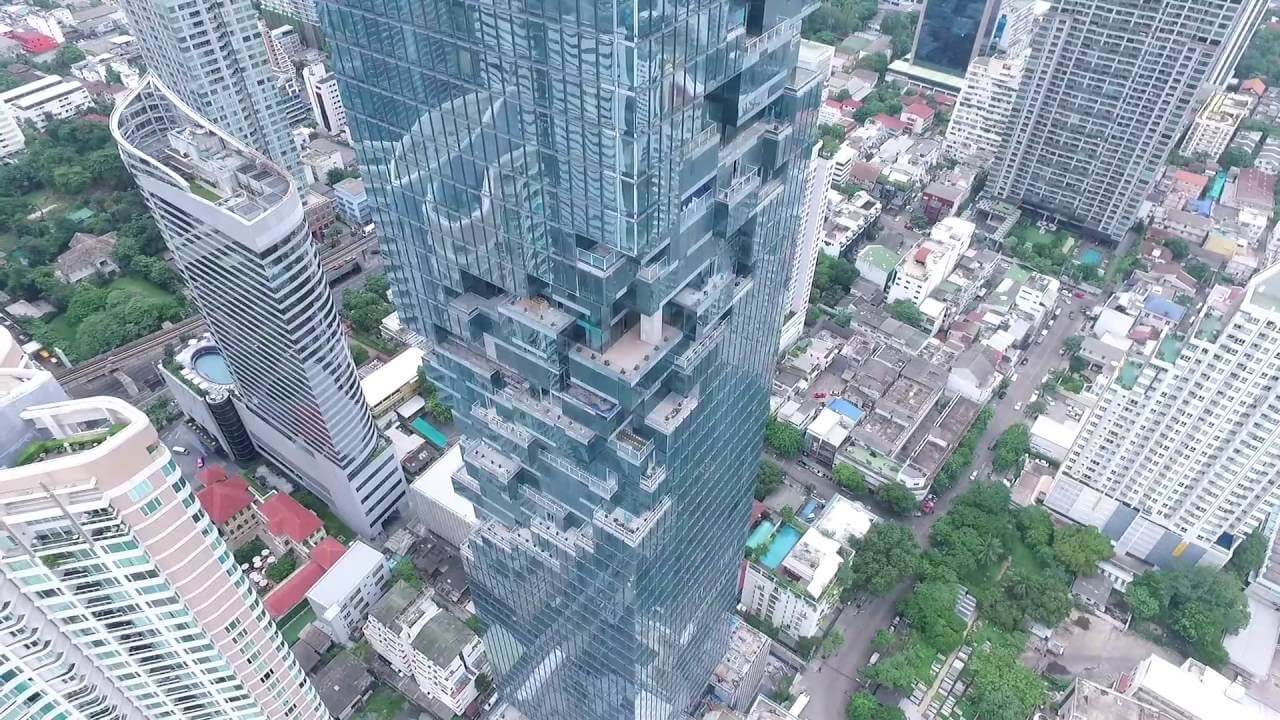 Mahanakorn, one of Bangkok's tallest buildings and home to the Ritz Carlton Residences, is located in Silom district.
Lumpini
Located in the city center between Silom and Siam, Lumpini is one of Bangkok's most exclusive – and expensive – districts to live in.
This area is named after Lumpini Park, an oasis among Bangkok's hustle and bustle that was created by King Rama IV as a gift to the citizens of Bangkok.
Lumpini is also home to plenty of high-end shopping centers and many embassies on Wireless Road. That makes the Lumpini area remarkably safe.
It's also just a quick BTS or Grab ride away from practically all attractions in Bangkok, including major sights in Sukhumvit, Ratchathewi, and Silom.
Pros:
Peace and Quiet: Lumpini is located within the city center, but it's mostly comprised of parks, embassies, and businesses. You won't have to deal with the constant noise from traffic and nightlife that you'll find elsewhere.
Public Transit: Lumpini sits in the heart of Bangkok, so many main public transit arteries run through this area. Other districts are typically just a brief ride on the MRT or BTS away.
Safety: Although Bangkok isn't a particularly dangerous city, Lumpini is perhaps the safest area in the city due to its proximity to major embassies, such as the US and British ones. Thanks to this added security, you'll have few problems walking around at night in Lumpini.
Cons:
Nightlife: Living away from the action might give you peace and quiet, yet it also means that you aren't going to find a whole lot to do in Lumpini after dark. If you decide to venture out at night, be prepared to call a Grab to Sukhumvit or Silom.
Budget: Thanks to its desirability, Lumpini is also one of the most expensive areas in Bangkok to buy a condo in – particularly if you want a decent view of Lumpini Park.
Traffic: You can get most places by public transit, but if you need to take a cab, prepare for traffic. Lumpini is located in the heart of Bangkok, which means you'll need to contend with traffic to get in and out of this district.
Ratchathewi
If you're looking to live in the city center for a reasonable price, head to Ratchathewi. This well-connected neighborhood has plenty of public transit and even a direct rail link to the airport. It's also home to Victory Monument and the massive King Power Duty Free Mall.
Despite this district's convenient location, you'll find a wider variety of condo options and more reasonable prices than in places like Silom or Lumpini. Some of the top hospitals in Bangkok are located in Ratchathewi district too.
Pros:
Budget: One of the most appealing aspects of Ratchathewi is the fact that the cost of living in this district is lower than in similarly desirable parts of Bangkok. There are a wide variety of condo options to choose from here, including great entry-level picks.
Convenience: As arguably the most central district in Bangkok, nothing is truly far away from Ratchathewi. The BTS Green Line and Airport Rail Link go directly through here. Other metro and BTS lines are just a few stops away as well.
Culture: Ratchathewi is home to a number of landmarks and commerce centers in Bangkok, including the Jim Thompson House and Victory Monument.
Cons:
Expat community: This district is very conveniently located, yet it's a lot more local than several others on this list. You won't find as many expats in Ratchathewi as you would in Sukhumvit, for instance.
Traffic: Although Ratchathewi is mostly well-connected, certain parts of the district are a ways away from public transit, and as a central area of the city, you'll surely encounter plenty of traffic if you need to make your way around.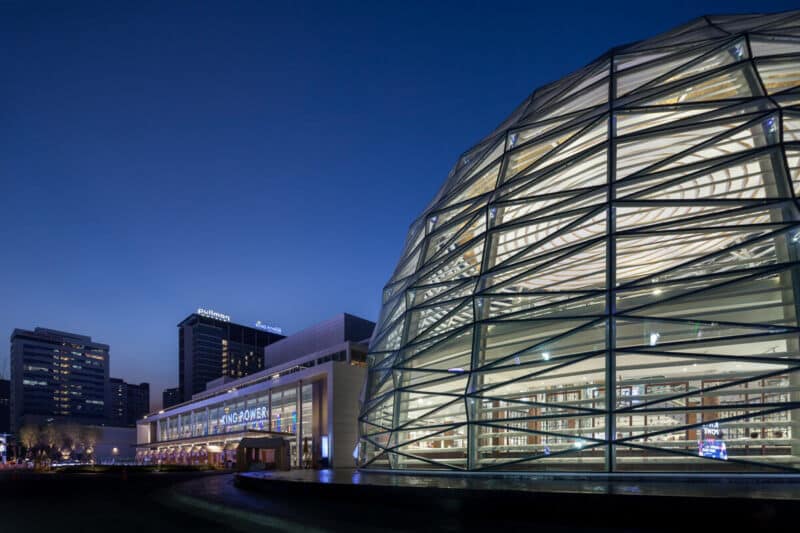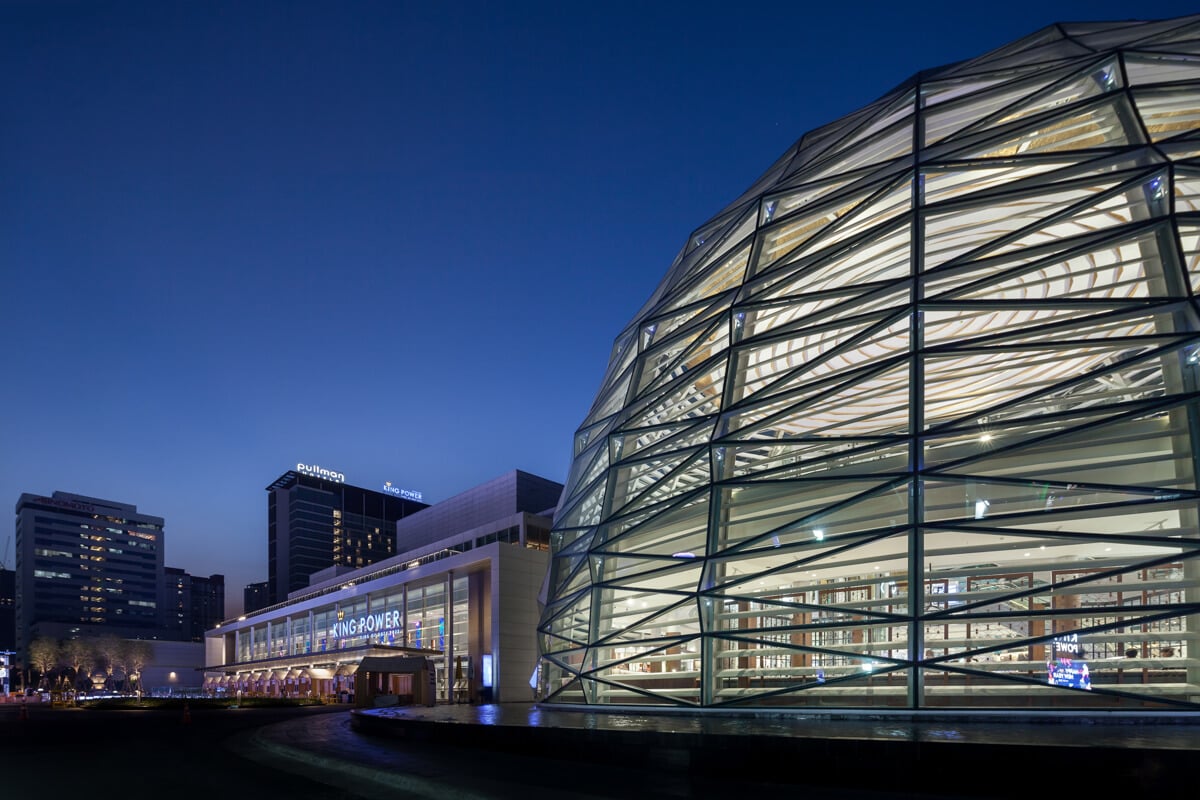 Ratchathewi is a rapidly developing, central area located directly north of Siam. It's home to Victory Monument, the King Power Duty Free Mall, countless mass transit options, along with a diverse array of Thai and international restaurants.
Riverside
Last but not least, Bangkok's Riverside district is another popular area for expats, retirees, and second home owners to buy condos in.
Situated along the Chao Phraya River, this district is being revitalized by high-end developers looking to take advantage of the stunning views it offers.
On the Riverside, you can find a wide range of condos from luxurious units to great entry-level condos. Especially if you look on both sides of the river.
You also have plenty of location options from quiet, local areas to high-end developments. This district might also be a good buy if you're interested in reselling since it's developing so quickly.
Pros:
Budget: Bangkok's Riverside district has a range of options for every budget. If you head to the west side of the river, you'll find property prices are substantially lower. That's because you must take a bridge or boat to get to Bangkok's central business district (CBD)
Entertainment: With shopping complexes like Asiatique, plenty of high-end hotels, and a number of major nightlife districts just a short trip away, you'll find plenty to do in Bangkok's bustling Riverside.
Cons:
Transportation: Public transit in this district is notably lacking – especially on the west side of the river. To go to most destinations, you often must either take river taxis or contend with Bangkok's notorious traffic.
Expat community: The expat community is strong in some Riverside areas, yet other parts of the area are either much more local or more touristy. If you're looking for a built-in expat community, then city districts might be a safer bet.
Nightlife: While there's quite a bit of nightlife surrounding the Riverside, much of it is geared toward tourists and backpackers. Wat Arun might be fun for a few hours, but crowds can get tiring if they're not your style.
Property Taxes and Fees
Overall, property taxes and fees in Thailand are very low.
Thailand does not charge an annual property tax, but you nonetheless must pay a few taxes and fees when buying your new condo in Bangkok.
First, there's a 2% property transfer fee that you must typically pay half of.  And you may also be liable to pay a 0.5% stamp duty (if the seller doesn't pay it – normally they're supposed to).
Additionally, if you sell the condo within five years after purchasing it, you may need to pay a 3.3% "specific business tax."
Rental income taxes in Thailand are also relatively low, and you can take plenty of deductions to lower them even further. Most landlords only pay roughly 5%, if that.
However, one fee you must be aware of doesn't come from the government, but from your condo building. Many condos will require you to pay a management fee that covers building upkeep, staff, and other amenities.
This exact fee will depend on the building that you choose, along with its density and quality standards. Expect to pay around 500 baht per square meter of space annually though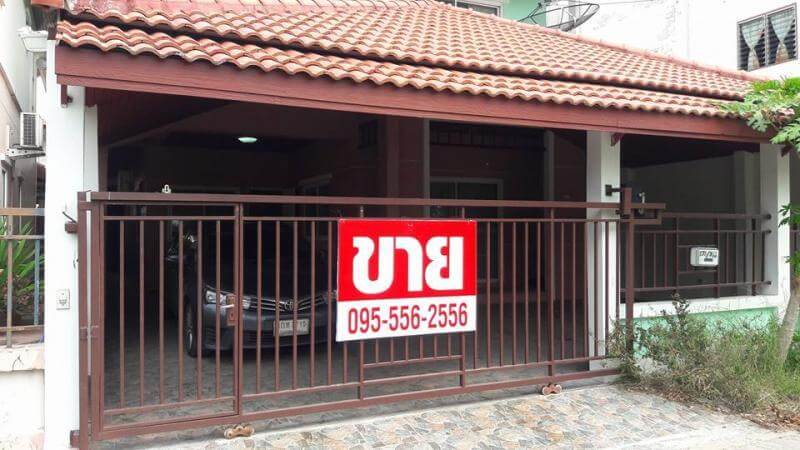 Despite what most English advertisements might tell you, Thai real estate agents are mostly a service geared toward foreigners. Locals generally sell their properties through word of mouth, online forums, or simply hang a sign outside their building.
Property Developers and Agents
Bangkok's real estate market is booming. Therefore, the sheer variety of options means that it can be difficult to choose a high-quality property developer or agent to help you find your ideal condo in Bangkok.
Talking about developers, you'll want to choose one with a solid reputation and a few major projects under their belt. While some smaller companies can work, it's usually venturing into dangerous territory. So you should stick to more established developers as a general rule.
Some of the biggest names in the property development game in Bangkok include Ananda, Major Development, and Sansiri. You can find a more comprehensive list of the best condo developers in Bangkok here.
You might want to hire a local real estate agent to help you decide on a condo. Generally, most locals don't use real estate agents which means it's possible to get by without one.
But as a foreigner, a real estate agent can be a great source of information and can help you with issues like translation and negotiation. You should consider consulting a Thai lawyer directly for issues relating to transfer of ownership though.
It's unlikely that you'll find a great deal through a Thai real estate agent. Regardless, they'll help make the process easier – especially if you're a foreigner and a newcomer.
Finally, you may want to hire an independent property inspector to examine the condo before your purchase is finalized. This can help determine whether the condo is up to your standards and help get issues resolved more expediently by the developer.
Skip the Next Western Recession
Learn the best places to invest - and where to avoid - by downloading our free Investment Cheat Sheet.