Last updated August 18th, 2023.
Cambodia, a relatively small nation of under 17 million inhabitants, probably isn't the first place you would consider buying real estate.
Thoughts of genocide and the Khmer Rouge might enter your mind when "Cambodia" is mentioned. That's almost certainly the case if you aren't so familiar with Cambodia or its recent history of growth.
While this country in the heart of Southeast Asia had its problems in the past, over four decades have passed since the Khmer Rouge era.
Cambodia is now open for business, is developing at a fast pace, and is now home to one of Asia's best property markets.
Today, we'll look at several types of data including rental yields in major cities like Phnom Penh and Siem Reap, comparative analysis with other Asian markets, along with Cambodia's wider economic fundamentals.
Hopefully, you'll understand why we're bullish on Cambodia real estate prices by the end of this post.
Southeast Asia's Strongest Economy
A good property market demands a robust economy too. For its part, Cambodia's economy is among the best in the whole region.
Cambodia is growing at a quick yet sustainable pace. Their GDP rose by 6.9% on average during the 2010s, ranking as the second fastest growing in Southeast Asia behind an otherwise noncompetitive Laos.
Not only that, but Cambodia claims a history of strong growth which hasn't slowed down in decades. They skipped the Asian Financial Crisis of the 1990s, missed the tech bubble during the early 2000s, and outgrew the 2008 Global Recession.
Cambodia managed this while achieving GDP growth beyond 7% per year on average as well.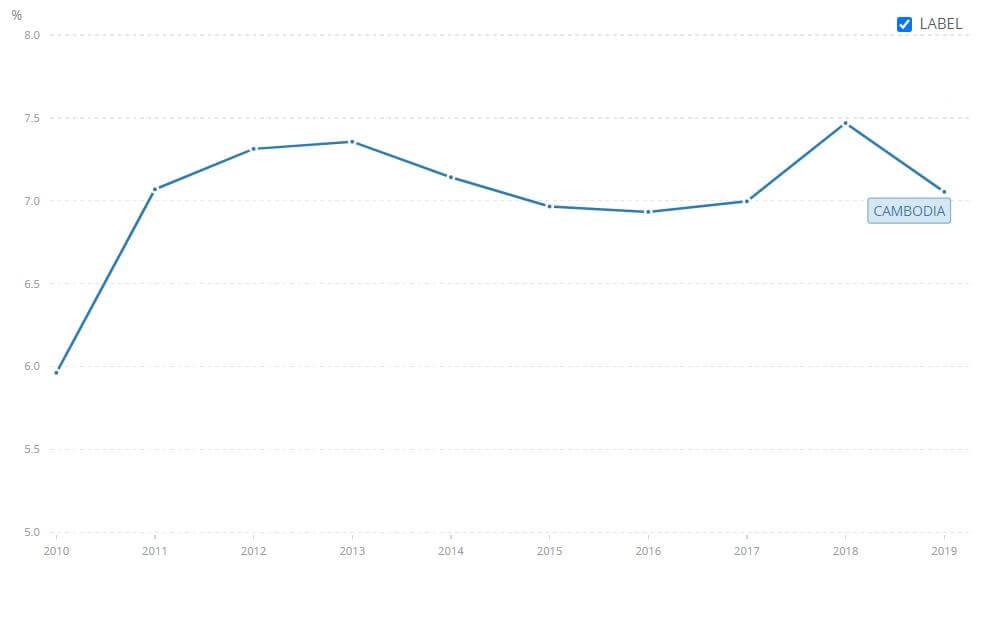 A chart showing Cambodia's GDP growth rate over the past decade. The nation has largely been immune to global economic turmoil while sustaining annual growth above 7%.
Obviously, there isn't such thing as a "recession-proof economy". Every country has problems while each investment has its risks.
That said, Cambodia is about as close as one gets. The Kingdom remains less correlated with global markets than a majority of countries. Lack of reliance on economies such as the U.S. and European Union, in addition to solid demographics, works in Cambodia's favor.
Phnom Penh is at the core of Cambodia's ongoing boom phase. A population with an average age of 25 years old is rapidly urbanizing, moving from the countryside into Phnom Penh and other cities. 
This will naturally support demand for real estate in Phnom Penh over the long-term, where an established middle class is just beginning to form. 

Low Property Values, Great Potential
There are few capital cities in the world where you can purchase prime property at a low price – especially in high-growth Asian frontier markets.
Central real estate in Bangkok is worth over US$4,000 per square meter on average. "Buying" a leasehold apartment in less-developed Hanoi, Vietnam will even cost you more than US$3,000 per square meter.
However, Phnom Penh stands out as the only Asian capital (perhaps except Tbilisi, Georgia or a far less developed city like Dhaka, Bangladesh) where you can buy real estate in the middle of the city for below US$1,000 per square meter.
Please note that we aren't talking about owning Cambodia's newly-built condominiums which have started popping up over the past few years though.
Condo buildings in Cambodia are often large, impressive, and a testament to the nation's development in the real estate industry. But they're usually way too expensive, selling at prices approaching the range found in Bangkok.
Instead, look toward Phnom Penh's older shophouse flats. These colonial apartments may not have a pool or a gym, but they're also about 25% the value of a new condo unit, were built by the French, and are generally in good structural condition overall.
Either that, or if you have a few million dollars to invest, you can set up a land holding company and buy commercial property in Cambodia.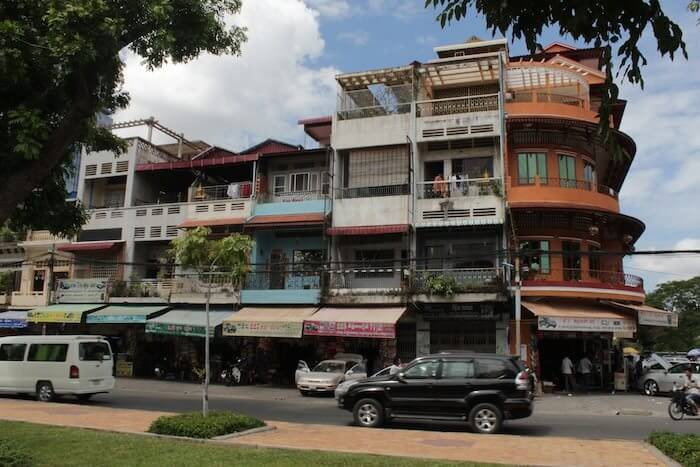 Shophouse apartments in Cambodia have attractive valuations – even if some renovation work is often needed.
High Rental Yields in Phnom Penh
A few property markets in Southeast Asia have great capital appreciation prospects, yet suffer from horrible rental yields.
For example, real estate in Singapore is fairly valued compared to its peers. Prices are around half of those in competing financial hub Hong Kong's. But rental yields are abysmal compared to those in Phnom Penh, or even Siem Reap,hovering around the 2% range.
Similarly, Kuala Lumpur's property market is among Asia's least expensive. That's despite being the capital of Malaysia, one of the region's more developed markets. Rental yields barely break 3% on average there.
Camdodia's major real estate markets, including Phnom Penh, Sihanoukville, and Siem Reap, are all fortunate enough to have both strong rental yields and appreciation prospects.
The type of shophouse apartments mentioned further above, on top of attractive valuations, also have yields exceeding 7% on average, and are relatively cost-effective as a small-to-mid sized property investor.
The current situation won't last forever, and neither will $1,000 per sqm property values in Phnom Penh.
Chinese and other foreign investors, previously in a "wait and see" mode, are seeking to double down on their Cambodian, especially in Phnom Penh and Sihanoukville, later in the 2020s.
Greater foreign investment may not immediately lead to higher prices, but the overall trend is clear. Cambodia's economy and population are rising quickly, all while tourists and businesses alike catch word of Cambodia's potential.
Cambodian real estate prices will be a major beneficiary from all those factors working together in tandem. 
Skip the Next Western Recession
Learn the best places to invest - and where to avoid - by downloading our free Investment Cheat Sheet.