Located at the junction of Eurasia, Azerbaijan acts as a crucial link between several large economies in the region. Simply put, investing in Azerbaijan is a play on its ideal combo of vast natural resources and a strategic position.
Close proximity to Russia, Turkey, Iran, and the broader Caspian region also positions Azerbaijan as an ideal center for trade and investment in the Caucasus and beyond.
Azerbaijan benefits from its abundant oil & gas reserves. Traditionally, the energy sector has played a role in driving the country's economy forward.
But while energy remains a significant part of Azerbaijan's economy, there's an active policy to diversify across agriculture, tech, and tourism. This strategy opens a range of opportunities for investors in emerging industries.
Azerbaijan's advantageous geographic location, attractive government incentives, and commitment to enhancing the business environment make it a desirable destination for investors looking for opportunities in both established and emerging sectors.
Our guide covers stock trading, venture capital, real estate, taxes, locations, and many other topics. Let's get started!
Azerbaijan: the Crossroads of Europe and Asia
Over the decades, Azerbaijan transformed from a post-Soviet nation to a dynamic market with rising investment potential.
We'll first provide a small bit of history to shed light on why Azerbaijan is on investors' radar.
Back in 1991, Azerbaijan declared independence from the Soviet Union. The country faced big challenges in shifting towards a market-oriented economy, yet slowly built stability in the following decades.
During the 2000s, large-scale investment in the oil & gas sector took place. Azerbaijan's strategic location in the South Caucasus, along with plentiful oil reserves in the Caspian Sea, gave it an immediate advantage.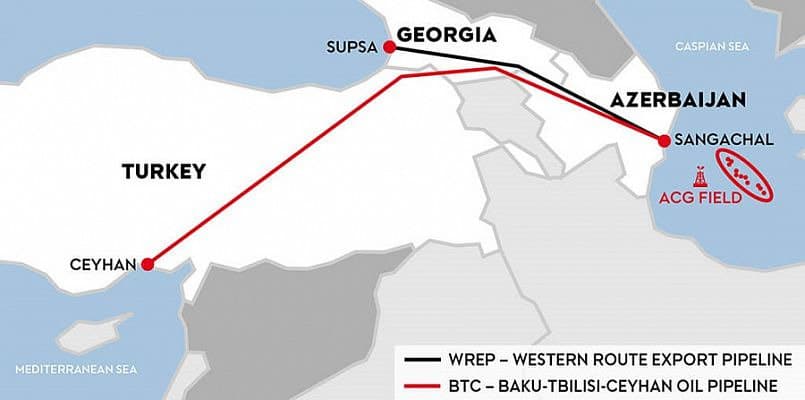 Particularly, the Baku-Tbilisi-Ceyhan (BTC) pipeline was a major milestone. This enabled Azerbaijan to export oil via the Mediterranean, reducing its dependence on Russia for energy transit routes.
In the 2010s, Azerbaijan took steps toward reducing its reliance on energy exports by diversifying its economy. The government implemented reforms to promote sectors such as agriculture, tourism, and tech.
Eventually, these efforts lured capital into various other industries. Significant investment is now being made into infrastructure development, transport (roads, railways, ports) and telecom.
Azerbaijan's favorable investment climate can be attributed to its relative stability and consistent governance.
The Caucasus region itself is volatile. Yet in contrast to Georgia, for example, Azerbaijan's large populace and positive relations with both Turkey and Russia make it less vulnerable susceptible to invasion. 
Relative geopolitical safety is a major reason to invest in Azerbaijan compared to several of its neighbors. Nobody with the ability wants to invade – this can't be said about the rest of the Caucasus. 
We think there's solid investment potential here in Azerbaijan. Recent history showcases its progress in diversifying the economy. Meanwhile, a strategic location at the crossroads of Europe and Asia gives it a notable advantage.
Cities and Towns
Azerbaijan is the largest economy in the Caucasus region by far. With a population above 10 million, its relative size presents a variety of options for investors.
Baku, the capital, is often referred to as the "City of Winds." and holds major economic importance for the country. The skyline is adorned with structures like the Flame Towers and the Heydar Aliyev Center.
Within its boundaries lies the Old City, known as Icherisheher, which is recognized as a UNESCO World Heritage Site. This historic area is characterized by its cobblestone streets, preserved buildings from bygone eras, and fascinating museums.
Situated near Baku, Sumqayıt hosts large complexes specializing in chemical production. Alternatively spelled as "Sumgait", this city of about 350,000 inhabitants ranks as the second largest in Azerbaijan. The local manufacturing sector especially has potential.
Ganja, located in western Azerbaijan, holds great significance due to its rich cultural heritage. The city's historical sites include landmarks such as the Nizami Mausoleum and Javad Khan Street.
Nature enthusiasts can explore Ganja's captivating Botanical Garden, which showcases an array of plant species. Additionally, Ganja serves as a research hub with several esteemed universities and institutes.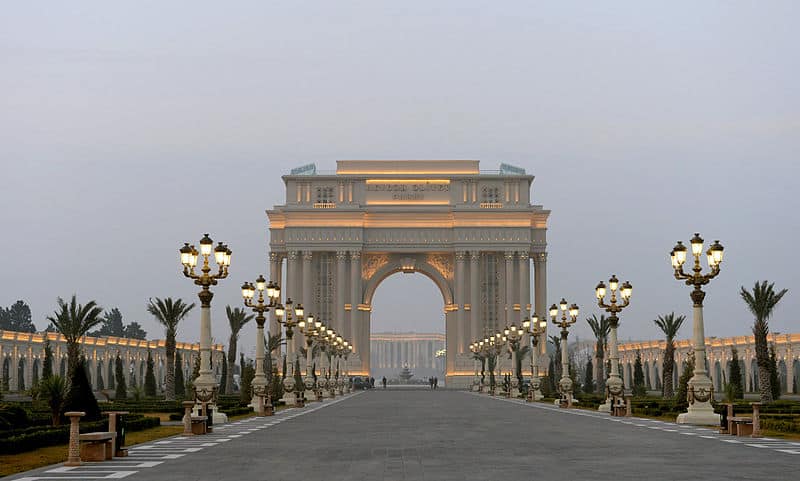 Ganja is the second largest city in Azerbaijan with a population of roughly 400,000. Built on the remains of a 14th-century walled fort, there are many types of growing industries here.
Sheki stands out as a town nestled amidst the foothills of the Caucasus Mountains. Once an important stop along the Silk Road trading route, it holds significance and continues to captivate visitors today.
Lankaran, situated on the coast of the Caspian Sea, is famous for its beaches, making it a favorite among tourists. The city is also renowned for its tea plantations and thriving agriculture.
Khachmaz, a resort town located on the Caspian Sea coast, is highly regarded for its activities and natural splendor. Visitors can enjoy strolling along the beach promenade lined with restaurants and cafes while taking in the surroundings of the Quba region.
How to Start a Company in Azerbaijan
Depending on your industry, you may need a permit or license to operate your business in Azerbaijan. These requirements can differ. It's advisable to seek guidance from legal professionals or authorities to ensure compliance.
You'll also need to register with the tax authorities and obtain a taxpayer identification number (TIN) for your company. It's to adhere to tax regulations, including those related to value-added tax (VAT) and corporate income.
To handle business transactions and manage finances effectively, it's recommended that you open a business bank account with a bank in Azerbaijan. Choose a bank that offers services in English or your preferred language and meets your needs.
If you plan to hire employees, it's absolutely worth familiarizing yourself with Azerbaijan's labor laws. It's essential to comply with employment contracts, employee benefits, and other legal obligations.
For businesses relying on property, consider protecting your assets by registering patents, trademarks, or copyrights specifically designed for use in Azerbaijan.
Stocks in Azerbaijan
Considering Azerbaijan's recent focus on its financial markets, you'll find a decent amount of long-term investment potential on the country's stock exchange.
Established back in 2001, the Baku Stock Exchange (BSE), has demonstrated resilience and growth. There are about 50 companies now listed on the BSE – which granted is small, but gets bigger every year.
Over the past decade, there's been an increase in market cap and trading volume which indicates growing interest from both foreign and local investors alike wanting to invest in Azerbaijan's stock market.
The BSE is home to a range of companies across sectors. While the energy sector has traditionally held dominance, the market is now becoming more diverse, including companies from banking, telecom, other industries.
For those investing in the Azerbaijani stock market, there are opportunities to explore;
1. Equities: Investing in traded companies listed on the BSE allows you to own a stake in these businesses and potentially benefit from capital appreciation.
2. Bonds: The market also includes fixed-income securities with regular interest payouts.
3. Derivatives: The BSE offers derivatives trading as well, which enables investors to manage risk and speculate on price movements.
The Financial Market Supervisory Authority (FIMSA) oversees the framework of the Azerbaijani stock market.
Azerbaijan's Currency: The Manat (AZN)
The official currency of Azerbaijan is the Manat (AZN). The AZN is available both as banknotes and coins.
Foreigners investing in Azerbaijan can utilize the Manat for all business activity. Design of Azerbaijani banknotes and coins showcases cultural symbols unique to the country, and the Manat's symbol is ₼.
Holding the currency will involve opening a bank account in Azerbaijan – a simple task if you're a resident or citizen, but otherwise difficult.
Unlike several other currencies in the region, the Manat is freely convertible which makes it convenient for business operations.
Industry in Azerbaijan
Azerbaijan's industrial sector reflects its dedication to diversification and growth. With an emphasis on energy production and manufacturing, the country presents an array of investment opportunities for international investors.
As Azerbaijan continues its journey towards modernizing industries while fostering growth, it offers an evolving environment for those participating in its economic progress.
Significant endeavors, like the BTC oil pipeline and Southern Gas Corridor, have bolstered Azerbaijan's position as an energy provider.
Agriculture remains an important sector in Azerbaijan with emphasis on grain and cotton cultivation. The government actively promotes investments in modernizing agriculture to enhance exports.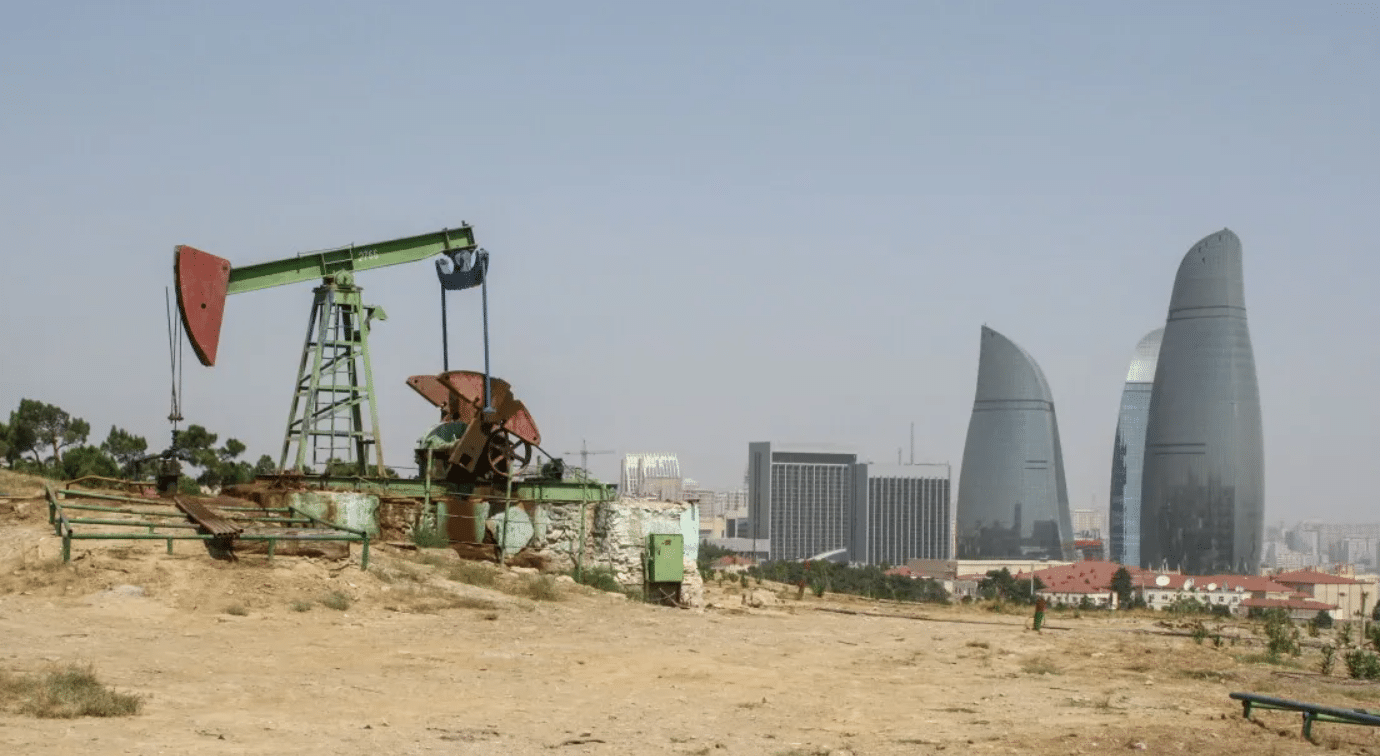 Azerbaijan is globally recognized for its significant oil and gas reserves. Despite attempts at diversification, the energy sector still comprises 40% of total GDP and 80% of all exports.
Regarding transport, Azerbaijan's advantageous position as a country bridging Europe and Asia has prompted investments in its transport infrastructure, encompassing the development of roads, railways, and ports.
The Baku-Tbilisi-Kars railway and the Baku International Sea Trade Port are two specific, major initiatives in this sector.
Cryptocurrency in Azerbaijan
Unfortunately, Azerbaijan has taken a negative approach toward bitcoin, ether, and other types of crypto. The State Committee for Securities (SCSA) has expressed concerns about the risks and possible involvement in illegal activities.
In Azerbaijan, cryptocurrencies are not considered legal tender, meaning they aren't officially recognized as a form of payment.
Back in 2018, the Central Bank of Azerbaijan issued a statement prohibiting banks and other financial institutions from offering services related to crypto. This effectively limits the use of cryptocurrencies for any transactions.
Despite these restrictions, there are reports of crypto exchanges operating in Azerbaijan that facilitate the buying and selling of digital currency. However, these exchanges face major challenges and limits on the range of services they can provide.
While cautious about bitcoin and other types of crypto investment in Azerbaijan, the government has shown interest in blockchain – the underlying tech behind crypto – in sectors like logistics, government services, and healthcare.
The cryptocurrency situation in Azerbaijan is still developing. As the industry continues to grow worldwide, a different stance by the government will hopefully evolve.
Buying Property in Azerbaijan
In general, foreigners have the right to buy property in Azerbaijan with some restrictions near border areas and strategic locations. Confirming your eligibility and any specific rules that may apply to your situation is important.
You'll first enter into a purchase agreement with the seller when buying real estate. This agreement outlines the terms of sale, including price, payment schedule, and completion date. Your lawyer should conduct a title search to ensure the property's status.
Once completed, the property's title will be transferred to your name through registration with the State Real Estate Register.
Keep in mind that you'll need to make other payments for the property, which typically include not the purchase price but fees such as transfer taxes, notary and legal fees.
It's important to understand both property taxes and any potential capital gains taxes that may apply to your purchase.
The final step involves notarizing the sale contract and registering the property with government authorities. It is crucial to complete this step to ensure that ownership is legally transferred.
If you plan to live here for awhile, applying for a residency permit could be beneficial. Buying property, or even making a large investment in Azerbaijan, by itself doesn't give you the right to live here permanently.
Private Equity in Azerbaijan
The equity and venture capital field in Azerbaijan is steadily growing, driven by an expanding startup ecosystem and government initiatives to foster innovation and entrepreneurship.
Baku naturally serves as Azerbaijan's center for tech. While the local startup ecosystem is still developing, it presents an opportunity for investors who are interested in supporting emerging companies and contributing to the country's long-term growth.
Azerbaijan doesn't have well-established private equity firms compared to more mature markets. With that said, there's been increased interest from both local and international firms.
Several incubators and accelerators have been established within Azerbaijan to support startups in the country. These programs provide support, funding, and resources to assist startups in their growth and success.
Venture capital in Azerbaijan especially focuses on startups which operate in the fields of health, fintech, and software.
Is Investing in Azerbaijan a Good Idea?
Azerbaijan isn't the usual investment recommendation. That's part of its appeal though: the country isn't swarmed with foreign capital yet. This has kept valuations fair in many cases.
Recent history reflects Azerbaijan's journey from Soviet independence toward becoming a dynamic economy. Political stability, infrastructure development, and rapid diversification have all contributed to its appeal.
Meanwhile, its vast resource wealth continues luring capital into the energy and export sectors.
Investors benefit from the Azerbaijani currency, the Manat, which is freely convertible. This reduces exchange rate risk and is especially helpful if you're working with foreign capital.
As tourism expands, there are emerging prospects for investment in hospitality services. Proximity to the Caspian Sea opens up logistics operations, such as shipping and maritime services.
Private equity and venture capital are gaining traction in Azerbaijan, offering platforms for investors to support innovation, startups, and businesses across sectors.
The Baku Stock Exchange provides opportunities for investors to participate in equities, bonds, and derivatives as Azerbaijan continues to develop its financial markets.
Azerbaijan's unique combination of culture, economic potential, and strategic location makes it an appealing destination for both travelers and investors. However, achieving success in this emerging market necessitates planning and due diligence.
It's worth considering nearby countries before you're dead-set on investing in Azerbaijan. Foreigners may find places like Georgia, Turkey, and even Armenia more accessible and "user-friendly", in fact.
That said, Azerbaijan is larger which gives access to a wider variety of investment options. It also provides a form of geopolitical security that many of its neighbors, especially ones with just a few million inhabitants, don't have.