Nepal is a landlocked, high-altitude country situated between China and India. Yet despite its position alongside two superpowers, Nepal remains a developing economy with about 45% of its population living on under $3 per day.
Let's be clear: Nepal isn't an easy place to invest in as a foreigner. The real estate market in Kathmandu is difficult to navigate, to say the least. You'll also need to make a personal visit to trade stocks here.
However, foreign investors who are willing to tear down entry barriers will find a vast number of opportunities in Nepal.
The country's labor force is young, educated, and easy to do business with compared to nearby countries. You'll certainly have an easier time here compared to Bhutan, for example.
Our guide covers several of the most popular methods of foreign investment in Nepal. Below, we'll explain more about the country's real estate sector, stock market, private equity deals, and much more.
We think there's a solid amount of opportunity in Nepal for anyone willing to spend some time and discover new ground.
Nepal: Rising Horizons in the Himilayas
Nepal is sandwiched between two of the largest markets in the world: India to the south and China to the north. This naturally gives it a strategic trading advantage.
Additionally, being a less-developed nation, Nepal can access the affluent markets as a special treatment. The European Union's "Everything But Arms" program is especially relevant here.
Foreigners who are already investing in Nepal point toward two main benefits: small government and a low-cost and friendly workforce.
With its natural and cultural resources, Nepal is very promising for investors. The northern part of the country is mountainous, while the middle is hilly and the south is close to sea level. It experiences tropical to sub-arctic climate.
Therefore, Nepal has the capacity to develop a variety of specialized agricultural products, the two being premium tea and medicinal plants.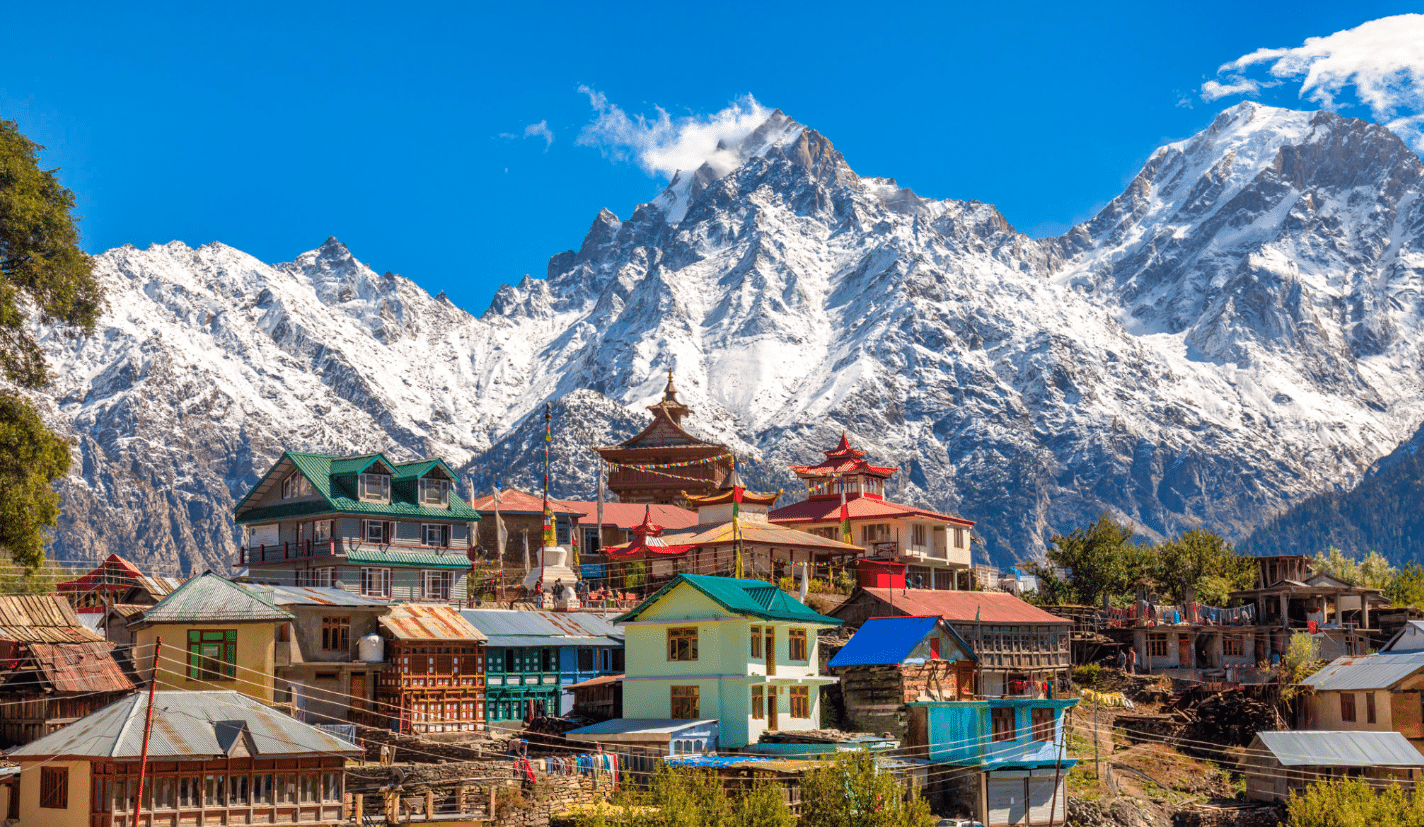 The Himalayas are home to Mount Everest, Earth's highest mountain above sea level, which continues to attract several hundred climbers every year.
Similarly, tourism is another sector with potential. Nepal possesses unmatched natural assets including Mount Everest, the world's highest mountain, as well as seven more peaks that soar up to 8,000 meters or higher. It hosts a number of ethnic groups with their own customs and a long cultural history.
For instance, the Buddha was born in western Nepal at Lumbini and Bhaktapur in the Kathmandu valley is an example of a medieval town, which has beautifully preserved Hindu temples.
Cities and Towns in Nepal
Nepal's traditional, religious, and political heart, Kathmandu is the capital and contains such sites as the Swayambhunath Temple and historic Kathmandu Durbar Square.
Pokhara, the second most populous city and a tourist capital, well-known for its natural scenic beauty, which includes Phewa Lake and the panoramic view of the Annapurna Range.
Lalitpur is the third largest city, with a unique cultural heritage. Just a few of its main sites include temples, palaces, and museums.
The fourth largest city and the main commercial center, Birgunj, lies on the Indian border and is an important trading and transit point. It is situated near Janakpur, birthplace of goddess Sita.
Bhaktapur: a city well known for its preserved historical and cultural heritage with ancient temples, palaces, and Newari architecture.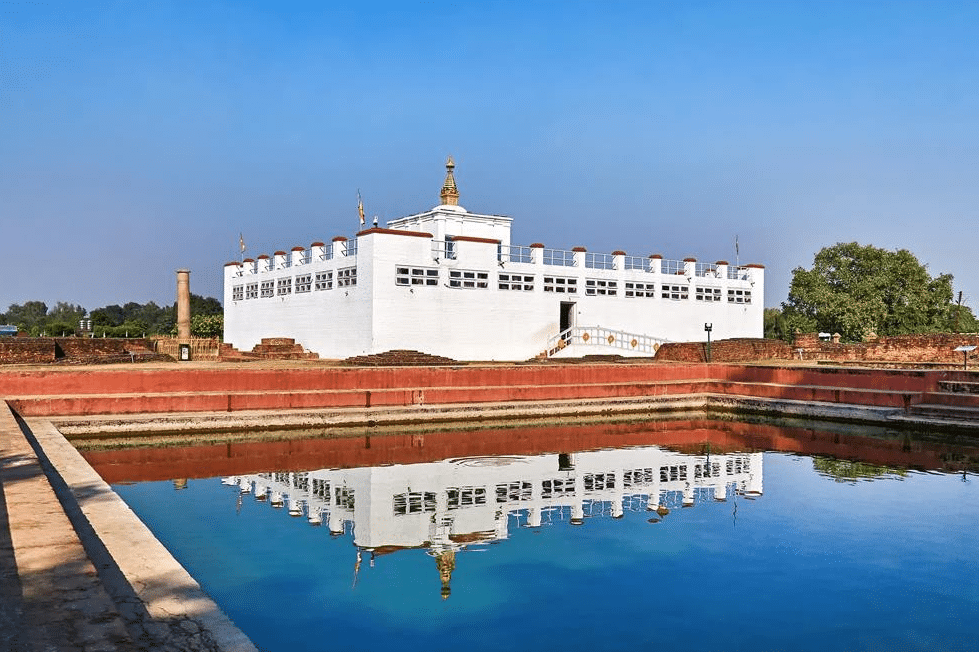 The Maya Devi Temple is believed to be where Prince Siddhartha, later known as Lord Buddha, was born.
Lumbini is the famed birthplace of the Buddha and is also listed as a UNESCO World Heritage site. It is a place of pilgrimage for all those interested in the history and culture of Buddhism.
Nagarkot boasts amazing views of the Himalayas, with its sunrise and sunset making it a favorite destination for tourists and trekkers.
How to Start a Company in Nepal
In Nepal, the government has allowed foreigners to have 100% ownership in industries such as tourism, trade, industry, and real estate.
You should expect an initial setup cost of between $1,000 and $2,000 dollars for legal counseling and government fees for a process that may take up to a month to start a company.
A one-year business visa costs $100, making it an easy way for businessmen to stay in Nepal. Nepal's bureaucracy is relatively lenient.
However, the Foreign Investment and Technology Transfer Act of Nepal has outlined rules and restrictions about which industries are restricted or prohibited for foreign investment.
These regulations place restrictions on the percentage of ownership that foreigners could hold in specific sectors. Sectors which are limited to foreign investment in Nepal include real estate, agriculture, real estate, public transport, and natural resources.
Nepal's corporate tax rates are generally comparable to other countries in the region. The tax rate for most businesses in Nepal is 25%, but particular sectors and industries differ.
Financial Markets and Stocks in Nepal
The Securities Exchange Center, also known as the Nepal Stock Exchange, was founded in 1937 to foster the expansion of the capital market and offer financial services.
The top five listed firms on the Nepal Stock Exchange are Nabil Bank Ltd., Nepal Investment Bank Ltd., Standard Chartered Bank Ltd., Himalayan Bank Ltd., and Nepal SBI Bank Limited.
There are a total of 226 companies listed on the exchange, including banks, utility companies and other public firms.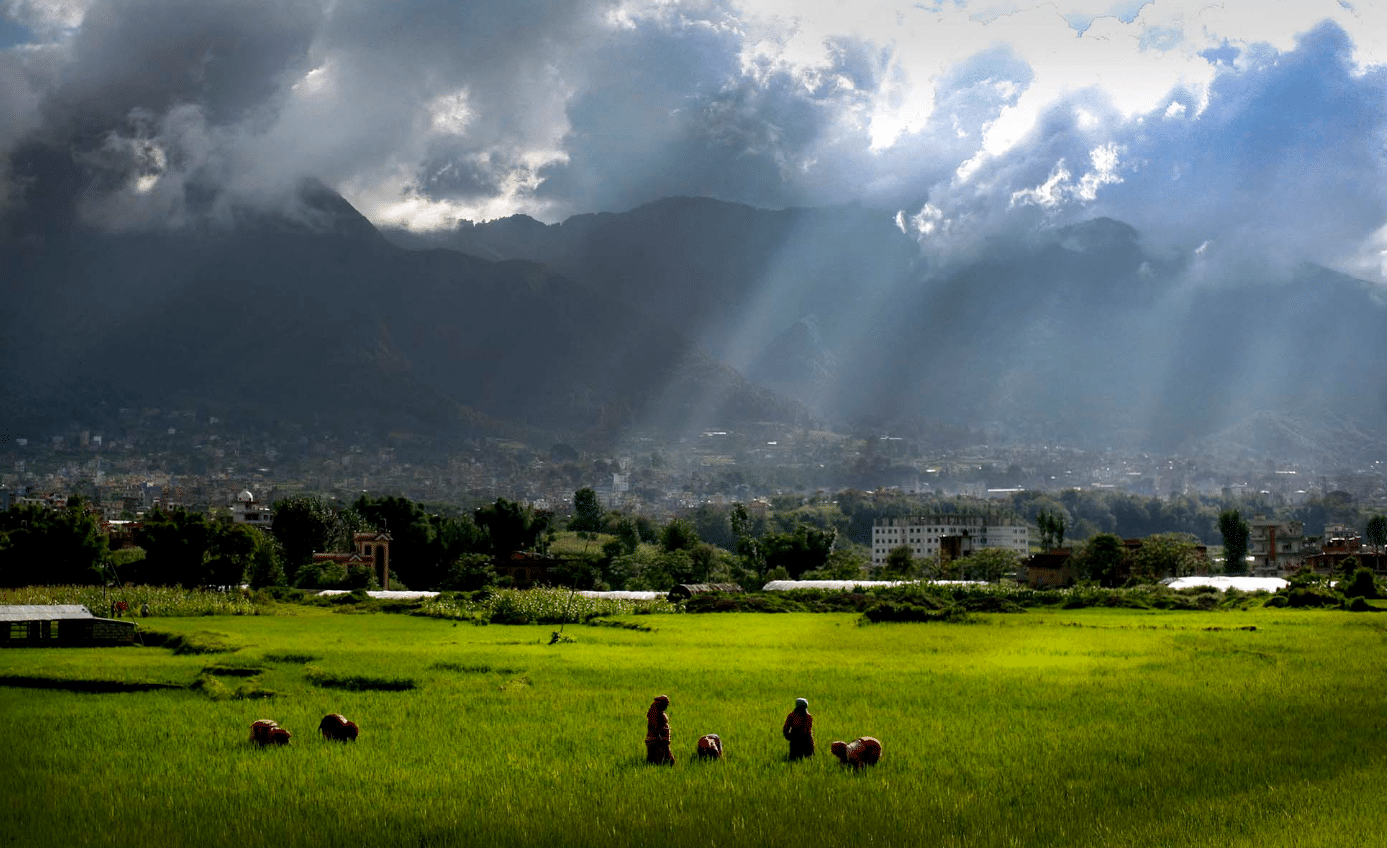 Agriculture is still considered the backbone of Nepal's economy. It's the main source of food, income, and employment for the majority of Nepalese.
With that said, much of the Nepali population earns their living through agricultural goods and the informal sector. You won't find many of these opportunities on public markets.
Agriculture still accounts for 38% of the country's GDP. Nepali industry encompasses food processing, tourism, and fabrics.
It's typically necessary to visit in person and open a brokerage account to buy stocks in Nepal. You won't be able to trade here using an IBKR account or any other broker in your own country,
The good news is that options for registering online are possible in some cases. Investing in Nepal is getting easier, slowly but surely.
Nepal's Currency: The Rupee (NPR)
The national currency of Nepal is the rupee (NPR), which took the place of the Nepalese mohar in 1932 and is issued by the Nepal Rastra Bank. It maintains a peg to the Indian rupee (INR), set at 1.6 NPR to INR.
Nepal's lowest currency unit is the paisa, which is divisible into 100 pieces of the rupee.  While the NPR to USD exchange rate peaked way back in January 2004 and fell historically to 0.005 USD in June 2020. Nepal's rupee has appreciated a bit since then.
As of late-2023, one Nepalese rupee is equivalent to roughly one cent in US currency.
Industry in Nepal
Nepal's primary sectors include tourism, textile manufacturing, and raw materials. A few of Nepal's smaller and mid-size towns are each known for a very specific industry though.
For example, you'll find dozens of sugar factories in Birātnagar, Birganj, and Bhairahawā, sawmills in Hitaura, meat production facilities in Tarai, and cement production in Birātn.
Nepal is almost one-third covered by forests, and thus, timber is a valuable resource for the country. Timber Corporation in Nepal produces the construction and furniture for the Kathmandu Valley.
A majority of trade mostly occurs with neighbors India and China, along with the US, but there are attempts to expand business to other countries.
The National Trading Limited, a State Trading Agency, has increased commercial activity. Nepal's foreign trade relies heavily on the Indian market and Port Kolkata for its access to the sea though. It's worth remembering that we're dealing with a landlocked country.
Cryptocurrency in Nepal
Nepal's government has banned cryptocurrency. The strict stance is based on concerns about the volatility of crypto prices, and lack of regulations.
Despite these risks, some Nepalese citizens are willing to trade cryptocurrency on various illegal exchanges.
The Nepal Rastra Bank (NRB) has issued notices banning transactions of cryptocurrencies like Bitcoin, Litecoin, and Dogecoin. The rule even applies to Nepalese residing in foreign countries.
Buying Real Estate in Nepal
The real estate market provides a wide selection of options, from residential buildings to commercial ones in urban areas to rural locations.
Nevertheless, some legal and regulatory limitations should be studied by foreign investors before purchasing property in Nepal.
Generally, Nepali freehold land cannot be owned by foreigners; only buildings and structures can.  Foreigners must obtain permission from the department of Land Reform and Management if they want to be an exception, and these are rarely given in practice.
Foreign residents can, however, invest through a Nepalese business or jointly with a Nepalese partner and own the right to land via a company. Buying property in Nepal as a foreigner, under your own name, is very difficult though.
Nonetheless, rapidly-growing demand for quality housing, combined with the country's relatively low cost of living, make investing in Nepali real estate promising in spite of such limits.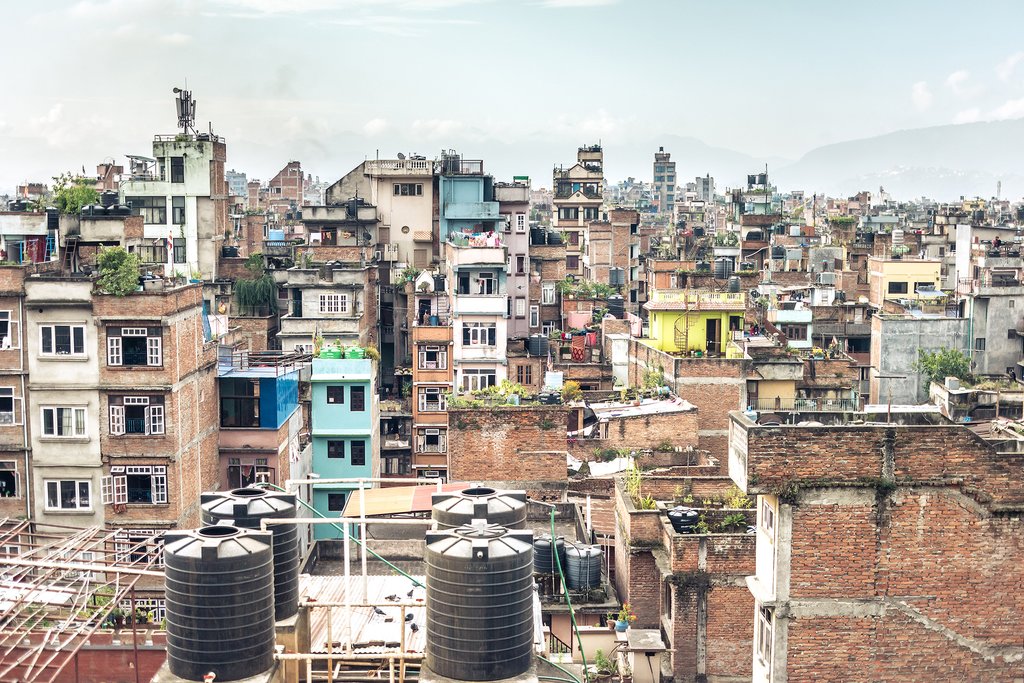 Kathmandu's increasing population has made the capital city a particularly solid place to invest in real estate.
The average cost of an apartment in Nepal's capital is around $1,100 per square meter outside the center and close to double that in the center.
Foreign nationals must also pay fees such as registration fees, stamp duties, income tax, capital gains tax, service costs, commission, etc.
Urban areas in Nepal, like Kathmandu and the Madhes Province, have been rapidly appreciating in value, with some estimates saying they are doubling every three or four years.
Many previously rural residents are moving into the cities to pursue better jobs and education, thus driving prices in central Kathmandu.
Private Equity and VC in Nepal
Private Equity and Venture Capital in Nepal is still at its nascent stage, facing issues of restricted transaction flow, unclear regulations, and no exit options.
Still, growing interest and possibilities are arising because Nepal has a young populace, a flourishing entrepreneurial ecosystem, and a need for innovation.
Currently, about 10 funds are operating in Nepal and investing in over 70 companies across various sectors such as healthcare, education, and technology.
Business Sansar, Dolma Impact Fund, One to Watch, Business Oxygen (BO2), and True North Associates are the key competitors in Nepal. They usually invest in startups or the expansion of companies that have high financial returns and a positive social impact or environmental benefits.
While the legal and fiscal structure is still uneven and unclear, more uniform rules and taxation schemes are required to create the conditions that promote private equity and venture capital.
Should You Invest in Nepal?
Nepal presents plenty of opportunities for investors looking for a strategic frontier market in Asia. Many industries accept 100% foreign direct investment (FDI), and Nepal boasts a plethora of natural resources.
Some of the most productive sectors for investment in Nepal are manufacturing, services, tourism, and agriculture. Additionally, Nepal has a young and productive labor force with 61% of its population below 30 years of age.
While Southeast Asian countries are getting a lot of attention among global investors, Nepal is worth considering as a nearby alternative further to the north.
The country's strong demographic trends combined with attractive valuations in its real estate and stock markets should drive Nepal's economic growth well into the future.
For anyone eager to venture into a new, attractive market, investing in Nepal can be profitable and rewarding. But it must be approached with due diligence and caution, as with any less-developed emerging market.