Thailand has long been a popular destination for expats, drawing retirees, digital nomads, and many seeking to begin a new life abroad.
Arguably, Thailand is home to a greater number of expats than anywhere else in Asia. The expat community in Thailand has grown to approximately two million foreigners as of 2023.
The majority of foreign citizens living in Thailand are from neighboring countries such as Myanmar, Laos, and Cambodia, while others – seeking to escape the stresses of life elsewhere – arrive from all of over the world.
In recent years, the growth of the digital nomad movement has also led to an increase in expats working remotely and choosing to live in Thailand for its affordable cost of living, warm climate, and attractive lifestyle.
Several new visa options, including the ten-year LTR (long-term residence) visa most recently, have made it easier to live in Thailand than ever. Especially if you have money to invest.
No doubt, Thailand is an attractive destination for expats of all types from around the world. If you are considering visiting or even moving to Thailand, this guide is for you.
We'll dive into what it's like to live in Thailand as an expat, how to adapt to the lifestyle, and what cultural differences to expect.
Afterwards, we'll take a tour through the most popular cities in Thailand for expats, and compare all the paths to getting a visa that will allow you to live here long-term.
Expat Life in Thailand
Perhaps the best part of living in Thailand is the flexibility it offers. It seems almost cliche to praise somewhere for how "flexible" it is, but Thailand offers it in droves.
Do you want to eat at street stalls and spend $3 on food every day? Sure, you can do that.
On the opposite end of the spectrum though, Thailand has over 20 different Michelin star restaurants where you can eat imported food and spend $300 per person.
Whether you want to live on a remote beach or one of the world's largest urban areas… whether you want stay at the Waldorf Astoria or a cheap hostel… whether you want to order McDonalds or Pad Thai at 3AM in the morning, you can do it in Thailand.
Naturally, Thailand is welcoming to families, retirees, backpackers, and multimillionaires alike, if you know where to look.
The Cost of Living
Generally Thailand has a low cost of living compared to many western countries. The cost of living can vary widely depending on your lifestyle and location.
A general rule is that local food, transport, and healthcare are affordable, while western-style goods and services can be more expensive. You'll pay more eating German food or buying an imported car than you would in your home country.
Major cities like Bangkok, along with islands like Samui and Phuket, are more expensive. Smaller towns and rural areas are generally cheaper. 
Housing and Accommodation in Thailand
Of course, Thailand is home to 70 million people and not everyone lives in an urban area. You'll find many small towns and villages across the country. If you're renting a hut out in the middle of nowhere, it'll cost significantly reduce your living expenses.
If we're talking about places where expats live though, living in Pattaya and Chiang Mai is considerably less expensive than in Thailand's capital city or its islands.
Finding accommodation in Thailand can be easy or difficult depending on where you live and your budget. Most expats choose to rent apartments or houses, which can range from basic to luxurious.
Rental prices are generally cheaper outside of major cities, and can be more expensive in popular tourist areas. It's important to research the location and condition of the property before committing to a rental agreement.
Transportation in Thailand
Thailand has a well-developed transportation system that includes buses, trains, and taxis, as well as tuk-tuks and motorbikes.
Public transport is generally cheap. For example, even in Bangkok, driving from one end of the city to the other shouldn't cost more than a few hundred baht.
Bangkok's BTS Skytrain is highly efficient. Combined with the MRT subway, buses, airport rail link, and other methods of transport, you can access many parts of the city without needing a car.
Driving in Thailand can be challenging, and many expats choose to either rely on public transportation or hire a driver.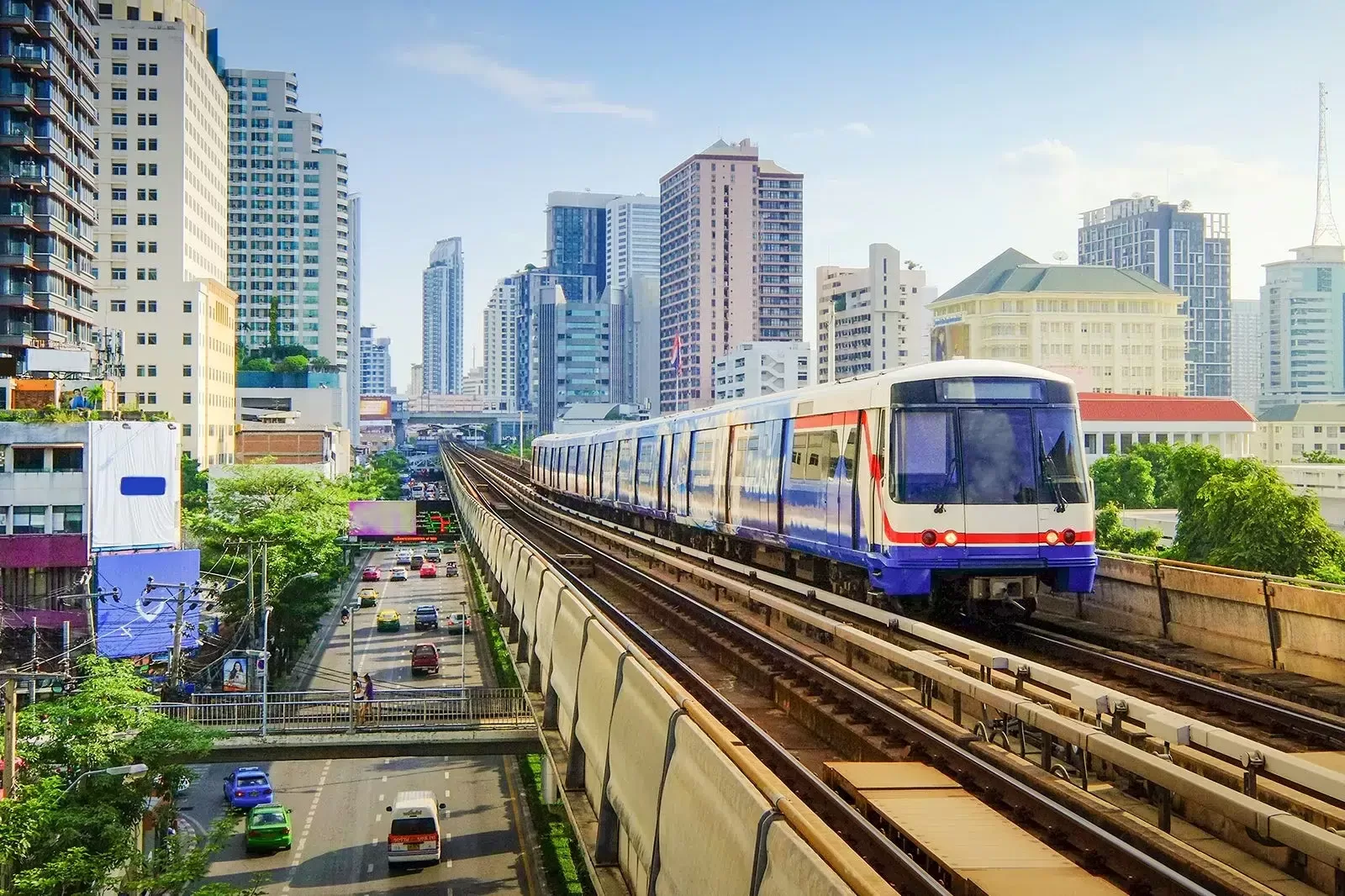 The BTS Skytrain has over 65 stations with more constantly under construction – and it's not even the only mass transit system in Bangkok.
Safety and Security in Thailand
Thailand is generally a safe country for expats to live in. In fact, Bangkok or Chiang Mai is on average safer than most large cities in the US and Europe.
Violent crime rate in Thailand is especially low. Pickpocketing and scams do happen, but you're very unlikely to get mugged or attacked. 
Following the simple rule of "don't talk to random people" will help you avoid 90% of petty crime.
Like any country though, there are some areas that are safer than others. Expats should take precautions to avoid areas with high crime rates. Don't go wandering down dark alleys in Khlong Toei at night.
Healthcare in Thailand
Thailand's private healthcare system has gained a reputation as being one of the best in the world due to its high-quality services, modern facilities, and affordable prices.
The country has become a hub for medical tourism, attracting patients from around the world who come to receive high-quality medical treatment at a fraction of the cost they would pay in their home countries.
Private hospitals in Thailand are equipped with the latest medical technology and staffed by highly trained doctors and medical professionals, many of whom have trained in the US or Europe.
English is widely spoken in hospitals, making it easy for foreigners to communicate with doctors and nurses.
In addition to providing top-quality medical treatment, Thailand's private hospitals also offer a range of other services, including wellness programs, health screenings, and cosmetic surgery.
Many private hospitals in Thailand have affiliations with international medical providers, allowing for seamless continuity of care for patients who require treatment in different countries.
Despite the high quality of private healthcare in Thailand, it remains affordable compared to many other countries, particularly in the West. This has made it an attractive option for both expats and medical tourists seeking top-quality medical treatment at a reasonable price.
Schooling and Education in Thailand
Private and international schools can be expensive, but generally offer a higher quality of education. On the other hand, public schools are free but the quality of education is variable.
The demand for expat English teachers has increased in recent years, as Thailand seeks to improve its English language skills in order to compete in the global economy.
At the higher-education level, Thailand's two best schools are Chulalongkorn University and Thammasat University.
Opening a Bank Account
Expats can open bank accounts in Thailand with their passport and proof of residency. Some banks may require additional documentation, such as a work permit or visa.
Your options as a tourist, on the other hand, are minimal. Even though it's still possible to open a Thai bank account as a non-resident are possible in some circumstances, like if you have a referral letter from an existing customer or another reason to be in Thailand.
It's important to research banking options and fees, as some banks may charge higher fees for foreign account holders.
Getting a Driver's License in Thailand
Expats can drive in Thailand with an international driver's license, but it's recommended to get a Thai driver's license if planning to drive regularly.
The process for obtaining a Thai driver's license can vary depending on the applicant's home country license and experience.
Phone and Internet
Phone and internet services are widely available in Thailand, and many providers offer competitive rates for international calls and data.
SIM cards and phones can be purchased at most convenience stores and phone shops, and internet service can be installed at home or accessed through public hotspots.
Adapting to Thai Culture
Preparing for the cultural differences you will encounter in any country is an important part of being an expat. Doing so helps decrease cultural shock and increase your ability to connect with and respect the locals and their culture.
So, what do you need to understand about Thai culture and customs before you go?
Here are a few things to keep in mind:
Customs and Culture in Thailand
Thai culture places a strong emphasis on respect, especially towards elders and those in positions of authority.

Buddhism is the dominant religion in Thailand, and it influences many aspects of daily life.

The concept of "saving face" is important in Thai culture, which means avoiding public embarrassment or causing others to lose face.

Thais may seem more indirect in communication, and it's important to read between the lines to understand what is being communicated.

Thais may avoid saying "no" directly to avoid causing offense, so it's important to pay attention to nonverbal cues.

Personal space is smaller in Thailand, and physical contact such as a handshake or a pat on the back is common.
Learning the Language
While many Thais speak English, learning some basic Thai can go a long way in building relationships and navigating daily life.

Some useful phrases to learn include greetings, asking for directions, ordering food, and expressing gratitude.
What to Know About Daily Life in Thailand
Thailand can be hot and humid, so dress appropriately for the climate.

Many businesses close during the afternoon for a few hours during "siesta" time.

Tipping is not expected in Thailand, but rounding up the bill is appreciated.
Socializing and Making Friends in Thailand
Thais are generally friendly and welcoming, but it may take time to build deeper relationships.

Participating in local events or joining clubs based on shared interests can be a good way to meet people.

Learning about Thai holidays and customs and participating in them can show respect and help build connections.
What is the Work Culture Like in Thailand?
The concept of "face" is important in the workplace as well, so criticism should be given privately and diplomatically.

The hierarchy in Thai businesses is more pronounced, and respect for superiors is expected.

Building personal relationships with colleagues is important in Thai business culture.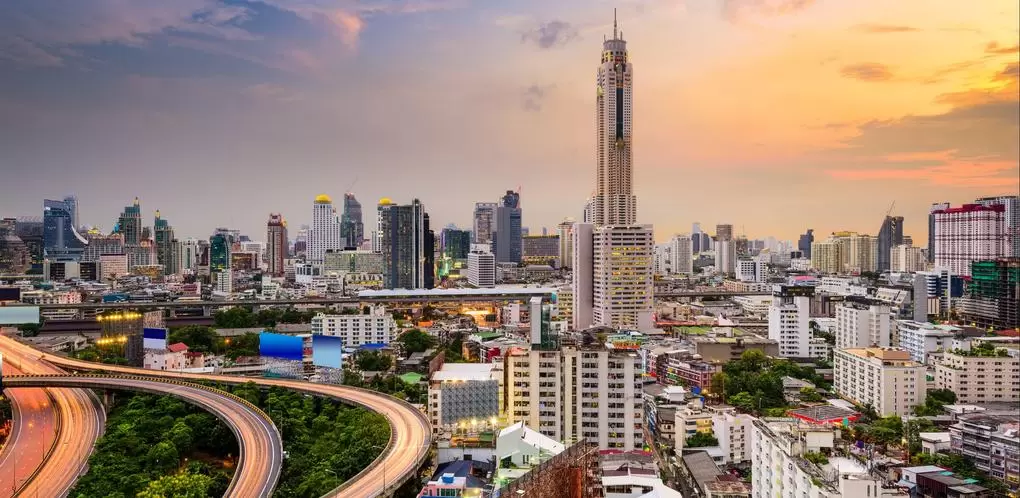 If you're employed by a multinational firm and being sent to Thailand, it's likely that you'll be sent to Bangkok.
The Best Cities in Thailand for Expats
You can read the full report on how to invest in the places below in our guide on how to invest in Thai property.
For now, here are several highlights about ten major cities in Thailand.
Bangkok
Bangkok is the capital city of Thailand. With over 15 million people living in its metro area, it offers enough entertainment and dining options to spend a lifetime exploring and never see it all.
There's no official count, but estimates say that about 300,000 expats call Bangkok home. You arguably won't find a bigger expat community anywhere else in Asia.
Pattaya
Pattaya is a beach resort city that is popular among expats for its vibrant nightlife, beautiful beaches, and affordable property prices compared to Bangkok and Phuket.
With a mid-size population of about 2 million, Pattaya is relatively easy to settle into as a newcomer. Jomtien Beach and its surroundings are also part of the Pattaya metro area.
Phuket
Phuket is an island province that is famous for its stunning beaches, crystal-clear waters, and laid-back lifestyle. It has a large expat community, particularly in the areas of Kathu, Rawai, and Chalong, where many expats own businesses and properties.
Chiang Mai
Chiang Mai is a city located in north Thailand that is known for its rich history, beautiful temples, and peaceful way of life. 
Over the years, Chiang Mai has especially become popular among retirees and digital nomads, who enjoy the city's affordable cost of living and relaxed atmosphere.
Hua Hin
Roughly a 3-hour drive southwest of Bangkok, Hua Hin is a seaside resort town popular among expats for its peaceful lifestyle, white-sand beaches, and high-quality golf courses.
Hua Hin is also home to many retirees, who appreciate the town's slow pace of life and affordable cost of living. The royal family maintains a residence near the city.
You don't have as many options living in Hua Hin compared to Pattaya, and it's slightly further away from Bangkok. Hua Hin's residents would tell you that superior beaches and a quieter atmosphere make up for it though.
Koh Samui
Koh Samui is a tropical island that is known for its stunning beaches, crystal-clear waters, and lush greenery. It is a popular destination for expats who are looking for a peaceful and relaxed way of life, away from the hustle and bustle of the city.
Krabi
Krabi is a province located in southern Thailand that is famous for its stunning coastline, limestone cliffs, and crystal-clear waters. It is a popular destination for expats who enjoy outdoor activities such as rock climbing, hiking, and kayaking.
Khon Kaen
Khon Kaen is the unofficial capital of northeastern Thailand, or Issan, known for its friendly locals, traditional food, and affordable cost of living. It is also home to expats who work in the education and healthcare sectors.
Nonthaburi
Nonthaburi is a province located just north of Bangkok that is known for its traditional way of life, historic temples, and scenic waterways. It is a popular destination for expats who want to experience Thai culture and history, while still being close to the city.
Udon Thani
Udon Thani is a city located in northeastern Thailand that is known for its friendly locals, affordable cost of living, and vibrant nightlife. It is home to many expats who work in the education and healthcare sectors and is a popular destination for retirees.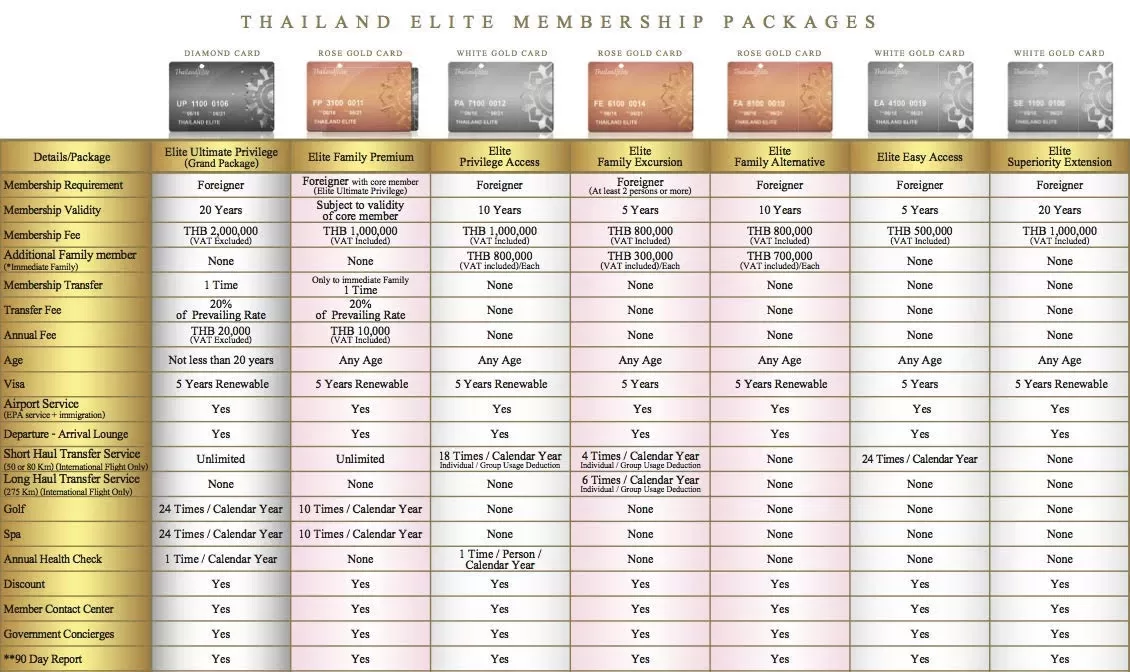 A chart showing the differences between all seven Thai Elite Visa packages.
Thailand Visa Options
If you have already visited Thailand and decided it's a place you want to call home, you will need a long-term visa to remain in the country beyond the lifespan of your typical tourist visa.
The two most popular visa programs are the Thai Elite Visa and the Long-Term Resident (LTR) Visa. Both require substantial investments, so you will want to be sure Thailand is the right fit for you before jumping in and getting one of these visas.
The Thai Elite Visa
The Thai Elite Visa is a special type of visa available to foreigners who are looking to stay in Thailand long-term.
In order to qualify for the Thai Elite Visa, a lump sum payment in exchange for this non-renewable visa that lasts between 5 and 20 years. The lump sum payment varies depending on the package that you choose, with prices ranging from THB 500,000 to 2 million ($15,000-$60,000).
There are seven different packages available, each with its own set of benefits and services. The packages range in price and duration, and they offer a variety of benefits such as visa extensions, airport services, and concierge services.
The duration of the Thai Elite Visa also depends on the package that you choose. The shortest visa is valid for 5 years, while the longest is valid for 20 years.
You can include family members in your Thai Elite Visa package, but there are additional fees for this. The fees depend on the package that you choose and the number of family members that you wish to include.
Some other things to know about the Thai Elite Visa include:
No Work Permit: The Thai Elite Visa does not provide a work permit, so if you wish to work in Thailand, you will need to obtain a separate work permit.

No Annual Fees: Once you have paid the lump sum fee for the Thai Elite Visa, there are no annual fees or other charges to maintain the visa.

Limited Availability: The Thai Elite Visa program is limited to a certain number of applicants each year, so it's important to apply early if you are interested in obtaining the visa.
Overall, the Thai Elite Visa is a good option for foreigners who are looking to stay in Thailand long-term and who want to avoid the hassle of renewing their visa every year.
While it does require a significant upfront payment, the benefits and services that come with the visa can make Thailand's Elite Visa a worthwhile investment for those who plan to stay in Thailand for an extended period of time.
Thailand's Long-Term Resident (LTR) Visa
The LTR Visa is another type of visa that is available to foreigners who wish to stay in Thailand long-term. The visa has a validity of 10 years, which is longer than most other visas that are available to foreigners.
Unlike the Thai Elite Visa, the LTR Visa is renewable once it expires. This means that you can continue to stay in Thailand after your initial 10-year visa has expired, as long as you meet the requirements for renewal.
To be eligible for the LTR Visa, you must meet certain income and asset requirements depending on which route you choose. There are three main routes you can take:
The Investment Route:

This route requires the applicant to invest a minimum of THB 10 million (approximately $300,000) in a Thai company or government bond. The investment must be held for at least three years.

The Employment Route:

This route requires the applicant to have a work permit and be employed in Thailand for at least three consecutive years. The applicant must also have paid income tax in Thailand during this time.

The Income and Asset Route:

This route requires the applicant to have a minimum annual income of at least $80,000 and a minimum net worth of $1 million. The income and assets must be verified by a Thai embassy or consulate.
In addition to meeting the income and asset requirements, you must also meet other eligibility criteria in order to qualify for the LTR Visa. This includes having a valid non-immigrant visa, being a resident of Thailand for at least three consecutive years, and having no criminal record.
The LTR Visa provides several benefits to foreigners who are looking to stay in Thailand long-term. For example, it allows you to stay in the country for up to 10 years without having to apply for a new visa or extend your current visa. 
LTR Visas also allow you to apply for a work permit, which can make it easier to work and do business in Thailand.
The application process for the LTR Visa can be complex and time-consuming, as there are many documents and requirements that must be met.
It's important to work with an immigration lawyer or consultant to ensure that you have the necessary paperwork and meet all of the eligibility criteria.
Overall, the LTR Visa is a good option for foreigners who are looking to stay in Thailand long-term and who meet the income and asset requirements.
While the application process can be challenging, the benefits of the visa make it a worthwhile investment for those who plan to stay in Thailand for an extended period of time.
Conclusion: Is Moving to Thailand a Good Idea?
Thailand offers a unique blend of modern comforts and cultural experiences that make it an attractive destination for expats looking to explore a new part of the world and create a new life for themselves.
From its world-class private healthcare system to the delicious cuisine, there is something for everyone in Thailand. However, living here long-term is not for everyone.
Be sure to give the country a test run, of sorts, and stay for a few months at a time before committing to it long term.
Overall, while adjusting to life in Thailand may present some challenges for expats, such as language barriers and cultural differences, the country's friendly locals and welcoming attitude towards foreigners can make the transition smoother.
By taking the time to learn about the local culture, language, and way of life, you can fully enjoy what Thailand offers and create a fulfilling life abroad.