Last updated June 9th, 2023.
A greater number of foreigners live in Thailand than anywhere else in Southeast Asia. Naturally then, there's a strong demand for opening bank accounts here. Yet the rules have always been unclear.
I've successfully opened nearly a dozen Thai bank accounts during the past 10 years. The exact circumstances were always a bit different, although I've received an account in Thailand while holding everything from a tourist visa, to a student visa, to an investment visa.
Because of this, I do feel qualified to write a guide about opening a Thai bank account from the perspective of a foreigner.
Your experience will depend on who you are. And I went through the process as a permanent resident, tourist, university student, along with everything in between.
The process doesn't work the same as it did in 2008 – certainly if you're opening a Thai account on a tourist visa. Getting an account on a 30-day visa is still possible, but not anywhere near as simple as before.
You might find other guides online that specifically say "[Bank Name] will let foreigners open an account!". We're not doing that here for several reasons though.
First off, banks in Thailand don't offer blanket policies on non-resident account opening.
Quite frankly, your ability depends on which branch you visit and the employee's mood at the time. A staff member at the head office will probably give you a completely different answer than a branch in Bang Na.
Secondly, staff at Thai banks are constantly changing or rotating. I could give you the name of a branch where opening an account as a foreigner was easy eight months ago. But the same friendly employee likely doesn't work there anymore.
Don't worry though: keep reading and you'll learn all the information you need about opening a Thai bank account as a foreigner.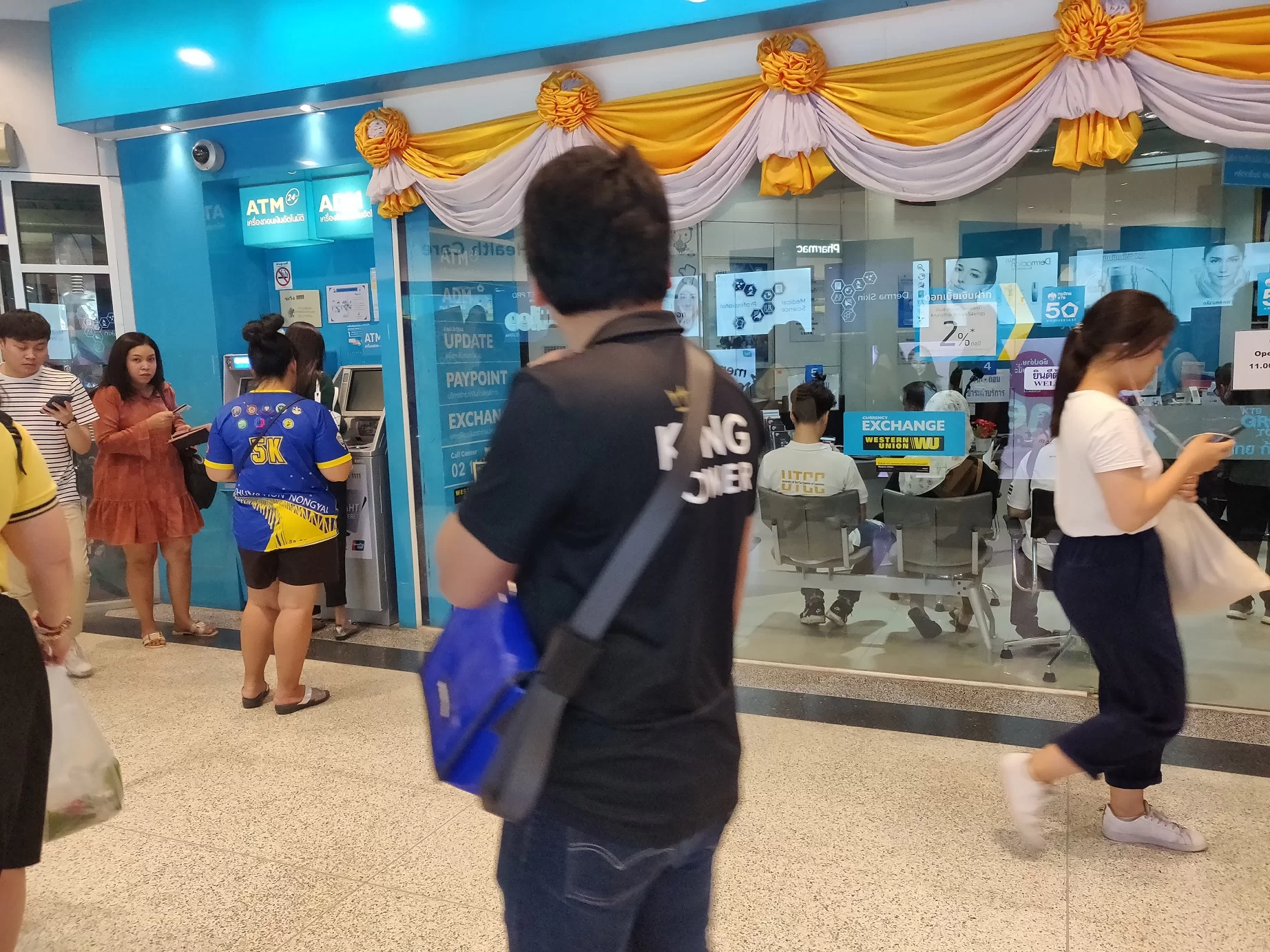 Long lines are a common sight at Thai banks during rush hour. Make sure you choose a convenient bank.
Can Foreigners Open a Bank Account in Thailand?
"Yes" is the short answer. With that said, your available options will vary based on whether you have a long-term visa or not.
Make sure you bring a passport and a minimum deposit since you will definitely need those. Depending on which bank you're visiting, you may also require anything from a long-term visa, to a referral letter from an existing customer, to a letter from your embassy.
I should note that, like in most of emerging Asia, your experiences might differ based on the specific bank branch you visit.
Employees have a large amount of discretion regarding what paperwork they want, how easy they'll make the process, or even if they'll let you open a Thai bank account at all.
Therefore, if you visit a bank and things don't work out for you, then simply try another branch. Remember to be polite with staff as well. Banking in Thailand is often frustrating, yet becoming mad will probably end up wasting your time.
What Are The Best Banks in Thailand?
Not every bank in Thailand is equal. Some are frequently crowded with customers. Others are highly bureaucratic if you're a foreigner. And a few of them lack customer service standards.
We'll start off with Thailand's biggest banks. Conveniently, they're also the easiest ones to open an account with if you're a foreigner. Each of them will allow non-resident account opening. As mentioned before though, your experiences will vary depending on the exact branch.
Depending on what metric you're using (number of staff, annual profit, AUM, etc.), the "biggest bank in Thailand" is one of three.
5 Largest Banks in Thailand
Bangkok Bank (BBL) is my favorite locally-based bank in Thailand. Not only are branches and ATMs plentiful, but you will find English-capable staff at most locations. Their online banking is better than many local banks and friendly to foreigners who don't read Thai.
Worth noting is that Bangkok Bank has offices in New York and other major cities around the world. In fact, they easily boast the largest international presence out of all local Thai banks. You may find them useful if you're expecting transfers from the US, China, or elsewhere.
Siam Commercial Bank (SCB) is yet another top choice. As the nation's first bank and still, among the biggest, they compete with Bangkok Bank and KBank for Thailand's largest ATM network. You shouldn't ever have problems finding an SCB location.
While I'm personally biased toward Bangkok Bank because of their international presence, SCB does enjoy lots of the same advantages. Lines are shorter compared with other top Thai banks and customer service standards are above average.
Kasikornbank (KBank) is a third major bank worth considering if you're a foreigner. However, there's one major downside: KBank is widely known as an everyman's company.
Their Thai name is translated to "farmer's bank". Practically every local has an account with KBank, and they don't require a minimum deposit. Thus, despite a large presence, you'll usually find longer lines at branches and ATMs alike.
Rounding out Thailand's top five biggest banks are Bank of Ayudhya (Krungsri) and Krung Thai Bank (KTB). Unfortunately, their ATMs and branches aren't easily available compared with the three listed above. And they're often packed with customers.
Of course, there are smaller local banks in Thailand as well. They might have advantages (lower interest rates, niche services, etc.) if you're a Thai citizen. But if you're a foreigner, dealing with them is normally harder than if you used a top 5 bank.
Foreign Banks in Thailand
Besides local banks, Thailand hosts several large multinational banks. Singapore's UOB and CIMB from Malaysia are the most prominent ones. Getting an account at either of them is very difficult if you're a non-resident in Thailand.
Citibank used to have sizable operations in Thailand, but their unit was sold to UOB in 2023.
Foreign banks are often easier to use if you're making international transfers and/or banking regionally across Southeast Asia. Consider opening an account at UOB or CIMB if you're doing business throughout the ASEAN region.
Otherwise, our advice to anyone on a short-stay Thai visa is: go to your nearest branch of either Bangkok Bank or SCB. If they're difficult with you, then try another branch. Repeat until you've successfully opened a bank account in Thailand!
Skip the Next Western Recession
Learn the best places to invest - and where to avoid - by downloading our free Investment Cheat Sheet.