Last updated September 1st, 2023.
A greater number of foreigners buy property in Thailand than any other country in Asia. There are several reasons why Thailand is the most popular choice among real estate investors worldwide.
Located in the heart of Southeast Asia, Thailand shares borders with four other nations and thus has served as a regional business hub for centuries.
Thailand's strategic location made it an ideal buffer zone between colonial France and Britain during the 19th century. In turn, Thailand was able to stay neutral at the time, making it the only country in Southeast Asia that wasn't ever colonized by western powers.
Nowadays, Thailand (and its property market) can still reap rewards from its geographic position… but in different ways than before.
The nation's capital of Bangkok is barely an hour-long flight from Vietnam, Cambodia, Laos, and Myanmar. Asia's frontier markets rank among the world's fastest growing countries and Thailand acts as a main international gateway into them.
Likewise, Thailand's borders give it easy access to cheaper labor along with an additional 200 million consumers nearby.
Frontier markets such as Cambodia and Vietnam help support Thailand's manufacturing base. In exchange, Thailand is a major source of cross-border trade and investment into its neighbors. The relationship is mutually beneficial and creates synergy.
Thailand's economy doesn't solely depend on its neighbors for growth though. A domestic population of almost 70 million people, combined with a focus on specialized manufacturing and a healthy trade surplus, contributes to the nation's prominent middle class.
Not only is Bangkok the most heavily tourist city on the planet (beating out Paris and London in Mastercard's latest survey). It's one of the world's biggest exporters of electronics and vehicles too.
If you open up your computer and read the label on your hard drive, it will probably have a sticker saying "Made in Thailand" on it. That's because Thailand is one of the world's top producers of hard drives and memory.
Besides manufacturing, exports, and tourism, Thailand boasts an important and growing services sector. The Thai startup community is also seeing rapid growth and great success in recent years, while laws are relatively friendly toward cryptocurrency.
Such factors have led to steady, consistent growth since the 1980s which transformed Thailand into one of Asia's most dynamic countries. Naturally, this general economic success story extends to the Thai real estate market as well.
A middle class which barely existed a few decades ago is now flexing its purchasing power. Thai consumers are increasingly capable of purchasing new condo and housing projects under construction in Bangkok, Chiang Mai, Pattaya, and Hua Hin.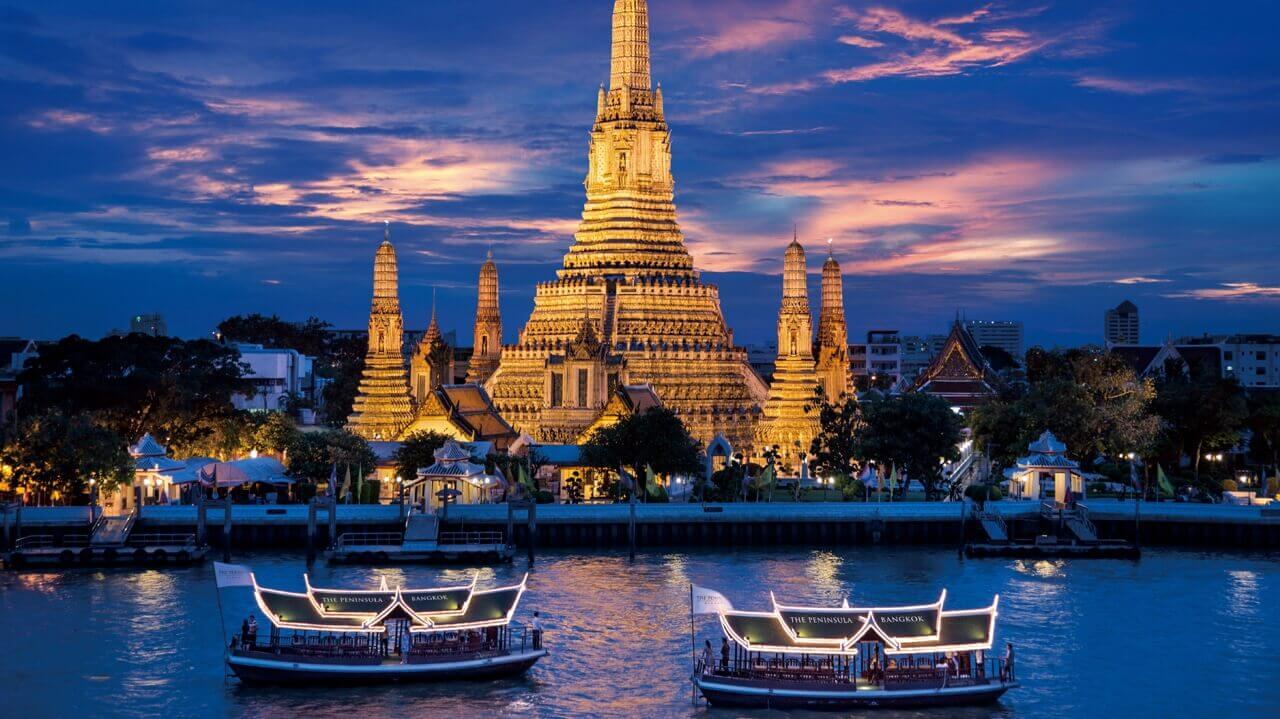 Thailand's capital of Bangkok is the most visited city in the entire world with more than 20 million annual tourist arrivals during a normal year.
Buyers, sellers, and renters from all over the world are becoming a part of Thailand's real estate sector whether they're working as an expat or are one of the thousands of foreign retirees living here.
Like everywhere else though, Thailand has its share of problems. A military coup seized power nearly a decade ago, and is effectively still in place. Freedom of press rights aren't the greatest, to put it lightly, while the Thai educational system lags behind regional peers.
But there are also many bright spots. The country is rather friendly towards foreign investment and almost anyone, even tourists, can open a Thai bank account in under 30 minutes. Property buyers deal with less bureaucracy in Thailand than elsewhere in developing Asia.
Here's an example: Thailand ranks 21st out of 190 countries in the newest Ease of Doing Business ratings, gaining ground on competitors Singapore and Malaysia.
In addition, the country claims a strong reputation of bouncing back from tough times. There's actually a name for it among economists: "Teflon Thailand".
Over the past hundred years, 13 coups occurred in Thailand along with many recessions. Yet things still ended up better than in any of its four neighboring countries, perhaps with the exception of Malaysia.
Thailand appears to always be undergoing drastic change. If history is any guide though, the nation will remain competitive and its property sector will outperform far into the future.
Can Foreigners Buy Thailand Real Estate?
The business environment in Thailand is not as open as some other countries in Southeast Asia. Foreigners may only own up to 49% of almost any company… unless you're an American citizen.
Americans can own 100% of a firm under the Thailand-US Amity Treaty, making it one of the few situations where owning a foreign company as US citizen is actually helpful.
Nonetheless, the process of forming a company under the Amity Treaty is bureaucratic and requires approval from multiple government agencies.
On the side of real estate ownership, foreigners can only own (at least easily) a condominium unit above the ground floor in a building where no more than 49% of all units.
Technically, Thai law permits foreign ownership of landed property if you are investing at least 30 million Baht (about US$1,000,000 as of 2021). But it requires special approval, and in practice, there are barely any cases where permission was ever granted.
Some people will tell you that you can purchase land in Thailand through a nominee structure. However, unlike in Cambodia, this is illegal and the Thai constitution specifically forbids it. The government has recently cracked down on Thai nominee structures.
Buying and Selling Thai Condos Off-Plan
Condo units are often sold by the developer before or during the construction period. Buyers enjoy steep discounts when purchasing a condo off plan, while the developer obtains easier access to loans along with the ability to say their project is "selling out".
It takes between three to five years for a condo building to finish construction, starting from the time sales first begin. Because of this, there's a market in buying Thai condo units off-plan and selling them at a profit once the building is closer to completion.
You can freely transfer the right to buy a condo unit in Thailand – even if the building is still under construction. It's not necessary to wait until the project is complete before offloading your property, or at least its sales agreement.
To reserve a unit and sign the contracts, you normally just need to make a down payment of 10% along with another 10% gradually over the course of a few years. Usually, installments are payable on a monthly basis.
Across a period of several years, property values can appreciate significantly. There have been cases of people buying Thai condominium units off-plan and selling the contracts years before completion at premiums above 100%.
Off-plan purchases also come with inherent risks though. The worst-case scenario is that you must abandon the contract, losing your down payment and any installments.
That could theoretically happen if, for example, Thai property values fall substantially or you don't have enough liquid cash available to complete the transfer. While the second scenario would be ones' own fault, the first happened en masse during the Asian financial crisis.
How Much are Property Taxes in Thailand?
A condo in Thailand doesn't have an annual property tax payable on them. Nonetheless, any condominium owner must pay an annual management fee for the building's upkeep, electricity, staff, cleaning, and other expenses.
Granted, management fees aren't the same thing as a property tax. Still, that's money you must pay every single year when owning real estate in Thailand.
The precise cost of a management fee depends on your building's size, density, and standards. If you're buying a mid-range Thai condo, expect to pay about 500 baht per square meter annually.
When transferring property, there's a 2% fee based on its government appraised value (which should be lower than the price you paid for it). Typically, half that fee is paid by the buyer and half by the seller.
A stamp duty of 0.5% must also be paid upon transferring any real estate in Thailand. Stamp duty is usually paid by the seller.
However, if a property is sold within 5 years of being acquired then a "Specific Business Tax" of 3.3% is payable. If a specific business tax is payable, then stamp duty does not need to be paid and you'll instead owe that higher 3.3% fee.
If you choose to rent out your property in Thailand, rental income taxes are extremely low as there are many deductions. Your exact amount of tax payable will depend on any deductions allowed.
More often than not though, rental tax isn't greater than 5% and sometimes far less. If you ask most local landlords, they will probably say they don't calculate or pay the tax and no one ever bothers them.
Is Buying Property in Thailand Safe?
Thailand has rather strong property ownership laws (at least compared to most other places in the region) and a secure, computerized title system. So you shouldn't have any issues with the government.
If a problem is going to come up at all, it's going to be from the condo development company, real estate agent, or seller.
There are about two dozen large property developers in Thailand with a solid reputation and many completed projects under their belts. You likely won't have major issues with developers of this type.
But you're in more dangerous territory if you're dealing with smaller companies. Any developer should have at least a completed project or two that was built to good standards with satisfied customers.
I strongly recommend getting a third-party inspector after your property is built and ready to be transferred. It's rare for a condo unit to be transferred in perfect condition with absolutely no problems at all.
Thai inspectors will know what to look for and can add value worth far more than what you'll pay for their services. If the inspector finds defects, the condo developer will fix them free-of-charge.
Almost all condo developers offer a warranty period of at least a year or two. Yet they are more eager to fix problems if you bring them up when money is still on the table, before transfer occurs and the deal is finalized.
Best Places to Invest in Thailand Real Estate
Thailand is a rather large nation of almost 70 million people. As such, there are hundreds of cities, towns, and resort areas that you can purchase real estate in.
Keep in mind that foreigners may only own condo units which leaves out smaller towns and villages for non-Thai property investors. Regardless, you have many options elsewhere in Thailand.
Bangkok, a city of more than 16 million people, is the capital of Thailand and the largest city in mainland Southeast Asia. If anything happens of business, economic, or political importance, it goes through Bangkok first.
Chiang Mai, Thailand's second largest city, also isn't a bad place to buy real estate. But while a lot of foreigners are scooping up condos in resort destinations like Pattaya and Phuket, I think investors should completely avoid tourist areas for reasons discussed further below.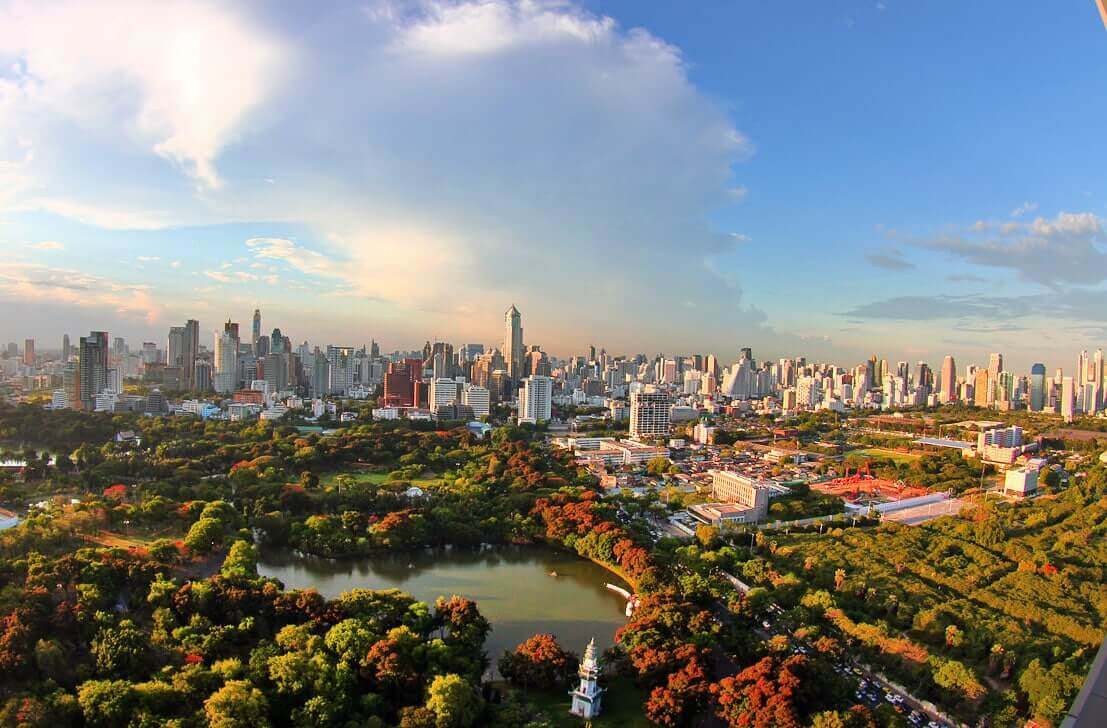 The ever-expanding skyline of Bangkok and its Sukhumvit/Siam/Ratchathewi districts, as seen from above Lumpini Park.
Bangkok
For centuries, Bangkok acted as a main entry point for foreign traders and businessmen into Southeast Asia. While the city has obviously changed since the 1700s, its status as one of Asia's most important cities remains.
Bangkok is so large that several of its neighborhoods have their own "sub-markets", each with their own norms, occupancy rates, prices and outlook.
Centrality and access matter more than anything. So buying a property in Bangkok's suburbs, like Bangna or Don Mueng, is completely different than buying in a prime-city center area such as Lumpini.
It's not practical to cover every one of Bangkok's neighborhoods in a single article. Thus, only a select few areas will be mentioned. General rules exist for buying property anyway in Bangkok though.
Real estate located closer to a BTS Skytrain station will be worth a premium as high as double or triple that of a similar property which isn't. Condominiums located next to the MRT subway line also go for a premium, albeit not as much when compared to a BTS station.
A condo unit that's located 100 meters from a central mass transit station is unlikely to be sold for below 200,000 baht per square meter.
When a condo building is located 500 meters away or above from a mass transport station, the price is reduced by around half. This premium vanishes altogether if a property is more than a kilometer away from a BTS or MRT station.
Lumpini
Arguably Bangkok's most exclusive area, Lumpini Park and its surrounding streets (Wireless Road, Ratchadamri, Soi Langsuan, etc.) are also some of the costliest neighborhoods in the whole city.
New property developments on Wireless Road, for example, have been known to reach prices as expensive as 500,000 baht per square meter.
The reason for Lumpini's high real estate values? The neighborhood is incredibly central, yet also rather quiet and leafy. Streets are well-manicured while Lumpini Park, inner Bangkok's largest green space, adds a sense of calm which is difficult to find elsewhere in the CBD.
Lumpini is located at the intersection of several prime areas despite its relative serenity. Namely, the business districts of Silom and Sathorn, the commercial center of Siam, and the dining/lifestyle options on Sukhumvit.
Wireless Road's plethora of embassies help make Lumpini safe, less noisy, and spacious too. The American, Vietnamese, and British embassies among others are all nearby.
You won't have any problems finding Michelin starred restaurants or brand-name stores in Lumpini either, making it one of Bangkok's most desirable places to live… even if it's not exactly filled with local character.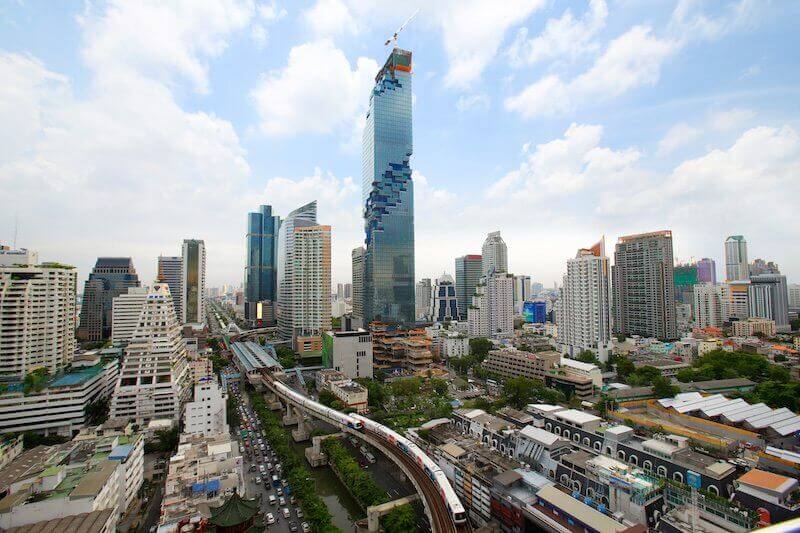 Mahanakorn, the tallest building in Thailand, is located in Bangrak district on Narathiwat-Rajanagarindra Road, right between Silom and Sathorn.
Silom and Sathorn
Sathorn and Silom districts are where most of Bangkok's finance institutions and multinational companies are based. As such, the areas are popular with both wealthy locals and expats who work in Bangkok.
Because it serves as Bangkok's main central business district (CBD), prices are obviously high. Those who live in Sathorn and Silom enjoy easy access to the rest of the city center though. A variety of international restaurants and other amenities are within walking distance too.
Real estate values on the part of Silom that's north of Narathiwat Road are among Bangkok's most expensive.
If you're seeking lower prices in Silom and Sathorn, they become cheaper west or south of the Narathiwat intersection, further away from the district's BTS stations.
Sukhumvit Road
Sukhumvit is one of the longest roads in the world. It not only extends from Bangkok's core to its outer suburbs, but eventually runs all the way to the Thai-Cambodian border.
However, Sukhumvit is more famous for its portion that lies in downtown Bangkok. Specifically from Nana up to Soi Ekkamai and its BTS station.
That strip of Sukhumvit is certainly Bangkok's most popular expat area. Countless restaurants cooking up everything from Argentinian steaks to Georgian khachapuri helps support Thonglor, Asok, and Ekkamai's "hi-so" reputation.
Moving southeast along Sukhumvit towards On Nut, these Thai neighborhoods become much more local. You can own a condo located in outer Sukhumvit for under half the price of those in its "downtown" section.
With all that said, suburban Bangkok is experiencing an oversupply of one-bedroom units. So you'll probably do better buying a larger condo downtown.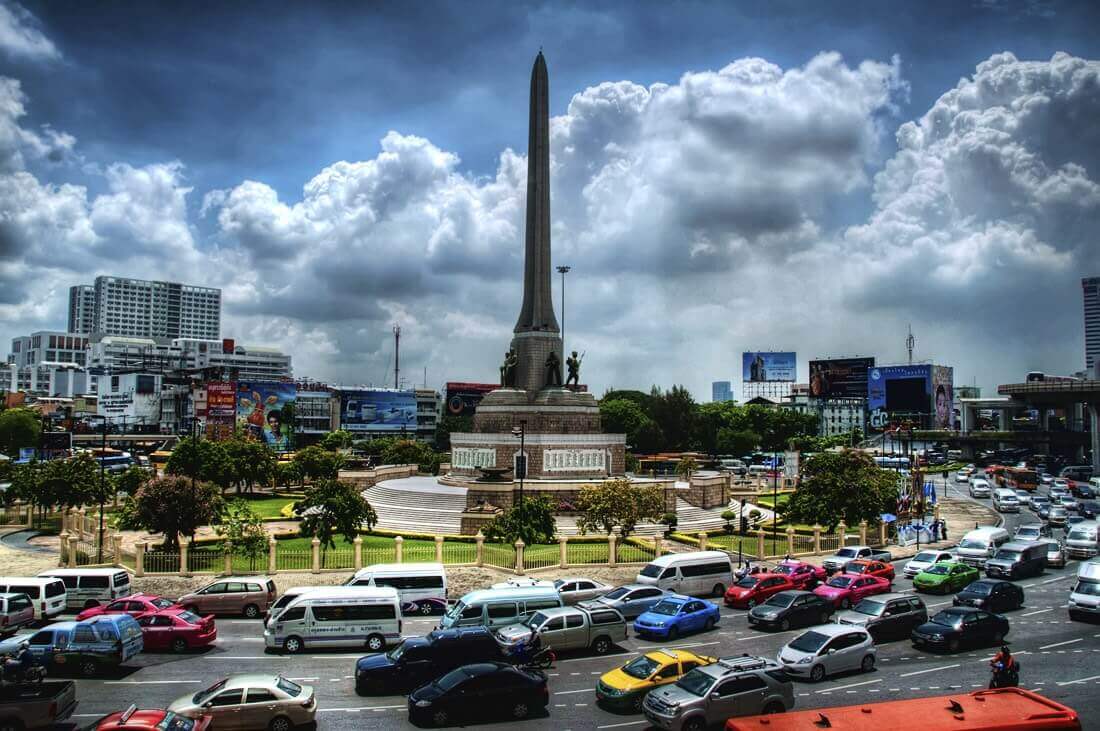 Victory Monument is among Bangkok's most crucial transport hubs and is the metro area's center-most point.
Ratchathewi
Ratchathewi is arguably Bangkok's most central district, geographically speaking. This neighborhood is conveniently located north of Bangkok's commercial hub of Siam, and east of Dusit, the nation's political center.
The airport rail link's terminal station is at the intersection of Sri Ayudhya and Phyathai Road, while three different BTS stations span across the district.
Despite these factors which contribute to an ideal location for inner-city living, property values in Ratchathewi are somewhat lower than in other core locations (although they've risen heavily in recent years). Occupancy rates in Ratchathewi are some of the city's highest too.
The vibe of Ratchathewi is a lot more local and you won't find as many expats as you would in Sukhumvit or Silom. Yet it's close to government offices like the United Nations and is just a stone's throw from elsewhere in central Bangkok.
Victory Monument, and nearby Soi Rangnam in particular, is Ratchathewi's most desirable residential area. The King Power Complex, Bangkok's biggest duty free mall, is on this street along with dozens of restaurants and stores.
Riverside
Some foreigners, retirees and second home owners in particular, choose to live on Bangkok's Chao Phraya River. You can enjoy scenic views from luxury condos located on the riverside.
Generally, the west side of the Chao Phraya has lower prices. This is because of easier access to Bangkok's central business district (CBD) from the east side.
Residents living on the river's west side also must either drive across a crowded bridge or take a boat in order to get to Bangkok's city center.
Bangkok's riverside area boasts huge malls, hotel branded residences, and some of the city's tallest buildings. However, occupancy rates along the river were already low even without the additional housing supply.
In the meantime, both the public and private sectors are attempting to rejuvenate the riverside neighborhood by pumping billions into commercial, residential, and infrastructure development. Time will tell whether it can bring the city's river back to life.
Chiang Mai
Chiang Mai is Thailand's second largest city, yet it's significantly smaller than Bangkok with around 2 million inhabitants.
As such, the sheer variety of condo projects you would find in Bangkok (remember: foreigners can only own freehold condos in Thailand) doesn't exist in Chiang Mai.
Most local buyers in Chiang Mai live in houses or other low-rise structures. While condos do exist here, they're comparatively few and far between.
Nonetheless, Chiang Mai is one of Asia's most popular small cities for retirees, entrepreneurs, and digital nomads in particular. Even though you're unlikely to have well-paid tenants working for multinational companies.
Chiang Mai's property market is arguably better for Airbnb and short-term rentals than Bangkok is. The local market is highly dependent on tourism and rental yields are slightly better.
If you're willing to put forth additional effort and don't mind the extra hassle from being in the accommodation industry instead of just a landlord, Airbnb can help achieve higher rental returns.
Pattaya & Phuket
Our guides usually don't include destinations we don't recommend investing in. Yet due to the popularity of investing in Pattaya and Phuket, we'll give an opinion on their real estate markets as a foreigner. Even if our opinion on these two resort cities isn't positive.
People oftentimes come to Thailand as tourists, visit Pattaya and Phuket (among other places), and decide to buy a condo in one of these two cities.
There's absolutely nothing wrong with buying real estate in Thailand most popular beach areas if you want to live here. Don't be mistaken though: condos in Pattaya and Phuket aren't the best way to invest in Thailand at all.
You may not lose money buying in Phuket – granted investment loss is a distinct possibility as well. Mostly, the reason is that resort areas are too subject to "flavor of the month" and the tourism industry's whims.
Southeast Asia enjoys plenty of beaches. The sole factor distinguishing Hua Hin from Kui Buri, a quieter beach 50km south of Hua Hin, is where people chose to live and vacation.
Pattaya/Phuket have off-seasons and are often plagued by low-occupancy rates. They lack the staying power of Bangkok which hosts multinational companies and a steady flow of well-paid expats.
Again, there's nothing wrong with buying a condo in Phuket or Pattaya if you're primarily seeking a second home and want to live in it.
But the main purpose of an investment is to make the highest returns possible with the least amount of risk. Doing otherwise, or mixing lifestyle purchases with your investments in an attempt to "do both at once", is a mistake.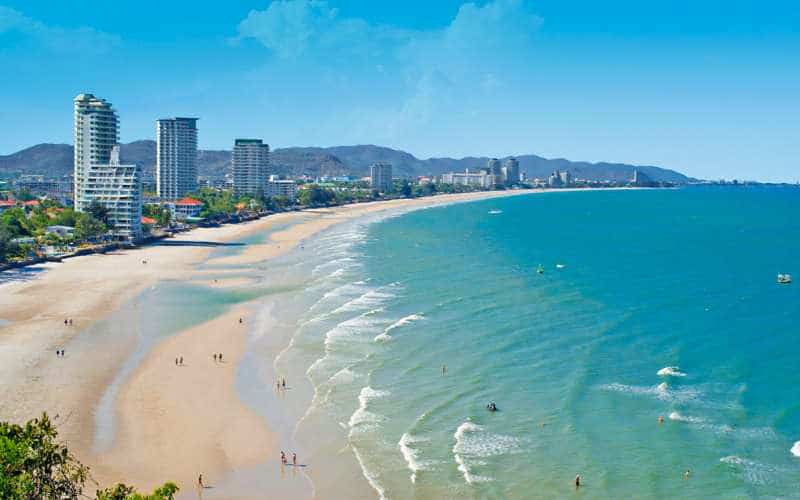 If a wealthy Thai who lives in Bangkok buys a weekend home, it's most likely located in comparatively quiet Hua Hin rather than Phuket or Pattaya.
Hua Hin
With everything said about Pattaya and Phuket above, most of those things don't apply to Hua Hin. Perhaps you're wondering why.
Hua Hin is much less built up than other Thai resort cities. It will probably stay that way due to the nearby Royal Palace. Most importantly, it's also a lot better fed by local demand.
The wealthy locals (there are more than you might think) love having weekend homes in Hua Hin.
Thai buyers are less likely to own real estate in Phuket which is further away from Bangkok, or Pattaya which is way too rambunctious.
Quite simply, if Chinese and Russians stopped vacationing in Pattaya then its property market would die. Hua Hin boasts a type of sustainability and domestic growth that other Thai beach destinations don't.
Hiring Real Estate Agents in Thailand
Locals don't always use real estate agents in Thailand. Instead, they often buy property either though developers directly or find resale units through mutual friends or online forums.
To a certain extent, real estate agents who sell Thailand property are a "western service". They exist to make things easier for foreign buyers who don't speak Thai while taking a percentage of the sales price as commission.
That's perfectly fine if you're new to the market and need help. Just keep in mind that if you're an investor, you're immediately losing a few percentage points worth of profit when using Thai realtors.
Consider hiring a lawyer, not a real estate agent, if you need clarity regarding the transfer process. You'll pay an attorney a fixed fee rather than a percentage of the total purchase amount as commission.
If you're buying directly from a condo developer, there's no reason to find a realtor or lawyer if the company is reputable (specifically, if it's a public developer listed on the Stock Exchange of Thailand).
Remember: it's their job to sell you a condo unit in a country where realtors aren't always used. A good developer in Thailand will take care of the transfer process and everything else for you.
Thailand Property Investment Visa and Residence
It's possible to get a one-year investment visa, renewable indefinitely, by investing at least ten million baht in a Thai condo.
Foreigners can also qualify for an investment visa though buying stocks in Thailand, bonds, mutual funds, or a combination of any of those assets.
In fact, I've applied for and received a Thai property investment myself. Bangkok serves as an excellent regional base, allowing easy travel between frontier markets such as Cambodia, Vietnam, and Myanmar. Thus, I bought a condo in Thailand and got a long-term visa.
Admittedly, Thailand's investment 10 million baht investment visa isn't the best residency program in Asia. Malaysia's MM2H visa program is less expensive, simpler, and grants you more benefits.
Meanwhile, you can live in a place like Cambodia indefinitely and get a visa there for only about $300 per year through forming a company.
Yet I didn't go through the visa program purely for investment reasons. I bought property in Thailand because I enjoy spending time here. It's a convenient hub considering what my job is, along with the amount of time I spend travelling in frontier markets.
Is Buying Thailand Real Estate a Good Investment?
Thailand's strategic location puts it an hour flight from four different high-growth economies. Specifically, Cambodia, Laos, Vietnam and Myanmar.
Such a fact not only makes Thailand a great base for the Southeast Asia region, it also benefits the Thai economy itself by letting them "piggyback" on less developed, faster-growing neighbors.
Property in Thailand might not have the best capital appreciation prospects in Asia (we believe this title belongs to Cambodia). With that said, the real estate market has proven very resilient in the past ten years or so.
Furthermore, the Thai baht is one of Asia's top performing and least volatile currencies, fluctuating even less than established currencies such as the Singapore dollar or Japanese yen over the past decade.
Thai property values, along with the nation's currency and economy, has a rather low tendency to crash in a recession too. That makes it ideal for risk-averse investors who nonetheless seek exposure to emerging market assets.
Likewise, Thailand's real estate market held its ground throughout the 2008 Financial Crisis. Prices doubled in certain areas of downtown Bangkok, including Ratchathewi and Thong Lor, since the coup back in 2013.
Thailand's future will be interesting: that's for sure. Thankfully, the nation's economy boasts a long history of bouncing back and reinventing itself, standing true even during times much more uncertain than now.
Skip the Next Western Recession
Learn the best places to invest - and where to avoid - by downloading our free Investment Cheat Sheet.