During a normal year, Thailand's capital city of Bangkok is the most heavily visited city on the planet. It's natural that many people decide to stay here longer than a few weeks, and open a bank account to make their life easier.
Thailand's financial system is well-developed, and the baht is ranked among the region's top performing currencies.
In fact, over the past decade, the Thai baht has fluctuated within a narrower band against the US Dollar even compared to currencies which are considered a "safe haven" like the Singapore Dollar.
Quite simply: opening an account in Thailand is a good idea if you spend any meaningful amount of time here.
Yet there are over a dozen banks operating in Thailand, both local and foreign, and it's probably not a good idea to just wander into the first one you see on the street.
With a wide range of available options, it can be tough deciding which financial institution is the most suitable for you. In this article, we'll introduce the best banks in Thailand while discussing their history, customer service standards, features, and more.
Bangkok Bank
Bangkok Bank is one of the leading commercial banks in Thailand, founded in 1944 by Chin Sophonpanich. It provides a wide range of banking services to both individuals and businesses.
The bank has a strong presence in Thailand with more than 1,000 branches and 5 million customers across the country. Likewise, they host the largest overseas branch network among Thai banks, with branches across ASEAN, China, Japan, as well as the UK and US.
When compared to most other banks in Thailand, a Bangkok Bank account is easier to open and use as a foreign expat.
Currently, we rate Bangkok Bank as the top financial institution in Thailand because of their wide network of ATMs and branches, solid phone banking system, and friendliness toward international clients.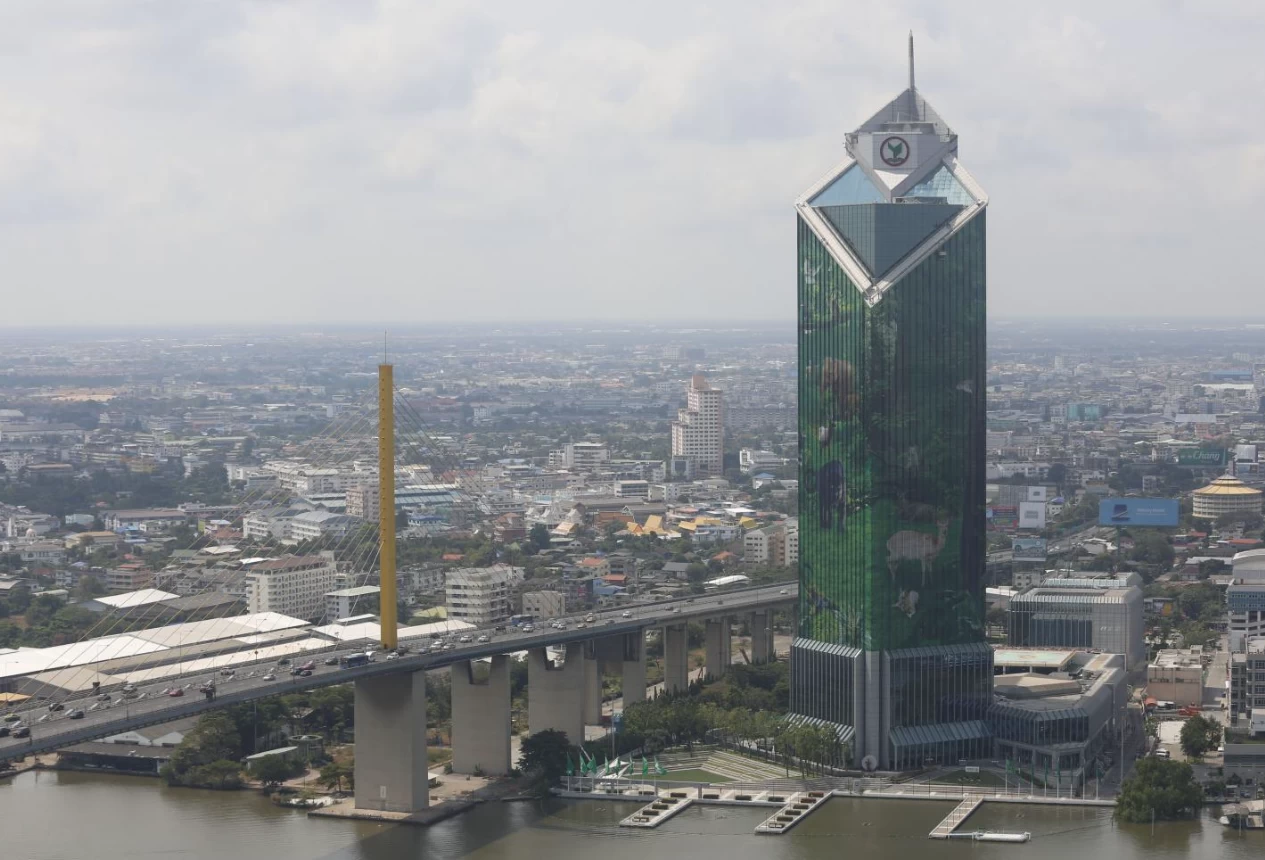 Kasikorn Bank's headquarters moved from Phahonyothin, to the other side of the river, and then back to Phahonyothin again. The confusing move was reportedly because of Feng Shui advice.
Kasikorn Bank
Kasikorn Bank, originally known as Thai Farmers Bank, is one of the leading banks in the country.
Founded in 1945, it since expanded beyond its roots to become one of the largest and most successful banks in the nation.
Kasikorn Bank offers a range of services to its customers, including personal/corporate banking, foreign exchange, and trade banking.
Commonly referred to as "KBank" for short, it has over 800 branches across Thailand and an extensive network of ATMs in rural and urban areas alike. Kasikorn Bank also provides digital services such as online and mobile banking for its customers.
Krungthai Bank
Krungthai Bank (KTB) is a state-own bank founded in 1966. Thailand's Ministry of Finance is the major shareholder.
KTB is ranked among the largest commercial banks in Thailand with over 900 branches across the country. It's also the first state enterprise to be listed in the Stock Exchange of Thailand.
Main services offered by Krungthai Bank include savings accounts, loans, and credit cards. The bank provide online and mobile banking services and to its customers as well.
With that said, dealing with a government bank is often problematic as a foreign investor. You're probably better off with another institution on this list if you aren't either local or have a genuine need to bank at KTB.
Siam Commercial Bank
Siam Commercial Bank (SCB) is widely-known and often marketed as the first bank in Thailand, and by some measures, ranks as the nation's largest too.
Though officially established in 1906 upon the royal approval of King Chulalongkorn (Rama V), the bank was first initiated two years prior as a private trust called "Book Club" by Prince Mahisara Rajaharudaya, the King's brother, who would later be recognized as the "Father of Thai Banking"
Originally founded to provide banking services to merchants and traders in Thailand, SCB has since grown into a major financial institution. Its services include corporate/retail banking, investment banking, asset management and insurance.
With its long history of providing reliable financial services to its customers, SCB is an important part of Thailand's overall economy.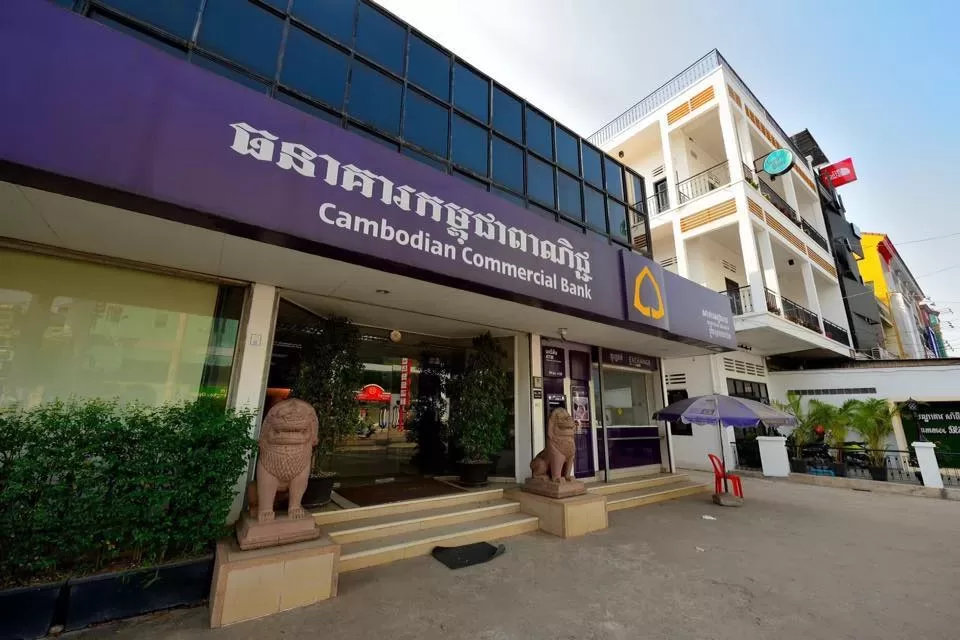 SCB also has a presence in other nearby countries in Southeast Asia such as Cambodia, Laos, and Myanmar.
Government Savings Bank
Government Savings Bank (GSB) is a state-owned financial institution that was founded in Thailand in 1913 by King Vajiravudh (Rama VI).
Originally called the Saving Offices under the Royal Treasury, it's a royal initiative program with the purpose of educating Thai citizens about banking operations and the benefits of long-term saving.
It was later approved as a state-owned bank, and still remains one of the largest financial institutions in the country.
GSB has over 1,000 branches located across Thailand and serves more than 10 million customers. It also offers online banking services for those who prefer to manage their finances from home or on the go.
Bank of Ayudhya
Bank of Ayudhya (BAY) or Krungsri bank, founded back in 1945, is another one of the largest financial institutions in Thailand.
It has over 600 branches and more than 6,000 ATMs located across the country, which is rather extensive.
The bank offers a wide range of services to its customers  such as retail & corporate banking, wealth management, and investment banking.
Krungsri Bank, like every other bank on our list, also provides online and mobile banking services to its customers.
Thai Military Bank
Formerly known as the Thai Military Bank (TMB), TMB rebranded itself after the recent merge with Thanachat Bank finished and is now called TMB Thanachat Bank (TTB).
Initially established to serve the financial needs of members of the Royal Thai Armed Forces, it has grown to become one of Thailand's leading commercial banks for both military personnel and civilians.
TMB offers a range of services including retail banking, corporate banking, investment banking and wealth management.
It now has over 600 branches in Thailand and is expanding its global network with new branches in other countries.
Land & Houses Bank
Land & Houses Bank, stylized as LH Bank (LHB), is relatively new compared to others on our list. It was founded back in 2004 as a retail bank by Land & Houses PCL., one of the most prominent real estate developers in Thailand.
At first, LH Bank focused on offering financial services specifically to customers of its property development firm, but expanded their operations and customer base upon being approved as commercial bank in 2011.
It currently has 70 branches throughout the country – not exactly a huge institution, but still a respectable size.
Despite being considered as a small bank, LHB is recognized as trustworthy and offer slightly higher interest rates for a saving account. They're generally known to provide quick services to customers visiting their branches.
Foreign Banks in Thailand
Non-local banks are becoming an increasingly popular choice in Thailand because they provide features that either aren't available, or are simply difficult to use at Thai banks.
Worth noting is that it's often easier to send an international wire from a foreign bank. Especially if you're transferring to the same bank in a different country.
If you're transferring between UOB (Thailand) and UOB (Singapore), for example, you'll benefit from reduced fees and quicker transfer times.
The two main foreign banks operating in Thailand are UOB Bank and CIMB Bank, which together, finish up this top ten list.
Untied Overseas Bank
The third-largest bank in Southeast Asia, United Overseas Bank (UOB) is a Singaporean multinational firm.
By far, UOB has the largest network of global operations compared to all other banks on this list. You'll find their ATMs all over the Asian continent, from Hong Kong to Indonesia.
We suggest looking into an account with UOB if you regularly do business across multiple countries in Asia.
In 2023, UOB bought out Citibank's Thai unit which turned them into the country's largest foreign-owned bank. We also consider it the best one by most measures.
CIMB Bank
CIMB is the second largest foreign-owned bank. Following Maybank's departure, it's also the only Malaysian bank operating in Thailand.
CIMB markets itself as an "ASEAN Bank", in that its operations span all major countries in Southeast Asia. But you'll find it difficult to open an account with them anywhere if you only have a tourist visa.
It's worth noting that CIMB removed all their ATMs in Thailand recently, and now markets themselves as a fully-digital bank. Therefore, it's no longer possible to use your CIMB card from outside Thailand to withdraw money at an ATM without fees.