Last updated August 12th, 2023.
Despite its small population of six million, Singapore acts as Southeast Asia's main financial center. The city-state developed rapidly in the early 2000s, and today, it ranks among the world's top banking hubs.
Singapore continues taking market share away from competing wealth management and family office destinations like Switzerland. As such, there's now greater demand than ever to set up banking and brokerage accounts in Singapore as a foreigner.
We do have lots of Singaporean readers, and of course, you can easily walk into any bank branch and open an account if you're a local citizen or PR.
Getting an account here is more difficult if you're a non-resident foreigner though. Therefore, this guide is more geared towards a non-resident foreigner who wants to open a Singapore bank account.
We'll also cover the easiest banks in Singapore to deal with as a foreigner, and mention what each bank excels at.
The best bank for your personal goals will depend on your own needs and there isn't a one-size-fits-all solution. For example, the ideal bank for wealth management and HNWIs doesn't have the greatest international branch coverage.
Can a Non-Residents Open a Singapore Bank Account?
In short: yes. However, it's a lot more complicated than that. The account opening process as a foreign non-resident depends on the specific bank and their policies.
Minimum investment amounts are generally rather high – sometimes as much as S$200,000 for a basic account at a reputable Singaporean bank like DBS. Certain nationalities will also face restrictions, particularly if you're a citizen of the developing world or don't have residence somewhere in Asia.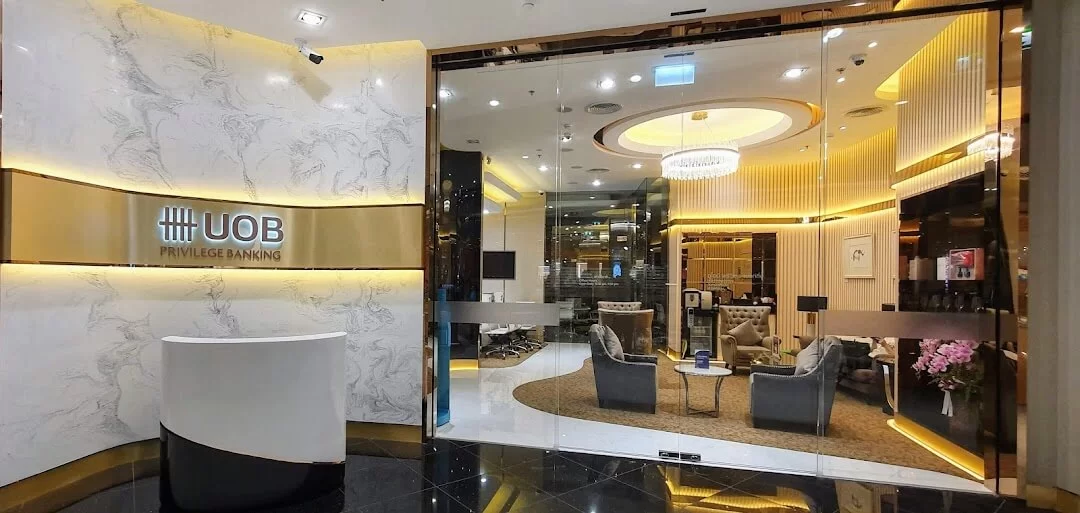 One benefit to UOB's Privilege Banking is that clients can visit lounges and access banking services at all branches worldwide – not just within Singapore.
For the most part, if you're willing to deposit enough money, any bank in Singapore is willing to open an account for you. However, that isn't a blanket statement.
Several banks have their own unique restrictions, and it isn't unheard of for someone to be refused an account merely because the employees don't like their look or professional profile. Banks can deny an applicant for any reason at all.
But disclaimers aside, you should expect to spend between S$5,000 and S$300,000 opening a Singapore bank account as a non-resident.
The wide variance depends on whether the bank insists you sign up for a wealth banking package or not, whether you have a local friend who can sign a referral letter, which country you're from, whether you have residence somewhere in Asia alongside multiple other factors.
Getting an Account at Singapore's Top 3 Banks
With a few rare exceptions, you must fly to Singapore and make an in-person visit to open an account at any of the country's top three banks.
You can manage your account remotely, whether online or through your relationship manager, after the setup process is finished. Plan on making a trip to Singapore to get started though, even if your physical presence should only be required for a day or two.
Once you arrive in Singapore, you'll first want to visit the head office of the bank you're opening an account at.
It's always tempting to stop at the closest branch near your hotel, but you'll almost always have a higher chance of success at the head office. They know the rules and are more used to foreigners walking in.
After your bank account is set up, you're then able to start a brokerage account in Singapore and link the two accounts.
You may wonder, what's the benefit of having a Singaporean brokerage account, in addition to a bank account?
Well, besides the ability to buy stocks in Singapore directly, the city's status as one of Asia's top financial hubs means having a broker here gives you access to about a dozen other stock exchanges in Asia.
This includes the ability to trade on frontier market stock exchanges nearby, including Indonesia and the Philippines, which are otherwise very difficult to access.
Furthermore, whereas foreigners must travel to Singapore to open a bank account in practically every case, it's easier to set up a brokerage account remotely by mail and online. It's a simple process, and once you get a bank account, you might as well set up a brokerage here too.
Getting a bank account in Singapore, therefore, is the first step to accessing investments and other types of opportunities across Southeast Asia and the ASEAN region – not just within Singapore itself.
Best Foreign-Friendly Banks in Singapore
Below, you'll find an overview of Singapore's three largest banks. These are namely DBS, UOB, and OCBC.
We'll go over each of their minimum deposit amounts, judge how friendly they are to foreign clients, and mention any unique of their unique perks.
DBS
Formed as the Development Bank of Singapore in 1968, DBS ranks as the biggest in Southeast Asia in terms of assets – over US$500 billion in total.
The clear majority of people who are in the HNWI or UHNWI category would tell you that DBS provides Singapore's top private banking services.
While this may be subjective, the minimum deposit amounts for DBS's wealth management services are definitely higher compared to Singapore's other "Big Three" banks. This should, in theory, equal a lower density of clients and superior service standards.
Non-resident foreigners can only bank with DBS by depositing a minimum of S$350,000 to open a lower-tier wealth banking account, which is branded as "DBS Treasures".
DBS is the most expensive base option out of Singapore's Big 3. Granted, it's the country's biggest bank as well. You'll also likely get better service if you're the type of client who wants to deposit a few million dollars instead of several hundred thousand.
A final note worth mentioning: DBS is consistently ranked as the safest bank in Singapore. In fact, it's the most stable bank in Asia and the world's 11th safest overall, according to Global Finance's 2022 annual release.
United Overseas Bank (UOB)
Out of all the major financial institutions in Singapore, UOB can claim the biggest foreign presence. You'll find branches of UOB in Thailand, Malaysia, and even as far away as London.
Despite its vast international network, UOB remains the smallest out of Singapore's "Big 3". But that doesn't say too much considering they're still Southeast Asia's third largest bank in terms of total assets, outranking all other competitors in the region outside of Singapore.
UOB is also the top banking choice if you're interested in precious metals and bullion. They're the only major bank in Singapore that buys and sells physical gold and silver bullion. Additionally, UOB offers gold and silver savings accounts which are tied to their respective metal's spot price.
The entry point to UOB's wealth banking is significantly lower compared to either OCBC or DBS with a minimum deposit of S$100,000. Foreigners should be able to open an account with this amount, making UOB the least expensive option on our list.
Sure, UOB is half the size of its two main Singaporean competitors with "just" US$250 billion worth of assets. Yet they're more internationally flexible and have several unique types of wealth management products.
OCBC
Formed as the Overseas-Chinese Banking Corporation way back in 1932, OCBC is Singapore's second-oldest continuously operating bank after POSB.
OCBC is indeed older than the Lion City itself. As the name suggests, it was originally a Chinese company catering to overseas Chinese clients who lived in Singapore at the time.
The bank's size represents its almost century-long history of growth. In terms of assets, OCBC ranks as Southeast Asia's second largest bank after its competitor DBS. Of course, this also makes it the biggest bank in Singapore.
OCBC's entry point for a wealth banking package starts at S$200,000, putting it between UOB and DBS in terms of its minimum deposit. Again, if you're a foreigner, they should let you open an account with that amount of money.
And like other Singaporean financial institutions, OCBC is near the top of the list of Asia's safest banks. It ranks 12th in the world, exactly one place after DBS.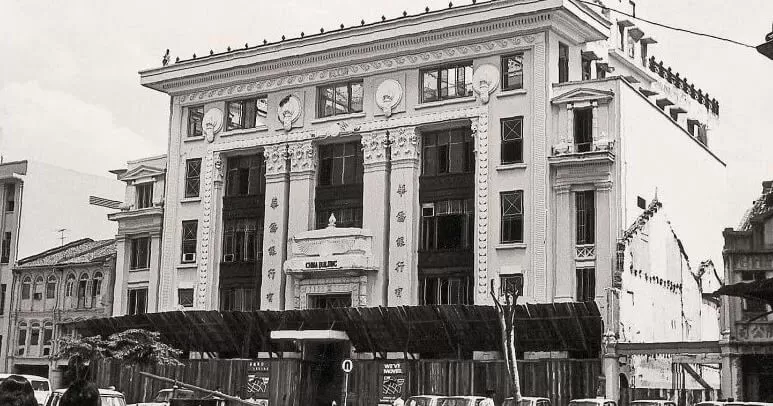 OCBC's old office at the China Building on Chulia Street is shown above. It has since been demolished to make room for the bank's current 52-story headquarters.
Bonus Choice: Citibank (Singapore)
Citibank is based in the US and isn't a Singaporean bank, so we'll put it in a separate category. The bank is useful for a few specific purposes though.
If you're a US citizen or a person who does business there, having a Citibank (Singapore) account is very useful for transferring funds. You're able to instantly send money between the two countries without making a wire transfer.
The feature is called "Citibank Global Transfer" and is an efficient method of sending money to the other side of the world on a weekend, or outside of normal banking hours. You mustn't wait two business days for a wire transfer to complete.
Global transfer also works with Citibank accounts around the world, and they have branches in over a dozen countries. For example, if you have an account in Malaysia or Hong Kong, you can send money from Singapore to these countries by using the same method.
With that said, fees and minimum deposits at Citibank are high. You won't get the same level of access to other Asian markets that you'd otherwise have with a local Singapore bank account, nor the relative stability of a bank like DBS or UOB.
No matter which bank you choose though, an account in Singapore is one of the best options for anyone interested in diversifying their portfolio across Asia.
If you're interested in taking action, our investment consulting service can help you open a bank account in Singapore remotely from home. That's in addition to a brokerage account.
Skip the Next Western Recession
Learn the best places to invest - and where to avoid - by downloading our free Investment Cheat Sheet.