Last updated June 22nd, 2023.
On most maps, Singapore is so small that it only shows up as a red dot. But despite its small size, it has gone against all odds – from being exceedingly poor a few decades ago, it is now among the richest territories on Earth.
Since 1960, Singapore's economy has averaged an annualized 7.5% growth rate, which may well be the fastest development and industrialization rate in human history. Unsurprisingly, Singapore's stock market is Southeast Asia's largest stock exchange in terms of market cap.
However, its success and investment desirability depend almost entirely on its global outlook.
Its markets are connected to every major economy in the world. And because of this, a Singapore brokerage account allows you to invest in stocks across the globe, including Europe, Japan, and China.
A founding member of ASEAN (Association of Southeast Asian Nations – an regional organization that works as a proto EU if it conferred more freedom to its member states),
Singaporean banks and brokerages have the ability to invest in difficult-to-access frontier markets like the Philippines, which will show vast development over the next few decades.
Given that Singapore ranks among Asia's top financial hubs, it makes sense that its Singapore Dollar is one of the world's most stable currencies as well. Any assets denominated in it may well be able to defend against present market volatility.
Here's our full guide on how to invest in Singapore and buy stocks here – in particular from the perspective of a foreign trader.
Step 1: Find a Stock Brokerage in Singapore
Chances are that if you're dealing with a good brokerage firm in a developed nation, you already have the ability to trade stocks in Singapore through them.
That said, what they will likely omit over the phone is that they will slap a hefty fee onto any transaction involving these stocks. A foreign brokerage house tacking on a S$50 transaction fee to trade stocks in Singapore isn't unheard of.
If you're making stock trades worth hundreds of thousands of dollars, a transaction fee makes little difference. You can easily bypass the fees (and diversify your offshore assets) if you set up a local broker based in Singapore though.
Each of the top banks in Singapore (UOB, DBS, and OCBC) have their own brokerage accounts, and if you can secure one, it's probably the best option.
It is worth noting that while many Singaporean brokerage firms will let non-residents open an account, there is a restriction on US citizens doing so, with the exception of Saxo Bank and OCBC.
Furthermore, even non-US citizens and non-residents should also take note of these banks, as they are of the few that can open broker accounts remotely, without needing their customers to personally visit Singapore (assuming that you already have a Singaporean bank account).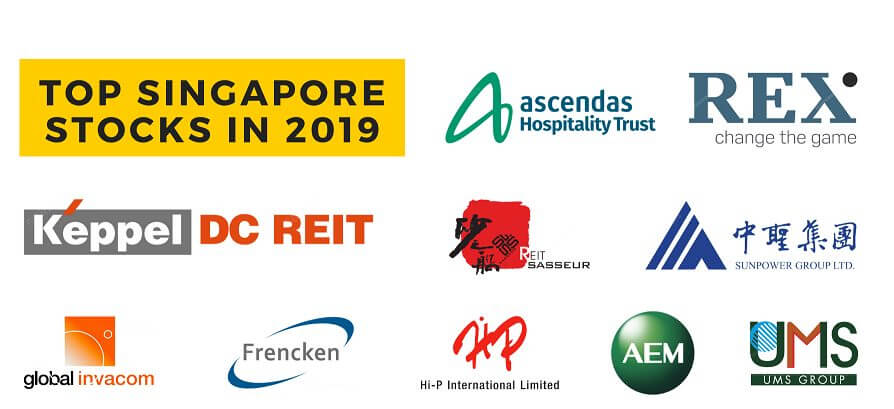 A Singapore brokerage account offers access to one of the world's most competitive stock markets. These were Singapore's best performing equities in 2019 – a few of them more than doubled that year.
Step 2: Getting a CDP Account
To simplify ownership transference of stocks, anyone trading stocks in Singapore is required to open an account at the Central Depository (CDP). The CDP, in turn, is the entity that holds your stocks, instead of your broker.
In other words, your broker would issue orders to buy and sell shares in a given company, while the CDP registers the transactions. This simplifies deal settlements and reduces market friction.
In terms of requirements for a CDP account, you will need a Singaporean bank account (with Citi, DBS/POSB, HSBC, Maybank, OCBC, Standard Chartered, or UOB). Applicants must be over the age of 18 and not be in bankruptcy.
Afterwards, you'll need to fill out an application on the Singaporean exchange (click here). This typically shouldn't take any longer than 15 minutes.
Yet as with any bureaucratic process, you'll need various documents. These include papers proving your identity (passport, residency card, etc.) banking details, as well as your relevant tax information.
Generally speaking, most local stock brokers in Singapore should also be able to help their foreign clients get a CDP account.
Step 3: Trade Stocks in Singapore
The mechanics of trading stocks in Singapore probably works much in the same way as in your home country.
That said, the online user interface of Singaporean brokerages can vary widely in terms of quality, with each brokerage having different UX, available information, etc.
If you aren't already familiar with trading stocks in Singapore, there may be a slight learning curve, even if you're an experienced trader elsewhere.
Whilst Singapore is very internationally-minded and seeks to ease culture shock for foreign investors, it still does things in its own way. Even mundane operations like funding your brokerage account may work differently than what you're used to.
Overall, the slight additional effort is very well worth it, as investing in Singapore is among the most straightforward and efficient ways to trade stocks across Asia and the world.
Perhaps more importantly, you'll be able to partake in the miracle that is the Singaporean economy!
Skip the Next Western Recession
Learn the best places to invest - and where to avoid - by downloading our free Investment Cheat Sheet.