Last updated November 8th, 2023.
Penang ranks among the most popular places in Malaysia where foreigners buy real estate. Known for its cuisine, luxury condos, beaches, and metropolitan areas, Penang is a top destination for investors, retirees, and expats alike.
Yet when considering Penang as your investment choice, it is important to differentiate between Penang island and Penang province.
When referring to Penang, people usually mean the island, which includes the large city of Georgetown. The province, by contrast, includes the island and parts of mainland Malaysia.
In this guide, our focus will be condo units located on Penang island. We'll discuss the condominium buying process here by understanding:
Foreign property ownership in Penang;
How much a condo in Penang costs;
The best neighborhoods in Penang;
Fees and property taxes in Malaysia; and
Is a condo in Penang a good investment?
Foreign Property Ownership in Penang
Malaysia is one of the only countries in Asia where foreigners are eligible to own land directly. With rapid urbanization, population growth, combined with a rising middle class, large Malaysian cities like Penang should fill out, thus leading to higher real estate values.
However, with most things that seem too good to be true, there are a few caveats for owning property in Penang. For instance, foreign condo buyers must adhere to a minimum purchase price of RM1 million (about US$240,000).
Additionally, foreign buyers are restricted from owning property in certain areas  – especially cultural buildings and old shophouses with historical significance. You're likely to run into this limitation in and nearby Georgetown.
Beyond that, it just takes a bit of paperwork before you're on your way to purchasing a new condo in Penang.
How Much Does a Penang Condo Cost?
Back in 2019, the average price of a house in Penang was RM440,000 (US$105,000). Today, homes here range from RM800,000 (US$190,000) to well above RM20 million (US$5 million).
While Malaysia was not exempt from the pandemic's effect on the housing market, Penang has still fared fairly well.
If you're looking to buy a condo in Penang, you're in luck though since the price range for condos starts a bit lower compared to landed properties and houses.
Condos in Penang are priced between RM400,000 (US$95,000) on the budget end, to RM5 million (US$1.2 million) for a penthouse unit.
If you're a foreigner though, just make sure that the condominium you pick meets the RM1 million requirement that non-Malaysian real estate owners must abide by.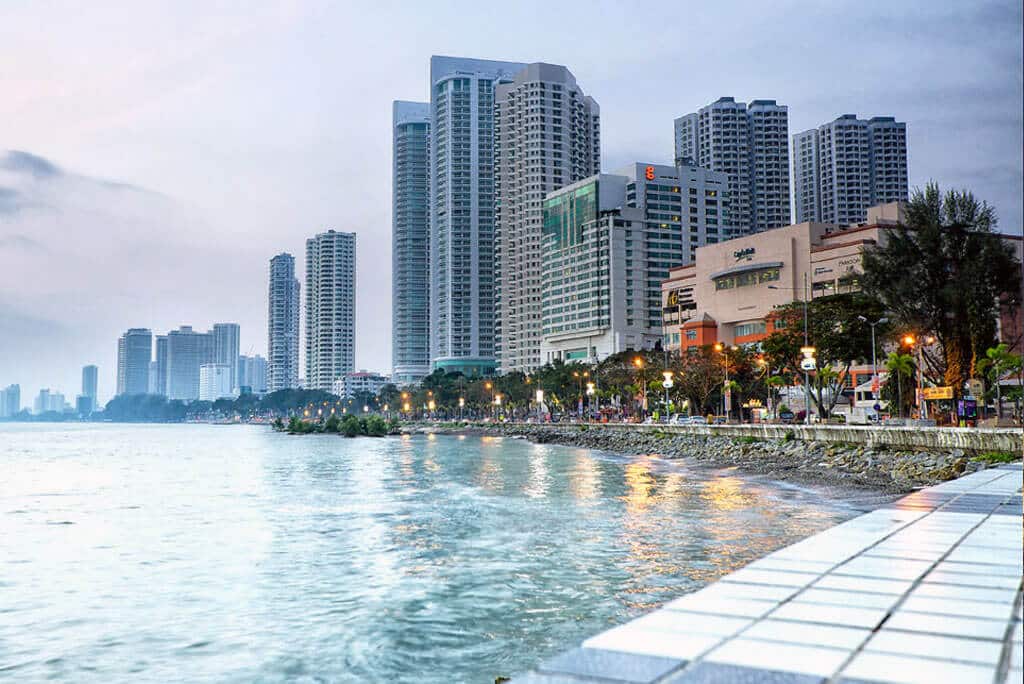 Gurney Drive is Penang's most expensive street. It's located on prime beachfront land, a short walk away from historic Georgetown.
Best Neighborhoods to Invest in Penang
Penang offers a range of options for any condo buyer. From "Millionaire's Row" on the island's eastern side to beautiful beaches in the north, you're sure to find an area that you fancy.
In this section, we'll tell you about Penang's top neighborhoods to invest in a condo. While the southern part of the island is highly urbanized, it is the north that has some of the most popular beaches and residential communities.
And although the focus of this article is on Penang island, we'll discuss one neighborhood on the mainland as well.
Georgetown & Gurney Drive
Once a British colony and major military and trade post, Georgetown is now Penang's largest urban area. And it's no surprise that Georgetown draws millionaires to its gorgeous beachfront properties.
A favorite location for expats and retirees, Gurney Drive is Penang's most expensive street and often referred to as Millionaire's Row. 
Roughly 1 kilometer long, this road directly faces the beach and is host to some of Penang's priciest condos.
Many of the wealthiest families in not only Penang, but the entire country of Malaysia own property on Gurney Drive. Either that, or nearby in one of Georgetown's rare, prime landed shophouses.
Your goal might be to buy a condo here, but you'll also find much more. Georgetown is full of famous food stalls, is listed as a UNESCO World Cultural Heritage Site, and will meet any shopaholic's needs with its flea markets and shopping malls.
North Penang – Batu Ferringhi
Batu Ferringhi is a suburb of Georgetown and located on the northside of the island. It is also the second most popular area among foreign investors in Penang, with its white sandy beaches.
While our recommendations are centered on buying condos, you will find less options for such in Batu Ferringhi since it has a lower population density. However, you can find large houses and gated communities in the hills of this top locale.
Apart from its beautiful houses, Batu Ferringhi is also known for its delicious cuisine, lively night market, and adventurous jungle hikes.
Northeast Penang – Tanjong Tokong
Tanjong Tokong lies between Georgetown and Batu Ferringhi. While this area was once a fishing village, it has now been developed into a high-class residential suburb.
This was built by Eastern & Oriental, the developer behind the Seri Tanjung Pinang project. Known for building world-class communities, Eastern & Oriental have extended parts of this project to an artificial island.
Here, you can find both luxury and low-cost condo suites, in this coastal mixed-use development project. Seri Tanjung Pinang also offers townhomes, villas, shops, a marina, and more.
Mainland Penang – Butterworth
Butterworth is the largest city in mainland Penang, or Penang province, and is connected to the island by two bridges. You'll find a quieter lifestyle and less expensive prices here.
While it was once an agricultural town, Butterworth later grew into an industrialized city. It is now one of Malaysia's busiest seaports and a major transportation hub.
Despite Butterworth's busy port, there is room for a slower pace here. If that is more your speed, then in addition to lower housing prices, you will also find activities such as bird watching, scenic views, and coastline strolls.
Just be aware: Penang island has a scarcity of land which should drive up prices in the long-term. Yet Butterworth and the surrounding areas on mainland Penang don't have such limitations on construction.
Consider buying a condo on Penang island instead if your primary investment goals include long-term capital appreciation or ease of rentability.
Penang island's demographics, and lack of available space, will create a shortage of land over the long-term. The same isn't true about Butterworth or the mainland.
Fees and Property Taxes in Malaysia
Concerned about real estate taxes in Penang? We have both good and bad news about property taxes in Malaysia.
The good news is that annual property taxes are extremely low. In fact, they are so low that they are nearly non-existent. The annual property tax in Malaysia is between 1 and 2 sen per square foot (US$0.002 – 0.004).
Besides annual taxes, other fees that are quite low include Malaysia's "quit rent" tax and annual condo maintenance fees. The quit rent average is less than RM100 (or US$25).
Condo maintenance fees vary widely depending on the specific project you own a unit in. They're used to pay condo staff and keep common areas (pool, gym, etc.) in good condition. Generally, maintenance fees run around RM4 (US$1) per square foot annually.
The bad news? Practically every other tax is quite high in Malaysia, including rental income tax and rental property gains tax.
For example, if you're a non-resident in Malaysia, expect to pay a rental income tax of 25%. Albeit the rental income tax rate isn't much lower even for residents at 20%.
Capital gains tax, payable upon selling a property, differs based on how long you've held the asset, and whether you're a foreigner or not.
Foreign buyers who have owned a property less than five years must pay a whopping 30% capital gains tax upon sale. The rate drops to 10% if you've owned it longer than five years. This policy's goal is aimed at deterring short-term buyers and speculation.
Is Buying a Condo in Penang a Good Investment?
Malaysia is still among the region's finest choices for anyone who desires a combination of value-for-money, ease of foreign ownership, and quality building standards.
Specifically, a condo in Penang could prove a solid long-term investment with the island's limited building space and increasing demand. You're also making a bet on the Malaysian ringgit's long-term appreciation prospects.
Don't forget about the MM2H (Malaysia My Second Home) visa either, which ranks among Asia's best long-term residency programs. Buying a condo in Penang already means you've done a majority of the work needed to obtain a 10-year visa here.
Plus, Penang has a diverse range of neighborhoods to choose from. Whether you want to live like a millionaire, lay on the beautiful beach every day, or be part of a world-class expat community, Penang has plenty of options to offer.
Overall, we recommend Malaysian property if your investment horizon is at least five years. Rental yields are unfortunately rather low at between 2% to 3% gross returns.
Yet capital appreciation potential is why people invest in Penang – not rental yields. Malaysia's real estate market is very much a "buy and hold" game.
Skip the Next Western Recession
Learn the best places to invest - and where to avoid - by downloading our free Investment Cheat Sheet.