Last updated April 14th, 2019.
Buying real estate is one of the most common ways people invest offshore. It also comes with some valuable and unique perks that other investments won't give you.
Foreign property investments give you rental income along the ability to turn your asset into a second home. Your government probably won't make you report international real estate to the tax department either.
However, most Asian countries don't allow foreign real estate ownership. You can often lease property on a long-term basis of between 50 to 99 years. But getting true, freehold ownership remains very difficult as a foreign investor.
With that being said, here is a list of five countries in Asia where foreign property ownership is possible.
Keep mind that I'll only mention places which are worthy of investment. Sure, you can own real estate in Taiwan on a freehold basis. Why would you want to though?
Thailand
Thailand, along with everywhere else in this article, lets foreigners own freehold condominium units under their own name. Although buyers must closely follow some regulations, things are pretty straightforward for the most part.
First off, foreigners may only own up to 49% of the total floor space in a single condo building in Thailand.
Breaking this rule is hard in reality – Thailand does not have many condos that even approach this 49% threshold. You're probably safe unless you're looking at resort areas such as Pattaya. Or if you're otherwise buying into a project that's heavily marketed toward foreign investors.
Second, all money used to purchase real estate must be transferred into Thailand as foreign currency and converted into Thai baht at a Thai bank.
This isn't a big deal. However, make sure to check your wire transfer forms very carefully when buying a condo in Thailand. You would have transfer all over again, wasting precious time and money if your sending bank does the currency exchange rather than a Thai bank.
One more note: Thai law also allows foreigners to own physical land for residential purposes with an investment exceeding 40,000,000 baht (US$1,200,000). In practice, it's a bureaucratic process and few people have actually been approved.
Cambodia
Cambodia is the least developed yet fastest-growing nation on this list. A rare combination of sustainable, rapid growth and business-friendly laws makes Cambodia among the top frontier market economies in the world.
You can buy a condo in Cambodia on a freehold basis as a foreigner. It's done through a strata title, which effectively gives the owner rights to the piece of sky their property is situated upon. Newer condominium buildings are usually based on strata titles.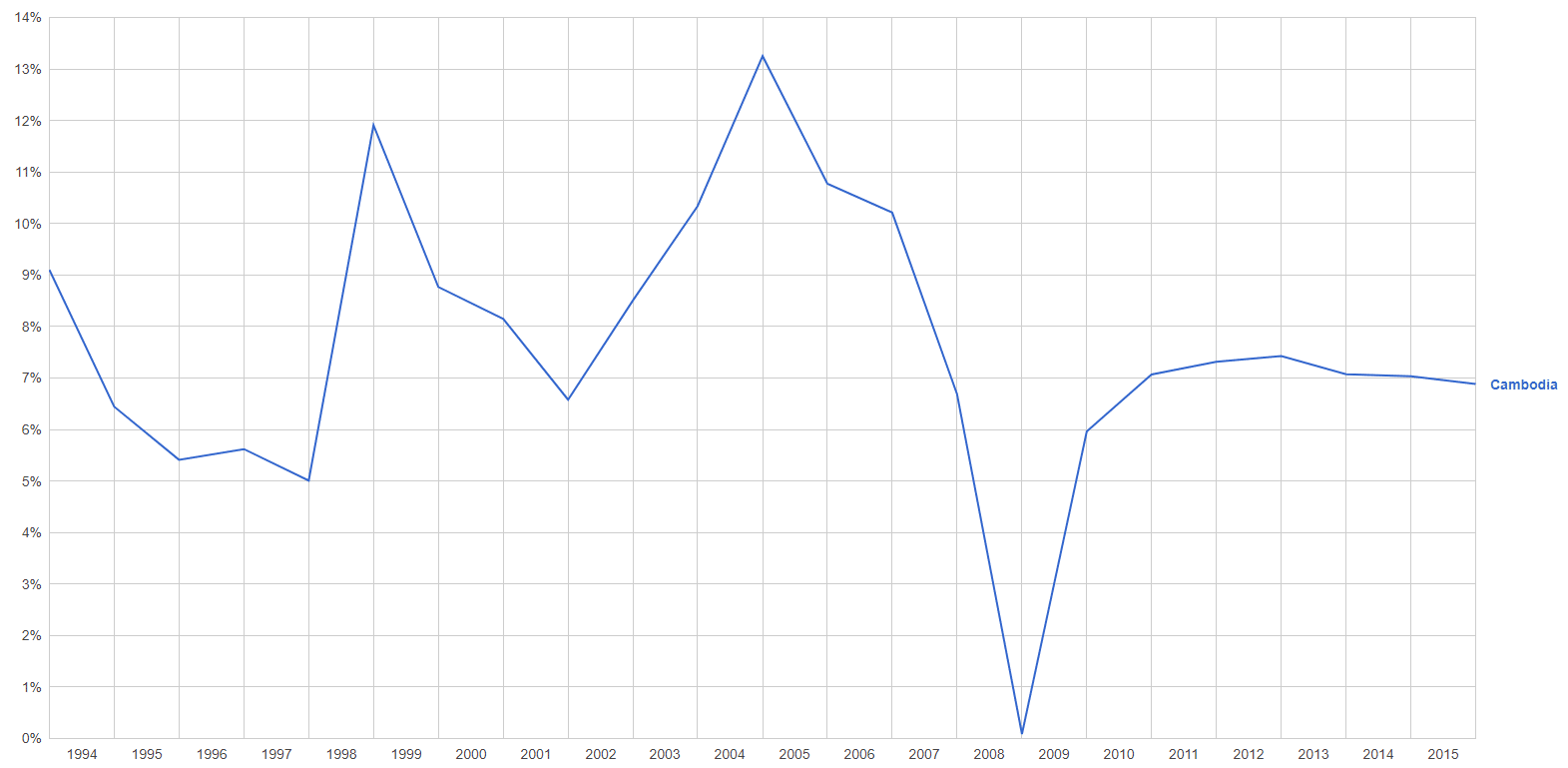 Cambodia's GDP growth rate since 1994. Like other frontier markets, they haven't suffered a recession in over two decades.
Back in 2016, Cambodia's government officially stopped letting individual foreigners purchase traditional shophouse apartments.
Nonetheless, district offices retain significant autonomy in practice. Several districts in Phnom Penh were still transferring shophouse apartments directly to foreigners as of early 2019.
You can start a Cambodian land-holding company and buy physical land too. This does require incorporation, some specialized contracts, and about US$1000 worth of monthly upkeep costs. But it's ultimately a safe and effective way for larger investors to buy land in Cambodia.
Besides that, a lower cost option is buying property in Cambodia through a nominee structure. This is considered safe, unlike in most neighboring countries, and lawyers routinely suggest a nominee structure if you're spending below US$1 million on real estate.
Singapore
The polar opposite from our last country, Singapore is the third wealthiest nation on the entire planet. One out of every ten households in the city has a net worth above US$1 million, in fact.
As such, real estate in Singapore is among the world's most expensive. Yet there is still value in the market even though property prices often exceed US$15,000 per square meter (US$1,600 per square foot).
That's because Singapore boasts impressive growth despite having a developed, prosperous economy. Property values are also lower than Hong Kong, for example, which isn't as wealthy and has more available land compared with Singapore.
Foreigners can buy freehold condos in Singapore with few ownership restrictions. With all that said, the government put forth cooling measures and now heavily taxes non-local buyers. Our guide to buying property in Singapore has more information about this development.
Technically, foreigners can own landed houses in Singapore too… after going through a highly expensive and bureaucratic process. You must generally invest at least S$20 million and attain approval from the Singapore Land Authority as well.
The Philippines
The Philippines is now growing at a rapid pace of greater than 6.0% annually. Future prospects are very positive despite recent press coverage regarding their internal affairs and failed drug war.
From a business standpoint, the amount of skilled, English-speaking, and low-cost labor in the Philippines is rivaled only by India. It gives them a huge competitive advantage and will boost the nation's economy well into the future.

The Philippines' population will grow from 103 million at present to almost 150 million by the year 2050.
Foreign real estate buyers can own freehold condos in the Philippines under their own name. The rules are similar to Thailand's, with up to 40% of floor space in a single building able to be foreign owned. Again, breaking that threshold is difficult in practice here.
A major drawback in the Philippines is that foreigners cannot own land. Unlike in Cambodia, a nominee structure isn't viable because of the Philippine Anti Dummy Law and a constitutional prohibition that clearly forbids foreign land ownership in no uncertain terms.
Malaysia
You may own condominium units in all of the countries listed above. However, Malaysia stands out as the only real estate market in Asia where foreigners can directly buy landed houses, in their own name, without needing a corporate structure.
There are nonetheless a few limitations. Most notably, each Malaysian state imposes their own minimum purchase price on foreign property buyers. They start from RM400,000 (US$100,000) in Sarawak, ranging as high as RM2,000,000 (US$500,000) on Penang island.
Furthermore, some states restrict the locations where you can own land. The state of Selangor, for example, doesn't allow foreign land ownership except in gated communities.
"Heritage properties" anywhere in Malaysia, such as older shophouses, are also limited to local buyers.
Those factors aside, Malaysia is certainly the easiest place to buy land in Asia.
Skip the Next Western Recession
Learn the best places to invest - and where to avoid - by downloading our free Investment Cheat Sheet.