Last updated June 19th, 2023.
Most ways getting a residence visa or second passport are forever outside our control. We can't change factors like our country of birth or who our parents are.
Property investment visas are rather unique in that anyone with enough spare cash can essentially buy their way into a long-term residence permit.
Of course, some real estate investor visas are more expensive than others. Several less-developed countries will give you residence merely by owning any property within their borders, no matter the cost.
Generally though, you should expect to pay a few hundred thousand dollars to obtain residence in countries that are desirable among expats, retirees, and investors.
Buying a long-term visa isn't possible for everyone due to cost restrictions. Investment residence permits typically aren't cheap.
Regardless, it's excellent to have these programs available as an option. You wouldn't have as many fast, simple methods to permanently live abroad if property investment visas didn't exist.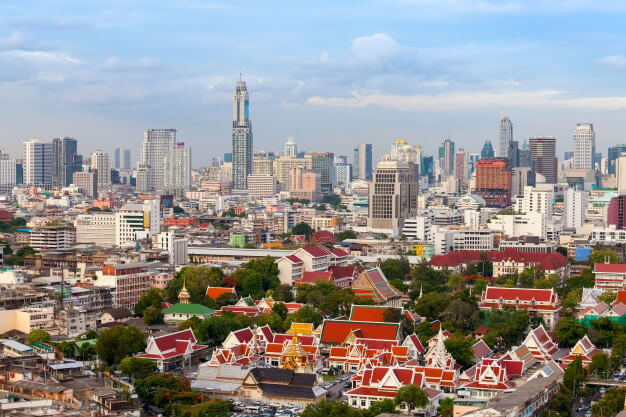 Condos located in central Bangkok have doubled in value over the past decade. If you bought property worth above US$350,000 back in 2012, you would have both Thai residency and a solid investment.
You can even make money off real estate investment visas. Selling your property after it appreciates in value, or simply renting it out after buying it, can give you foreign residence plus returns.
Home prices rising over time is certainly never guaranteed. Yet a few countries don't place any rules on selling your property after obtaining permanent residency or citizenship – and still keeping the latter afterwards.
In no specific order, Asia's top five property investment visas are listed below. Your own needs might vary and there isn't a one-size-fits-all solution.
Malaysia: My Second Home (MM2H) Program
The Malaysia My Second Home program is arguably Asia's most-well established property investment visa. With a history spanning decades, it's not just a long-term residency but a complete package too.
After MM2H's abrupt suspension back in 2020 though, significantly higher requirements were announced in late-2021 which make the program far less attractive.
Before, MM2H's requirements involved showing proof of liquid assets anywhere in the world worth at least RM500,000 (about US$120,000) for those under 50 years old, or RM300,000 (around US$70,000) if you're aged 50 or older.
With recent changes to the program, applicants must show RM1,500,000 (US$360,000) in total liquidity while putting RM1,000,000 (US$240,000) of that sum in a term-deposit held at a Malaysian bank.
You can withdraw up to half of the term deposit's amount to buy property in Malaysia, or for expenses related to education or healthcare.
Furthermore, a main requirement is that MM2H applicants of any age must show at least RM40,000 worth of monthly recurring income from abroad. This was quadrupled from previous requirements of RM10,000 per month.
That's not all: new applicants must be aged 35 or above, and you must spend at least 90 days per year in Malaysia in order to maintain the visa. They want applicants who are actually spending time in the country.
Major benefits of MM2H still include free medical insurance, work permits, and being able to import personal items tax free.
A spouse, children, and even a live-in-maid can be brought into Malaysia as your dependents under the MM2H visa program. You can surely imagine how all these things can all make a new expat's life in Malaysia much easier.
Nonetheless, Malaysia My Second Home's new requirements are noticeably stricter than they were before.
The fact that current MM2H visa holders aren't grandfathered in and must abide by the new standards also adds to concerns regarding the program's stability and predictability – both which are key if Malaysia truly wants to attract serious investors.
South Korea: D-8 Investor & Jeju Island Visas
South Korea's investment residency is one of Asia's few programs that can eventually lead to citizenship.
Jeju Island, often referred to as South Korea's version of Hawaii, used to have a real estate investment residence entirely unique to the province. In the recent past, you could have qualified by owning property on Jeju worth KRW500,000,000 (around US$450,000).
However, the Jeju property investment visa (along with the related Incheon one) expired recently and isn't possible anymore. It wasn't exactly cancelled, mind you, there was an expiration date that that simply ran up.
Getting a long-term visa in Korea by owning property isn't possible anymore, but you can still live here on a business visa. 
Korea's foreign investor program is called a D-8 Visa. The minimum capital requirement is KRW300,000,000 (about US$260,000) and you must show company balances among other documents to prove your company is financially viable.
Eventually, it's possible to naturalize and become a South Korean citizen after being a resident for five years and learning the language. This length of time is shortened to two years if you're married to a Korean citizen.
Keep in mind that South Korea doesn't allow dual citizenship though. If you become a national, you'll have to renounce your existing citizenship.
Turkey: Investor Residence Permit & Citizenship
Turkey recently made some positive changes to its requirements, and is the second of the residence programs on this list which can eventually grant you citizenship, 
Several years ago, Turkish citizenship by investment (CBI) was among the region's least popular. It had barely a few hundred applicants within years of its introduction because the program was far too expensive compared to other CBI options at the time.
A minimum real estate purchase requirement of $1,000,000 made very little sense compared to the countless cheaper and better citizenship options across the world.
Yet its plummeting currency combined with generally poor economic conditions forced Turkey to change its mind. They reduced the requirements to just $250,000 worth of property – a substantial reduction of just 25% on the original price.
Then, they raised the price up to $400,000 a few years later as the program started to become extremely popular with Russians and Ukrainians fleeing their home country. 
We suppose $1 million was too high, and $250,000 was too low. Either way, Turkey has a history of changing their citizenship by investment (CBI) program's price every few years.
Granted, despite a recent price in property values due to short-lived foreign demand, Turkey doesn't have as much appreciation potential as other countries on our list.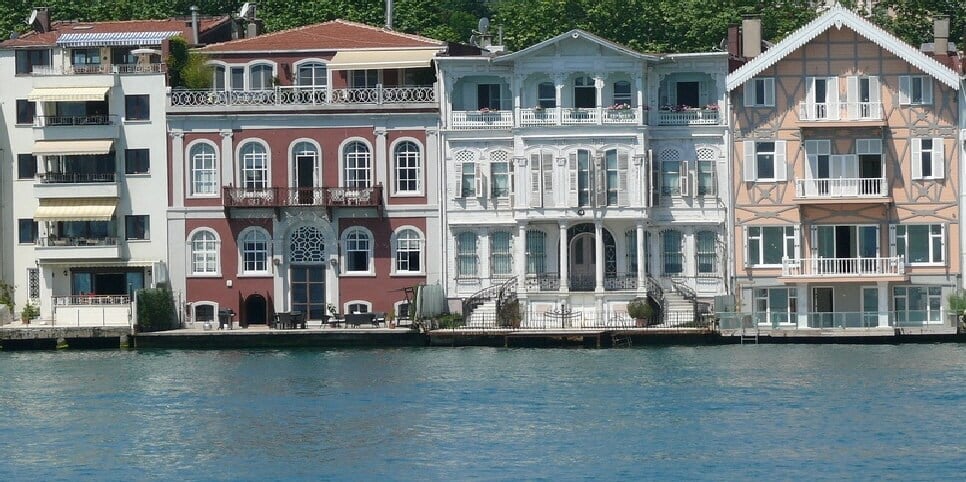 Istanbul's luxury housing market is getting a much-needed boost because of citizenship promises and a battered lira.
Quick, easy citizenship in a regional hub like Turkey is difficult to pass up for US$400,000. Not many "real" countries (i.e., reasonably developed and not just an island) will let you naturalize for that price.
As for the Turkish economy itself? There are lots of reasons why we're not anyone near as optimistic. Consider looking elsewhere if your priority is investment first and citizenship second.
United Arab Emirates: Dubai Property Investor Visa
The Emirate of Dubai has a residence program unique to it. Like Turkey, Dubai's long-term investor visa also went through positive changes lately.
Before new rules were implemented, applicants had to buy a freehold property in Dubai for at least AED 1 million (approximately US$270,000). You receive a two-year renewable property investor visa in return.
Dubai raised the amount of time granted under their residency visa program to ten years back in 2018 though.
Changing from a two-year renewable visa to a ten-year stamp might not seem important at a quick glance. Yet submitting police checks, medical reports, and waiting around for immigration every 24 months can be a huge pain.
That's especially true if you aren't living in Dubai full-time and are just buying an asset in exchange for residence. You're probably way too busy outside the country.
One major reason for new visa rules is because of heavy oversupply in the real estate market. Rentability is difficult, appreciation prospects are low, and I can't suggest buying property in Dubai if your priority is making money.
Regardless, you can now get investor residence in Dubai without dealing with local bureaucracy once every year or so. I wish that were the case with our final option.
Thailand: 10 Million Baht Investor Visa
Quite frankly, Thailand's investor residence program isn't a very good value compared to the other visas on this list.
By comparison, you can buy citizenship in Turkey for approximately the same cost as Thailand's real estate investment visa.
It's certainly not cheap, nor will you ever get Thai citizenship from this visa. Nonetheless, Thailand tops off our list of property investment residencies in Asia.
You must invest at least ten million baht (about US$320,000) in Thailand to qualify for this visa. The investment can be made in property, bonds, fixed-deposits, or any combination of those.
Buying multiple properties also works. For example, you can own five Thai condos worth two million baht each and rent them out.
Thai residence through investment won't allow you to get a work permit, but it's still an annual visa that you can extend every year assuming the investment is maintained and not sold.
Nowadays, we're uncertain whether buying property in Thailand is a good investment or not. Rental yields are below 5% while condo prices aren't the deals they once were. You should expect to pay US$6,000 per square meter in central Bangkok. 
Yet there isn't anywhere else quite like Thailand, and the country has a unique charm. It's a great place to spend time, and serves as a convenient base to access frontier markets such as Cambodia, Vietnam, and Laos. 
As of 2023, Thailand introduced the Long-Term Residence (LTR) visa which is different from the 10 million baht investment visa.
There are five different categories of LTR visa, including ones aimed toward pensioners and "wealthy global citizens". It's still possible to apply for the original 10 million baht investment visa though.
Why Are These Asia's Best Property Investment Visas?
We considered several criteria when judging these investment residence programs. A few of them are subjective, whereas others are a matter of fact.
First off, all the above programs are fully recognized and supported by their respective governments. They aren't back-room deals pitched by "somebody who knows a guy".
You may be surprised by the sheer number of scam visas sold on the internet. Investment residence programs you read about online aren't always legal or possible in practice.
Paying off government employees might get you an identity card, visa, or even a passport in some countries. Of course, it's obviously illegal and a great way to get your residence revoked in the future.
Second, we looked at the level of bureaucracy involved – or rather any lack thereof.
The five residence visas mentioned in this article are generally straightforward with a crystal clear list of requirements. Visa processing times usually range from a few days to three months.
Finally, we kept value for money in mind. Getting a long-term visa in a developed nation like the UAE or South Korea is generally more valuable than one in an emerging market.
A residency that will eventually grant you citizenship is also inherently better, assuming all other factors are equal.
Hopefully you understand how to kill two birds with one stone, so to speak, by not only investing in Asia but getting residence here too.
Skip the Next Western Recession
Learn the best places to invest - and where to avoid - by downloading our free Investment Cheat Sheet.