Like moths to a flame, foreigners are flocking to the Gulf region seeking profits from high oil prices and migration from further north. Yet while some countries in the region have solid overall prospects, investing in Qatar should be avoided.
As a major host of the World Cup, Qatar spent over $300 billion preparing for the event, equivalent to 10 times its GDP. Yet the World Cup delivered few long-term benefits and Qatar's economy is now facing a slowdown.
This mirrors the experience of past host nations Russia and Brazil, where a short-term boost from hosting mega events evaporated with an economy tilting into recession and few options to diversify,
Qatar makes for an unappealing investment destination. We have every reason to believe that speculators will only find fool's gold.
Qatar is Overexposed to Oil
Qatar owes its wealth almost entirely to oil and natural gas, which account for over 60% of GDP, 85% of export earnings, and 70% of government revenue.
With the majority of state income and jobs resting upon carbon energy exports, Qatar's economy moves in lockstep with fossil fuel price swings.
Granted, the IMF does expect Qatar will outperform later this decade. Let's face it though: who has ever reliably predicted GDP growth 5 years beforehand? Especially an economy that depends heavily on oil prices.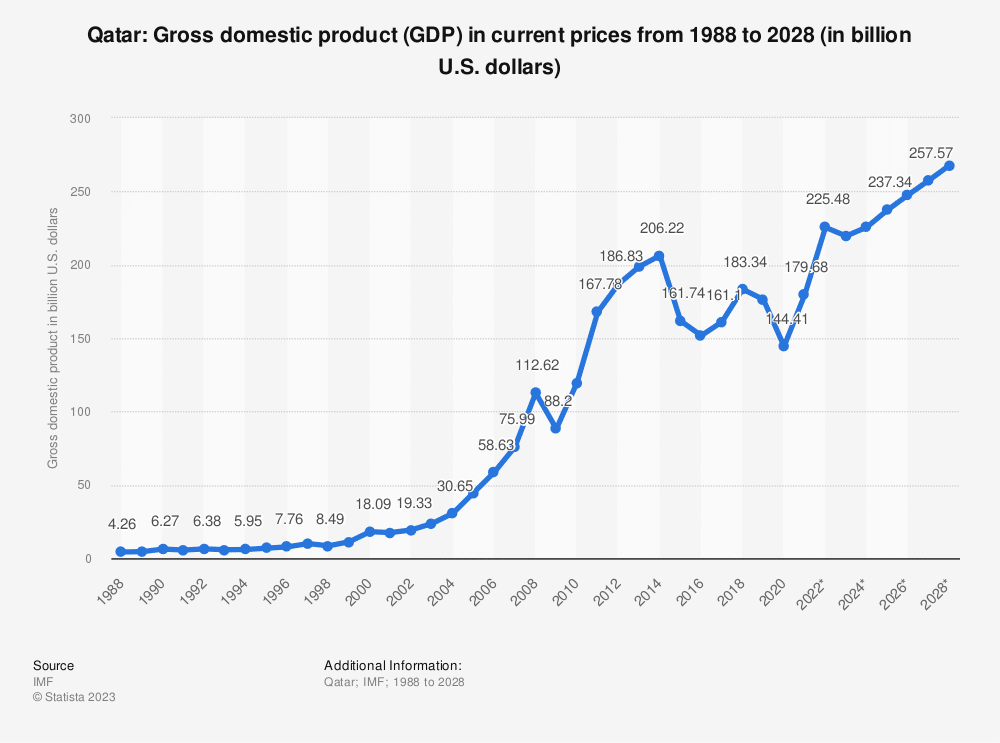 Qatar boomed from the 1980s until 2014. Over the past decade though, economic growth was mostly flat.
Already, declining gas prices from their peak have erased Qatar's windfall. The economy was only able to achieve 2.6% GDP growth in 2022, down from 4.5% the previous year.
Meanwhile, the nation posted its first quarterly contraction since 2016 as LNG prices plummeted.
With the world accelerating its shift toward renewable energy, demand for Qatar's hydrocarbons will only shrink. So far, there are no signs of meaningful reforms to diversify the economy away from its oil and gas dependence.
World Cup Generates Short-Term Gains
Seeking to enhance its global prestige, Qatar spent over $300 billion on hosting the World Cup, which is equivalent to 10 times its GDP. This fueled an infrastructure boom… at first.
However, past World Cup hosts saw only fleeting gains. After Russia hosted back in 2018, its economy stagnated with just 1% growth. Brazil saw its economy contract 3.5% in the year after its own World Cup.
Qatar is already following the same pattern, with its economy slowing down over the past year. The World Cup offered only a temporary boost.
In the meantime, Qatar faces a real estate glut with prospects for long-term demand unclear – especially in the commercial sector. Vacancy rates for offices in the desirable West Bay, for example, are now between 20% and 25%.
Restrictions Repel Foreign Investors
Despite the Gulf's reputation as a free market oasis, Qatar prohibits foreigners from owning real estate in much of the country.
Non-citizens can only buy property in a handful of designated zones, usually located away from central areas in less attractive residential developments.
Qatar also makes investing in stocks difficult. The nation's exchange contains less than 50 listed companies and there's minimal trading volume.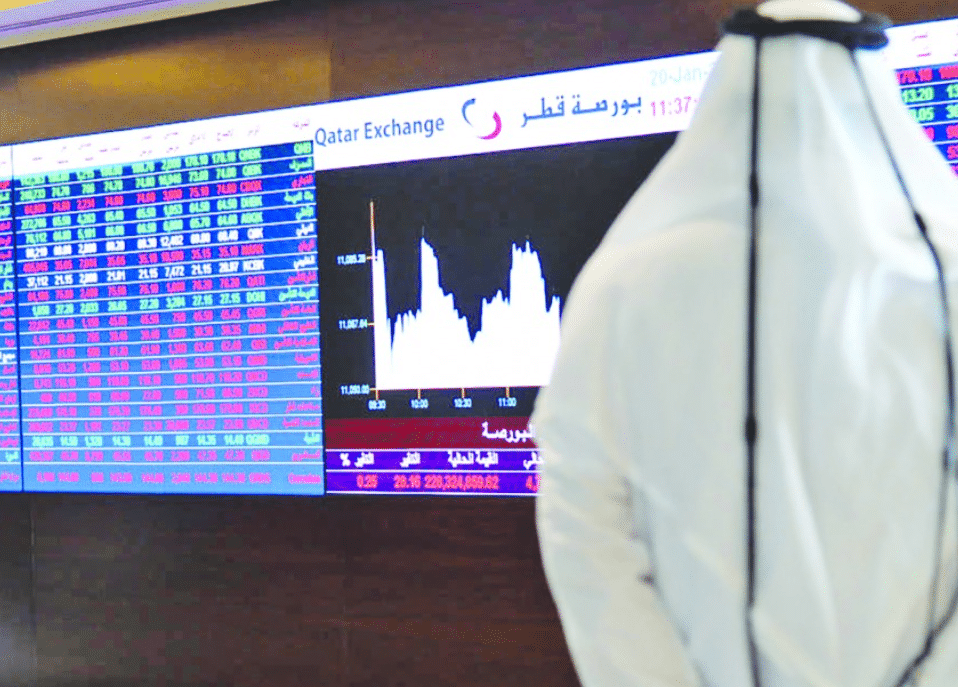 If you're a foreigner, opening a brokerage account in Qatar is an arduous process to the point of near-impossibility.
The picture for setting up and operating a business in Qatar is also unattractive. Qatar ranked 83rd in the World Bank's latest Ease of Doing Business rankings, lagging behind Saudi Arabia, Oman, and distant from the UAE. 
Likewise, the private sector remains dominated by a small number of firms, many of them owned by royal family members. Such monopolies don't make for a competitive business environment – especially if you're a foreigner.
Qatar Doesn't Innovate
Looking to the future, Qatar falls behind regional competitors on innovation. The country spends below 0.6% of GDP on research and development, less than half of the proportion in Saudi Arabia or Israel.
Quite frankly, Qatar is a huge digital laggard compared to other rich nations. Smartphone penetration reached only 85%, ranking near substantially poorer countries like Kenya and Ghana.
Qatar's outdated regulations hamper emerging sectors such as fintech and e-commerce. There's always a lot of lip-service about innovation, especially by government, but nothing truly groundbreaking can develop when your laws don't support it.
By comparison, other Gulf states like the UAE and Bahrain moved early to build tech hubs attracting investment and talent. Qatar has no comparable ecosystem.
Verdict: You Shouldn't Invest in Qatar
Qatar's post-World Cup recession reveals its short-lived investment appeal. Put simply: you should stay away from Qatar's real estate and stock markets. Foreigners wanting to invest in the Gulf region should look elsewhere.
With GDP forecasted to increase by just 2% this year, Qatar's economic prospects pale against emerging countries further into East and Southeast Asia. 
Any decline in oil revenue hampers Qatar's ability to invest in emerging sectors, and the country doesn't offer any unique advantages to foreign investors beyond its proximity to other Gulf states.
Savvy investors will consider markets with a greater variety of growth drivers and fewer ownership barriers. Don't be lured in by fool's gold in the Qatari desert.