Last updated September 5th, 2023.
Macau often lives in the shadow of nearby territories. Almost anyone would consider starting a business in Hong Kong or mainland China before investing in Macau.
However, this former Portuguese colony has some strong points that even its larger neighbors cannot claim.
Perhaps you're familiar with Macau because of its casinos. The Chinese Special Administrative Region surpassed Las Vegas way back in 2007 to become the world's top gambling destination.
Macau's gaming sector now brings in over 7 times Las Vegas' revenue – a truly amazing figure.
This rapid growth naturally helped its economy thrive over the past decade. Macau's GDP rose by more than 20% in both 2010 and 2011, which made it the world's fastest-growing market then.
Macau's reliance on its gambling and tourism industries means Macau's growth isn't stable or consistent though.
For example, Macau's GDP plummeted by 21.5% back in 2015 when China began a crackdown on corruption. The economy picked up since then and is currently growing at double-digit rates once more.
Our question today is: Why should you invest in Macau? After all, Macau doesn't have an equity market. Nor are there anywhere near the number of business opportunities in Hong Kong.
The territory's population of barely 600,000 is under 10% of its more dynamic neighbor. Would you rather start a business in a place with a few hundred thousand people… or several million like cities right across the border from Macau?
With all that said, there are some reasons why you might want to consider investing in Macau – especially its real estate market.
Freehold Property Ownership in Macau
It's rather easy to overlook that Macau is the sole part of China which allows freehold property ownership. Locals and foreigners are both able to own Macau property on a permanent basis.
Compare this to mainland China where all land is technically owned by the state. Land in Hong Kong is on a lease which expires in 2047, although locals believe the government will renew all leases at that time.
Of course, nothing is certain – especially given Hong Kong's current political situation.
Real estate prices in Macau are only about half Hong Kong's too. They're by no means cheap at US$14,000 per square meter on average. Granted, we're comparing that to the most expensive city in the world.
Yet not every plot in Macau is freehold. Make sure to carefully read what you're buying before signing any contracts.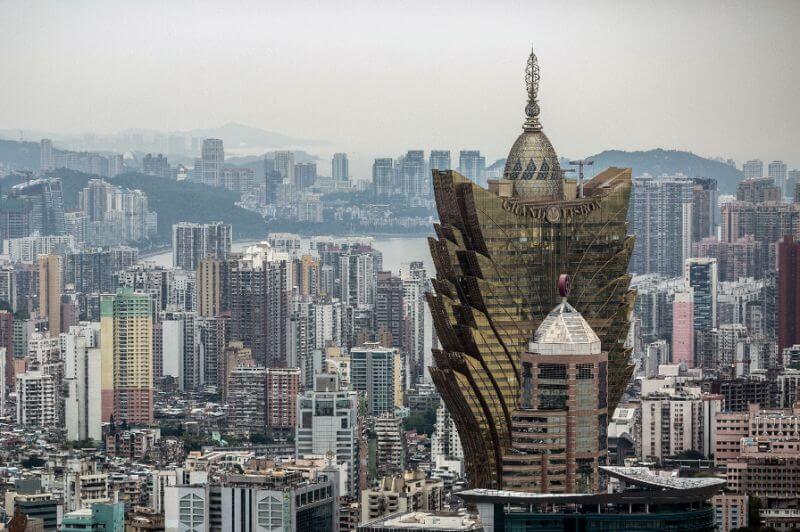 Numerous apartment buildings, a few of them freehold, stand alongside downtown Macau's world-class casinos.
Macau's Strong (Although Niche) Potential
There's no stock exchange here. As such, setting up a company in Macau is the only method of investing in the city besides owning property. But you still won't have the same amount of real estate options as you would in Hong Kong.
Gambling and tourism are Macau's two major industries. They don't really have a tech, finance, or manufacturing sector like neighboring Hong Kong, Shenzhen, and Guangzhou do.
Worse yet, a tiny population of under one million makes catering to the city's domestic market impractical. Foreigners who start investing in Macau generally either own a casino or buy real estate.
Here's the good news: Macau's economy is starting from a far lower base than Hong Kong and isn't quite as developed. GDP per capita in Macau is lower, economic growth is stronger, while tourist arrivals are rising by over 10% per year.
Investing in Macau (through property or otherwise) gives great potential for return because of this. You should merely understand that most opportunities in Macau rely on the tourism and gambling sectors though – whether directly or indirectly.
Macau-Hong Kong Connectivity: A Main Growth Driver
Macau and Hong Kong are also now more connected than ever. The two cities were previously separated by 62 kilometers of water. You had to either take a helicopter or an hour-long boat ride to travel between them.
Recently, one of the longest bridges in the entire world was finished. It links Macau and Hong Kong by road, allowing you to simply drive between them now.
The bridge gave more than 7 million people in Hong Kong easier access to Macau when it was finished in late 2018.
Plans for connectivity in Southern China don't stop there. A series of trains, highways, bridges, and roads will further link Macau and Hong Kong to mainland China.
Shenzhen and Guangzhou – two megacities of approximately twenty million people each – are right across the border from Macau.
Over 80 million inhabitants live in the Pearl River Delta region as a whole. Even if it just leads to more tourists and gamblers, increased connectivity will surely help boost Macau's economy.
To summarize, expect to pay a minimum of US$500,000 if you truly wish to start a company or buy real estate in Macau. Plenty of countries nearby, including Cambodia and Malaysia, enjoy a greater variety and easier foreign investment laws.
But investing in Macau could pay off if you're active, or have spare cash and are willing to cope with a severe lack of available options.
Maybe your budget is a bit less? You might be interested in reading about the cheapest places to buy property in Asia.
Skip the Next Western Recession
Learn the best places to invest - and where to avoid - by downloading our free Investment Cheat Sheet.