Last updated August 3rd, 2023.
Asia hosts some of the most expensive real estate markets on the planet. In fact, the continent is now home to half of the world's priciest cities to buy property.
I'm not saying that an expensive real estate market is a great one to invest in. The contrary is often true. But a few of Asia's megacities have a reputation for stability and safety – especially the region's financial centers.
Rich buyers are choosing to store their wealth in the form of property in places like Singapore. This is happening while other types of investment, such as stocks, are near all-time highs with unattractive valuations in many countries.
Some of these wealthy offshore real estate owners are Chinese and see the writing on the wall. For the past few years, China has increased capital controls to stop money from flowing out of the country. Beijing doesn't want their citizens investing abroad.
Granted, having lived under an authoritarian regime until the 1980s, Chinese buyers know why you shouldn't put all your eggs in one basket perhaps better than anyone. They understand all the benefits of offshore diversification and why not to rely on just one nation for growth.
A few places on this list are expensive for that precise reason: they're bastions of stability at a time when it's needed. These property markets probably won't see any rapid growth. However, they'll at least hold their value as long as demand for low-risk, tangible investments is strong.
Asia's most expensive cities might not be for you if your goal is capital appreciation. Yet there are few better places to store and protect your assets in the long-term though than the places listed below. Some of them even enjoy decent rental yields.
Hong Kong
Hong Kong retains its number one spot on the list of Asia's most expensive cities. The Chinese Special Administrative Region has ranked first for over a decade. Even if prices cool down a bit, it'll probably remain there for some time as well.
The reasons for Hong Kong's costly real estate market are numerous. To start, a free economy and its strategic location off China's coast gives the city an advantage. Not just regarding trade, but also letting it soak up capital flight from the mainland as per the trend explained above.
Granted, wealthy Chinese will only keep bringing money into Hong Kong as long as they deem it safe and independent. Recent events are forcing some investors reconsider whether the city can stay free from Beijing's grasp.
For now, Hong Kong still remains financially separate from the mainland – and one of the most capitalist jurisdictions on earth. There's no reason this will change either. After all, rich Chinese would just start investing elsewhere if they couldn't do so in Hong Kong.
Beijing knows this too. Hopefully they're wise enough and wouldn't stop a good thing.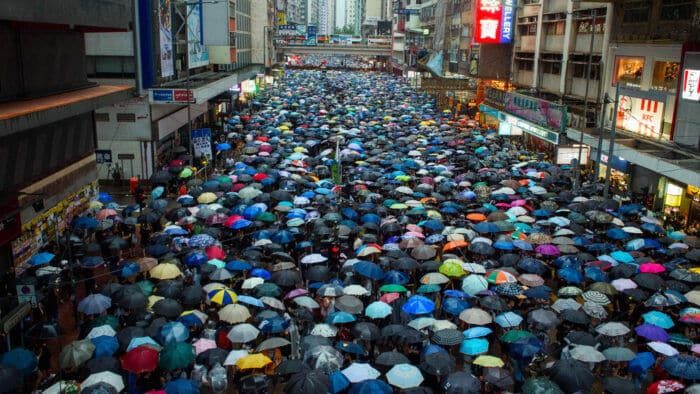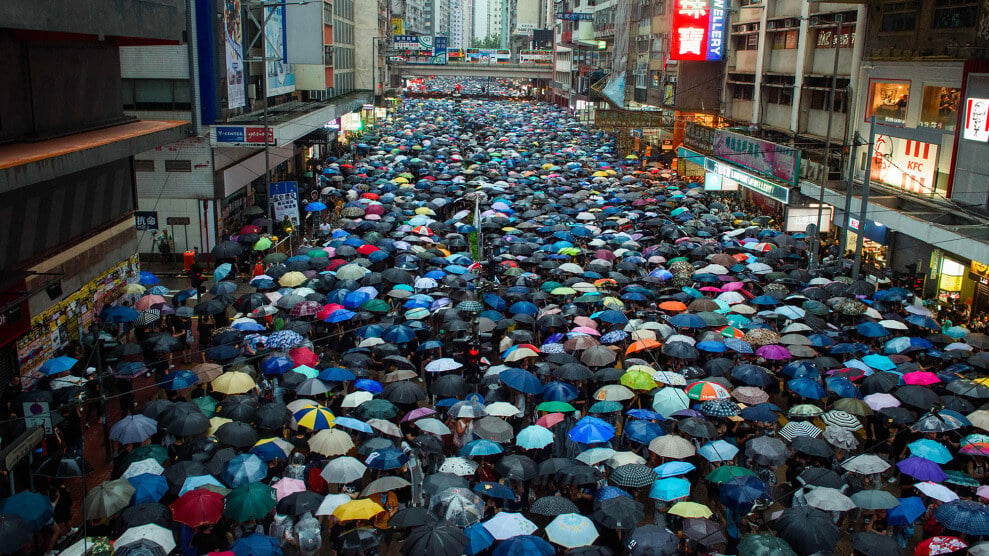 Hong Kong is still the most expensive city to buy property in Asia. Recent events have made investors, realtors, and bankers alike concerned though.
Singapore
Singapore ranks second on our list of Asia's most expensive cities. They also boast the fastest-growing economy among the top three. Singapore's GDP rose by 3.8% in 2018 which isn't bad for a developed nation. It's sure higher than in the United Kingdom, United States, or Canada.
You might be familiar with Singapore's transformation from a malarial swamp into one of the world's richest cities. Singapore's economy grew by over 10,000% (yes, seriously) between its independence in 1965 and 2015.
Nowadays, one in six Singaporean households have over US$1,000,000 worth of assets. The country scores high on livability rankings too. It's widely considered to be the most attractive expat destination in Asia.
Putting its rapid development and superb living standards aside, real estate in Singapore is expensive for the same reason as Hong Kong. The Chinese are buying up homes to preserve their wealth.
However, you could easily argue that property prices in Singapore have much more room for growth despite ranking among Asia's most expensive.
There's a better case for capital appreciation in Singapore when compared to other places on our list. For example, property values are around half of Hong Kong's despite Singapore being a wealthier city.
You might want to consider investing in Singapore property if you have a couple million dollars to spare and want to preserve your wealth, yet are also seeking capital growth.
Tokyo
Despite a weaker yen, Tokyo ranks third on the list of Asia's most expensive cities. Seoul looks like it's about to catch up. Although Japan's capital still keeps its spot in the top three this year.
But Tokyo's steep prices are because of completely different reasons than the other two places listed above. Foreigners aren't causing values to increase here in Japan. It's sort of a pain to get a visa and buy real estate, thus few expats bother investing. Plus, Chinese generally hate Japan.
Instead, property in Tokyo costs around as much as it should without any foreign investment- fueled boom. Japan has a high standard of living, great quality infrastructure, and a GDP per capita of about US$40,000.
Buying a house or apartment in Tokyo costs as much as in most other world cities with similar standards of living and levels of income. Properties in London, New York, Paris, and Vienna all cost approximately the same as Tokyo on a per square meter basis.
With all that said, Japan's future doesn't look good. Declining population growth combined with a terminally-weak economy means Tokyo should see less demand for real estate. Any property "investment" here probably won't appreciate in value much.
Hong Kong, Singapore, and Tokyo top the list of Asia's most expensive cities. A better question is: are they actually worth investing in?
Skip the Next Western Recession
Learn the best places to invest - and where to avoid - by downloading our free Investment Cheat Sheet.