Last updated March 28th, 2023.
Foreigners are buying real estate in Turkey more than ever. Property values in Istanbul are among Asia's lowest, and the Turkish government is encouraging foreigners to invest.
Is it possible these investors are making a mistake though? With real estate prices hovering around just US$2,000 per square meter in Istanbul, is buying Turkish real estate too good of a deal to be true?
There are indeed many positive aspects to investing in Turkey's property market. A strategic location at the crossroads of Europe and Asia makes the country an ideal regional business hub.
Likewise, real estate values in major Turkish cities like Istanbul, Ankara, and Izmir are not only cheap… but investing here will also open a path to citizenship and obtaining a second passport.
Turkey's appeal is evident, between its low property prices and citizenship. Still, you should consider the drawbacks of any investment decision.
In this article, we'll discuss how you can become a Turkish citizen by purchasing real estate, the related taxes you must pay, property prices in Turkey, and perhaps most important: the nation's fairly dire economic issues that you should consider.  
Invest in Turkish Property, Get a Free Passport
While not all Asian countries allow foreigners to own property on their soil, foreigners can buy land, condos, and other types of real estate in Turkey on a freehold basis.
The government is actively encouraging foreigners to invest in Turkey through their citizenship by investment program.
Turkey's citizenship by investment program is one of the biggest draws to buying real estate here. Purchasing a condo, house, or any other type of property in the country that's worth at least US$400,000 can lead to Turkish citizenship almost immediately.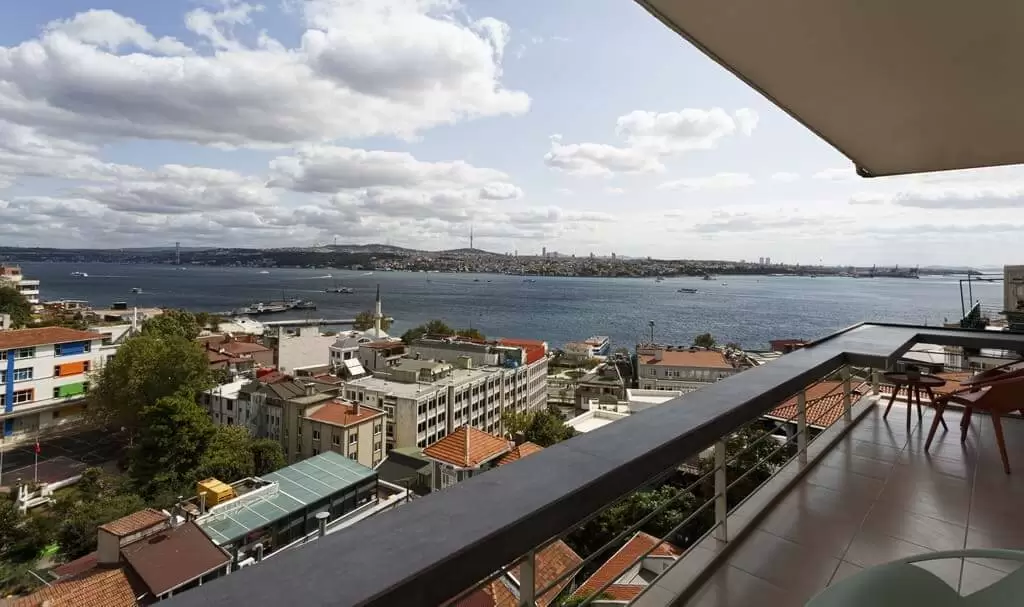 Spending the minimum US$250,000 required to get Turkish citizenship will afford you a rather large apartment in Istanbul with Bosphorus views. It seems like a great place to live, but does it make a good investment?
When Turkey first started its citizenship by investment program, you had to purchase a property valued at US$1 million or above. Soon after, the minimum dropped to a much more reasonable US$250,000 before they raised it again to US$400,000.
Since the minimum investment was lowered, Turkey's citizenship program has become very popular. It's now competitive with other citizenship and Golden Visa programs in the region including Portugal and Malta.
And if getting Turkish citizenship along with a second passport is your ultimate goal, you don't necessarily have to buy property here.
Turkey's citizenship by investment program includes two other options outside of real estate: making a bank deposit, or contributing capital to a business in Turkey.
Note that the investment required for those two options is US$500,000 which is double the amount required as a real estate investor.
Fees and Property Taxes in Turkey
There are multiple property taxes you'll need to pay if you invest in real estate in Turkey. The purchasing tax, or title deed tax, is a rather substantial 4% of its sale price. Normally it's split with half paid by the buyer while the seller pays the remaining 2%.
VAT, or value-added tax, is also applied to real estate in Turkey. Commercial properties have a VAT tax of 18%. Meanwhile, residential properties have a smaller VAT tax that can range from 1% to 18% but is generally on the lower end of that scale.
Foreign investors have the option of waiving the VAT tax if they meet specific conditions, such as agreeing to not sell the property for at least a year.
You're also required to pay annual real estate taxes in Turkey. They're cheaper than in most other countries, ranging from 0.1% to 0.6% of a property's total value. Nonetheless, annual taxes are an ongoing cost that you should consider before investing here.
How Much Does Real Estate in Turkey Cost?
Before you purchase real estate in Turkey, or make any investment for that matter, you should consider several questions.
Is the property worth your investment? Are rental yields high enough? In the future, will it appreciate or decline in value?
We don't have a crystal ball that will predict the future with 100% accuracy, but you can look at other factors and get a solid idea of what Turkey's economic future will hold.
One thing to consider is the value of the Turkish lira compared to other currencies. Since 2010, the Turkish lira fell in value from 1.50 against the US dollar to about 19. That's an over 1,200% decline!
A steadily depreciating lira has made Turkey one of the world's cheapest emerging markets to invest in real estate.
In fact, the Turkish property market ranks among the least expensive in all of Asia despite its status as an upper middle-income nation.
Istanbul is the largest city in the country with nearly 20% of Turkey's total population residing here. You can purchase a renovated apartment in Istanbul's city center for a low price of only US$2,000 USD per square meter.
Compare that to US$6,000 per square meter in Moscow, or US$3,000 in Belgrade, and Istanbul's property values might seem like a wonderful deal at first glance.
As with anywhere else, Istanbul's real estate prices vary based on the property's location. The European side of Istanbul is more expensive than on the Asian side.
You'll find the Istanbul's cheapest properties in the Esenyurt district along the city's far western suburbs. Meanwhile, the most expensive neighborhoods in Istanbul are Nisantasi and Besiktas, both of which are prime areas located in the city center.
The question is: whether through renting your property or eventually selling it, can you make a return on your investment in the future?
Turkey's Economic Problems: A Deal-Killer?
Turkey is a rather wealthy nation and ranks high on the human development index. That said, while it's not a "third world country" by any means, the Turkish economy isn't in its prime either.
Unfortunately, the lira is in free-fall. There's no end in sight to the currency's rapid and ongoing depreciation.
Keep in mind that when you buy real estate in a country, you aren't just investing in a physical structure or plot of land. You're also making a bet on the future of a nation's currency – and the lira isn't worth gambling on right now.
Turkey's corporate debt levels are over 70% of the country's GDP. Much of this debt is owed in US dollars, not Turkish lira. Due to the lira's depreciating value, the amount of lira they'll need to pay off their debt is increasing.
It's a bad sign for anyone investing in Turkish real estate. Housing prices in Turkey might seem cheap, yet their value is decreasing alongside the Turkish lira's.
Meanwhile, recent presidential elections gave Erdogan a large degree of power and he controls nearly all aspects of Turkey, including major financial decisions related to the nation's economy.
President Erdogan isn't a banker or an economist though, and he holds an unconventional view that high interest rates lead to inflation.
He remains insistent that interest rates must be lowered, despite potentially disastrous effects that a loose monetary policy would probably have on the lira. Erdogan even fires central bank chiefs and finance ministers if they're reluctant to lower interest rates.
Turkey suffers from one of the world's biggest trade deficits as well – around US$50 billion dollars to be precise. The nation's industrial sector cannot easily compete on price or quality with countries in East/Southeast Asia.
Simply put, Turkey does not have a competitive manufacturing industry like Thailand or China does – especially compared to its imports. Thus, on top of all its other problems, Turkey lacks the flexibility needed to properly manage an economic crisis.
Should You Buy Property in Turkey?
Your first impression might be that purchasing real estate in Turkey is a good deal. Despite low prices and relatively high rental yields around the 5% range, there's large degree of risk though.
It's likely that you'll end up losing money rather than making a return on your investment due to the lira's declining value.
Don't expect your net yields to approach 5% in reality either. Vacancy rates are generally high in Turkey, so after deducting repairs, damages, and the fact that you probably won't have a tenant all the time, expect lower yields. Not to mention you'll get paid in terms of Turkish lira.
Regardless, Turkey offers one of the most attractive citizenship by investment programs in the region. Don't let us stop you if your goal is buying a second home or obtaining another passport.
So buying real estate in Turkey is still a solid choice if you're looking to get a second citizenship. If having another passport is your top priority instead of profit, then real estate in Turkey may be worth it – just don't expect an optimal investment.
Skip the Next Western Recession
Learn the best places to invest - and where to avoid - by downloading our free Investment Cheat Sheet.