Last updated April 5th, 2023.
You're able to access a greater number of stock trading opportunities in China than anywhere else in Asia.
Indeed, China's three exchanges host the continent's largest collection of listed companies in terms of market cap.
Recent times have been rough for China stocks though. The nation's main Shanghai Composite index fell by 50% from its 2015 highs, dropping under 2,500 points towards the end of 2022.
That's not necessarily a bad thing for a determined investor. Some equities in China are beaten down beyond a reasonable level and enjoy attractive valuations.
I could name a few stocks with good earnings, plentiful growth drivers, and solid fundamentals that are trading below their book value.
However, while trading stocks in Hong Kong is a simple task that can be done using any decent brokerage, buying stocks in mainland China as a foreigner isn't as straightforward.
Mainland China has two stock exchanges, namely the Shanghai Stock Exchange and Shenzhen Stock Exchange. Each of them includes over 1,000 listed companies. Shenzhen focuses on tech stocks in general while Shanghai's exchange is more versatile.
You could easily draw comparisons between the New York Stock Exchange and Shanghai's, as well as Shenzhen and the NASDAQ.
Now that our introduction is out of the way, here's how you can start trading stocks in China.
Step 1: Open a Chinese Brokerage Account
Buying stocks in mainland China through a brokerage based in your home country might be possible depending on where you are.
It's not common for brokers in America or Europe to offer Chinese equity trading. Yet one firm that does comes to mind is US-based Interactive Brokers.
Nonetheless, while it's probably easier for you, I cannot recommend trading in China through a non-Chinese brokerage account.
There are two good reasons why you should spend the added effort and set up a local account instead.
First off, you will save money in fees through opening a brokerage account in China. European and American brokerages will often charge you several times the commission that a local firm would.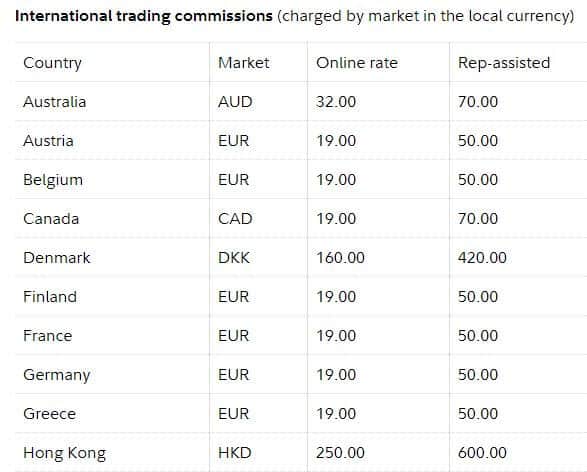 You'll spend far more in commission fees when making international trades. Here's a top American broker's fee schedule for different countries.
Second, you'll gain access to other emerging economies that aren't as readily available through an international broker. For example, Boom Securities in Hong Kong allows trades in countries like Thailand, Indonesia, and the Philippines in addition to mainland China.
Here's the good news: you don't need to buy a plane ticket and fly to China in order to open a brokerage account. You can do it online and through the mail.
The easiest way to trade stocks in China is by setting up a brokerage account in Hong Kong. We have a post here about how you can do that.
Step 2: Trade Stocks in China
With your new Chinese brokerage account open, it's now time to finally start trading equities.
I'll leave specific stock suggestions for another article. Regardless, here's a brief outline of what you can expect when buying stocks in China.
In total, there are over 2,000 public companies on the mainland. China has the second biggest equity market on earth, even if Tokyo's stock exchange is larger than Shanghai's or Shenzhen's on their own.
The mechanics of trading stocks in China are similar to practically everywhere else. You'll have access to stop loss orders, market orders, limit orders, and other types of transactions
Both the Shanghai and Shenzhen Stock Exchanges' first trading sessions are between 9:30AM and 11:30AM followed by an hour and a half lunch break. Afterward, their second sessions are from 1PM until 3PM.
Share Classes & More Information
Several different kinds of share classes are available in China. Mostly, you will be looking at a stock's specific class to determine the market you can buy it in. A few classes are restricted or not tradable at all if you're a foreigner.
A Shares are denominated in renminbi and listed on both the Shanghai and Shenzhen stock exchanges. Chinese A shares were previously only purchasable by local investors. As of 2018, they're available to qualified foreign investors living in mainland China as well.
B Shares are primarily traded by foreign investors and more widely accessible to non-Chinese. Like A Shares, B Shares are listed in Shenzhen and Shanghai. The former hosts B Shares priced in Hong Kong Dollars, while the latter quotes in terms of USD.
Furthermore, you can only buy some share classes outside of China. H Shares are only listed in Hong Kong, N Shares in New York, and S Chip stocks on the Singapore exchange.
You're allowed to own all of those three as a foreigner, assuming you already have the proper brokerage account set up.
China's equity market is likely confusing if you're a newcomer. With that said, investors able to slice through the bureaucracy will gain access to a massive, versatile market with superb long-term prospects.
Skip the Next Western Recession
Learn the best places to invest - and where to avoid - by downloading our free Investment Cheat Sheet.