Last updated May 15th, 2023.
Buying property in Hong Kong comes along with a high entry price. Indeed, Hong Kong still remains the world's most expensive city for real estate despite any recent political tensions.
Nonetheless, Hong Kong's location, relative stability, and economic vibrancy make owning property here worth the high costs if you're a certain type of investor.
Formerly a British colony until 1997, Hong Kong has served as an important gateway between East and West for more than a hundred years. The island initially became prosperous from trade, which in turn helped it become a major finance hub later on.
Low taxes, business-friendly policies, and a strategic location have quickly helped turned "China's Global City" into one of the world's richest.
Today, Hong Kong is now the de-facto financial center of Asia – and largely considered one of the top three globally, rivaled only by New York and London.
Hong Kong's property market is perhaps more famous for being the most expensive in the world. At a whopping US$25,000 per square meter (about US$2,400 per square foot), you can hardly buy a 2-bedroom condo for less than US$2 million dollars.
Many people live in tiny apartments. These are sometimes under 20sqm in size. Even if you're making a great salary, it's difficult to afford much space in a city where car parking spots have sold for over half a million dollars.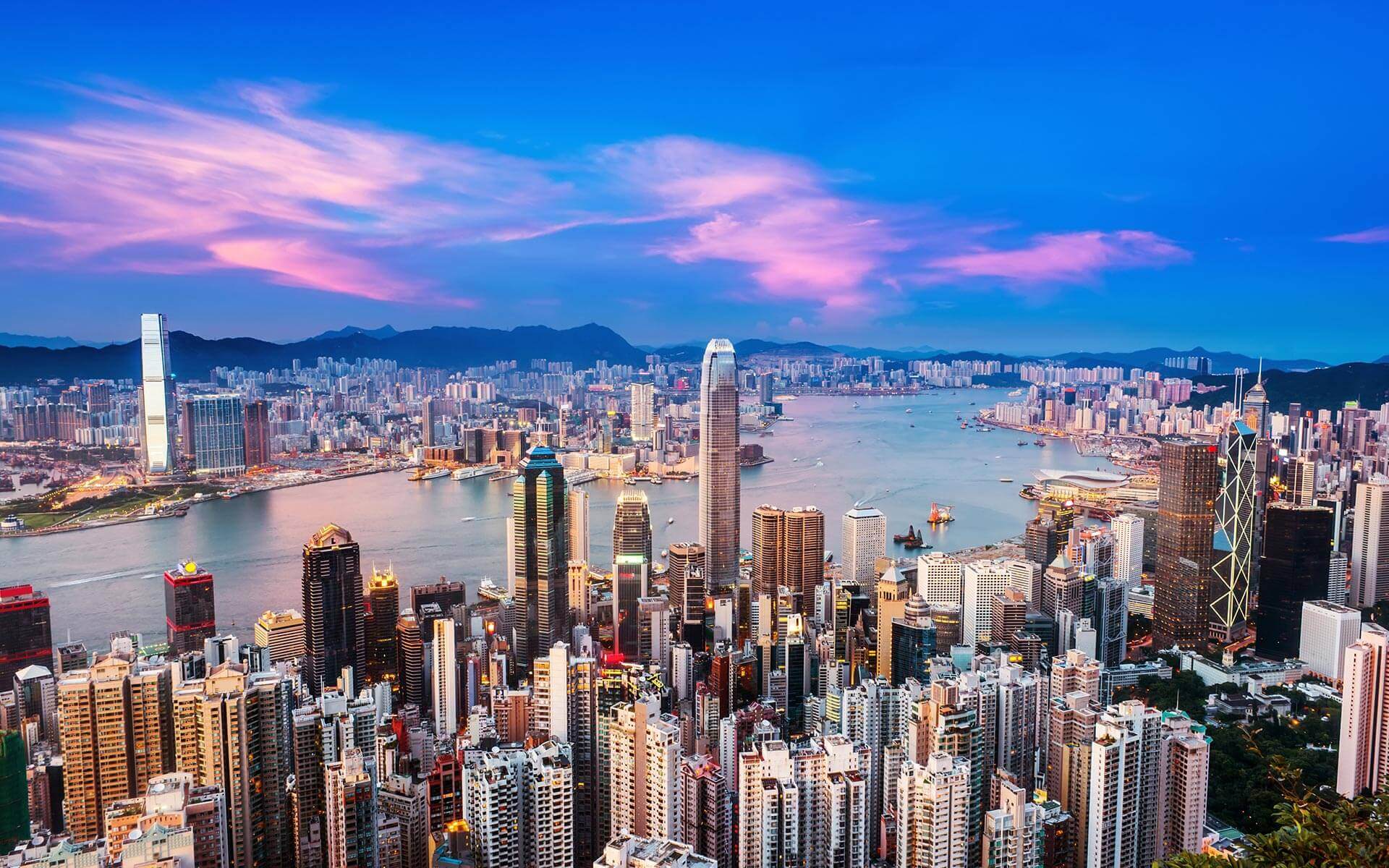 Hong Kong is one of the densest cities in the world. Yet quality of life is nonetheless extremely high… if you're able to afford it.
Land reclamation, infrastructure projects, and smart planning have helped keep prices lower in some areas. For example, Disneyland and Hong Kong's airport are both built on reclaimed land.
Boasting one of the world's top public transport systems also makes life easier. Hong Kong's MTR is fast, clean, timely, and comprehensive. It's truly one of the finest metros anywhere on earth.
Shockingly high real estate values don't necessarily mean the Hong Kong property market is a poor investment. Buying assets here is a great way to preserve wealth if you're a certain type of investor.
Quite simply, people from all over the world want to live and work in Hong Kong. Chinese from the nearby mainland come to Hong Kong for freedom and opportunity. Expat foreigners arrive on plush salaries to climb the corporate ladder and gain international experience.
Combine that with being a small island territory, add a population of over 8 million people, and real estate is bound to naturally be expensive.
As such, Hong Kong property is best for a specific group of buyers – high net worth individuals in particular.
The city won't grow as quickly as Cambodia for example. But for those with a lot of spare cash, there's something to be said about buying real estate in a global financial center with limited space.
Can Foreigners Invest in Hong Kong Real Estate?
Technically, no freehold land exists in Hong Kong – all plots are leasehold. Yet it remains more complicated than that in practice.
When the British gave control of Hong Kong back to China in 1997 it was done so under the condition that all land would be on a lease for 50 years. Therefore, all land is leased from the Chinese government until the year 2047 by law.
However, few people expect much of anything to happen in 30 years. The general consensus is that all leases will be renewed, probably free of charge, once 2047 arrives. Taking people's land would ruin everything which made Hong Kong successful and achieve nothing.
Of course, that also means foreigners enjoy the same "ownership" rights as locals when buying Hong Kong property. Just remember that you're technically on a long-term leasehold and don't technically own your asset.
How Much are Property Taxes in Hong Kong?
Like in most other places, taxes are payable when either renting or transferring your apartment. In Hong Kong, taxes are somewhat high compared to most other housing markets in Asia.
Every kind of real estate here is bought and sold on a leasehold basis. As a result, you are not required to pay annual property taxes in Hong Kong if you aren't making any income off it.
On the other hand, a tax of 15% on the property's rental income is payable if you're renting it out. A deduction for repairs and maintenance applies and the rate is always assumed as 20% of rental income. So effective taxes paid on rental income are around 12%.
You also must pay stamp duty when transferring real estate in Hong Kong. It's a rather complicated system with rates that vary by a wide rate. In summary though, stamp duty in Hong Kong can be as minimal as 1.5% of an asset's total value or as high as 32%.
Property tax rates in Hong Kong vary widely based on whether you're foreign or a permanent resident, if you own other real estate in Hong Kong, the value of the property, and the amount of time you've owned it.
Best Areas to Buy Property in Hong Kong
Hong Kong is large for a city-state. In fact, Hong Kong is almost four times bigger than Singapore.
There's really no such thing as a "cheap area" of Hong Kong. But there are still a wide range of neighborhoods each with their own pros and cons.
Ease of access to mass transit system (MTR) is important when buying Hong Kong property for investment. The city is sizable and congested, so the ability to get places fast and conveniently remains crucial for most people.
Thankfully, Hong Kong has one of the world's absolute best transport systems.
For obvious reasons, real estate prices generally become lower the further you get away from central Hong Kong's business area. Houses on Victoria Peak, along with condos in Central, are among the most expensive properties on the entire planet.
Meanwhile, apartments on Lantau or the distant outskirts of Kowloon have more reasonable prices. They're absolutely not cheap by global standards – only cheaper.
Wan Chai / Central / Mid Levels
Central and Wan Chai comprise Hong Kong island's main commerce and finance hubs. Nearby Mid Levels is positioned on the lower part of Victoria Peak with easy access to both districts by escalator.
It may still be worth buying real estate in these areas if you have lots of spare cash and want to preserve your wealth. There's a rare kind of preservation which comes with having billionaires and multinational banks as your neighbors in Asia's top financial center.
Just remember that you'll pay tons of money when buying an apartment unit next to HSBC and Morgan Stanley in Hong Kong.
Recently, an apartment in Mid Levels broke records by selling for $142,000 per square meter – or $13,200 per square foot. It wasn't large by billionaire standards at 531 square meters (5720 square feet) but was nonetheless sold for many millions of dollars.
Wan Chai is more entrepreneurial and focused on smaller companies than Central. Real estate here is thus slightly cheaper when compared to northern Hong Kong island. It's still among the city's most expensive places to live though.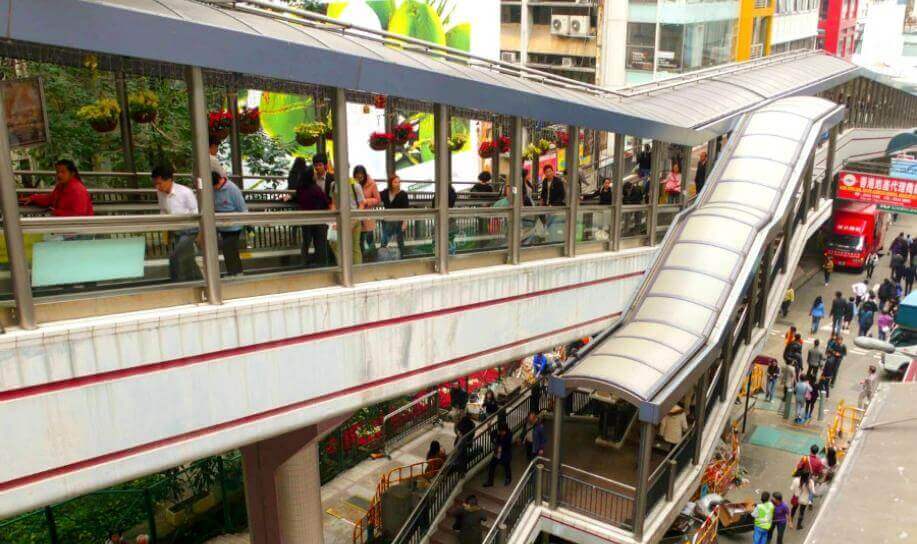 Pictured above is one of the several escalators leading from Central to Mid Levels.
North Point
North Point is a more local neighborhood directly east of Wan Chai. The MTR runs through the area, so expats often choose to live here because of simple access to the offices, international restaurants, and malls found closer to downtown.
But few of these amenities are in North Point itself. Instead, there's a traditional vibe with wet markets and some great Cantonese food.
Foreigners living or buying property around North Point would probably tell you they like the authenticity. Plenty of buzz, vibrancy, and dim sum exists here.
Real estate prices are also noticeably lower than in nearby districts. Some people might call North Point "run down" – and that's true when comparing it to the glitz of Central.
With that said, apartment buildings are in solid condition and the area is now seeing greater interest from expats. North Point's combination of centrality and value is often hard to find elsewhere in Hong Kong.
Jardine's Lookout / Happy Valley
Two of Hong Kong's priciest areas, Jardine's Lookout and Happy Valley are both positioned on Victoria Peak itself.
Some of the best views on the island can be found in these neighborhoods where properties enjoy coveted views of the city skyline and Victoria Harbor.
Offering seclusion and convenience, Happy Valley has a variety of different properties. You'll find apartments in low-rise complexes and high-rise skyscrapers alike.
Jardine's Lookout is more exclusive by comparison – not that Happy Valley isn't exclusive too. Yet Jardine's Lookout boasts many large homes worth millions upon millions of dollars.
Needless to say, spectacular views combined with easy access to downtown make these two among the best places to live in Hong Kong as a foreigner.
Repulse Bay / Stanley
Located on the southern part of Hong Kong Island, Stanley and Repulse Bay have some of the territory's nicest beaches.
Hong Kong's locals and expats alike buy real estate in these neighborhoods because of their world-class restaurants, international schools, and of course breathtaking ocean views.
One drawback of living in Repulse Bay and Stanley is not having easy access to the MTR – nor a convenient way of getting downtown. But a metro line is now under construction which should increase these areas' desirability even further.
Repulse Bay is known for being more expensive than Stanley. Wealthy Chinese businessmen buy summer homes near their yachts in the former, while the latter has a trendy vibe and is geared toward western foreigners.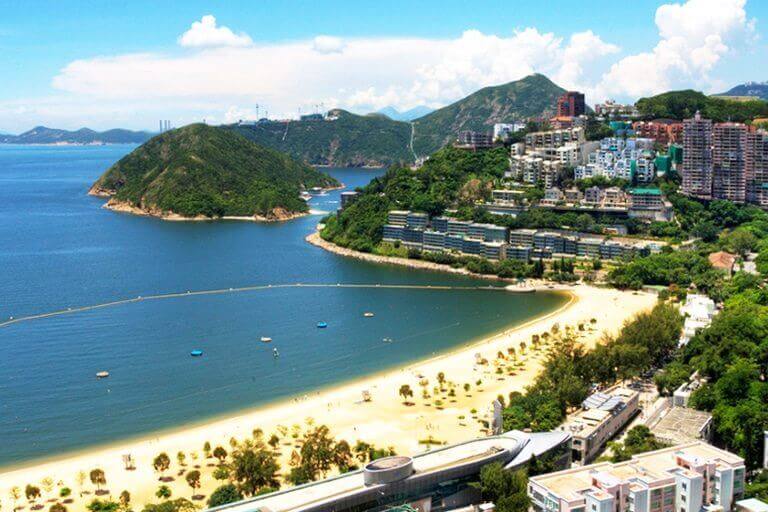 Views of Repulse Bay. Don't worry too much about the name – the scenic ocean views are just fine. This is one of Hong Kong's most expensive neighborhoods.
Kowloon
Across the harbor from Hong Kong Island, Kowloon is somewhat grittier and farther from the banks and neighborhoods where most expats work. The peninsula still enjoys great access to Central though.
Living in Kowloon, in some cases, will put you just a single MTR station away from downtown. Real estate prices in the southernmost part of Kowloon near Victoria Harbor can sometimes rival property values in Central or Wan Chai.
However, Kowloon is a large area as well. It's actually bigger than Hong Kong Island itself by most definitions – certainly if you include all the reclaimed land.
Property values are comparatively reasonable in Kowloon Tong, New Kowloon further north, along with parts that border Hong Kong's New Territories.
Because of its lower density and several international schools, these outer parts of Kowloon are preferred by families and those with children. Residents enjoy amenities, shopping, and simple access to the city center through the MTR system.
Hiring Real Estate Agents in Hong Kong
Unlike many places in Asia, where locals prefer selling property based off referrals from family and friends to avoid paying a commission fee, real estate agents are commonly used in Hong Kong.
Part of this is because of Hong Kong's high service standards and degree of internationalization in general. But perhaps the biggest reason is because of spectacularly high real estate values in the city.
Real estate agents, as a result of Hong Kong's expensive market and low yields, can still make a living wage from a comparatively low commission fees. Taking 2% on multi-million dollar sales isn't a bad deal.
The standard commission rate is indeed 2% with half paid by the buyer and the rest by sellers. In addition, the buyer must usually pay a deposit of 5% when signing the Sales and Purchase Agreement.
As is the case almost anywhere, deposits are kept by the owner if the buyer backs out of the contract.
Is Buying Real Estate in Hong Kong a Good Investment?
My answer to the question of "is something a good investment?" is always relative to other investments. Your opportunity costs should be a factor if your primary goal is investing.
Don't get me wrong: property in Hong Kong could very well increase in price over time. Limited space, a strategic location, and the city's status as East Asia's financial capital mean that Hong Kong real estate will probably have its buyers.
However, those same benefits are found elsewhere too. Singapore real estate, for example, is desirable because of those exact same reasons.
Property values are comparatively cheaper in Singapore than Hong Kong, even though it's also one of the world's most expensive cities. Meanwhile, political tensions and fears of the mainland "taking over" aren't a concern in Singapore.
If you're looking for rental yields or capital gains, buying real estate in countries like Cambodia, Vietnam, and the Philippines are an even better bet. Frontier market economies are propelled by internal factors like population growth and urbanization while yields are often above 5%.
Buying Hong Kong property may be a good move if you have spare cash and want to park some of it in a global financial hub. Yet investing in frontier markets offers a better combination of risk and return for a clear majority of investors.
Skip the Next Western Recession
Learn the best places to invest - and where to avoid - by downloading our free Investment Cheat Sheet.