Last updated November 3rd, 2018.
If you're familiar with any frontier market in Asia, it's probably Myanmar.
Myanmar's was one of the world's most oppressive dictatorships not long ago. That changed in 2015 when the country's first democratic elections in more than two decades were held.
Since then, Myanmar went through massive social, political, and economic change.
Their progress has been astonishing. Myanmar's GDP growth is among Asia's highest, holding at over 7% on average since 2012.
Many problems still exist in Myanmar. For example, their stock exchange was created but it's the world's smallest and serves no real purpose.
Likewise, investment laws are in place however most aren't implemented or enforced in practice. That's all expected given the unique circumstances though.
Myanmar suffered through a rough history, plumetting from its rise as one of Asia's wealthiest nations during the early 20th century to the region's poorest.
It's only been a short time since Myanmar began opening up and they've made great progress. By all means, they've come a long way.
Yet news outlets like the BBC have stories about how Coca-Cola and Nike are investing in Myanmar all of sudden. Throw in some impressive growth figures and you might assume that you should too.
Myanmar is certainly going in the right direction. Given proper time, it should be very worthy of focus by investors across the globe.
But shouldn't rush to invest in Myanmar right now. Here are just three reasons why.
Foreign Buyers Face Bureaucracy in Myanmar
Investing in Myanmar is a lot more difficult in reality than it looks on paper.
However, you might imagine it's easy with the countless ads in the nation's capital of Yangon. Nike, Samsung, and many others are commonly seen promoting their goods.
The law even agrees. It states that a foreign branch office or private company can open in Myanmar with a minimum investment of US$50,000 for a service-based business. A manufacturing business can be started with at least US$150,000.
In practice, the government needs to manually approve each foreign investment. It's a burdensome process that usually involves bribes, incompetency, frustration, and lots of waiting.
Myanmar was ranked 170th out of 190 different countries in the World Bank's latest Ease of Doing Business Index. That makes Myanmar the worst place to do business in East (or Southeast) Asia by their standards.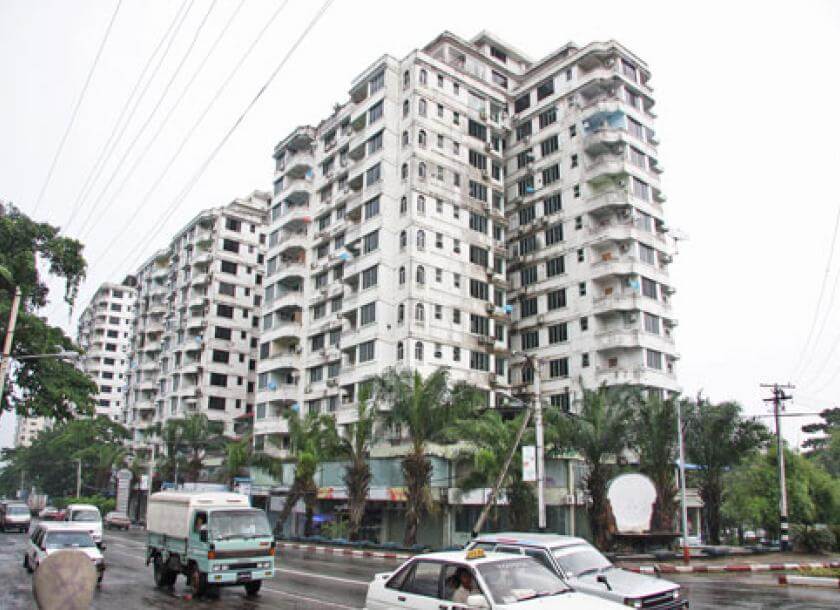 Buying property in Myanmar as a foreigner is now permitted under the law. In practice though, procedures remain vague at best and you shouldn't try.
Want to Invest in Myanmar Property? You Can't Yet
Stocks and property are by far the two most common assets people buy when investing overseas. But you can't really purchase either of them in Myanmar yet.
With four listed companies and practically no volume, Myanmar's stock exchange is almost useless. The local real estate market unfortunately isn't much better.
Myanmar just recently enacted a foreign property ownership law. It's roughly based off Thailand's and states up to 40% of the floor space in a single condominium can be foreign owned.
What's the problem? This law only took effect in early 2016. As such, there aren't many condominiums which are actually registered under the law currently.
This article was last updated in late-2018. So there's hardly been enough time for a project to be registered under Myanmar's condominium act and built.
After all, we're talking about a bureaucratic country. It will probably be several more years until buying a condo in Myanmar is actually feasible.
With that said, InvestAsian still has a guide to buying property in Myanmar if you're adamant about doing so. It'll be updated once there's more options for foreigners to invest in Myanmar and its real estate market.

There's Better Options for Investing in Frontier Markets
People often ask me if something is a "good investment". I always answer this question relative to other investments.
After all, even if something will make money, why bother if there's better options available? Why take lower returns with more risk?
That's precisely the case with investing in Myanmar.
Sure, you can spend lots of time, money, and effort starting a business in Myanmar. Things might even work out, and you could potentially make a hefty profit along the way.
But why would you when there's places like Cambodia, the Philippines, and Mongolia?
Each of the above are frontier markets that are growing just as fast. All three of them boast clear foreign property ownership laws while bureaucracy is kept at a relative minimum.
Myanmar has made a lot of progress lately and I'm not trying to diminish their efforts. For all we know, it could be Asia's best country to invest a decade from now.
Yet the fact remains: you shouldn't invest in Myanmar at the moment. Try looking at some of Asia's best countries to invest instead.
Skip the Next Western Recession
Learn the best places to invest – and where to avoid – by downloading our free Investment Cheat Sheet.