Last updated May 6th, 2022.
China is pumping investment (and yuan!) into Southeast Asia. In fact, China plans to invest five times more in the ASEAN region than it does already.
Specifically, trade between China and Southeast Asia will increase to more than US$200 billion by the year 2025.
That's nearly double its current amount. And of course, the investment will be made in terms of yuan. Not dollars.
ASEAN's ten member nations are rather used to competing with China with regards to exports and attracting foreign capital. Southeast Asia's geographic location gives it a major advantage when it comes to luring businesses away from China.
Nonetheless, the two regions have found plenty of room for cooperation in the transport and logistics sectors.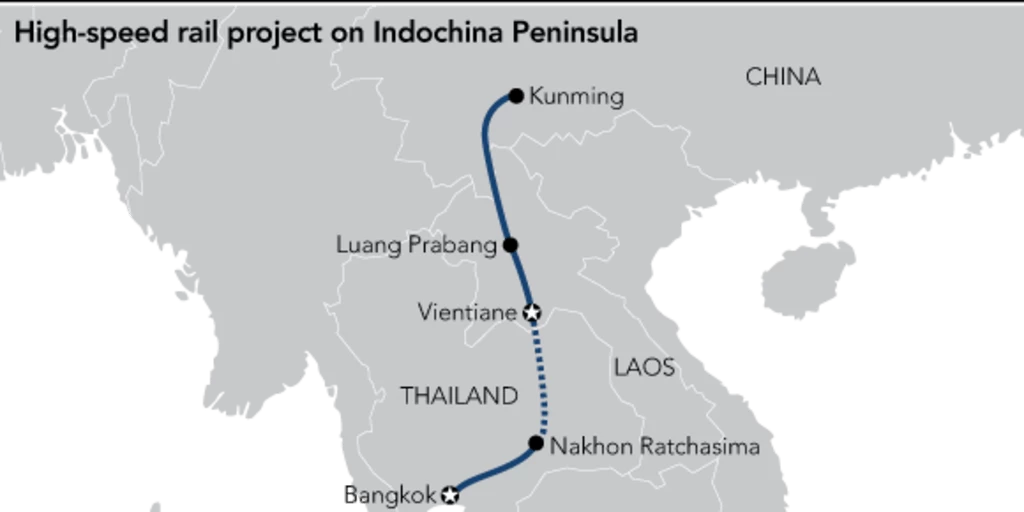 The planned route for a high-speed rail line set to eventually link China with ASEAN – and greatly enhance Chinese globalization in the process.
Noel Quinn, general manager of Asia-Pacific commercial banking at HSBC in Hong Kong, says there's synergy in manufacturing, services, and other industries.
He noted that while China exports lots of goods to ASEAN, Southeast Asia is a major exporter in its own right. "Trade flows between China and ASEAN are driven by rising regional and domestic demand", he elaborated.
Facilitating ASEAN-China investment and trade will of course, require the proper infrastructure. Some of the larger projects between these two regions are numerous highways in addition to a high-speed rail line between Kunming, China and Singapore.
The high speed rail line will run through China, Laos, Vietnam, Cambodia, Myanmar, Thailand, Malaysia, and Singapore and should cost around US$10 billion.
With that said, similar high speed rail projects in Asia have commonly run over budget. It's also difficult to give an accurate estimate of cost when routes haven't even been finalized yet.
Rising Costs Lead to Change in China
Several factors are causing the regional dynamics of trade in Asia to shift. But arguably the most important is the rising cost of labor and manufacturing in China.
China is moving further up the value chain and making a greater number of high-tech goods. This allows countries in ASEAN such as Vietnam, Indonesia, and the Philippines to use lower costs as an advantage.
In addition, the Chinese economy is changing from one dominated by exports to one driven by its nearly 1.4 billion consumers. Most experts say this trend will continue as China's middle-class increases from about 350 million currently to 500 million by 2025.
China must sustain an older, wealthier population at a time when they cannot produce a massive amount of goods at a lower cost than their neighbors. This means looking at regions like ASEAN and Africa which can develop their manufacturing and agricultural sectors.
Yuan's Role in Chinese Globalization
The US economy is getting hammered by inflation while the future of the Eurozone looks bleak. Yet regardless of all that, Chinese investment in ASEAN is boosting the yuan's prospects of being a major international currency.
The movement of yuan into ASEAN usually goes through Singapore, the de-facto financial hub of the region. Yuan deposits in the city-state rose from US$195 billion back in 2014 to above US$500 billion today.
Likewise, international loans denominated in yuan grew by nearly 25% to more than US$600 billion. That's according to data by SWIFT.
In summary, ASEAN is in a position to lead the world in adopting the yuan as a global currency. Southeast Asian countries will first start using the yuan for trade settlement, and then eventually financing purposes, as the region's dependence on the US dollar weakens.
While Asia will benefit from increased trade and flow of capital, the western world might lose out on the region's growth as Chinese globalization continues.
Skip the Next Western Recession
Learn the best places to invest - and where to avoid - by downloading our free Investment Cheat Sheet.