Last updated September 6th, 2019.
Practically every single currency in the world has depreciated against the US Dollar since 2016.
Some rare exceptions, such as the Swiss Franc, have outperformed the greenback. Not many can boast a stronger performance than the USD as of late though.
Asian currencies had a rough few years in particular. Falling commodity prices have especially hit oil producers such as Malaysia and Indonesia. Likewise, falling demand for exports across the world are weakening currencies in emerging Asia.
However, there's light at the end of the tunnel. Some Asian currencies are now at multi-decade lows and don't have much room left to fall. You could say the same thing about the price of oil and other commodities which several currencies in the region depend upon.
Here are three currencies in Asia that were recently hit hard, yet are among the first in line to make a comeback against the dollar.
They probably won't skyrocket overnight, but should see a sustained growth in the mid-to-long term.
Malaysian Ringgit
Malaysia's currency has been one of the worst in Southeast Asia. Despite the country's overall strong economy growing at above 4% per year, the ringgit is now at its lowest level in over two decades.
Part of the reason for the ringgit's decline is because Malaysia is the world's largest exporter of palm oil. Petroleum also plays an important role in the nation's economy. As such, plummeting oil prices have led to weak exports.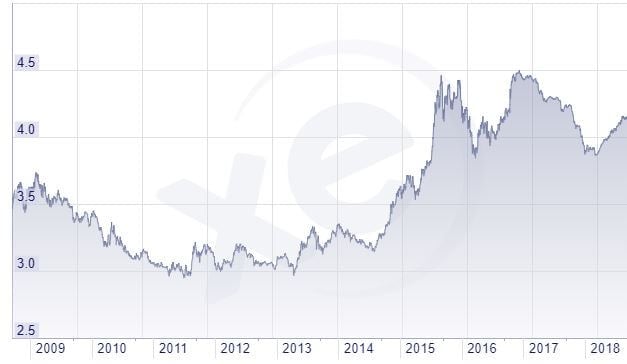 A ten year chart of the Malaysian Ringgit (MYR) compared to the USD.
There's still hope left for the ringgit though. It's been on an uptrend against the US Dollar since early 2017 and remained one of Asia's best performing currencies since the start of this year.
Now at its lowest level since the early 1990s, the Malaysian ringgit has few places left to go but upwards. We at InvestAsian were bearish on the Ringgit back in 2015 (rightfully so too).
Two years later, and after losing more than 20% of its value, we now recommend the ringgit as a buy.
Chinese Yuan
President Trump has recently had some harsh words (and actions) for China. He even labeled them a currency manipulator for allegedly keeping the Yuan's value artificially low.
But the yuan has gotten stronger during the past 15 years and will probably continue to make gains over the long-term. Why? Because China's goal of becoming the world's main economic player demands a stronger, more stable currency.
The yuan must become a widely-used global currency if China wants to become a major player on the world stage. And a lot of progress has been made on this front.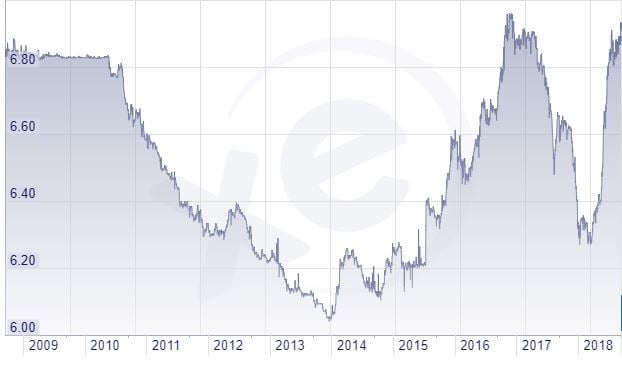 A ten year chart of the Chinese Yuan (CNY) compared to the USD.
From currency swap deals with Russia, to bonds denominated in Renminbi now sold in the UK, the Yuan is starting to be used outside China's borders more than ever before.
Not only that, but the IMF even made the Chinese Yuan part of its basket of reserve currencies. All of these things mean greater demand for a Yuan which will inevitably strengthen over time. That's despite looming a trade war with the United States.
Indian Rupee
India's currency will rise for many of the same reasons the Yuan will. The rupee has a far lower base to start from though, and it arguably boasts an even better upside potential compared to its more widely-used peer.
The Indian economy has not achieved anywhere near China's level of growth. Experts believe that corruption, inefficiency, high taxes, and lack of business friendliness are to blame for the country's poor performance when compared to its peers.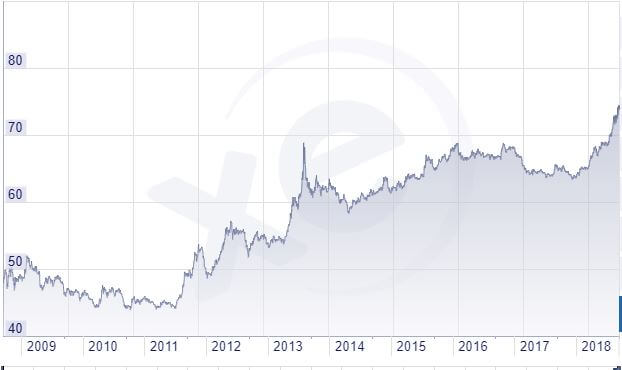 A ten year chart of the Indian Rupee (INR) compared to the USD.
Yet there are better times ahead in the world's second most populous country. Prime Minister Modi has put forth numerous reforms since his election in 2014.
Immense job creation, vastly improved business processes, and a roaring Indian stock market have been hallmarks of his tenure in office.
In fact, the IMF expects India's economy to grow even faster than China's starting this year and going forward.
This clearly bodes well for the rupee. The nation's sheer size combined with faster growth will lead to a more dynamic, globally significant Indian economy – along with a stronger rupee.
More Currencies in Asia
Not all types of Asian money will appreciate. On the contrary, a few markets should be avoided at any cost.
The Indonesian Rupiah and Vietnamese Dong, for example, have steadily depreciated over the past 20 years. Vietnam and Indonesia themselves boast strong economies and great potential as investment destinations. However, their currencies show no sign of rising.
Others like the Philippine Peso and Singapore Dollar have shown relative stability over the long term. Neither of them are "beaten down" enough to suggest as a buying opportunity though.
Either way, Asia is a very diverse region with some of the world's best – and worst – performing currencies. Consider looking toward Asia if you want to diversify away from your home country and its currency.
Skip the Next Western Recession
Learn the best places to invest - and where to avoid - by downloading our free Investment Cheat Sheet.