Last updated September 15th, 2023.
Buying property in Singapore means making an investment in Southeast Asia's de-facto financial center, and one of the world's wealthiest nations.
While the city is among the world's most expensive, Singapore's real estate market is a safe long-term bet due to limited land supply and continuously high foreign demand.
Singapore's transformation from a swampland into one of the world's richest nations was nothing short of astonishing. Looking at how its property market has grown over time is a good representation of Singapore's development as a whole.
Its strategic position on the Strait of Malacca, a pro-business government, openness to foreign investment, along with a bit of ingenuity have all helped Singapore's economic leap forward over the past few decades.
Boasting the region's most developed economy, Singapore is unique among its neighbors. The city and its property sector stand in contrast to nearby emerging markets like Indonesia and The Philippines.
For anyone investing in Singapore property, that equates to both strengths and dangers in the local real estate market.
A strong rule of law, high efficiency, and English as the official language means that real estate buyers are not likely to encounter problems – at least not any which won't go away easily.
Whereas you may need to deal with translation and bureaucracy in a country such as Vietnam, for example, buying real estate is far easier in Singapore. Property developers usually maintain high standards. Meanwhile, Singapore's title transfer process couldn't be much easier.
But with Singapore's lower risk and easy real estate investment as a foreigner, there's also less money to make. Rental yields are very low at around 3% on average. Those yields decline even further if you're renting a large condo unit exceeding 100 square meters in size.
Like in most major cities in the world, rental yields are higher with small-sized condos in Singapore. A mid-sized apartment is generally easier to rent out though.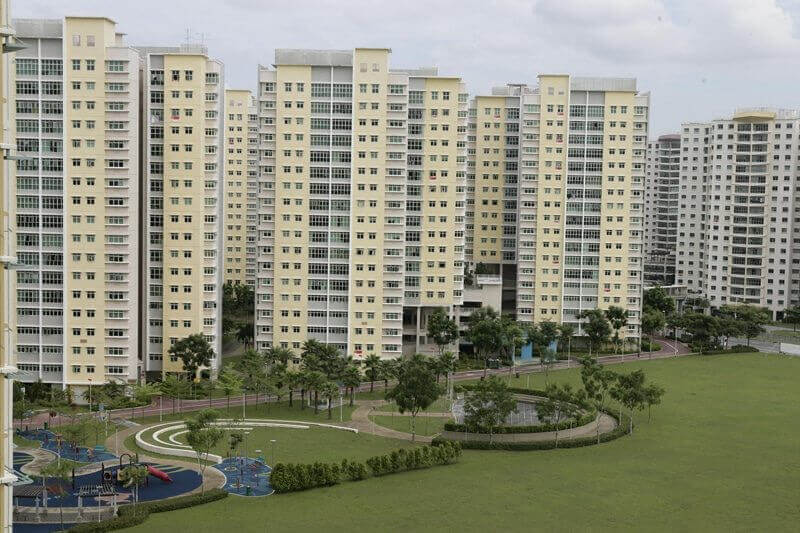 Condos in Singapore, even within the "budget" range, sell at a premium compared to neighboring countries in Asia. The small-island nation of just over 6 million people is among the region's most expensive places to buy property.
Remember that Singapore is one of the most expensive cities in the entire world as well. The minimum price of entry is far higher than in most other places. In fact, Hong Kong is the only city in all of Asia that's pricier than Singapore.
Optimists might argue that Singapore's lack of space and strategic location will drive property prices higher in the future, betting on a lack of supply.
Indeed, a good argument can be made that there's still room for growth. Comparable financial centers such as Hong Kong, Lichtenstein, and Monaco have more expensive property markets than Singapore's.
Yet after years of remarkable growth, Singapore's GDP is now rising at a tepid pace. Is it worth buying real estate in Singapore when nearby countries with superior rental yields are growing by over 7% annually?
For some people, the answer is yes. High net worth investors looking to purchase property in a jurisdiction with a strong rule of law, almost no political unrest, and a relatively stable currency may still want to consider investing in Singapore real estate.
Can Foreigners Buy Singapore Real Estate?
Yes. Foreign buyers may own condominium units in their own name and with a freehold title. As such, foreigners certainly enjoy equal rights compared to Singapore citizens when buying non-landed property.
Foreigners can own houses, bungalows, and other landed properties under six stories tall too. But you'll need government approval first if you aren't a Singaporean citizen.
It's a highly bureaucratic process and you must prove that your land ownership will "benefit Singapore's economy" – a rather vague wording.
Usually that's done by bringing a substantial sum of money into Singapore to buy land with. Plan on spending in the SG$20,000,000 or greater range if you want to own any type of land in Singapore as a foreigner.
Things get more difficult when it comes to the matter of taxation. Foreigners pay tax at higher rates than locals and permanent residents. But if we're merely talking about the ability to buy property in Singapore, foreign investors are treated very similarly to locals.
How Much are Property Taxes in Singapore?
Taxes in Singapore are payable when buying a property. In addition, an annual property tax is also due. Both of these taxes are significantly higher for foreigners than for Singaporeans and permanent residents.
The tax payable upon purchasing property in Singapore is called the Additional Buyer's Stamp Duty (ABSD) and is calculated as a percentage of the total sale price. Singapore citizens buying their first property never pay ABSD.
Yet Singaporeans buying a second home must pay 7%. That increases further to 10% for any subsequent purchases.
ABSD is a bit stricter if you're a Singapore permanent resident. PRs must pay 5% on their first property and 10% on any subsequent one. However, foreigners must pay an even higher 15% on any purchase of real estate in Singapore.
Singapore's annual property tax is payable at a progressive rate based on annual rental value. This is used as a valuation metric and applies whether you're leasing your property or not. We have a tax chart below, but foreigners must pay an additional 10% on top of each rate shown.
Furthermore, an extra 4% on each rate is payable for owner-occupied properties while an 10% is due on rental units.

A chart showing Singapore's annual real estate tax rates for non-owner occupied properties. If you're a foreigner or a PR, add 10% more to these rates.
Taxes on rental income in Singapore are a flat 20% for non-residents. For residents, this tax is around 15%. Insurance, repairs, renovations, and property taxes can all be used as deductions which can help lower this rental tax rate significantly.
Best Places to Invest in Singapore Property
Singapore might not be a large country. It's one of the world's smallest, in fact. But the city-state still has several unique neighborhoods with different price points, vibes, along with ease of access to the MRT.
Proximity to Singapore's MRT is one of the most important factors to keep in mind when buying property in Singapore.
The MRT system is, by far, Singapore's most widely-used form of transportation. It's also considered to be one of the world's best public transportation systems. The MRT is extensive with five different lines, and a sixth currently under construction.
Many places on the island have easy access to the MRT. But considering how expensive owning a car in Singapore is, checking to make sure you're buying within walking distance of an MRT station is crucial.
Central
As the name quite obviously implies, Central is home to Singapore's downtown core. The city state's central business district (CBD) boasts some of the most expensive real estate in all of Asia.
Singapore's CBD, Marina Bay, Little India, Clarke Quay, Tanjong Pagar, and Chinatown are all included in the Central neighborhood. Central also includes the nearby residential district of Orchard for the purposes of this guide.
Developers don't often wish to permanently give up the right to such prime real estate. Therefore, most properties in this part of town are sold on a leasehold-basis, typically for either 99 years or 999 years.
Freehold property is much easier to find closer to Orchard Road than in Singapore's CBD. There are a few condominiums near the CBD, but practically all of them are on a leasehold title.
Regardless of whether a project is freehold or leasehold, the lofty prices which define Central aren't likely to change much. You'll likely pay well above S$20,000 per square meter in this area either way.
Woodlands / Sembawang
Located on the northern part of the island, Woodlands and its surrounding neighborhoods are becoming increasingly popular for expats and middle class locals alike.
They border the Singapore Strait which separates the country from Malaysia. Both these areas are perhaps best defined by their parks.
Singapore does have many parks in general, but the central and northern parts of the city are less taken up by highrise buildings and have more greenery.
Real estate prices around the Woodlands area are also lower than most other neighborhoods in Singapore. However, you won't find cheap property deals nor will you find any ghettos.
You still might want to consider buying real estate in Singapore's city fringe areas if value is a greater concern than location or convenience. Even property in rather far-flung areas should appreciate over time due to Singapore's lack of available space.
Serangoon / Ang Mo Kio
Serangoon and Ang Mo Kio are popular, primarily residential districts on the northeastern edges of Singapore's suburbs.
A convenient location right between downtown and Changi Airport, along with an abundance of malls and other activities, has helped them become two of Singapore's most desirable areas.
Despite being relatively far away from Central, real estate prices in this part of town are expensive when compared with most other top neighborhoods in Singapore though.
Prices per sqm in Serangoon or Ang Mo Kio don't quite reach the levels of Central. Yet the fact that they are about as close as you'll get to Orchard without actually being in Orchard still makes them upper-class neighborhoods.
It's very easy to get downtown from Serangoon and Ang Mo Kio. Ang Mo Kio MRT is only six stations away from Orchard. Getting to Singapore's central business district isn't difficult either.
Investors might want to look at student housing in Jurong because of nearby Nanyang Technological University (NTU) and National University of Singapore (NUS) – two of Southeast Asia's best colleges.
Jurong
Jurong is a vaguely defined area which comprises most of Singapore's West Region. There's plenty of housing here and it's one of the city's densest areas. But industry plays a large role too.
Furthermore, Jurong is home to Singapore's only multipurpose port. That helps bring many factories to the area, especially those in the tech and medical sectors.
For expats new to Singapore who have mental images of smog and pollution brought up when someone mentions the word "factory" – don't worry. Being in Singapore rather than China, there are plenty of parks and lakes to compensate.
It's worth noting that Jurong is a top educational hub. Nanyang Technological University (NTU), Singapore's largest college, is based here.
The National University of Singapore (NUS) is very close by too. Thus, potential landlords and property owners in Jurong in might want to consider that this neighborhood is popular among college students.
East Singapore
Consisting of most areas between downtown and Changi Airport, Singapore's Eastern Region includes the districts of Bedok, Tampines, and of course Changi.
Like Jurong and West Singapore, manufacturing makes up a large part of the Eastern region's economy.
Expats are increasingly choosing buy property in East Singapore because of lower costs, easy access to Changi Airport, a more suburban environment, and a location relatively close to the city's downtown area.
Houses and other landed properties are easier to find in East Singapore than in many other parts of the city. As such, residents with a family and a bit of spending power might want to consider living out here.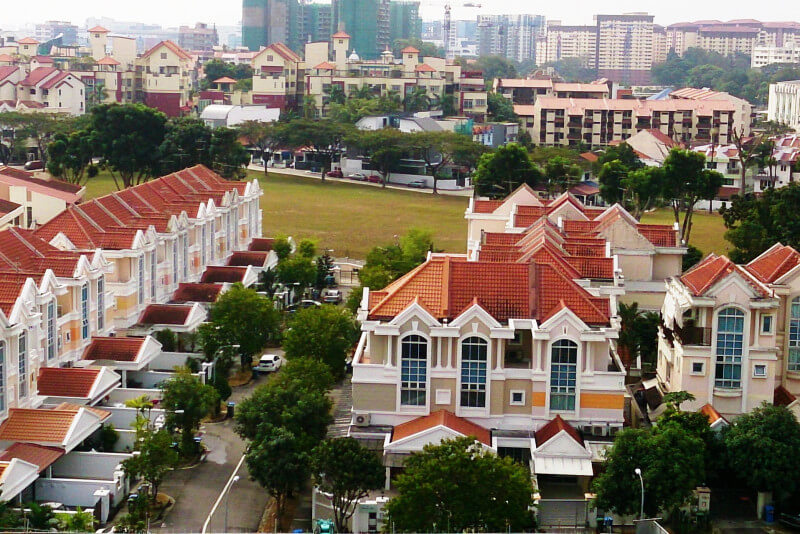 Rows of luxury houses and condos in Serangoon. The neighborhood's superb location is supporting a real estate construction boom.
Hiring Real Estate Agents in Singapore
One benefit of investing in Singapore property is the ease of buying, selling, and renting them. It's not absolutely required to use a realtor and the commission, which is payable by the seller, can be saved by not doing so.
With that said, even locals are choosing to use property agents more because of generally high service standards and a low commission rate of 1%.
That's in stark contrast to most other countries throughout Southeast Asia where realtors are almost exclusively a service for foreign investors.
In places like Thailand and Vietnam, locals prefer selling property in Singapore through family friends, and online forums because of high commission rates in the 3% to 5% range.
There are a wide variety of websites where you can view condos and landed houses alike for sale in Singapore's property market. PropertyGuru and iProperty are probably the two most popular real estate websites in Singapore.
Is Buying Singapore Property a Good Investment?
You might want to consider buying real estate in Singapore if you have plenty of cash in the bank and are looking for a safe country with good governance and a strong currency.
Many aspects of the city-state make it ideal for preserving wealth, even if not a high-yielding investment.
Singapore real estate should nonetheless continue appreciating in value over time. A severe lack of space combined with population growth and rising income bodes well for long-term investors.
Wealthy foreign investors, for their part, will almost certainly keep investing in Singapore real estate. Despite the government's attempt to push away non-resident buyers through several tax increases over the past decade, the city state's reputation as a safe haven is unrivaled.
Mainland Chinese buyers especially consider Singapore a safe place to park their money. It's increasingly preferred over alternatives like Hong Kong as Beijing starts cracking down on the Sinosphere's own international gateway.
However, it's probably best to look elsewhere if your primary goal is rental income and capital appreciation. Singapore's weak yields and high prices mean that other countries in Asia enjoy far superior investment prospects.
Different markets suit different people. Singapore property might not be ideal for some investors. Yet for others, buying real estate in Southeast Asia's richest country offers a rare type of stability that few other nations can.
Skip the Next Western Recession
Learn the best places to invest - and where to avoid - by downloading our free Investment Cheat Sheet.