Last updated April 1st, 2023.


Back in 2018, a Singaporean rideshare company called Grab stunned the world when they effectively gave tech giant Uber the boot in Southeast Asia.
Grab's remarkable rise, however, is one of many success stories in the Southeast Asian startup world. Regional startups like Property Guru, Garena, and Payroll Hero are each growing rapidly and threatening to displace their international competitors.
Although the region's startups certainly are not without their own problems, Southeast Asia is looking like fertile ground for new tech startups. Particularly as countries like China start losing steam.
If you're looking for the next top startup frontier, here's why Southeast Asia has become a new hub for entrepreneurship and venture capital.
Why Southeast Asian Startups?
So, why has Southeast Asia become a hotspot for tech startups? You see, lots of classic startup markets have lost their steam. US cities like Austin and San Jose have gotten too expensive for smaller companies to gain ground in.
Likewise, growth in emerging markets like China has slowed down tremendously. Trade wars and political problems in the world's second largest economy certainly haven't helped.
Southeast Asia, on the contrary, is experiencing an unprecedented boom. Thanks to its strong economy and an influx of foreign capital, Southeast Asian startups are experienced consistent growth. Their rising middle class is service-oriented, largely educated, and entrepreneurial too.
As a result, we're seeing companies emerge to meet the needs of rapidly developing markets like Vietnam, the Philippines, and Indonesia.
Just as these tech startups have emerged to meet the needs of a growing middle class, they're also cropping up to address growing pains that developing economies usually suffer.
Grab, for instance, began offering financial services to people who haven't yet opened a bank account. 
Becoming a Global Entrepreneurship Hub
In addition to this growing middle class, Southeast Asia has also attracted a number of digital nomads from around the world. These expats bring outside knowledge and an entrepreneurial spirit to the region which further enhances its status as a top incubator for tech firms.
Finally, Southeast Asian startups are well-prepared to enter the global marketplace. ASEAN is among the most diverse regions on the planet. A successful startup here would be required to have some amount of international affinity out of pure necessity. 
Malaysia, for instance, is the intersection of three major ethnic groups – Malays, Chinese, and Indians. And it has substantial rural and urban populations. In order to succeed locally, these businesses must adapt to a variety of different cultures and lifestyles.
Many Asian startups rapidly expand across regional borders and, in general, Southeast Asian nations are quite open to companies from their neighbors. As a result, SEA startups go global faster than their Chinese or US counterparts. This prepares them well for future expansion.
In short: Southeast Asia is positioned to explode as the world's next startup destination. It will result from the region's economic boom, rising middle class, expat population, and diversity.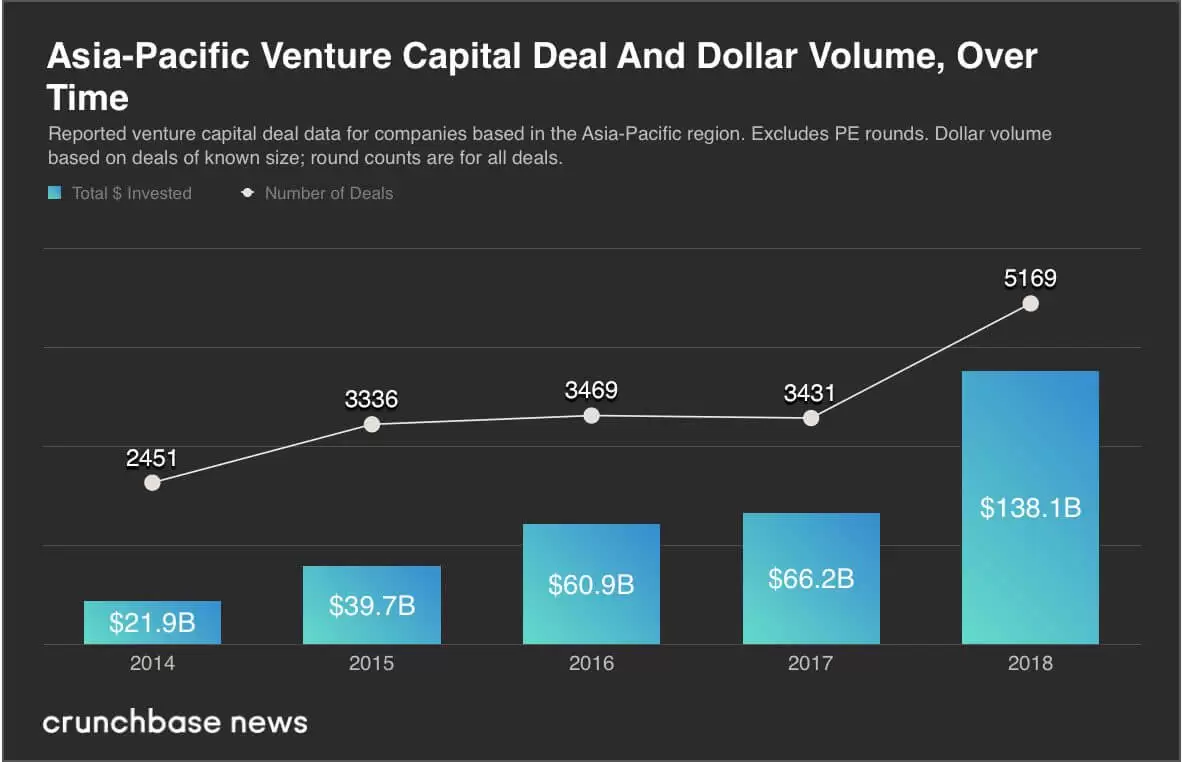 A chart showing the number of deals, in addition to the US dollar amount of venture capital in Southeast Asia. The former doubled over the past five years whereas latter rose by 600%.
Startups Face Regional Challenges in Asia
Although Southeast Asia has plenty of startup potential, this isn't to say that the region is the perfect place for any new company or its founders.
The region's developing infrastructure can be both a blessing and a curse in the startup world. While it certainly gives startup firms plenty of room to fill gaps in areas like financial services, it also hinders their flexibility and competitiveness. 
Internet connectivity is unreliable even in major cities such as Yangon. Meanwhile, the region's payment infrastructure can be difficult with mobile services lacking.
These infrastructure issues only serve to highlight major disparities among different countries and cities in the region. Countries like Singapore are highly developed and well-connected, but some of its neighbors, such as Laos and Myanmar, lag far behind in terms of development.
To succeed in SEA, then, companies must be prepared to deal with growing pains in places that aren't nearly as well-connected as Bangkok or Ho Chi Minh City.
Finally, while the region is fairly internationalized, few startup founders have much experience outside of Southeast Asia. Asian startups are founded by first-timers which means they often make rookie mistakes that experienced entrepreneurs could avoid.
This presents a unique opportunity for venture capital and foreign investors to provide much-needed assistance. Yet it's also a hindrance when trying to deal with startup growing pains.
SEA boasts tons of promise as a startup hub. Nonetheless, it must overcome important issues as its economy and digital culture grows.
Why Should You Invest in Southeast Asia?
Despite these challenges, Southeast Asia presents plenty of excellent opportunities for foreign investors to enter the world's top destination for high-growth startups.
Foreign investors can be a crucial component of any Southeast Asian startup. Not only do they provide capital. They can also prove a valuable resource for advice on growing companies and their international expansion.
Therefore, if you form a solid relationship with a startup, you can potentially get a partnership that will last for years to come… and high returns too.
Skip the Next Western Recession
Learn the best places to invest - and where to avoid - by downloading our free Investment Cheat Sheet.