Last updated August 31st, 2023.
Southeast Asia and China have a long-shared history in many aspects. From cultures to geopolitics and economic fronts, they have had their fair share of coalitions, competitions, and conflicts.
But in the battle to attract foreign investment between ASEAN and China, tides have turned, and Southeast Asia is on top… for now.
The ASEAN region, for anyone who doesn't know, is an economic bloc composed of ten different countries in Southeast Asia. It stands for the "Association of Southeast Asian Nations".
Many of them are global top-performers, including Singapore, Cambodia, and Thailand.
And ASEAN as a whole lured a greater amount of foreign direct investment (FDI) than China for the ninth year in a row.
Total inward FDI in Singapore, the Philippines, Malaysia Indonesia, Thailand, and Vietnam (ASEAN's five biggest markets) grew to near a record high and exceeded US$250 billion by the start of 2023.
Compare this figure to a rather disappointing US$180 billion that flowed into China during the same period.
However, some countries in ASEAN performed much better than others. Political change along with greater instability did affect economic growth in places like Thailand.
Foreign direct investment in the Philippines grew at Southeast Asia's fastest pace. Meanwhile, Thailand's FDI inflows fell because of declining tourism numbers.
Indonesia, ASEAN's largest economy, drew in about 10% more FDI above the previous year due to rising optimism concerning the nation's robust manufacturing industry.
The Philippines, Asia's second-fastest growing economy, is luring investors to its shores with its strong economic fundamentals and newfound stability. Yet some analysts are worried over a substantial increase in government debt.
Higher inflation and commodity prices could impact FDI inflows into Malaysia and Indonesia, both which rely heavily on resources. Oil and precious metals especially went through a boom period in 2021 and 2022.
Meanwhile, Indonesian President Joko Widodo is seeking to draw more foreign investment in manufacturing in order to lessen his country's reliance on natural resources.
But Indonesia still has a very long path ahead of itself, all factors considered. That's especially true regarding its infrastructure and legal framework.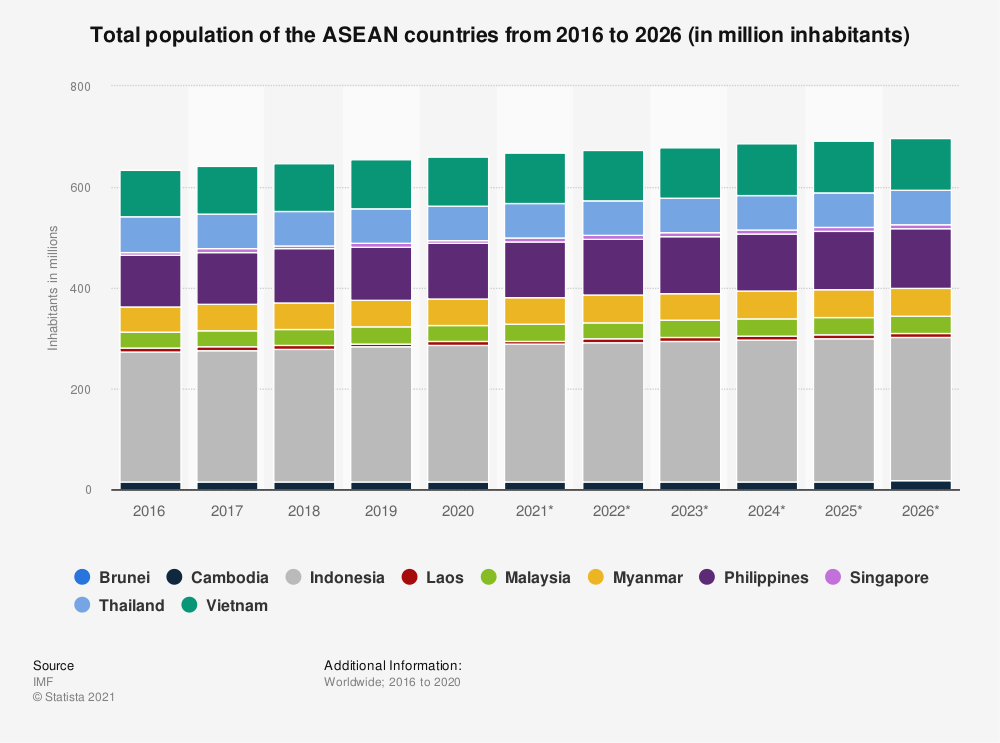 When it comes to ASEAN versus China, the former wins on the demographics angle. Southeast Asia's population will continue growing for decades while China's will start decline by 2030.
China Manufacturing Slows, Falls Behind ASEAN
Compared to industry in Southeast Asia's emerging economies, including Vietnam and Indonesia, the Chinese manufacturing sector isn't performing well.
China faces a major slowdown because of higher costs, rising geopolitical tensions, and a sustained period of weak international consumer demand.
As a result, Chinese companies are now looking for superior alternatives abroad to base their production and remain competitive. That's especially true in the middle of a trade war against the United States.
Skyrocketing wages in China are forcing lower-end manufacturers to find alternative locations for their factories. Foreign multinationals increasingly see countries like the Philippines and Vietnam as attractive, viable production hubs.
Furthermore, upper-middle income nations such as Thailand and Malaysia are able to successfully compete with Chinese manufacturing when it comes to producing higher-end goods.
Medicine, automobiles, semiconductors, and similar value-added items can now be made in countries like Indonesia and Thailand at a lower price, and just as competently (if not moreso) when compared to China.
Don't forget: ASEAN is also a large consumer market in its own right, with over 600 million inhabitants and solid long-term growth potential.
Given a general slowdown in other emerging market regions, including Latin America, Africa, and the Middle East in recent years, ASEAN's middle-class is standing out as a safe-haven in a world of weaker demand.
The fact remains: China is losing out, and will continue pushing out investment, to its global competitors.
You can profit from this geopolitical reality by allocating a part of your portfolio to investments in property, stocks, and other assets in Southeast Asia.
ASEAN vs. China: Apples and Oranges?
With all of that said, we can't paint all of Southeast Asia using a broad stroke. The ASEAN region hosts many of the world's top performing markets.
Yet within the ASEAN bloc, economically advanced countries like Singapore also it alongside nations that aren't nearly as successful including Brunei and Myanmar.
Thus, "ASEAN vs. China" isn't always a fair comparison since the nature of each is vastly different. For starters, China is one country whereas ASEAN is made up of 10 nations.
Each country in ASEAN varies widely in terms of its level of economic development, competitive advantages, accessibility to foreign investment, and available opportunities.
ASEAN's investment prospects will depend on the specific country and industry you choose to buy real estate, trade stocks, or otherwise do business in.
Nonetheless, it's a good idea to hold a diversified portfolio with assets based all around the planet.
It shouldn't be a competition between two regions, when you can hold a basket of stocks and allocation to property on several different continents.
Following up with suitable execution is crucial when investing in emerging markets though. Not every country in Asia operates on the same level of friendliness, accessibility, or opportunities.
In Malaysia, for example, foreigners can own land on a freehold basis. But you can only lease property in China, whether condos or land. Regardless if you're a Chinese citizen or a foreigner.
Therefore, on the topic of ASEAN vs. China, much of Southeast Asia resoundingly wins if your goal is to purchase real estate as a foreigner.
Similarly, most stock markets in ASEAN have outperformed Chinese enquiries since the start of 2020.
In conclusion: the battle of China vs. ASEAN is ongoing. At least concerning the manufacturing prospects and ability to attract FDI of each of the 11 nations in question.
A wise investor is fully-diversified into different region and asset classes – especially HNWIs and UHNWIs with larger portfolios. Don't limit your emerging market allocation to either China or ASEAN.
Skip the Next Western Recession
Learn the best places to invest - and where to avoid - by downloading our free Investment Cheat Sheet.