Last updated November 15th, 2023.
China is the world's largest exporter and manufacturer; it's much larger than its competitors by a wide margin. There's no surprise that the country usually comes to mind first when Asia's economic growth is mentioned.
With that said, several factors point to a lack of competitiveness in Chinese exports. Some of the largest importers of Chinese products may have already started to look elsewhere in response to increasing wages, upkeep costs, transportation expenses, and sheer inconvenience.
That's not to even mention the US-China trade war, which will almost certainly get worse until the situation improves. Nearby countries in Asia will, if anything. benefit from a trade war and a shift in supply chains though.
Such nations include members of ASEAN (The Association of Southeast Asian Nations) such as Thailand and Vietnam. Countries near the United States, like Mexico, are attractive as well.
Many of these places offer better incentives, less bureaucracy, greater convenience, and closer geographical proximity to the United States and the European Union.
Chinese exports consist of 17% and 16% of US and European total exports respectively.
China Manufacturing: Big Fish in an Even Bigger Pond
China is the largest manufacturer and exporter in the world by far. However, they still do not dominate international trade. In fact, even a minor pivot toward some of China's competitors would be a major hindrance for its economic growth.
Proof lies in the fact that China's US$3.71 trillion worth of exports barely represents 12% of the world's total value of exports. Global exports were US$31.43 trillion during the same year.
In other words, Chinese exports would fall by 12% of their exports if they ever lost the equivalent of 1% of total world exports.
Such a pivot might occur for several reasons. But one of the most important is the rising costs of wages relative to other manufacturing hubs.
Chinese labor costs surpassed an average of US$8,000 (~55,000 Yuan) per year towards the end of last decade – and they're definitely higher now. This makes the salary of Southeast Asian workers look like a bargain in comparison.
Workers in the Philippines ask roughly US$5,000 (35,000 Yuan) per year. Those in neighboring Vietnam make an average of only US$3,000 (20,000 Yuan) per year.
The American Chamber of Commerce in Shanghai recently asked members about their biggest challenge. 89% mentioned "rising costs", to various degrees, which makes it the number one issue for U.S. firms in China.
To compare, a similar survey from various American Chambers of Commerce in ASEAN found that just 74% of U.S. companies in the Philippines, 65% in Cambodia, and 59% in Vietnam are satisfied with the availability of low cost labor.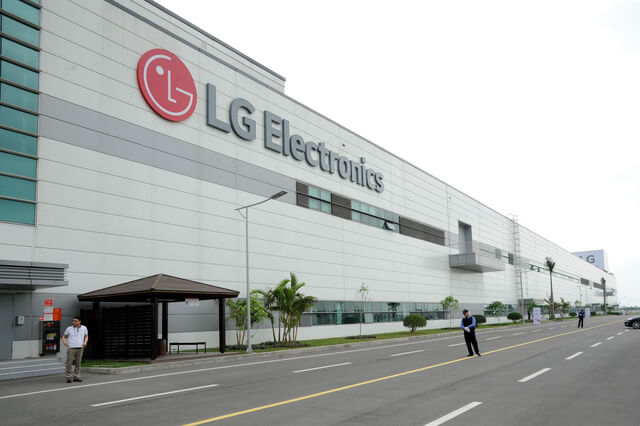 Factories, like this one in Vietnam, are now opening all across Asia's frontier markets. Manufacturers including LG and Samsung are relocating due to stricter government regulations and rising costs in China.
Intellectual Property Rights in China Not Up to Par
Difficulty enforcing intellectual property (IPR) laws is yet another problem in China. It could be a significant barrier to moving up the value chain and manufacturing more advanced products, which is crucial to China's export growth.
Tech firms will definitely look at other countries if they fear patents and IPRs can be stolen with little chance of successful legal action.
Yet another issue among foreign multinational firms that operate in China is a greater difficulty doing business in the country. Such problems manifest in several ways.
Some of these are hard, if not impossible, to improve at an acceptable standard. For example, lack of English proficiency, different legal and political systems, and difficulties getting visas all hold China back.
In summary: availability of low cost production, stronger intellectual property laws, and ease of doing business are all critical in determining a nation's competitiveness. China struggles when it comes to many of those factors.
The Alternatives to China Manufacturing
Southeast Asia is the most obvious alternative to China manufacturing. But Mexico, just to the southern border of the United States, could be an even greater threat to Chinese exports.
That's especially true when comparing all of Mexico's geographical and cultural advantages to China's.
Lower costs are the most important factor helping Mexico's industrial sector. China's manufacturing wages caught up to Mexico's back in the early 2010s, and the gap has only widened since then.
Factory upkeep and electricity costs are cheaper in Mexico too. That's because Mexican natural gas prices are tied to the United States, which have reached multi-decade lows recently.
Chinese factories typically pay 50% greater costs for natural gas – and about the same amount more for their electricity. Of course, this translates to costlier global exports.
Mexico also has free trade agreements covering 50 countries, spanning Europe, Japan, and the United States. Doing business with Mexico is tax effective and convenient for some of the largest importers of Chinese products.
Other benefits include Mexico's availability of English speakers, ease of getting a work permit, a closer links to U.S. and European economies, a plentiful supply of qualified laborers, along with the Peso's relative stability when compared to China's Yuan.
Companies will soon notice the increasing competitiveness that top exporters outside of China now offer. That is, if they haven't already joined the ranks of Samsung and Nike who've begun moving production to Vietnam and other countries.
Emerging markets in Southeast Asia and Latin America might not have nearly the level of hype surrounding them when compared with China. However, they're arguably a better play for the long term.
Skip the Next Western Recession
Learn the best places to invest - and where to avoid - by downloading our free Investment Cheat Sheet.