Last updated August 25th, 2018.
Businesses are practically tripping over themselves to expand into Myanmar as the nation opens up to foreign investors.
Economists predict Myanmar's foreign direct investment will increase by 70%, jumping by US$7 billion over the previous year. The figure would be the largest amount of inward FDI Myanmar ever received since the country's liberalization in 2011.
Myanmar approved roughly US$9.4 billion worth of investment projects back in 2016 – substantially more than the US$8.1 billion approved in 2015.
The rate of foreign expansion into Myanmar was even faster in 2017. Meanwhile, every sign shows 2018 will break yet another annual record.
Foreign Companies in Myanmar: Then & Now
Myanmar's transport and telecommunications sectors are now the most popular, luring over 30% of Myanmar's total FDI by themselves.
Capital also poured into the nation's mobile phone industry after it opened up to foreign investors during the middle of 2014.
Global investors used to focus almost solely on the raw material and mining sectors. Once upon a time, these were practically the only two industries in Myanmar open to foreign investment.
However, tax breaks and deregulation by Prime Minister Thein Sein's government are now drawing businesses to expand into other sectors in Myanmar.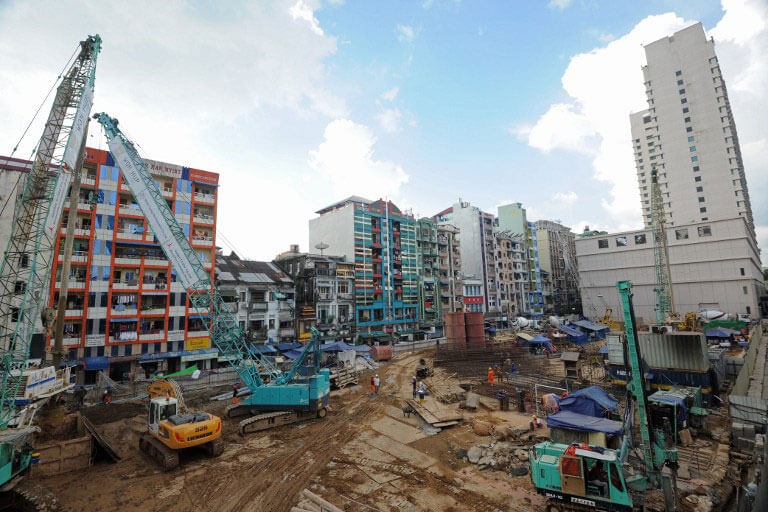 Recent investments in Myanmar mainly focus on infrastructure and manufacturing projects.
Myanmar's growth story truly began back in 2010. The frontier market saw its largest ever annual FDI increase because of Chinese investments in hydroelectric power.
Today, the biggest investors in Myanmar are Singaporean companies which are responsible for over half of all FDI in the country. Hong Kong businesses rank second, followed by the United Kingdom and China in third and fourth places respectively.
U Aung Naing Oo, director general of the Investment and Companies Administration, said American and European firms transfer money through their subsidiaries based in Singapore.
As such, the amount of Singaporean capital in Myanmar seems larger than it actually is.
"Most U.S. investments enter into Myanmar indirectly through Singapore. Investments of some other countries entered into Myanmar indirectly through Singapore too, which is why Singaporeans are investing in Myanmar," she said.
Expanding into Myanmar Isn't for Everyone
It doesn't really matter where the money comes from. The fact still remains: Myanmar boasts a seemingly endless number of business opportunities.
But making the decision to expand into Myanmar is tough. Things certainly aren't easy here.
Foreign ownership restrictions are severe while corruption is rampant. Barriers to entry are much higher in Myanmar than most other Asian markets.
Naming just a few examples, most types of companies require at least US$150,000 worth of paid up capital. Foreigners can't own real estate in practice either.
You can find strong economies all throughout Southeast Asia. Several are easier and less bureaucratic than Myanmar.
Skip the Next Western Recession
Learn the best places to invest - and where to avoid - by downloading our free Investment Cheat Sheet.