Last updated October 6th, 2023.
Stocks are usually the first asset class which comes to mind when talking about investments.
Buying stocks is also the most common method of offshore investment. Global real estate and private equity opportunities are just too complicated for some though.
With that said, frontier markets often don't even have a stock market.
These unexplored nations are on a rapid growth trajectory, yet might not be developed enough to the point where they've built up the infrastructure required to host a public equity market.
That's not necessarily a bad thing. In fact, it's part of the appeal of investing in frontier markets. More opportunities exist in nations that aren't swarmed by capital from Goldman Sachs and other institutional investors.
Below are several frontier markets in Asia that do have fully-functioning stock exchanges. They may require you to hop on a plane and personally visit a branch to open a brokerage account. Regardless, a determined investor can benefit from entry barriers.
Stocks in Mongolia
Positioned directly to China's northern border, Mongolia is getting tons of investment from its much bigger neighbor.
Mongolia certainly isn't a small country itself in terms of land size – it's the world's 18th largest. Yet having just over 3 million inhabitants gives it one of the lowest population densities on the planet.
Chinese investors have poured into Mongolia's equity and real estate markets because of this fact, combined with its vast reserves of coal, tin, oil, and other natural resources. Beijing needs more of those things as they continuously deplete their own deposits.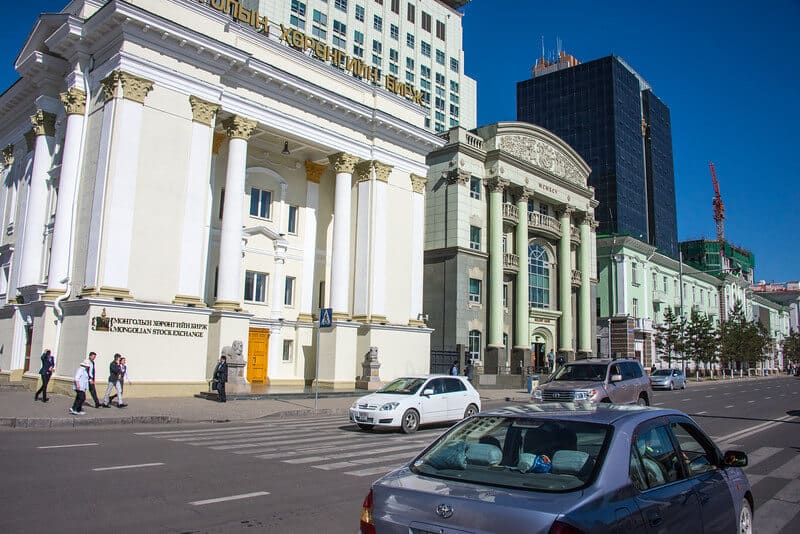 Out of all the frontier market stock exchanges in this article, Mongolia's is likely the least correlated with assets in Europe and the Americas.
Easy access to hot money across the border is possibly why Mongolia has a fairly sizable stock exchange… at least for a frontier market.
You can trade over 220 publicly listed companies on the Mongolia Stock Exchange (MSE) ranging across almost every sector.
You'll need to open a local brokerage account to buy stocks in Mongolia. There's no other way around it. Although some businesses do offer remote brokerage account opening services.
Stocks in Vietnam
Vietnam arguably isn't even a frontier market anymore. All major ratings agencies still consider it one though, so we're nonetheless including Vietnam on our list.
The Southeast Asian nation is unique because it has two different stock exchanges. Both its capital of Hanoi and largest city of Saigon each have an exchange with several hundred listed firms.
You'll generally need to open a brokerage account in Vietnam in order to trade stocks directly. Either that, or a trade through an account based in a nearby financial hub such as Singapore. A brokerage in Europe or the US won't provide you access to Vietnamese stocks.
The bad news? You'll need to visit Vietnam to open a local brokerage account and cannot do it from home.
If opening a local account is too inconvenient for you, it's possible to buy frontier market ETFs based in other countries focus which exclusively on Vietnamese stocks.
A majority of these ETFs are listed on U.S. exchanges and include VanEck Vectors Vietnam. However, a frontier market ETF isn't the best way to buy stocks in Vietnam. Nor is it the most cost-effective or direct method.
Instead, you should ideally look towards small and mid-cap stocks. There are dozens of smaller firms in Vietnam that barely see analyst coverage. Lots of undiscovered gems are waiting for anyone willing to put forth the effort.
Trading Stocks in Other Frontier Markets
It's worth mentioning that some frontier markets in Asia, while they do technically have a stock exchange, are in a position where they either see low trading volume or simply aren't accessible to foreign buyers right now.
For example, Cambodia's stock market has eight listed companies right now. Four of those are quasi-public corporations like Phnom Penh's Water Supply Authority and the Sihanoukville Autonomous Port.
Neighboring Laos is in a similar position. The Lao Securities Exchange has five firms listed on it, including the nation's largest bank and two property developers.
The Yangon Stock Exchange in Myanmar is the world's smallest with just four listed companies. It's also the newest stock exchange in Asia. But few available options and lack of foreign buyers hindered its momentum.
That was even before a coup in 2021. Needless to say, buying stocks in Myanmar is practically impossible nowadays.
Can these undiscovered frontier markets attract a greater number of listings and lure foreign investors? So far, Cambodia's stock exchange is steadily growing over time, Laos' is stagnant, and Myanmar's is collapsing.
Time will tell how Asia's frontier market stock exchanges will perform over the long-term. We think several of them, although perhaps not all, will see immense growth throughout the coming decades.
Skip the Next Western Recession
Learn the best places to invest - and where to avoid - by downloading our free Investment Cheat Sheet.