Last updated July 6th, 2023.
Cambodia is ranked among the world's fastest growing countries. It's also one of the most accessible frontier markets to foreign investors.
Generally unexplored, multinational firms like Samsung and 7-Eleven have just recently started investing in Cambodia themselves.
Meanwhile, foreign investors are entering Cambodia's property market where city-center units in the nation's capital are priced at only US$1,000 per square meter – although this range is getting harder.
WHY FRONTIER MARKETS?
Many international investors are buying stocks and property in emerging markets such such as Thailand, thinking they've successfully diversified abroad. They're missing better opportunities right next door in Cambodia though.
Don't get us wrong:  Thailand is a great country and it's not impossible to make money on stocks or real estate there. But its annual GDP growth rate is among Southeast Asia's weakest.
We're talking about average GDP growth barely higher than in the United States over the past decade… and slower than Malaysia, its slightly-more-developed neighbor.
Thailand's economy depends heavily on foreign capital, whether through tourism or FDI. People may assume that an emerging Asian market would be resilient to a financial crisis originating in Europe or the Americas. Yet that would be incorrect.
In stark contrast, Cambodia's economy is growing by over 7% annually. And its average age is 25 years old compared to 40 in Thailand.
While almost every other country is normally revising their GDP projections downward, Cambodia raises it upwards and exceeds already high expectations.
Cambodia's History of Recession Avoidance
Diversification is crucial for wealth preservation. That's why we recommend investing in Cambodia and other frontier markets.
Cambodia is skipped the Asian Financial Crisis during the 1990s, missed the tech bubble of the early 2000s, and outgrew the recession in 2008. In fact, it skipped practically all recessions in the past three decades.
Because of its status as a frontier market, Cambodia isn't anywhere near as dependent on foreign capital or investment from abroad. Natural growth drivers like rapid urbanization and the formation of new industries are more important.
Cambodia isn't reliant on McDonald's offshore expansion, or any other large corporation for that matter, to maintain continuous growth. After all, McDonald's isn't even operating here in Cambodia yet.
Of course, they'll almost inevitably decide to expand into Cambodia one day. Just like its competitors Carl's Jr., Krispy Kreme, and Domino's Pizza each already have. This will lead to further economic growth in Cambodia over the longer term.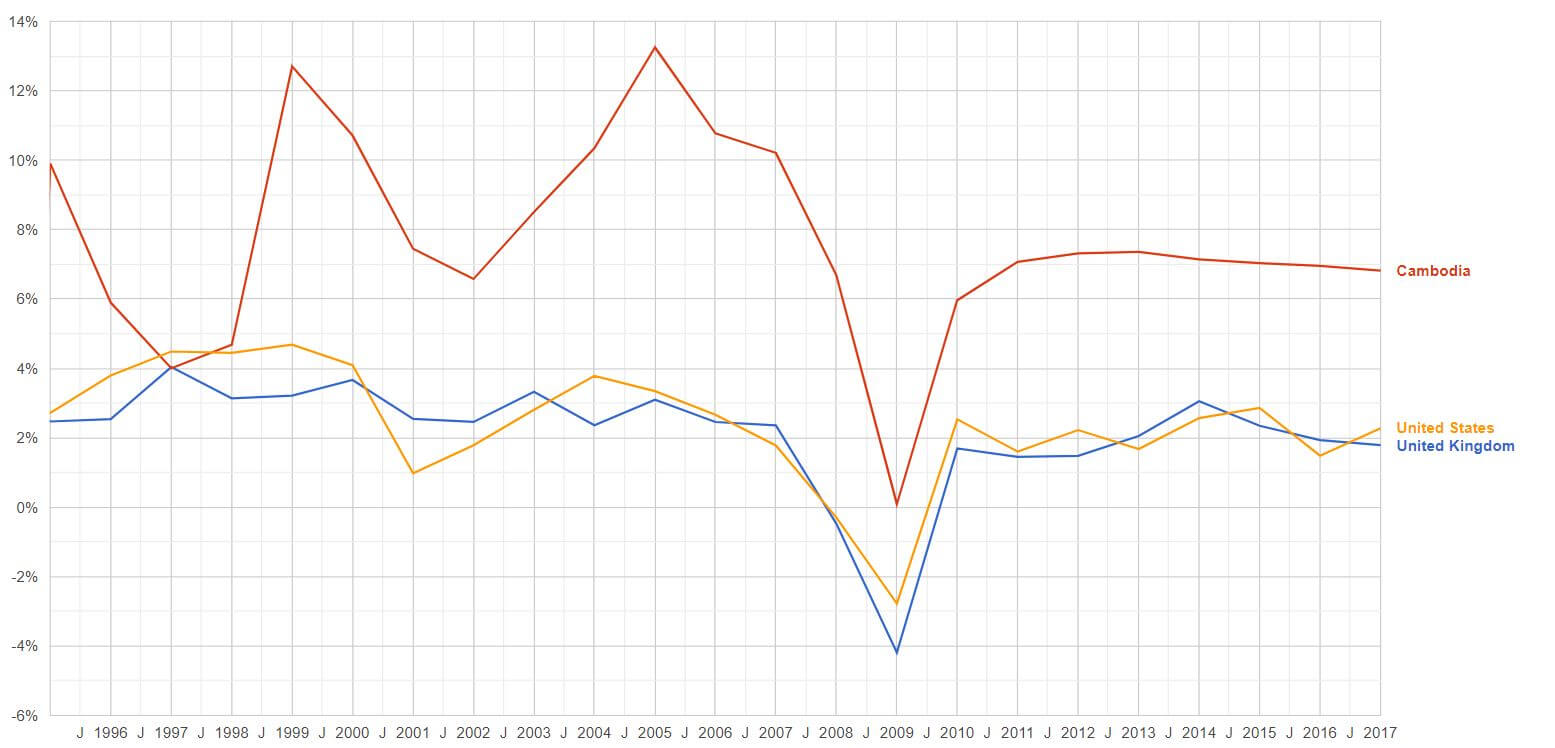 A chart showing Cambodia's GDP growth in the first two decades after it started being tracked. You don't need to be a financial analyst to notice Cambodia's clear outperformance.
Furthermore, Cambodia enjoys a source of growth that few other frontier markets do: tourism. money. Millions of tourists visit Angkor Wat, the world's largest religious structure, every single year. This number is expected to grow exponentially.
The world's other frontier markets don't have the benefit of an 1,000 year old temple. Places like Mongolia or Kenya must work their way up the economic ladder "the hard way".
Frontier markets can indeed grow rapidly. But they do require a catalyst to propel growth in the first place. Oftentimes, this is through oil exports or tourism.
Cambodia is rather fortunate in this regard. They have visitors, investors, and strong demographics to help fuel a sustained economic boom.
How to Invest in Cambodia: Buy Property or Stocks?
You hopefully understand why we suggest Cambodia. Now it's time to learn different ways you're able to invest here as a foreigner.
Cambodia just barely has a stock market. In fact, there are exactly nine companies listed on its stock exchange.
Many of them are quasi-public corporations such as the local water utility provider and port operator. There are also banks, property developers, and other companies though.
Real estate in Cambodia is a better bet – if you know what you're doing. Most of the new condo projects are overpriced, yet shophouse apartments are incredible deals in certain areas.
Phnom Penh is also one of few capitals in the world where you can purchase property for below US$1,000 per square meter. Our strong belief is that property values in Cambodia will only increase from here.
Just be careful if you're buying frontier market real estate. Because it's often challenging and labor intensive.
Between doing local market analysis in Khmer language, navigating an unfamiliar legal system and finding reliable contractors, things aren't always easy in frontier markets.
You should spend time in Cambodia each year, at the very minimum, if you want to buy and maintain your own property here.
Cambodia has opportunities in private equity and venture capital as well. However, getting into that is arguably even harder than buying real estate.
You certainly must commit to plenty of due diligence and research if you're wanting to get involved in VC a frontier market.
To summarize: investing in Cambodia (or any foreign country for that matter) is difficult. Nonetheless, barriers to entry are sometimes a good thing if you're willing to break them down.
Entry barriers can keep asset valuations fair, at least for a time, thus making it possible to invest in "under the radar" frontier markets in the first place.
Skip the Next Western Recession
Learn the best places to invest - and where to avoid - by downloading our free Investment Cheat Sheet.