Singapore has attracted truly wealthy expats for many years due to its favorable business environment, political stability, and quality of life.
Expats from other parts of Asia, as well as the US and UK, come to Singapore for work opportunities, favorable tax policies, high standards of education, and a cosmopolitan atmosphere.
Currently, there are about 1.5 million expats who are living in Singapore. This accounts for nearly one-third of the country's total population.
And despite its small size, Singapore punches far above its weight. The "Lion City" is highly urbanized and has a well-developed infrastructure and attractive cityscape
These factors all make Singapore feel more like a futuristic metropolis than a distant land for all the expats who make their home here.
In this article, we'll provide an overview of essential information for individuals who are planning to relocate to or visit Singapore. We will explore the expat experience, adaptation to the local lifestyle, and expectations regarding cultural differences.
Additionally, we will explore the top neighborhoods in Singapore preferred by expats and examine the available options for obtaining a long-term visa to reside in the country.
How is Expat Life in Singapore?
Living in Singapore as an expat offers numerous advantages, but it's also essential to consider various aspects of life in the country.
Here's an overview of what it's like to live in Singapore as an expat. We'll cover living costs, housing, healthcare, visas, and more.
The Cost of Living
Singapore is known for having a relatively high cost of living compared to many other countries.
Housing, transportation, and dining out can be expensive. Yet salaries and employment opportunities usually correspond to these higher costs, making it manageable for both expats and locals.
Housing in Singapore
Housing in Singapore is diverse, ranging from public housing (HDB flats) to private condominiums and landed properties. Rental prices can be high, especially for centrally located and newer properties.
Expats often choose to live in popular areas such as Orchard Road, Holland Village, or the East Coast (keep reading for more detailed info about these areas).
It's advisable to work with a reliable real estate agent to navigate the rental market and find accommodation that suits your needs and budget.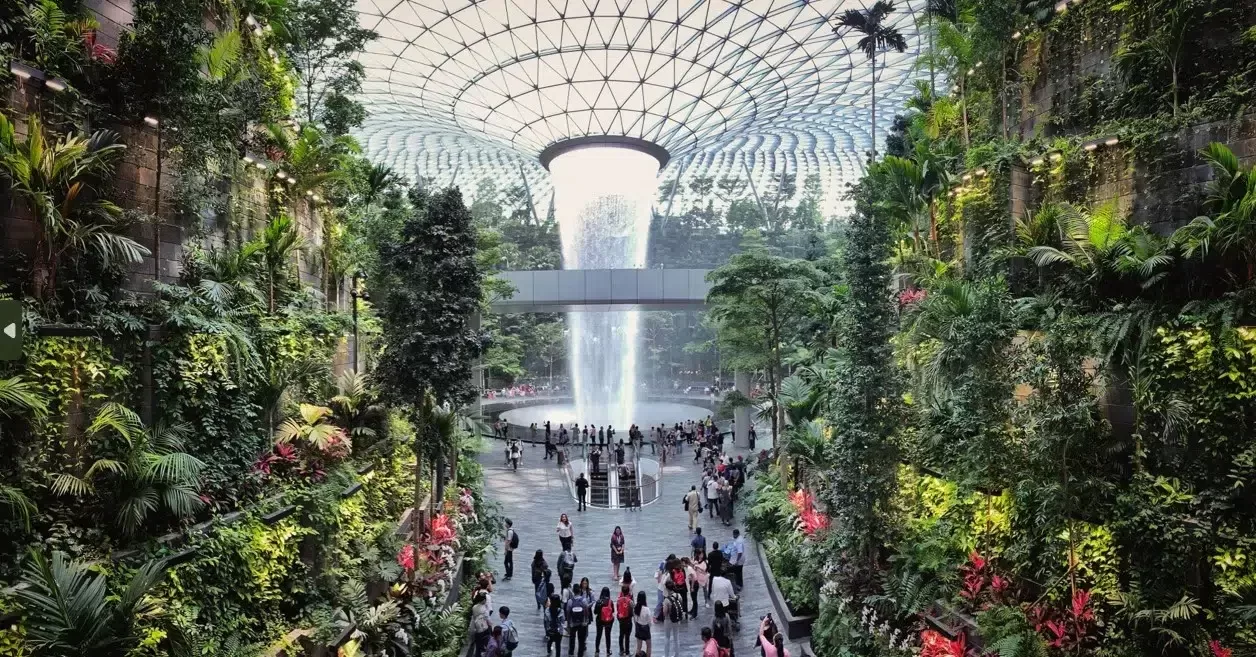 Singapore's Changi Airport is consistently ranked the world's best. From a butterfly garden to several different malls, you'll never get bored during your layover here.
Transport in Singapore
Singapore has a highly efficient and reliable public transportation system.
The Mass Rapid Transit (MRT) network connects various parts of the island, making commuting convenient. Buses are also readily available. Taxis and ride-hailing services like Grab are popular choices for getting around as well.
If you'd like to drive here, on the other hand, you'll first need a valid Singapore driving license.
Expats from certain countries can convert their existing foreign license without having to take a driving test, while others may need to go through a practical and/or theory test. 
Owning a car in Singapore can be costly due to high taxes and limited road space, but if you decide to do so, you'll need to obtain a Certificate of Entitlement (COE) and pay for a parking space.
Merely getting a COE for a car might easily set you back S$100,000 or more. And they're only valid for a maximum of 10 years.
Driving in Singapore isn't cheap, and because of this, a majority of residents simply use public transport. It's often faster and definitely cheaper.
Safety & Security
Singapore is considered one of the safest cities in the world. The low crime rate and strict enforcement of laws contribute to a safe environment.
The country has well-maintained public spaces, and personal safety is generally not a major concern.
However, it's advisable to exercise basic precautions and be aware of your surroundings, as with any other urban area.
Expat Healthcare in Singapore
Singapore boasts modern and well-equipped healthcare facilities, including public and private hospitals, specialized clinics, and medical centers. The country has a robust healthcare infrastructure with advanced medical technology and state-of-the-art facilities.
Healthcare services in Singapore are known for their accessibility and efficiency. Waiting times for consultations, tests, and procedures are generally short, and the healthcare system emphasizes timely and effective delivery of care.
Singapore has a mandatory healthcare financing scheme called MediShield Life, which provides basic health insurance coverage for all Singapore citizens and permanent residents.
Additionally, individuals can opt for private health insurance plans that offer enhanced coverage and access to private healthcare facilities.
Expats living in Singapore are often covered by comprehensive health insurance, which provides access to quality healthcare facilities.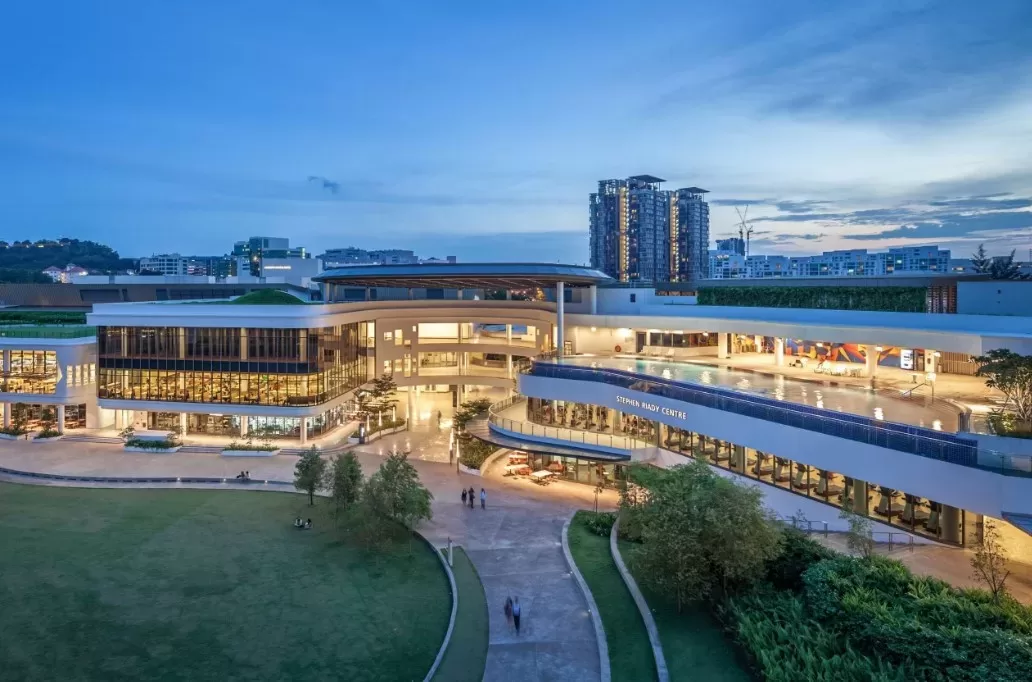 National University of Singapore, pictured above, has been ranked the best school in Asia every single year for nearly a decade by both Times Higher Education and QS.
Schools & Education in Singapore
Singapore has an extremely well-regarded education system, offering a range of local and international schools.
Local schools, by default, follow the Singaporean curriculum known for its emphasis on mathematics and science. That's what you'd get if you simply put your child in the public school system. Yet schools catering to expat communities are common.
At the pre-university level, you'll find standard curricula such as the International Baccalaureate (IB), in addition to schools that specifically use the British, American, or Australian education systems.
For higher education, Singaporean schools are Asia's best. NUS, NTU, and SMU each rank within the world's top ten universities every single year.
expat banking in Singapore
Opening a bank account in Singapore is relatively straightforward for expatriates.
Most major local and international banks have branches in the country, and they offer a range of services to cater to different needs.
You'll typically need your passport, employment pass/work permit, proof of residence, and sometimes an initial deposit to open a bank account in Singapore.
Phone and Internet
Singapore has a highly developed telecommunications infrastructure. Multiple mobile service providers offer a wide range of phone plans to suit different needs.
That said, state-owned Singtel is by far the largest telecom company. Starhub and M1 are also both prominent.
Internet connectivity is reliable and fast. You'll find public Wifi frequently available across the entire city.
Adapting to the Singaporean Way of Life
Before making the move to another country, you'll want to make adequate preparations for the cultural differences you'll encounter.
What should you know about Singapore's culture and customs before your arrival? Here are a few important points to consider:
Customs and Culture in Singapore
Singapore is a multicultural society with influences from Chinese, Malay, Indian, and Western cultures.
Respect for elders is valued, and it is customary to address them with appropriate titles and show deference.
Harmony and maintaining social order are important aspects of Singaporean culture.
Singaporeans value punctuality and appreciate efficiency in both personal and professional settings.
Personal space is respected, and it's important to be mindful of boundaries and cultural practices, such as removing shoes when entering homes or religious places.
Singapore has a strong food culture, and eating is considered a social activity. Trying local dishes and exploring hawker centers (food courts) is a common pastime.
Festivals from different cultural groups are celebrated throughout the year, such as Chinese New Year, Hari Raya Puasa, Deepavali, and Christmas. These celebrations often involve vibrant decorations, traditional customs, and delicious food.
Singapore has strict laws and regulations, and it's important to be aware of and adhere to them. Chewing gum, littering, and jaywalking are among the activities that are strictly regulated.
Learning the Language
While English is the official language of Singapore, making an effort to learn basic phrases in Mandarin Chinese, Malay, or Tamil can be helpful. It can also make daily interactions more enjoyable and help you connect with locals.
Daily Life in Singapore
Singapore has a fast-paced lifestyle, but it's important to find a balance between work and personal life.
Exploring the local cuisine, visiting hawker centers (food courts), and wandering around malls, and participating in cultural events are things that many Singaporeans spend their time doing.
Singapore offers a range of recreational activities. Be sure to take advantage of these by visiting parks and museums and exploring the city-state's diverse neighborhoods, like Chinatown and Little India.
The Working Culture
The work culture in Singapore is professional and results-oriented. Punctuality, efficiency, and a strong work ethic are all valued immensely here.
It's important to adapt to local business etiquette, such as exchanging business cards with both hands and addressing people by their titles and surnames until given permission to use their first names.
The Best Areas in Singapore for Expats
Choosing where to live in a new country is one of the biggest obstacles for expats, but fortunately for those relocating to Singapore, buying property is quite easy.
If you're serious about making your home in Singapore, our guide on how to invest in Singapore property includes full details about the areas listed below.
Below, we'll share a general overview of the most popular areas in Singapore and their characteristics if you're considering visiting or even moving to the country.
Central
Home to Singapore's downtown core, including the CBD, Marina Bay, Little India, Clarke Quay, Tanjong Pagar, and Chinatown.
Properties in this area are mostly leasehold, with high prices exceeding S$20,000 per square meter. It's the most expensive part of the city.
Woodlands / Sembawang
Located in the northern part of the island, known for its parks and greenery. Real estate prices are relatively lower compared to other neighborhoods, and the area is becoming popular among expats and locals.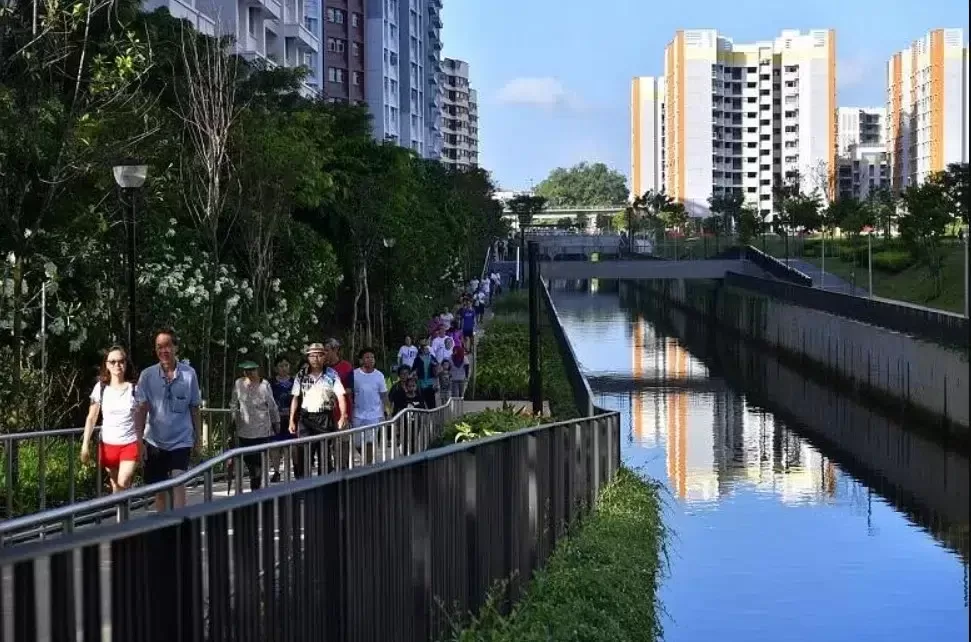 If you're seeking value, Singapore's northern districts are ideal. Property in Woodlands, Sembawang, and other nearby areas costs less than half the price compared to Central or Orchard.
Serangoon / Ang Mo Kio
Residential districts on the northeastern edges of Singapore's suburbs. These areas offer a convenient location between downtown and Changi Airport, with good amenities, although real estate prices are still expensive.
Jurong is an area with student housing due to its proximity to Nanyang Technological University (NTU) and the National University of Singapore (NUS).
Jurong
Located in the West Region, Jurong is a densely populated area with industrial presence, including factories in the tech and medical sectors. It has parks and lakes, and it's also a hub for education.
East Singapore
Encompassing areas between downtown and Changi Airport, such as Bedok, Tampines, and Changi. The Eastern region offers lower costs, easy access to the airport, a suburban environment, and availability of landed properties.
Of course, there are many other neighborhoods and areas in Singapore that offer unique living experiences. Do your research to find the best fit for your lifestyle as an expat in Singapore.
Getting a Visa in Singapore
Of the countries you may be considering immigrating to in Southeast Asia, Singapore is among the priciest.
If you don't have an employment/education visa, or some other existing reason to be in Singapore, the Global Investor Program (GIP) is the most streamlined way. You won't find it cheap though.
The GIP is a pathway for high-net-worth individuals to obtain permanent residency in Singapore and is designed to attract foreign investors and entrepreneurs who can contribute to the country's economy.
Investment visa Options
There are two main investment options under the GIP:
Starting a Business:

Applicants can choose to start a new business in Singapore with a minimum investment of SGD 10 million. The business should have a significant impact on the local economy and be able to create local employment opportunities. A minimum of 30 full-time employees must be hired, of whom at least 50% should be Singaporean citizens or permanent residents.

Fund Investment:

Alternatively, applicants can invest a minimum of SGD 25 million in an approved fund that invests in Singapore-based companies. This option is more hands-off compared to starting a business, as applicants are not required to actively manage the investment. However, they must still fulfill the PR renewal criteria.
The GIP application process involves submitting a detailed business plan, relevant financial documents, and personal background information.
Applicants undergo a thorough evaluation by government agencies, such as the Economic Development Board (EDB) and the Ministry of Manpower (MOM).
Successful applicants are granted an initial PR status, valid for 5 years, and which can be renewed based on fulfilling the program's requirements.
Benefits of Permanent Residency (PR)
Obtaining permanent residency in Singapore through the GIP offers several benefits, including the ability to live, work, and study in Singapore without the need for additional visas or permits.
PR status also provides access to social and welfare benefits, as well as priority treatment for various public services.
Do keep in mind: every male permanent resident in Singapore is obligated to sign up for national service. This also applies to children once they reach the age of 16 if they obtain PR from you.
Conclusion: Is Moving to Singapore a Good Idea?
Singapore remains attractive for wealthy expats due to a favorable business environment, political stability, and excellent quality of life.
The country's multicultural ambiance, top-notch education/healthcare systems, and world class infrastructure contribute to the city's appeal.
For those who qualify for the Global Investor Program (it costs 8-figures), a streamlined path to permanent residency via business or investment offers numerous benefits. 
Sure, it's not a cheap place to live. You'll arguably encounter some of the world's highest cost barriers whether you're buying/renting property or simply looking to get a visa.
You already knew that though. Fact is, there isn't anywhere else quite like Singapore. The costs of living in Singapore are undoubtedly worth it for a certain type of high net-worth investor.