Last updated June 6th, 2023.
For about a decade, we've advised our clients and readers that they shouldn't combine a vacation home with an investment.
Mixing up a lifestyle purchase with a serious investment just isn't a good idea. The past few years have proven this advice correct, if anything.
Oftentimes, people try to combine both a vacation home and investment into one single purchase. The intent is usually to rent it out when they aren't staying there.
It might sound tempting to "multitask" with your properties, but investments should absolutely be separated from lifestyle assets.
We'll provide compelling reasons and examples of why you shouldn't confuse a vacation home with an optimal investment. Afterwards, we'll show you an improved method to achieve higher returns and occupancy rates.
Investing in Cities vs. Resort Towns
The elements that make an ideal investment property aren't necessarily the same traits which make sense for your lifestyle. We'll touch on some of these as we go along.
A good rule of thumb is that the best locations to make money are probably not where you personally enjoy spending time.
Sure, buying a beachfront condo may seem appealing on the surface. Cities nearly always have higher rental yields and easier rentability.
For example, if an investor bought a resort condo in Pattaya ten years ago, they probably wouldn't have made much profit.
Real estate prices in Thailand's capital city of Bangkok have meanwhile doubled in central locations like Lumpini and Ratchathewi.
Condos and apartments in major cities benefit from greater population density. Asia's capital cities are difficult to replace since they're home to any given country's majority of jobs, top schools, best-connected airports, and brightest people.
Of course, there are cases such as in China or Myanmar where the capital city isn't the country's largest urban area nor its main financial hub. Generally speaking though, a nation's capital is where all the action happens.
This means greater consistency as a property owner. Beaches and mountains might lose popularity or have seasonal highs and lows.
While a top vacation home spot may have a flood of tourists now, a different beach could overtake it in a few years.
Remember: there are thousands of kilometers of pristine beaches in the world. It's just a matter of where governments and businesses choose to develop. It's possible that any one of the world's countless undeveloped islands could become "the next Bali" by 2050.
Or take the pandemic as an example. A lot of tourism-focused business lost money because of fewer visitors.
They were relying on tourist arrivals that may not be consistent, especially when hit by external factors. Tourists come and go, but locals and long-term expats will stick around.
Invest somewhere with healthy demand from local tenants and resident foreigners. That way, you won't get hit by the tourism sector's highs and lows.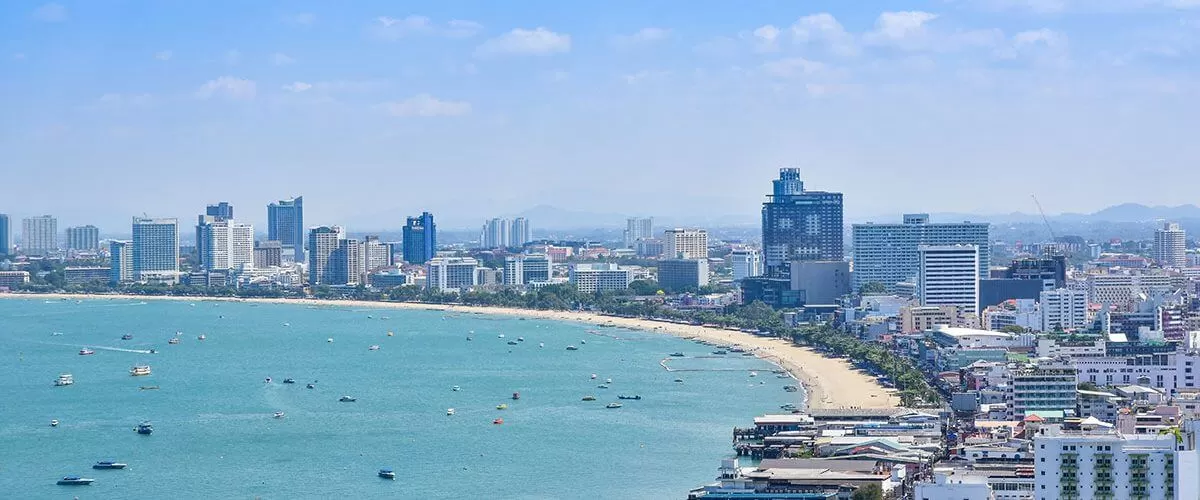 Pattaya is one of Thailand's top foreign property investment spots. Unfortunately for anyone who bought here in the past decade, values have remained stagnant while they surged in central Bangkok.
Before mixing up your vacation home with an investment property, it's also worth thinking about your own personal preferences.
If someone has a large family, for example, they might want a bigger home. But it's possible that smaller condo units have superior yields and rentability. Or vice versa, depending on which city or country you're buying in.
You'll have an easier time meeting both your investment and personal goals by not mixing investments and vacation homes.
It's ideal to own a vacation home that fits your lifestyle needs, and invest in a method where you'll achieve optimal returns.
Furthermore, you can cater to a larger group and not limit who will rent your property. If that's not what you want in your perfect vacation home, it's better to have investment properties that are specific for the purpose of making a profit.
After all, who wants to limit what they can do with their own vacation home based on what renters might want?
How to Manage Your Investment Property
Because it's a vacation home, you probably won't be there most of the time. While renting it out seems like a great alternative to letting it sit and gather dust, you'll want to consider the pros and cons first.
If you rent out your vacation home while you're gone, you will need to manage the property and deal with tenants.
This can work well if you live close by, but chances are, your vacation home is somewhere you like to travel to.
Depending on where your vacation home is, you could be trying to manage a property on the other side of the world. This can be difficult and impractical, especially if you don't typically travel there often.
If that's the case, it will take even more money to pay someone local there to clean or maintain the vacation home after tenants rent it, or to help you manage it from a distance. It's also difficult to know who to trust with that job.
You should also consider the challenges in screening and evicting tenants, and addressing any of their complaints from a distance.
If appliances or furniture must be replaced or if tenants are causing trouble, then you'll need someone who is trustworthy to handle it. Whether it's a friend or a property manager. Otherwise, you'll need to travel yourself to settle any issues.
If you don't live near your investment, make sure you know the area well and calculate your costs for any of these problems that may arise.
Navigating Laws and Regulations
The regulatory environment of where your vacation home is located is important to keep in mind. Not all communities and condominiums allow short-term renters.
Consider doing research on the laws and regulations in the area before attempting to rent out. You will also want to check with the mortgage lenders. Some have restrictions on short-term rentals because they can be considered commercial properties.
This is important to know because it can end up costing more in the long run if these restrictions apply in the area you want your second home to be.
A main takeaway is: do your homework before you decide to combine your vacation property with an investment property.
Weigh the pros and cons before you dive in and see if it's something you're willing to put in the time and money for.
Do You Want Strangers Living in Your Home?
Chances are, if you own a vacation home, you've decorated it to your liking and furnished it with things you like when you're on a trip away.
While you may enjoy expensive upgrades, decorations, and technology, you probably won't want strangers using them.
The problem with renting it out is that tenants often damage property. Landlords are faced with these issues frequently, and there will be times when tenants won't even report the damage they've caused.
It's certainly something to consider if you want your vacation property to be a place where you can focus entirely on having everything the way you want it.
You risk damage, theft, and vandalization when renting property out. Instead of relaxing on your time off, you may find yourself replacing furniture, appliances, or decorations.
Needless to say, this could be expensive and drastically reduce returns depending on how your property is furnished and equipped.
If the potential for extra income outweigh the cons, maybe it'll work out for you. However, if tenants living in your vacation home is a concern, then perhaps renting your second home out to strangers probably isn't the best idea.
Yet another thing to consider is how much time you'll spend in your vacation home. We touched on this, but your personal time there will affect how easily you'll rent it out and maintain tenants.
Owning property can cost a lot of money regardless – using it as an investment property can cost even more if you don't have consistent tenants. Or if the area is seasonal and people only want to rent it out during certain times of the year.
Be sure you understand these types of risks before attempting to multitask with your real estate portfolio.
Conclusion: Don't Mix Lifestyle Assets with Investing
Overall, the risks of combining a vacation property with an investment are much greater than the potential for returns.
Be aware of the costs and inconveniences of a vacation home. The factors that make an ideal second home could conflict with an investment property requires.
Make sure you have a clear goal before making a purchase. And certainly don't try to "kill two birds with one stone", so to speak.
Usually, trying to combine a vacation home with an investment will accomplish neither of those two goals in an optimal way.
You're better off buying an asset meant for one specific goal, whether it's to achieve high-rental yields or serve as a winter home, and achieve that single purpose to the maximum degree possible.
The takeaway here is to specialize with your real estate purchases, don't multitask.
Skip the Next Western Recession
Learn the best places to invest - and where to avoid - by downloading our free Investment Cheat Sheet.