Last updated September 24th, 2023.
Bank deposit interest rates across the world are rising, and it's once again becoming practical to make money with a basic savings account. Gone are the days of near-zero interest rates.
In some countries, deposit rates are higher compared to others though. Does 5% interest per year sound good? Because rates can get significantly higher than that, depending on which currency you're willing to hold.
Relatively stable currencies such as Armenia's dram are paying interest rates higher than 10% per year.
And you can expect bank deposit rates in the 15%+ range if you're willing to take on a greater amount of currency risk in places like Mongolia and Turkey.
Here are five countries where you can get the highest interest rates on bank deposits. Mind you, not all of them have stable currencies which will hold their value. Yet several of them do, and a few even allow USD term deposits.
Mongolia
One of Asia's smallest countries in terms of population size, Mongolia's economy is nonetheless one of the region's fastest growing. This is largely because of Mongolia's vast resource wealth, combined with its proximity to China and Russia.
Mongolia's currency, the tugrik, is also one of the highest-yield currencies in the world. It's very possible to achieve 15% or higher interest if you deposit tugrik into a local bank account.
Just be aware that the tugrik is not a stable or easily exchangeable currency at all. In fact, it's steadily deprecated against major world currencies for well over a decade. You may lose substantially more in real terms than the 15% interest they're paying you.
You'll need to fly to Mongolia in order to open a bank account here. Generally, it's not a requirement to be a resident, although whether or not they'll open an account for a tourist depends on the bank and specific branch.
Consider checking one the country's top banks such as TDB, Golomt, or Khan Bank to increase your chances of success with opening an account in Mongolia.
Turkey
Home to 80 million inhabitants and rising, Turkey is a regional powerhouse, and its economy is the biggest on our list by far.
Turkey's lira is also one of the highest-yielding currencies of any major economy. It's possible to get interest rates above 10% on lira bank deposits.
Unfortunately, Turkey's currency is rapidly depreciating with no-end in sight. The lira held at around 3.00 to the US Dollar in 2016 but lost over five times its value since then. Nowadays, it's trading at roughly 30.00 to the greenback.
The reasons behind the lira's weak performance are many. If you're interested, we write about Turkey's dire economic situation in greater detail here.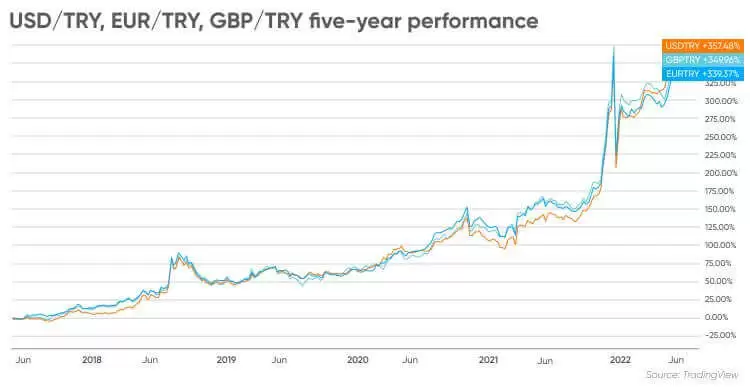 High corporate debt levels, poor policy management, an ongoing trade deficit, and lack of foreign investor confidence have led to the Turkish lira's ongoing depreciation.
You'll find plenty of banks paying high interest in Turkey. Still, the question remains even at 10%+ annual rates: is it worth making an investment in the lira given the currency's history?
Our suggestion is to consider a lower interest rate in a better currency. The lira just isn't worth taking a position in right now considering its multi-year depreciation and lack of a floor.
Before taking any sizable position in lira bank deposits, we recommend waiting for a long-term upper resistance level to form. Otherwise, if you insist, you'll need to visit Turkey and get a residence card before opening a bank account.
Armenia
Despite its geographic location right next to Turkey, Armenia's dram has performed surprisingly well over the past few years.
The dram's stability owes itself partially to Armenia's large diaspora population, which remits millions of dollars each year, along with the nation's growing economy.
Armenia's biggest banks, including Ameriabank and Inecobank, generally pay above 10% interest rates on dram deposits.
Like several other countries on this list, you will need to visit Armenia to open a bank account. Remote account opening procedures simply aren't possible.
Additionally, it's possible that the bank will require you to show a residency card – something which isn't too difficult to get if you're determined to achieve high interest rates in a rather stable currency.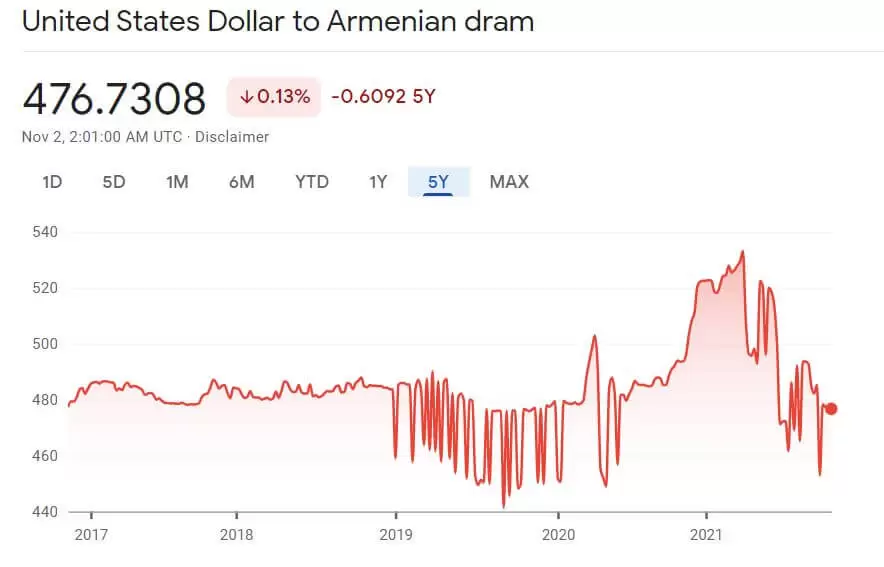 The Armenian dram has performed well over the past five years, in stark contrast to nearby Turkey's lira.
Cambodia
While Cambodia does have its own currency, the Khmer riel, its economy is highly dollarized in practice. A majority of the Southeast Asian country's bank deposits are held in terms of US Dollars.
In the United States, you're lucky to get above 1% annual interest on a term-deposit. Yet in Cambodia, banks often pay 5% or more on USD term deposits. Microfinance institutions can pay even higher rates in the 7%+ range.
So, why do Cambodian banks pay substantially higher interest rates on US Dollar deposits compared to those located in the United States itself? A main reason is because of higher interest rates on loans.
Getting a mortgage from a bank in Cambodia costs at least 5% interest annually, and because long-term capital appreciation is expected to surpass that, many people still decide to take a loan out. Regardless, one consequence is that interest on bank deposits is also higher.
You'll need a long-term visa to open an account at most banks in Cambodia. A few of them, such as Canadia Bank, are known to open accounts for tourists.
However, financial institutions which pay higher interest rates in the 6%+ range like Sathapana Bank or Hattha Bank will require you to show a 6-month or 1-year visa… which thankfully isn't too hard to obtain in Cambodia.
Georgia
Georgia is another country located in the Caucasus region. Like Armenia's dram, The Georgian lari has remained fairly stable despite its geographic proximity to laggards Turkey and Russia.
Looking at a 10-year chart, the Georgian lari's performance doesn't seem great, falling from roughly 2.00 to the US dollar to well-above 3.00. With that said, the lari has shown resilience over the past two years, steadily rising in value from its 2020 lows of 3.50 per USD.
Not bad at all, especially considering you can easily achieve interest rates of about 5% on Georgian lari term deposits.
Georgians commonly hold currencies besides the lari, and most major banks maintain USD and EUR deposit accounts. Compared to either currency's respective home market, banks in Georgia will also pay you a higher interest rate.
You can expect 2%-3% rates on USD bank deposits in Georgia. Not exactly the 6%+ found in Cambodia, but nonetheless respectable.
It's not required to have residency in Georgia to open a bank account here as a foreigner, and citizens of most countries will automatically get a 365-day visa stamp upon arrival. TBC Bank and Bank of Georgia are the nation's two largest.
Skip the Next Western Recession
Learn the best places to invest - and where to avoid - by downloading our free Investment Cheat Sheet.