Last updated October 21st, 2023.
Cambodia tends to fly under the radar in the world of foreign investment. Many who are not familiar tend to think of it as a war-torn nation that lags behind its neighbors in terms of population and wealth.
However, this high-growth frontier market is one of the best places in Asia if you're a real estate investor. Cambodia's economy is small but incredibly resilient.
In fact, Cambodia only had one single year of negative growth ever since 1995, skipping the vast majority of global recessions.
Phnom Penh, the capital city, sits at the center of Cambodia's development and attracts international business from all over the world. Some analysts are comparing the situation to Bangkok 30 years ago.
Given Bangkok's explosive growth in the real estate sector since the 1980s, investors may want to take note of Phnom Penh.
The city also attracts expats with its lively street markets, stunning French architecture, and historic temples. Given the mix of appeal and affordability, savvy investors have begun flocking to Phnom Penh to buy profitable real estate at shockingly low prices.
Foreigners normally purchase two types of property – shophouse apartments and condos. Shophouse apartments can be renovated, rented, and resold for a hearty return.
Condos, on the other hand, aren't as profitable, but they're easier to own and maintain.
For that reason, this guide focuses on condominium units – not other types of property. To learn more about buying shophouses or land, here is our general guide to Cambodian property.
Foreign Property Ownership in Cambodia
Cambodia is one of the few countries in Asia where owning real estate as a foreigner is relatively simple. It's arguably the most welcoming country for international investors in the entire region.
Entering Cambodia and setting up a business there is simple and efficient. Year-long visas cost only $300 and a few days. Likewise, foreigners can legally own 100% of a Cambodian company.
Buying real estate can be complicated, depending on what you're looking for. Foreigners can easily purchase strata titles for condo units, and thus, many tend to gravitate toward those developments.
The system gets complicated for other kinds of property. You're only able to buy houses, buildings, and other landed real estate through either a land holding company (LHC) or by partnering with a Cambodian citizen.
Additionally, Cambodia uses a mix of "hard" and "soft" titles for land and buildings. Hard titles are entered into the national government land registry. A soft title, by comparison, is registered with the local government at the sangkat level.
How Much Does a Condo in Phnom Penh Cost?
To an outside investor, condos in Phnom Penh seem relatively cheap. Mid-range units average $2,200 per square meter whereas luxury ones typically cost $3,000 per square meter.
As always, prices vary by location. Condo units may cost upwards of $200,000 for a small one-bedroom in central areas like Daun Penh, On the other hand, condos on the outskirts of the city are often priced well-below $100,000.
$200,000 for a central location in an up-and-coming city doesn't seem too bad by global standards. Compared to other types of property in the city, condos in Phnom Penh are very overpriced though.
Shophouse units in Cambodia (or if you have the capital, whole apartment buildings) cost far less per square meter. They have superior rental yields and better overall investment potential than singular condo units.
It's an effect which is even more pronounced when it comes to mid-range condominiums since this sector faces the most amount of oversupply. Indeed, buying a mid-range condo unit outside the city center of Phnom Penh costs roughly the same price as in Bangkok!
Comparatively, the price gap between a luxury condo unit in Phnom Penh and other cities in Asia is more narrow. A high-budget condo in Cambodia costs about half the price of a similar one in Thailand, for example.
Buying a condo in Phnom Penh is thus relatively affordable, but it isn't the greatest investment. You should consider a luxury unit in an up-and-coming area for maximum returns if you do choose to buy one.
Top Neighborhoods in Phnom Penh
Phnom Penh is an up-and-coming city, so some neighborhoods are quite modern while others are nearly untouched.
As a general rule, you'll want to buy your condo in a developed area that still has potential for growth. Cambodia is undergoing rapid urbanization, and as an investor, your goal is to profit from the nation's demographic trends as much as possible.
We recommend buying in one of three neighborhoods. Specifically, either 7 Makara, Daun Penh, or BKK1. These districts all offer the best investment prospects, and from a lifestyle, amenities that expats require from a livability standpoint.
Below, we'll cover each of the three best districts to buy a condo in Phnom Penh including price ranges, lifestyle options, taxes, and realtors.
7 Makara
If you want to make a long-term investment in Cambodian real estate, consider buying in 7 Makara district.
This neighborhood is less developed and further away from the riverside than Daun Penh or BKK1. Prices here are lower than in the city center, and new condo developments are built regularly. Finding a high-quality, affordable condo is easy in this district.
While 7 Makara is up-and-coming now, longtime residents believe that it will be a part of the city center by the end of the decade. International brands such as Burger King have already moved in, and developers are scouting it for projects.
This massive potential for growth makes 7 Makara one of the best places in Phnom Penh to invest in property. It's cheaper and less saturated than in more central areas of the city, but is nonetheless well-developed and enjoys strong investment potential.
Daun Penh
Daun Penh sits at the center of the city and is the home of its central business district. It also includes the riverside, many government buildings, and temples such as Wat Phnom.
This neighborhood is poised to experience exponential growth in the next decade. High rises have cropped up quickly throughout the financial district, and more development is surely on the way.
However, it's also home to some of the highest real estate prices in Cambodia – especially the main riverside area. You should expect to spend $70,000 at minimum for a small one-bedroom condo with costs rising as you move closer towards Sisowath Quay.
This district also has fewer condos available than in other central districts. Given Daun Penh's status as Phnom Penh's commercial hub, there are way more business and retail developments than residential.
You can certainly expect plenty of long-term growth and capital appreciation in Daun Penh. Nonetheless, you'll pay more money and spend greater effort when searching for a unit here.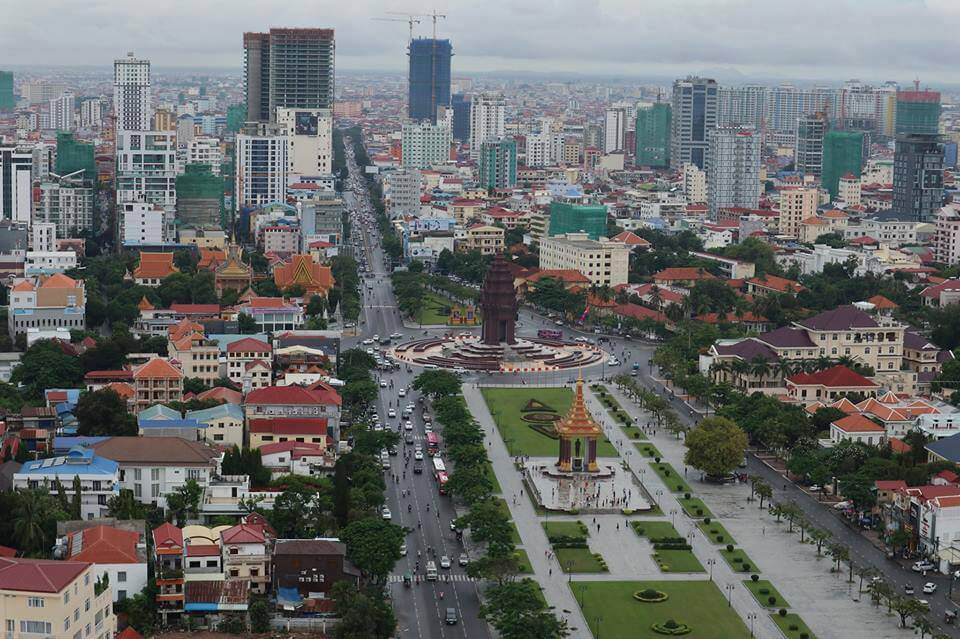 BKK1 is one of Phnom Penh's most popular areas to buy a condo in as a foreigner. Yet due to BKK1's oversupply, we think there are better locations. Nearby districts like Daun Penh and 7 Makara are equally as central with less residential supply.
BKK1
BKK1 is an upscale residential neighborhood that lies within Phnom Penh's Chamkar Mon district. With its upscale residences, restaurants, and hotels, BKK1 has quickly turned into what is arguably the city's most desirable neighborhood.
The area is also well-known for its expat community. BKK1 is a top-choice among wealthy foreigners with a bit of money to spend on property.
Yet because BKK1 is so popular among expats, its condo market has become expensive and oversaturated. It's difficult to keep a property rented out compared to other parts of Phnom Penh.
Condo units in the BKK area typically cost more than $200,000, and you likely won't get much return on your investment. However, if you're looking for a place to live full-time, BKK1 (or BKK2 and BKK3 for that matter) remains an attractive option.
Property Taxes and Fees
As an investor-friendly country, Cambodia's taxes are generally low. The country's annual real estate tax sits at just 0.1% of the property's market value which exceeds 100,000,000 Khmer riel, or $25,000.
Likewise, rental income is only taxed at 10% for Cambodian residents and 14% for non-residents. Plenty of deductions usually apply which, in practice, lowers that amount even further.
Other types of property taxes, such as a 2% levy on land owners, also do not apply if you are buying a condo as a foreigner.
Cambodian taxes are relatively low and, in some cases, rarely enforced. Many locals don't even register to pay – we don't condone it, but that's indeed the reality of the situation on the ground.
Property Developers and Agents
Cambodia is a frontier market, which in itself presents unique challenges to investors. Language barriers, government bureaucracy, and shady developers can complicate the process of buying property in Cambodia.
Therefore, as a foreigner, hiring a real estate agent in Phnom Penh is often essential. Realtors will translate and deal with government offices for you, which can be difficult if you don't speak Khmer or aren't familiar with local customs.
Whether or not you use an agent, you should carefully research the developer that you plan to buy from. As in other frontier markets, you only want to buy from those with a proven track record of high-quality work.
Some of the best property developers in Phnom Penh include Creed Asia, Borey Peng Huoth Group, and Shukaku.
Should I Buy a Condo or a Shophouse Apartment?
Foreigners who want to invest in Phnom Penh property usually consider two options – a standard condo or a shophouse apartment.
As we mentioned previously, Phnom Penh condos can be overpriced. In some areas like BKK, the market is pretty oversaturated.
Condominiums don't get high returns compared to the 6% to 10% rental yields that you would otherwise make from renovating a shophouse apartment.
If you're willing to put in some additional work (legal and otherwise), you can make hefty returns from renovating shophouse apartment, then proceeding to either rent or resell it.
When compared to buying a condo in Phnom Penh, unrenovated units in older buildings are generally half the cost and twice the size of a newly built condo. 
However, Cambodia's foreign ownership laws make buying a shophouse apartment more difficult than a condominium on a strata title. Foreigners can own condos outright, but in order to own other types of property, they must have a land holding company.
Given that red tape, you should consider whether you're looking for a second residence or a return-optimized investment. Shophouses require time, effort, and commitment to purchase and renovate.
To summarize: condos in Phnom Penh yield lower returns compared to apartments or landed property, but they're much easier to buy and own as a foreigner.
Skip the Next Western Recession
Learn the best places to invest - and where to avoid - by downloading our free Investment Cheat Sheet.