Last updated June 20th, 2023.
Buying Philippines property is a bet on economic and demographic trends. Not only is the Philippines isn't just Southeast Asia's second most populous country with over 100 million people – it's also among the region's fastest growing.
Because of this, the nation will see its economic and political sway rise more than perhaps any of its neighbors. Investors are flocking to the Philippines to profit from its immense growth potential.
Why should you buy real estate in the Philippines? First off, they enjoy a rare combination of skilled, English speaking labor and lower wages. Multinational firms are able to find English-speaking workers while spending less here than almost anywhere else on the planet.
This has led foreign companies choosing to pick the the Philippines over other countries when it comes to investing in Asia. Especially businesses that are looking for English-speaking tech support and call center staff.
Vietnam, for example, also benefits from its low wages at time when China's are increasing. Yet their talent pool isn't as wide nor as fluent in English when compared to the Philippines'.
Secondly, the Philippines sees a high amount of remittances from abroad. Many English-speaking workers choose to find employment in higher paying countries such as the United States, Malaysia, and Australia.
These overseas foreign workers (OFWs) are successful and able to find better opportunities abroad, largely because of the factors listed above. They send money back into the Philippines every month and help support their families.
A record US$33.5 billion dollars was sent from overseas workers into the Philippines in 2019. That certainly isn't a small amount (it's about 10% of the country's total GDP, in fact) and helps significantly boost the local economy.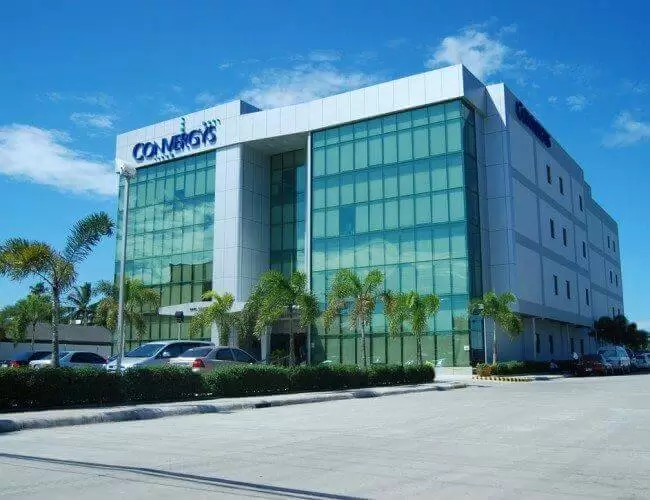 Business process outsourcing is one of the country's fastest growing sectors, with call-center firms like Convergys among its largest foreign investors.
Third, the Philippines is friendly toward foreign investment. This is not only true in the case of foreigners being able to legally own property in the Philippines, but also in terms of buying stocks, owning a business, and having the ability to get a long-term visa here.
The Philippines' openness toward foreign investment gives them a major edge over neighbors in the region such as Indonesia, Myanmar, and Vietnam.
Of course, the Philippines isn't without its problems too. Tons of inefficiency and corruption exists in some parts of government. Crime remains an issue in several cities, and it directly harms GDP growth.
None of this necessarily means investing in Philippines property is a bad idea. A rising population by itself means that, in the future, there will almost inevitably be more real estate demand in prime locations.
A robust Philippine economy is simply icing on top of a metaphorical cake filled with positive demographic trends and rising demand for homes.
Can Foreigners Invest in Philippines Real Estate?
Foreigners can own condominium units, apartments, or part of any multistory building in the Philippines. The only limit is that the total number of foreign owned units in a single building cannot exceed 40%.
You cannot truly own land in the Philippines as a foreigner though. Land ownership is reserved for local citizens only.
Foreigners can even buy houses and other buildings under their own name. However, the land any structure sits on must either be owned by a Philippine citizen or leased from one.
With all of that said, there are a few ways to get around these rules. Some methods are riskier than others. Land can be leased for up to 50 years, which is extendable for yet another 25. You can buy land in the Philippines through a corporation as well.
Companies that hold land can only be up to 40% foreign owned. Fortunately, you can structure a company and keep control in practice through different share classes and directors.
How Much are Property Taxes in the Philippines?
The Philippines has rather high taxes – especially for non-residents. This is one drawback to investing in the country's real estate market.
Property is subject to an annual tax based on its appraised value. The amount of this tax varies based on the district. But the rate is capped at 1% for properties located within Metro Manila, and 2% for those outside the city.
Rental income is also subject to personal income tax for Philippine residents. The highest rate of 32% applies to those making more than 500,000PHP (around US$10,000).
If you have enough spare cash to buy offshore real estate, that 32% tax rate almost certainly applies to you.
Deductions for income tax are allowed if you're a Philippine resident. These deductions can be taken from repairs, maintenance, depreciation, along with other taxes you've already paid. Tax allowances help substantially lower your income tax rate.
For non-residents, income is taxed at a flat rate of 25%. There are no deductions or allowances if you're not living in the Philippines for most of the year.
A transfer tax of 6% on the property's market value is also payable upon selling it. That fee is usually split between the buyer and seller.
Is Buying Property in the Philippines Safe?
Believe it or not, the Philippines has one of the best land registry systems in Southeast Asia. Real estate owners can even access their title deed and other information online.
As such, you're unlikely to encounter any big problems when dealing with the government or land office.
Several established property developers exist in the Philippines. Businesses like Megaworld and SM Land have dozens of successful projects under their belts.
Construction and service quality is generally good from these type of firms. Manila even has internationally branded residences such as a Trump Tower and a Westin Residences. These brands don't just let anyone build a project under their name.
Therefore, you shouldn't have issues buying from top real estate developers in the Philippines. Delays and other problems will likely come from smaller developers.
It's important to buy from a well-respected developer because of that. Ideally, a firm listed on the Philippine stock exchange with at least 10 complete projects.
Best Places to Invest in Philippines Property
There are over 7,000 islands in the Philippines. With a population of over 100 million people, it would be impossible to cover everywhere in the country.
Manila is obviously important as not only the nation's capital, but one of the largest cities on earth with over 18 million living in the metro. The city has many different areas each with their own price ranges, vibes, pros, and cons.
Second tier cities like Cebu or Davao are also worth considering for investment. The former is easier to navigate, with Cebu having better access and more facilities wanted by foreigners. Meanwhile, Davao is the bigger of those two.
We won't cover beach resorts or places which don't yet have much supply of condo buildings. The fact is, most foreigners choose to buy condos in the Philippines.
The process involved in "buying" land is just too complicated for most – even though land is where the most potential for profit lies right now.
Plus, you should buy property in Malaysia if you want land. Asia boasts several better countries to own land as a foreigner than the Philippines.
Metro Manila
The Metro Manila area is more like a collection of different cities than a single one. Quezon City, Makati, and Taguig are the neighborhoods where most condominiums buildings tend to be.
They're also three of Manila's top areas where expats and upper-class locals live. Multinational companies normally base themselves in one of these few central business districts.
Since the 1990s, a prominent middle class has formed in Manila largely because of these tech giants, support providers, and other firms outsourcing to the Philippines. Their staff, along with retirees and practically everyone else, want to live in a condo closer to central Manila.
However, there are still condos in other less-prime parts of Manila. Quezon City is a vast area and the second largest city in the Philippines after Manila itself. Likewise, skyscrapers are popping up in Taguig and several other neighborhoods in Manila.
Developers are now moving to places like Quezon City and Taguig, sometimes building lower and mid-range projects than what you'll find in central Manila.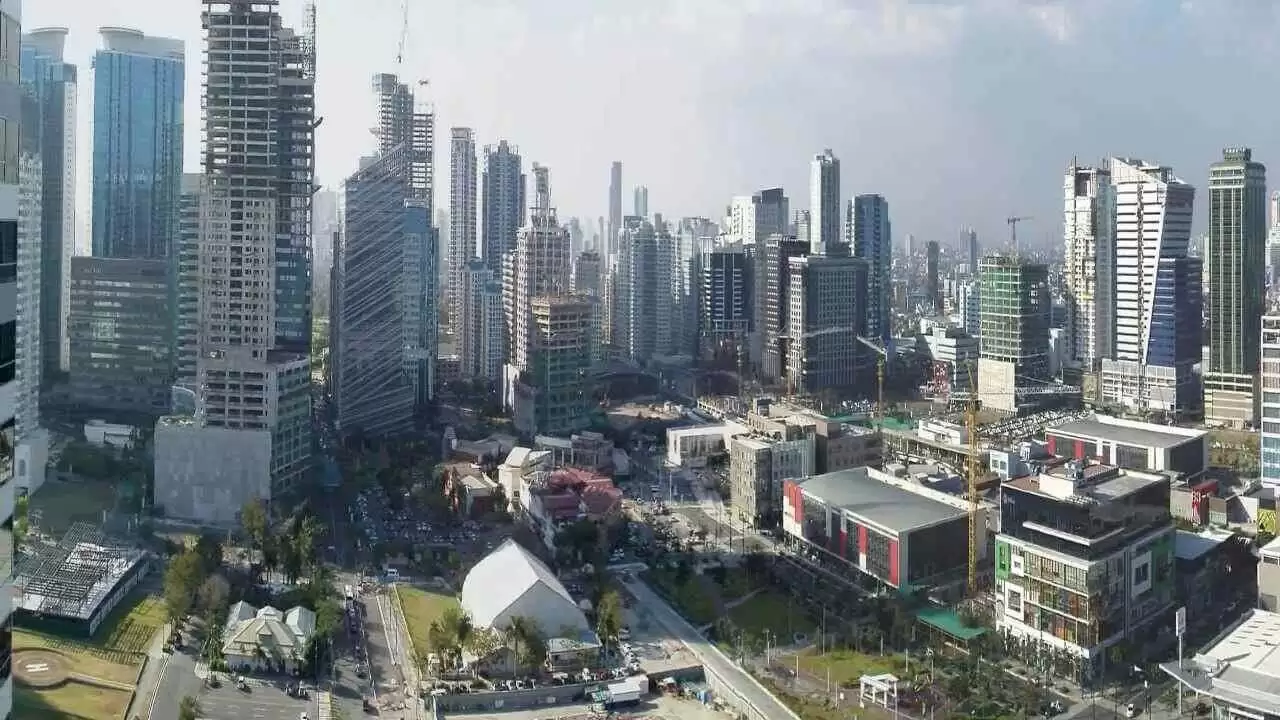 Manila has rapid population growth. That will mean greater demand for less space in the future.
Makati
Makati is the financial and commercial center of the Philippines. More international companies are headquartered in the district than any other. Unrivaled convenience thus makes the area desirable to expats and locals alike.
As such, it should come as no surprise that real estate prices in the are some of Manila's most expensive. You're certainly not reaching anywhere near Singapore or Hong Kong prices.
Still, you should expect to pay in the range of at least US$5000 per square meter when buying a luxury condo in Makati.
Yet investors shouldn't necessarily write off Makati simply because it's expensive.
Remember one of the main reasons why the Philippines has good prospects in the first place?It's because of the country's rapid population growth and urbanization. Prime, central property should benefit most from these demographic trends in the long run.
Quezon City
A vast area to Manila's north, Quezon City is starting to be developed as other parts of the metro become too expensive. Prices in Quezon City are generally around half or two-thirds those in more central locations.
Despite not being in middle of everything, Quezon City can offer both convenience and value. One of the best places to live in the district is Commonwealth Avenue. The long street extends from Quezon to downtown Manila, making it easy to reach the inner-city.
Eastwood City is also popular. It's a fully integrated community with more than a dozen condo buildings, an IT park, a huge mall, and other retail and commercial businesses.
Residents of Eastwood have almost everything they need within walking distance. It's one of several great property developments in Quezon City.
Taguig / Bonafacio Global City
The district of Taguig was formerly a fishing village. Now it's a major commercial and industrial center with a population of over 800,000. Like Quezon City, Taguig's importance has grown as Makati starts becoming too crowded and pricey for some.
However, one part of Taguig is more notable than the rest of the district. Bonafacio Global City, straddling the southeast border of Makati, is among Manila's most desirable places to live and work. It's here where the streets never flood and things are efficient.
Often called "BGC" for short, the neighborhood is a master-planned financial center built and managed by two of the country's biggest developers. Ayala Land and Evergreen Holdings are in charge of BGC's planning and construction.
Some analysts even say the area will overtake Makati as the Philippine's main financial hub in the long run.
Ayala and Evergreen understand corporate needs and infrastructure better than most, leading several multinational companies to base themselves in BGC. Prices are now similarly expensive to Makati.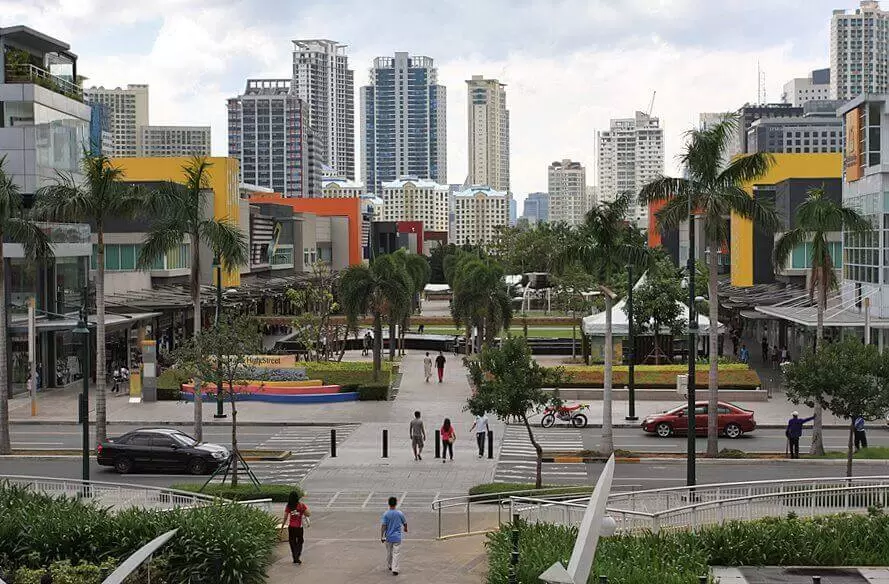 Bonafacio Global City benefits from its central location and a master-planned, organized living approach. Many have compared this pocket of Manila to Singapore's clean urban environment.
Cebu
Emerging economies like the Philippines often need an industry to help jumpstart its growth in the first place. These sectors are usually manufacturing, trade, and tourism… and Cebu happens to have all three of those.
More than 80% of all ships built in the Philippines are made in Cebu. A lot of furniture, toys, and electronics are also manufactured here. In addition, tourists and retirees are flocking to Cebu in record numbers because of the excellent beaches nearby.
As such, investors should consider buying real estate in smaller cities like Cebu or Davao. They will probably have higher returns than Manila over the long-term. Prices are more reasonable outside the nation's capital too.
One caveat is the lack of choices compared to Manila. Condos in Cebu are just starting to get built – and not all developers are winners. In fact, some of them advertise without ever having any past construction experience!
A bit of extra patience and due-diligence is definitely needed if you're buying real estate in Cebu.
Davao
Davao is the country's largest city outside of Manila – and also one of its fastest growing. Its economy grew by nearly 10% back in 2019, outpacing the 6% rate for the Philippines as a whole.
Investing here is not as easy as in Manila or even Cebu. Nonetheless, Davao's transformation from an agricultural-based economy toward a service-based one will reward those willing to put in the extra effort.
There aren't yet too many condos in Davao, but several new projects are under construction. It's worth mentioning that some property developers have a weak track record and are prone to delays.
So, ensuring that you're dealing with a reputable developer or real estate agent is very important when buying property in Davao.
Most real estate development is now happening inside the city center and on the eastern coast. If you're adventurous, are wanting to buy property outside of Manila, and able to perform due-diligence, then investing in Davao real estate might be worth it.
Hiring Real Estate Agents in the Philippines
Property agents are commonly seen and used in the Philippines. This is in contrast to other places in the region where buyers are found based off referrals from family and friends.
Commissions for real estate brokers are high, usually depending on the property's price and location. The rates vary between 2% and 5%, decreasing as the cost of the property increases.
For example, an agent might list a large mansion for a 2% commission, but they'd charge 5% for a small shophouse apartment. Commissions are payable by the seller.
Several websites help make things easier for buyers and sellers. They include RealEstate.ph and Lamudi.com.ph. As a seller, commissions can often be minimized through clever use of online portals.
Is Buying Philippines Property a Good Investment?
Real estate values in the Philippines will certainly increase over the longer-term, that's for sure. The reality of the country's demographics will demand it.
Population growth combined with a resilient economy means that demand for properties in prime locations will rise in the future. There's only so much demand for central real estate – and the Philippines' ever-stronger consumer class will want it.
With that said, investors should probably wait for a pullback. Prices for a luxury condominium in Makati currently rival those of similar apartments in Bangkok or Kuala Lumpur. Both of these cities are, broadly speaking, more developed than Manila while sharing its strong points.
Landed property in some areas remains a good investment. However, this isn't feasible for a lot of buyers. It involves dealing with leasehold titles and/or nominee structures. The effort and cost is usually just too great.
For most people, your best option is to wait for an eventual pullback in the market. Either that or buy property in a country growing just as fast but with more reasonable prices.
Real estate values in the Philippines are simply too expensive compared to nearby alternatives in Asia, considering its current stage of development.
Skip the Next Western Recession
Learn the best places to invest - and where to avoid - by downloading our free Investment Cheat Sheet.